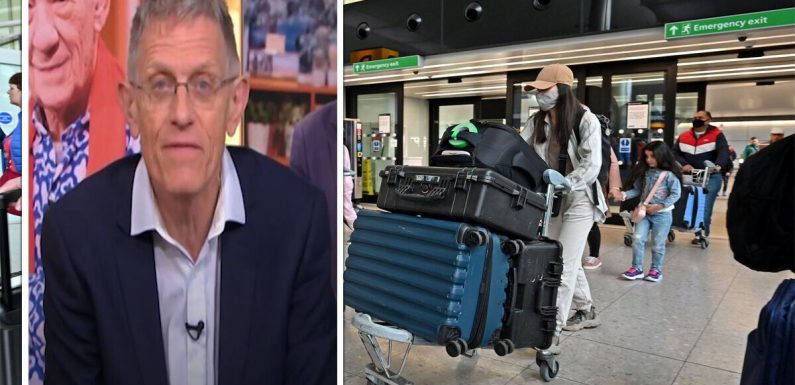 Travel chaos: Simon Calder says to only take hand luggage
We use your sign-up to provide content in ways you've consented to and to improve our understanding of you. This may include adverts from us and 3rd parties based on our understanding. You can unsubscribe at any time. More info
The travel expert spoke to Holly and Phil on ITV's Good Morning Britain and issued a drastic warning. He said Britons should only take hand luggage on their flights.
Over the weekend, hundreds of Heathrow passengers had to fly without their bags after a failure at the Terminal 2 system saw a mountain of luggage build up.
Heathrow Airport has cancelled flights today as the system is unlikely to be completely resolved.
In light of the chaos, Simon urged Britons to only take hand luggage on their summer holidays.
He said: "Please everybody only take hand luggage, you'll do yourself a favour.
"You won't have to queue up for check in, you won't have to wait for baggage reclaim for five hours.
"And you'll help with the operations. But remember the liquids rule. Anything that you do reluctantly have to check in, assume you'll never see it again!"
The Heathrow chaos meant many travellers flying off to their destinations had to leave without luggage.
Simon joked that if they were watching from Barbados, people were working on getting their luggage to them.
Despite the ongoing travel chaos, Simon said that the majority of passengers will still get away on holiday.
He said: "It's a mess but having said that the vast majority of us are going to get to our destination.
"You might have delays."
He said he had spoken to people who had waited five hours for their flight at the airport.
Simon added: "It's miserable but you will get away, you will get back. Hopefully by September, the aviation industry will have sorted itself out."
The travel expert told the This Morning team he had faced issues flying at the weekend.
He said: "My flight was late because nobody could be found to dispatch it and nobody could be found to welcome the plane."
easyJet announced it will cancel more flights for the summer period with passengers given advanced warning.
Gatwick Airport has also cut flights from its July and August schedule to avoid last minute chaos.
Some easyJet passengers ended up stranded across Europe after easyJet cancelled flights over the Jubilee bank holiday weekend.
Many of the issues are due to staff shortages in critical areas such as crew and airport security.
Passengers will need to remember to sort out their liquids if they are only taking hand luggage.
Experts say it's best to use the bags provided at the airport as passengers will know they are within the guidelines.
Source: Read Full Article