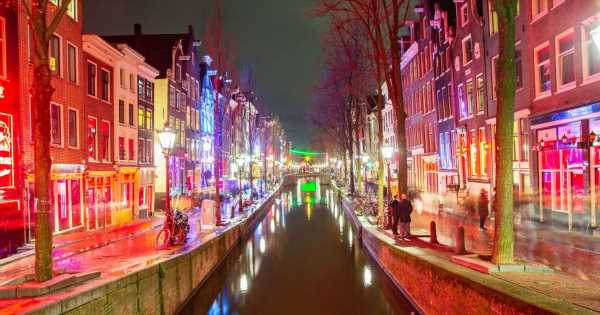 Smoking cannabis legally while in Amsterdam has been one of the central attractions for party groups and stag dos for years.
While the drug is a Class B drug in the UK with the risk of up to five years in prison for possession it can be purchased in cafes around the Netherland's city for a few euros.
It's also an offence to possess, produce or deal drugs in the Netherlands, but the "toleration policy" allows cannabis to be offered at cafes under certain conditions.
READ MORE: Sex museums around the world – with kinky history, toys and real penis displays
The policy does not apply to anyone under the age of 18.
Thousands of Brits flock to its red light district each year – and it's also home to the world's oldest sex museum.
But, it seems that local counsellors now hope to stamp down on unruly behaviour in the city.
In a change to the current rules, it will soon be illegal to smoke cannabis in Amsterdam's red light district.
Holidaymakers will be affected by the amendment from mid-May as councillors hope to improve liveability for residents.
Many locals have complained about the disruption tourists cause in the area – earlier this year it was shown that the local council would discuss measures to reduce the problem.
Now, on top of banning cannabis in the red light district – in De Wallen – sex workers will be required to close their venues at 3am.
Media in the area reports that almost all councillors supported the actions.
Restaurants and bars will also have to close by 2am on Fridays and Saturdays, it was announced on Thursday.
Plus, no new visitors will be allowed into the old city district from 1am onwards.
The sale of alcohol after 4pm is already illegal in the area Thursday through Sunday and it's against the law to drink booze in public in most of Amsterdam.
Now, councillors have asked people to remove alcohol completely from shop fronts and hide it from view.
In terms of cannabis, cafes in the Netherlands have already been asked to stop attracting foreign users and they may not cause any nuisance on the streets.
Amsterdam's council is also launching a "stay away" campaign in the coming months.
It hopes to target holidaymakers and keep them from visiting Amsterdam for drugs, booze and sex tourism purposes.
READ NEXT:
Spain introduces new noise and nuisance restriction rules in Barcelona

Brit 'angry and upset' as Spain enforces 'six drink rule' on all-inclusive holidays

Brits banned from wearing football shirts and swim shorts in Majorca resorts

Brits face £640 fine for peeing in the sea in popular Spanish resort area
Source: Read Full Article