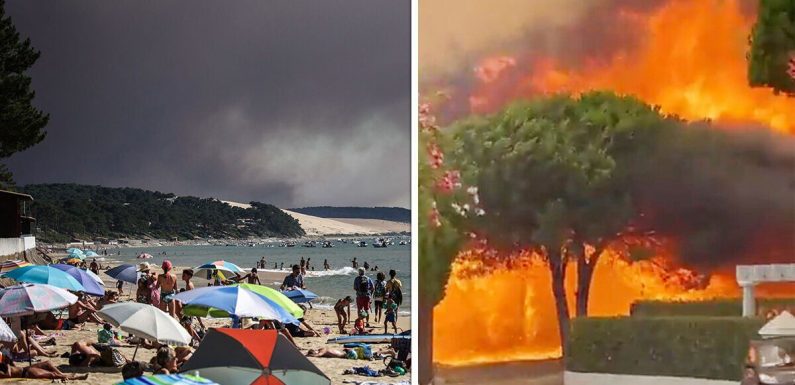 Portugal: Fires rage across country following heatwave
We use your sign-up to provide content in ways you've consented to and to improve our understanding of you. This may include adverts from us and 3rd parties based on our understanding. You can unsubscribe at any time. More info
The Portuguese resort of Algarve is under high alert due to wildfires that have reached some of the tourists' and residents' houses.
Holidaymakers in Algarve were asked to leave their properties and accommodation and evacuate the area.
The flames and thick smoke threatened popular holiday areas including Pinheiros Altos and Quinta do Lago resort.
The evacuation was later extended to a wider area and several roads were closed.
Residents and tourists were seen leaving the affected area on bikes and cars as the wildfire approached.
Is Algarve safe right now?
Algarve, located near Faro, in southern Portugal, is one of the most popular tourist destinations in the country and a favourite among Britons.
Thousands of firefighters have been deployed across Portugal in the last few days as the heatwave pushed temperatures above 45 degrees.
A fire broke out in the city of Faro a couple of days ago and now continues to spread to the Quinta do Lago luxury resort.
Videos shared online showed flames very close to villas, burning palm trees and golf courses.
Portugal is now on red alert for extreme heat conditions.
Fires are expected in the country and the Foreign Office warned "mainland Portugal is in a state of contingency until midnight on July 15 due to exceptionally high temperatures and a heightened risk of forest fires".
"There's an increased risk of forest fires during summer months and when the weather is hot and dry."
Although it is still safe to travel to Portugal, the Foreign Office recommended "remaining vigilant and following the guidance provided by your airline or tour operator if you find you are affected".
"Industrial action can occur occasionally and cause delays and disruption to travel."
The IPMA weather institute said the hot weather is expected to continue in the new few days.
According to the Civil Protection Authority, at least 135 people suffered injuries since wildfires began in Portugal.
About 800 people have been evacuated this week.
In France, dangerous wildfires have also been reported.
Holidaymakers shared pictures at the seaside town of "Pyla sur mer", in the south of France, as a black cloud of smoke rose in the background, and thousands were evacuated on Wednesday.
French Interior Minister said "2,800 hectares of pine trees have gone to smoke".
Two wildfires have already hit the Gironde area, in southwest France, amid a heatwave in the country.
In Spain's region of Extremadura, a wildfire burning more than 4,000 hectares is still ongoing.
Parts of Spain are on red alert for extreme heat, Spain's AEMET meteorology service said.
Source: Read Full Article