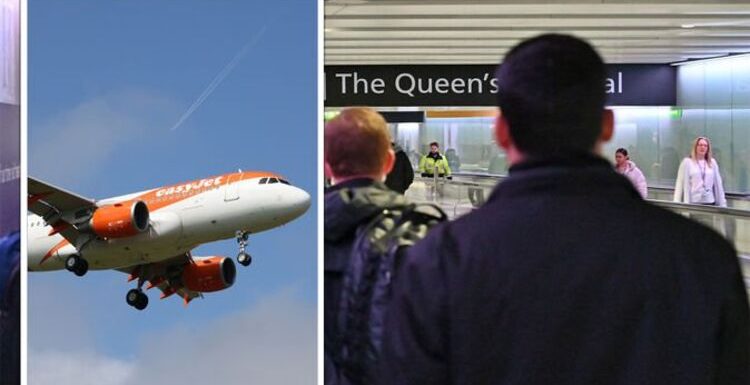 Manchester Airport: Eamonn Holmes on problems with travel
We use your sign-up to provide content in ways you've consented to and to improve our understanding of you. This may include adverts from us and 3rd parties based on our understanding. You can unsubscribe at any time. More info
British tourists have faced delays and flight cancellations as they try to get away for Easter. Rory Boland, editor of Which? Travel has said "airlines need to get a grip".
Boland said: "Daily cancellations will cause uncertainty and stress for holidaymakers, many of whom will have been looking forward to their first trip in two years.
"Airlines need to get a grip of the situation to ensure the entire Easter holiday season is not spoiled.
"They must meet their legal obligations and inform customers of their rights to a refund or to be rerouted with other carriers if their flight is cancelled at short notice.
"Affected passengers should be notified by their airline of their right to claim compensation of at least £220 to cover their losses, and be given food and drink and accommodation as required while they await their new flight."
British Airways cancelled 78 flights scheduled to take off from Heathrow on Wednesday April 6.
easyJet cancelled at least 30 flights scheduled to take off or land at Gatwick on April 6.
Routes affected included Amsterdam, Bologna, Berlin and Krakow. More than 1,000 flights have been cancelled in recent days.
Passengers at Manchester airport have faced chaotic delays and the airport's managing director, Karen Smart, stepped down on April 5.
Passengers travelling from Bristol airport over Easter have been advised to arrive at the airport very early.
The airport said: "During the busy Easter period, customers are strongly recommended to arrive early at the airport and allow extra time for check-in and to go through the security process.
"Passengers are also advised to check with their airline and to arrive at least a minimum of two hours prior to their scheduled departure time.
"With the airport still recovering from the impact of the past two years, customers are being advised that the terminal will be busier than usual and to prepare in advance for check-in and security.
"This anticipated busy period comes just weeks after Covid travel restrictions for the UK and Europe were relaxed."
Customers were told to arrive a minimum of two hours early to get through security before their flight.
As the industry picks up after the pandemic, many airports have struggled to meet demand from an increase in passengers.
It can take a long time to train and recruit new staff as airports require a high level of security clearance.
Travellers are advised to arrive at the airport early to ensure they have enough time to board their flight.
Airlines should contact passengers whose flights have been cancelled and offer alternative options.
Britons can also usually get through security quicker if they make sure they have no large liquids in their bag.
They can also get their boarding card ready before entering the security area and be prepared to remove jackets.
Source: Read Full Article