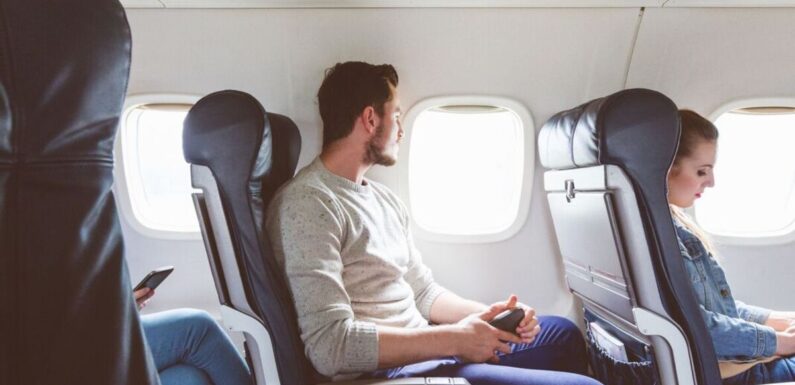 Ex-airline worker Andrew Hayward, speaking on behalf of SkyParkSecure, revealed how to avoid jet lag and "minimise the effects of flying" on and off the plane.
The expert shared some "small and easy changes" holidaymakers can make before, during and after the journey "to try and mitigate the effects of jet lag" and revealed that some window and aisle seats should be avoided as they have less legroom.
Although window and aisle seats are generally the passengers' favourite options, "some of these may sometimes have inflight entertainment boxes under the seats which can affect leg room".
Most people prefer sitting at the front of the plane "for ease of getting on or off or being closer to the toilet".
Interestingly, this could also "be beneficial in avoiding the worst effects of jet lag as the freshest air enters at the cabin nose to help keep the pilots alert".
The travel expert continued: "The seat choice can also affect how easy it is to get comfortable and catch some sleep."
Seats at the back of the plane can be more uncomfortable because some longer planes suffer from "self-induced oscillation", meaning one of the best places to sit is near the wing root for the most stable ride. For larger planes, however, this tends to be the middle of the aircraft.
Apps like Seat Guru can help travellers find the best seats. For instance, window seats are where "you're least likely to get disturbed, especially sat away from the toilet".
Don't miss…
The most underrated holiday for 2023 is a 'beautiful' destination[HOLIDAY DESTINATION]
Flight attendant says 'throw bottle under bed' to stay safe in hotel[TRAVEL TIPS]
'I tried a flight attendant's clever packing technique and it worked'[PACKING HACK ]
Pilot Christine Cancar revealed, however, that window seats can be a dangerous choice and urged elderly travellers to avoid these. 
The commercial pilot explained that passengers sitting by the windows are at "higher risk" as "aircraft windows don't filter the sun's damaging UV rays".
"I use sunscreen to protect my skin. Even when I am not in direct sunlight, I am still exposed to these harmful UV rays," she said.
To minimise the negative effects of flying and jet lag, the expert also recommended avoiding certain drinks, including alcohol and coffee.
We use your sign-up to provide content in ways you've consented to and to improve our understanding of you. This may include adverts from us and 3rd parties based on our understanding. You can unsubscribe at any time. More info
"Whilst it may be tempting to drink coffee to stay awake, or treat yourself to a tipple to celebrate your long awaited trip – if you want to try and avoid jet lag, I would advise against it as both can dehydrate."
Instead, passengers should be drinking plenty of water to keep hydrated and save the drinks for once they land.
Finally, packing certain items, such as ear plugs, travel pillows, eye covers and noise-cancelling headphones, is essential to help travellers sleep on the plane.
"On the other hand – if you're planning on staying awake for the entire journey – make sure you bring plenty to keep you entertained," the travel guru added.
Source: Read Full Article