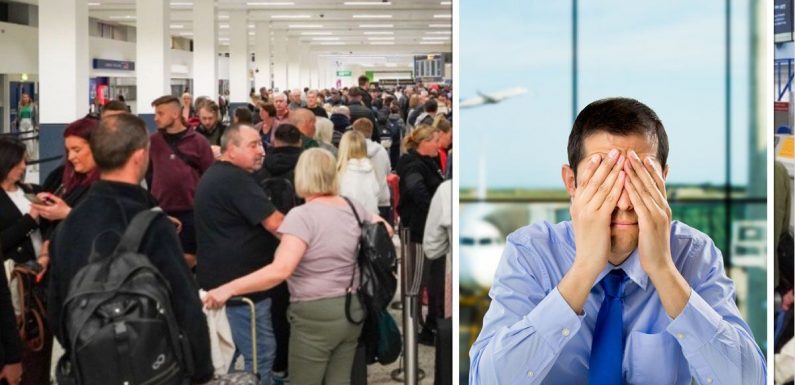 Gemma Atkinson caught in Manchester Airport chaos
We use your sign-up to provide content in ways you've consented to and to improve our understanding of you. This may include adverts from us and 3rd parties based on our understanding. You can unsubscribe at any time. More info
Photographs have been snapped at Manchester Airport of hopeful travellers looking to get away this Bank Holiday. UK airports have been facing tremendous pressure in recent weeks, causing long queues and even flight delays for some.
With the pandemic drawn to a close as most restrictions are lifted – including travel – many Britons are looking to fly away this year.
The staycation was popular during the pandemic.
However, many solo travellers and families alike failed to get abroad for more than two years.
This was due to the intense Covid restrictions that made international travel difficult.
Today, Manchester Airport looks rather chaotic as travellers hope to get away.
There are swarms of people as holidaymakers queue up to check in their suitcases.
But why are UK airports, including Manchester, struggling to cope?
The pandemic certainly has not helped, with airlines and airports alike trying to get used to their pre-pandemic levels of travel again.
There are also staffing issues, with some airports urgently recruiting more workers.
Just yesterday, the official Twitter account for Manchester Airport advertised applications to be part of their security team.
During the pandemic, some workers were put on the government's furlough scheme and others lost their jobs.
For existing staff, this means huge pressure as they navigate managing the mayhem of holidaymakers getting away.
Occasions such as Easter weekend and the May bank holiday only compound these issues.
Covid-related issues such as sickness absences can only worsen the situation, despite it no longer being mandatory to self-isolate after contracting the virus.
Gatwick Airport is also struggling with these pressures and the influx of travellers, with long queues for flyers.
People have taken to social media to complain about the chaos that has ensured at airports across the UK, including the under pressure Manchester Airport.
Gary Neville humorously tweeted: "Manchester I love you , but the airport."
This was accompanied by an emoji of a man holding one hand to his face.
@Bradley1976, calling the airport "absolute carnage", stated: "@manairport This is why Manchester Airport is one of the worst in the world.
"Been queuing for three hours to get onto the flight, and people that arrive late are shown to front of the queue. Three security desks open. Disgusting."
@Andy2uM, whose Twitter bio is International Globe Traveller, said of the same airport: "Very disappointing backward step. T1 is a mess & that's putting it mildly.'
Just an hour ago, @martingilhooly took to the platform: "I was dreading the experience at Manchester Airport this morning – I was right to be fearful. "T3 is truly an overcrowded third world dump."
@ROUNDTH3BEND advised: "Manchester Airport security is a mess so just check departures online and pick a flight that departs in the next hour, say you're late and they'll bring you through fast track."
Others have been pleased with their experience in the northern airport, with @ChrisQuinnNCL saying: "@manairport You've been a pleasure! From MAN to NCL.
@AMOSASLEFREP recently said: "Fair play to Manchester Airport and its bad security publicity.
"Left the house at 6:15, two trains to the airport now having a drink and chilling out – security took 20 Minutes."
Source: Read Full Article