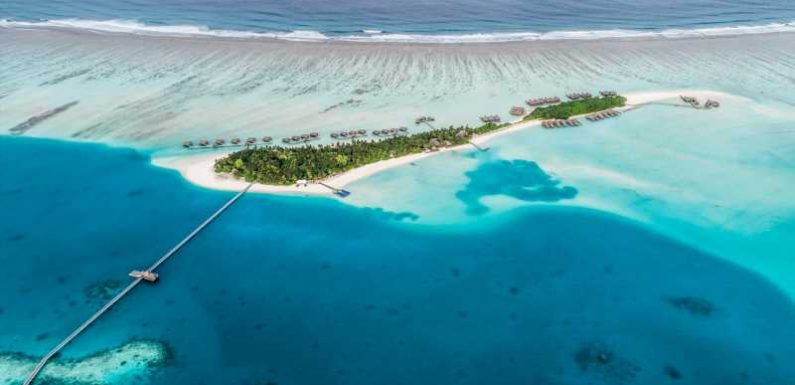 Load Error
I have a bad habit of planning trips when I am "grounded" at school and this trip was the product of a few months of downtime. As a college swimmer, October-February is the most intense part of my swim season, so I don't usually get to fly much. When I got the opportunity to travel again, I went all out with an around-the-world adventure.
I had three goals in setting out on this trip: One, visit the Maldives. Two, see Antarctica. Three, fly as many 747s as possible. Being a 19-year-old, those were some lofty goals, but we had a trip booked after about three continuous months of planning. While I love traveling alone, I decided this trip was too exciting to do on my own, so I invited my best friend Thomas along for the adventure — though I don't think he realized what he signed up for.
For more TPG news delivered each morning to your inbox, sign up for our daily newsletter.
Almost two years later, I am enjoying reflecting on my trip and going through photos of my favorite adventure to date. It took me 16 flights in 14 days, trekking through 11 countries to spend nearly 570,000 points. My itinerary ran as follows:
Atlanta
Fort Lauderdale
Miami
Santiago, Chile
Sydney
Adelaide, Australia
Doha, Qatar
Malé, Maldives
Colombo, Sri Lanka
Bangkok
Phuket, Thailand
Bangkok
Seoul, South Korea
Frankfurt, Germany
Milan
London
Austin, Texas
Atlanta
Related: How I booked a round-the-world ticket in business class for 170,000 miles
In This Post
Earning all those points
Earning the points was probably the hardest part of the trip. I spent about 200,000 miles on air travel and roughly 371,000 on hotels. Breaking down the numbers, it was a lot more attainable than one would initially think.
The day I turned 18, I started my card journey with The Platinum Card® from American Express. However, hitting a welcome bonus at that age is not the easiest thing. Luckily, I had a new camera purchase that helped me get over the minimum spending hump and I quickly found myself with 100,000 points/miles to my name.
Planning this trip, I knew I needed to stay at hotels along the way. For that, I picked out the Hilton Honors American Express Aspire Card along with The Hilton Honors American Express Business Card and after a couple of months, I had myself 250,000 points' worth of Hilton welcome bonuses. Following that up with a few more months of spending, I came to my magic number of 300,000 points.
Singling out and getting approved for the American Express Hilton Aspire card was crucial in making this trip a reality. While the card does come with a large annual fee of $450 (see rates and fees), the 150,000 bonus points after spending $4,000 in the first three months of account opening was too good for me to pass up. Those 150,000 points are worth $900, according to the latest TPG valuations. The real deal was the automatic Diamond elite status. TPG values Diamond status at $3,025 annually, which I definitely maximized on this trip.
The information for the Amex Hilton Aspire card has been collected independently by The Points Guy. The card details on this page have not been reviewed or provided by the card issuer.
Related: Best credit cards for college students
The goal was to spend very little cash on this trip, so Diamond status perks like free continental breakfast in the Maldives added up quickly. Breakfast was about $100 per morning without status, so four mornings of breakfast nearly offset the Aspire card's annual fee.
That doesn't even factor in the snacks we stuffed in our pockets so we could save a few pennies on lunch. I would have to spend hundreds, if not thousands, of extra dollars on the perks I received with the Hilton Aspire card.
The air miles came in a similar fashion, by way of welcome bonuses from the American Express Platinum Card, American Express® Gold Card and The Blue Business® Plus Credit Card from American Express. After 1.5 years of saving points, I transferred the points to airline partners.
I was really thankful my parents started me as an authorized user the day I was eligible and I was able to start accruing my credit history. I also have a full-time job as a professional photographer, allowing me to put spending on that card. I most certainly used this to my advantage by going for higher welcome bonuses. Earning an income allowed me to apply for better credit cards.
Related: Senior year in college: What's in my wallet?
Booking hotels
Booking was the next-hardest part, and it took a few weeks to really nail everything down. Having taken quite a few months to hit my minimum spending and get my act together, I only started the booking process about three months before my trip. This made finding award availability a little bit more tricky. However, tools like ExpertFlyer (owned by TPG's parent company, Red Ventures) made my life a lot easier!
Hotels were the easiest part of the trip because despite being gone for 14 days, we only had eight nights in hotels and one at a friend's house. No … not me thinking I could survive five red-eyes in 14 days … But that's beside the point. I decided that because I was now a Diamond member at Hilton thanks to my Aspire credit card, all stays should be at Hilton. This gave me access to a few cost-saving measures on the trip like complimentary breakfast, access to the lounge and space-available room upgrades.
We only had 14 days for this entire trip, so we had to plan this a little strategically. We ended up stopping for two nights in Chile, one in Sydney, one in the Maldives, one in Phuket and one in Milan. Here is the breakdown of our layover nights and how we spent them.
| | | |
| --- | --- | --- |
| Hotel | Location | Points spent/number of nights |
| Hilton Garden Inn Santiago Airport | Santiago | 33,000 points per night/2 nights |
| Conrad Maldives Rangali Island | Rangali Island, Maldives | 95,000 points per night (plus 1 free night certificate)/4 nights |
| Phuket Arcadia Resort & Spa | Phuket | $130 (couldn't justify the points)/1 night |
| Hilton Garden Inn Milan Malpensa | Milan | 20,000 points per night/1 night |
In total, I spent 370,000 Hilton Honors points and one free night certificate. With food, seaplane transfers in the Maldives and some ground transportation, our accommodations came out to just about $2,000 out of pocket. Most of that $2,000 I put on my Hilton Aspire card to earn 14x, for a total of 28,000 points which felt pretty justifiable for the amount of traveling we had just done. That doesn't even include what I earned back from my stays!
Related: 4 bucket list trips I'm booking this year using points and miles
Queen of the Skies
He is where things got a little bit trickier. I will not deny the fact that I am a massive AvGeek. For me, flying is fun, and I thoroughly enjoy the experience. I do not usually go for the best redemptions on my travels and instead focus on flying fun airplanes or checking off bucket list items. For this trip, it was all about 747s, and I was able to check off six of them.
The 747, also known as the Queen of the Skies, was first built in the 1970s and slowly upgraded through the years, with the final one being delivered next year. According to Planespotters.net, 694 747-400s were built, with 442 built as passenger models.
These four-engine long-haul aircraft were slowly fading into history with only 120 or so left in passenger service when I took my adventure. So this was one of the biggest reasons for taking the trip when I did. Flying different 747s certainly didn't amount to the best redemptions, but I did get to fly airplanes that have now been lost to time.
For this reason, as well as the article length, I will stick to summaries of the 747 flights. Sadly, none but a small handful have survived the COVID-19 pandemic. These jumbo jets just do not have a place in today's economy of more fuel-efficient twin-engine jets.
Booking flights
Booking the flights for this trip was certainly a challenge. Finding award availability was the hardest part because I only planned this trip about four months in advance. For this reason, I spent a good amount of time in economy, but for someone who was flying for the experience, this was totally fine by me.
British Airways Avios, Avianca LifeMiles and Alaska Mileage Plan were my go-to programs. My first big redemption of the trip was transferring 42,000 American Express Membership Rewards points to British Airways and booking a Qantas 747 from Santiago to Sydney.
Avianca LifeMiles was my second big redemption of the trip, though this was coming back from the Maldives. Seventy thousand Avianca LifeMiles got me a very nice business-class seat on the Lufthansa 747-400 from Seoul to Milan with an intermediate stop in Frankfurt. There were no doubt better business-class seats I could have chosen to fly instead of a 25-year-old 747 in a 2-3-2 configuration, but it was all about the airplane.
My final big redemption was 45,000 Alaska miles for a flight from Milan to Austin via London on board the British Airways 747-400. I will say I really should not have burned my Alaska miles on this flight. Instead, I should have tapped into AAdvantage miles, British Airways Avios or another Oneworld partner, but this was the final flight of the trip and my American Express Membership Rewards balance was nearly empty.
Related: How you can still use miles to fly the Boeing 747
Below the equator
Santiago was the first stop on the trip after a quick red-eye and an uneventful flight from Miami. Thomas and I chose the Hilton Garden Inn Santiago Airport simply due to the price. For 33,000 Hilton Honors points per night, a central location meant we didn't have to move too far to visit the city and had access to an airport shuttle. We didn't get to spend too much time exploring. I already knew two nights was far too short to say I had checked off the city, so a trip back is definitely in the cards for the future.
Santiago-Sydney
This was the flight I personally was most excited about on the entire trip. Pre-pandemic, this flight only operated three times a week, so that made booking even more of a challenge. The cost of 42,000 British Airways Avios was a little steep, knowing I would have to brave 14 hours in economy. However, the views more than made up for it.
Qantas was planning to retire the 747 in 2020, so I knew this would be my last time flying this bird. The amenities on the flight were quite dated, but I knew what to expect going in.
Qantas Flight 28 is the southernmost flight operated in the world and would require 330-ETOPS certification from a twin-engine airplane. However, having a 747 with four engines meant that this flight could operate over 5.5 hours away from the closest airport.
I chose August for this trip, knowing that this would mean I could get a chance at two sunsets on one flight. I also made sure to sit on the left side of the aircraft for the best views of Antarctica. Fourteen hours in economy was not easy … but the spectacular views more than made up for it. We were treated to a sunset that lasted well over four hours.
The Maldives
The first major stop on this trip was in the Maldives. I had always dreamed of an overwater bungalow bucket list experience. This wasn't something I had expected to be a possibility at 19 years old, but the points made it possible. Four nights at the Conrad Maldives Rangali Island was an incredible experience and I think the photos speak for themselves. For 285,000 Hilton Honors points and a free weekend night reward, it was an exceptional deal in my eyes.
We even got upgraded to a sunrise-facing overwater bungalow thanks to my Diamond status courtesy of my American Express Hilton Aspire card. While it was an amazing four days, that's all I had points for, so we got back on the seaplane and kept moving.
Related: Paradise, for a price: A review of the Conrad Maldives Rangali Island
Southeast Asia
Before being retired, the Bangkok-Phuket route was the shortest flight operated by a 747, at just over an hour long. I did have the option to use points but chose to spend $150 for the round-trip in business class. I even got lucky and was assigned one of the first-class seats, which were sold as business class on that route.
With miles, the flights would have set me back about 32,000 Asia miles through a transfer from American Express, but I felt like an hourlong flight did not justify the points as the cash price was very good. Even on such a short flight, we were still treated to beautiful meal service.
Phuket
The stop in Phuket was sadly another fast stop. We only got about 24 hours, though it was enough to decide that a trip back was in order at some point. The Hilton Arcadia is a wonderful resort located on the white-sand beaches of Phuket.
The staff made a difference at this stop. When I inquired about a space-available upgrade from my status, they profusely apologized when it wasn't available and even gave us a free dinner at a restaurant on the property. I wouldn't have even batted an eyelash if they had told me nothing was available, as I never go in expecting something that is only space-available. After a quick 24-hour stop, we were back to Bangkok to start a 60-hour hike home.
Related: Thailand is reopening, may offer hotel rooms for $1 per night in Phuket
Seoul-Frankfurt-Milan
The back half of my trip was the longest I had ever spent traveling. Something I now vow never to do again. Phuket-Bangkok-Seoul-Frankfurt-Milan clocked in at 42 hours door to door. I had a five-hour night in a hotel and then continued back home to Atlanta via London and Austin.
Luckily, I had a great Lufthansa premium-cabin experience to break up the long hours. Seventy thousand Avianca LifeMiles for a 12-hour flight in a 2-3-2 business class is not a redemption I would usually lean toward making. The exception came because it was a lovely 747, and it was one I had been waiting to check off.
I again curbed my premium-cabin expectations as the plane was quite dated, but I absolutely loved the flight and would take it again in a heartbeat. The signature Lufthansa meal service was standard but still beautiful.
Sadly, it is unknown whether the Lufthansa 747-400 will be returning to the skies, but the flagship 747-8i flagship has been Lufthansa's backbone throughout the pandemic.
London-Austin
Unknowingly this may very well have been my final 747-400 flight ever, which is a bit of a sad reality given the way the world looks right now. I booked the flight with 45,000 Alaska miles. This was easily the most dated of all the cabins. British Airways was the first airline to install revolutionary lie-flat seats on their long-haul fleet nearly 25 years ago.
Since then, the product has not evolved much and quickly became dated. I was not flying it for comfort; I was flying it because it was the 747, so there were no surprises. As always, the London-based cabin crew was magnificent and the catering that day was some of the best I had been served on British Airways.
Related: Check if you're targeted for an incredible 100,000-mile offer on the Alaska Airlines Visa Signature® credit card
What I learned
What did I learn? I learned that the possibilities were pretty much endless so long as I had points and an adventure buddy. Sure, I made a few mistakes that I don't think I will make again. I realized that maybe it was always a good idea to have someone double-check my details.
I actually screwed up my Vietnam transit visa and had to purchase a last-minute ticket to continue my trek home. I got lucky there was no question about it; the checking agent at Thai caught my mistake and I had a mom who was willing to help me sort it out.
It was a learning experience and I now know what to do (and maybe what not to do). Double-checking visas before departure is now on the checklist that I have on my phone that I go through before any international trip.
A tip if you're a 19-year-old looking to embark on an adventure or you have a kid my age looking to do the same: Make sure you share your itinerary in excruciating detail with someone you trust. Though my mom's head was probably spinning trying to figure out what continent I was actually on, it was very comforting to know that she had eyes on me. I also have a tracking app on my phone so that they know where I am at all times.
My international phone plan also played a big role in the trust between my parents and me. With AT&T, it is very cheap to unlock my phone internationally and that is definitely comforting for my parents and me if something goes wrong.
Bottom line
Blowing through over half a million points as a 19-year-old was one of the best experiences of my life. Having earned all of them myself, it was special getting to board the plane and check in to all those bucket list hotels knowing my hard work planning this trip had paid off. Would I do it again when the world reopens and it's safe? Well, I think the only limit is the number of points in my virtual wallet.
For rates and fees of the Hilton Honors Aspire card, click here.
Featured photo by Ryan Patterson/The Points Guy.
SPONSORED: With states reopening, enjoying a meal from a restaurant no longer just means curbside pickup.
And when you do spend on dining, you should use a credit card that will maximize your rewards and potentially even score special discounts. Thanks to temporary card bonuses and changes due to coronavirus, you may even be able to score a meal at your favorite restaurant for free. 
These are the best credit cards for dining out, taking out, and ordering in to maximize every meal purchase.
—
Editorial Disclaimer: Opinions expressed here are the author's alone, not those of any bank, credit card issuer, airlines or hotel chain, and have not been reviewed, approved or otherwise endorsed by any of these entities.
Source: Read Full Article