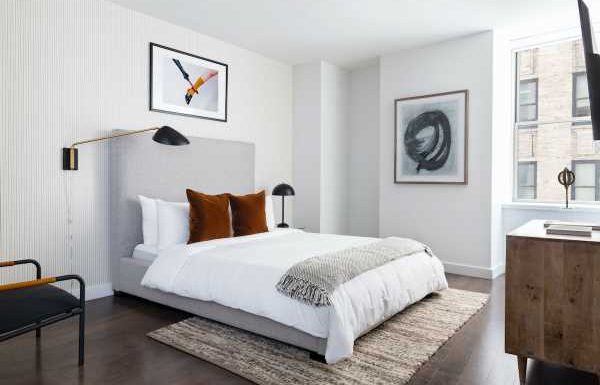 It's no secret that in a near post-pandemic world, we're all itching to get out of the house. Listen, the couch—and the potato chips and all of the binge-watching television—has been great to us during the past unbelievable year, but it's time to get on out there and do some much-needed traveling. You know, a little change of scenery. But if you're like the 77 percent of Americans who plan on taking a vacay in summer 2021, then despite your efforts, you too might be hitting a little snag: Everything—and we mean, everything—is booked up. So, what's a wanderluster to do?
We're not just talking Airbnb…because yes, Airbnb is booked-up beyond belief, but even the national parks are overcrowding. With so many people wanting to travel but only a limited amount of places to travel to and book with, tourists everywhere are searching high and low for other options. Whether you're more of a jet-setter or a backpacker, here's what we found for booking travel during summer 2021.
Vrbo
Sonder
Plum Guide
Expedia
Agoda
Booking.com
TurnKey
Outdoorsy
Onefinestay
9 Best Places to Book Summer Travel
Vrbo
Vrbo offers more than 2 million vacation rentals, making it one of the top booking sites there is. With offerings of just about anything you could be looking for—pet-friendly spots, condos, beach houses, specific amenities and more—Vrbo has everything from properties for large groups to smaller rental spaces for couples or solo travelers. The best part about Vrbo by far—its affordable prices aside—are its various options for amenities. Whether that's a private pool and hot tub or a full kitchen with functional space and appliances, Vrbo makes it easy to search for locations based on exactly what you need.
Book at Vrbo.
Sonder
Sonder offers the ultimate luxury experience with all the high-quality vibes of a hotel experience, but without the hassle. You can handle everything from the comfort of your phone—from the initial booking to check-in—and there's more than 4,500 listings worldwide to choose from. You'll find Sonder listings in 35 cities across the globe, including big hub cities like Montreal, London and Amsterdam. Keeping it in the U.S.? Our top favorite Sonder spots in the U.S. right now are this one-bedroom at the Duncan Plaza in New Orleans' Business District (starting at $90 per night) and this San Diego apartment that fits six (starting at $199 per night).
Book at Sonder.
Plum Guide
Got high standards? Travel with Plum Guide! Three percent of its homes in each destination win the highly coveted Plum Award, the new global quality standard for rentals. If it's listed on Plum Guide—and there are more than 5,000,000-plus listings on this booking site—then you know it's of the highest quality. Be sure to check out unreal destinations in the U.S. like Ojai, California; Charleston, South Carolina; New York's Hudson Valley and more.
Book at Plum Guide.
Expedia
Video: Best books for summer reading (TODAY)
Gwyneth Paltrow's daughter has never seen her movies

TODAY


Preview Jill Martin's conversation with Gwyneth Paltrow

TODAY


Laura Bush reacts after Jenna skydives live on TODAY

TODAY


Watch Jenna Bush Hager skydive live on TODAY

TODAY


National Museum of the United States Army salutes the nation's oldest military branch

TODAY


China launches 1st crewed space mission since 2016

TODAY


Bill allowing Texans to carry guns unlicensed is signed into law

TODAY


Nurses in Houston speak out against hospital requiring vaccines

TODAY


Mother-son murder in powerful South Carolina family has police hunting for clues

TODAY


Delta variant prompts renewed push for vaccinations

TODAY


House passes bill making Juneteenth a federal holiday

TODAY


Extreme heat wave shatters records across the West

TODAY


US, Russia could see 'cyber arms race' after Biden-Putin summit, analyst says

TODAY


President Biden back in US after Putin summit

TODAY


TODAY Talks – June 16: Jenna Bush Hager shares daughter's hilarious reaction to her skydiving

TODAY


TODAY in 30 – June 16: Biden-Putin summit, Bruce Springsteen chats with Hoda

TODAY


Gwyneth Paltrow's daughter has never seen her movies
In an interview with Jill Martin for Shop TODAY, Gwyneth Paltrow reveals that daughter, Apple, has never seen her movies. Paltrow also shares that she does indeed watch her own movies and her favorite is "The Royal Tenenbaums."


TODAY



Preview Jill Martin's conversation with Gwyneth Paltrow
Lifestyle and commerce contributor Jill Martin is launching a new monthly half-hour show on our streaming platform, TODAY All Day, and she's kicking it off with her first guest, Gwyneth Paltrow! She previews their conversation about beauty secrets, life balance and more.


TODAY



Laura Bush reacts after Jenna skydives live on TODAY
Former first lady and Jenna Bush Hager's mom, Laura Bush, jumps on the phone with the TODAY team to react just after Jenna skydived live from 10,000 feet to honor her grandfather. "You did great," she tells Jenna. "And it was a really great honor to your Gampy."


TODAY

Expedia has long had a reputation for being a one-stop travel site where you can book anything and everything to make your vacation dream worthy. With car rentals, flights and hotel options, Expedia is the closest thing to a travel agent as technology allows. With more than 2.9 million properties, 210,000 unique activities and 500-plus airlines, cruise lines and car rental options, you can arrange just about every aspect of your travels right on the computer or phone!
Book at Expedia.
Agoda
With more than 2,000,000-plus properties worldwide, Agoda offers all kinds of bookings, from traditional options (like hotels and homes) to private or even long-term stays. (If we had to make a particular recommendation, we'd say nab one of its private villas ASAP—so luxurious and expensive-feeling, but without blowing the budget.) According to the website, some of its most popular locations in the U.S. are Las Vegas, Los Angeles, Dallas and Orlando, Florida. When it comes to destinations abroad, its most booked include Dubai, Singapore, Jakarta, and Kuala Lumpur.
Book at Agoda.
Booking.com
Booking.com is more than hotels! Whether you're looking for an apartment, resort, cabin or private home, it's all there, so long as you know what to look for. And trust us, there's a lot to search through. With more than 774,874 apartments, 17,678 resorts, 387,467 villas, 30,584 cabins and 781,245 hotels, there's no limit to booking your dream vacation. To top it all off, Booking.com also has an exceptional community of like-minded travelers who can connect about their upcoming trips, ask location-specific questions and, of course, share their top traveling tips.
Book at Booking.com.
TurnKey
TurnKey calls itself "the smarter way to vacation rental," thanks to the booking platform's super high standards. Each rental is professionally cleaned regularly (as it should be) and features complimentary Wi-Fi, easily accessible digital locks and 24/7 guest support. A Travel Weekly Gold Magellan Award Winner, TurnKey has amassed more than 40,000 five-star reviews from satisfied guests. Oh, if TurnKey looks super familiar to you, it's probably because you've watched Stay Here on Netflix. As if you needed more reasons to book with them!
Book at TurnKey.
Outdoorsy
If you're looking for a travel experience more off the beaten track, or are still having trouble booking a hotel, going the RV route is a great option. Outdoorsy pairs travelers—um, campers?—with the RV that fits their needs. Whether that's a camper van, a trailer, a Class A or Class C RV, simply find an RV rental by inputting your travel dates and destination. For something a little extra, you can check out Outdoorsy's newest launch, Collective Retreats locations, which feature luxurious amenities like spa showers, covered terraces and soaking tubs. By booking an exclusive location with Collective Retreats, guests also unlock access to other luxury amenities, public spaces and guest programming—which, if you're lucky, could include anything from farm-to-table restaurants to cocktail bars and live music.
Book at Outdoorsy.
Onefinestay
Camping not your style? No worries! Live the luxe life—well, at least while you're on vacation—by booking with Onefinestay. A kind of go-big-or-go-home booking platform that features luxury rentals one could only dream of—Turks and Caicos; Greece; Hawaii; St. Barts; Cannes, France; Ibiza, Spain, and so many more—Onefinestay has listings that can only be described as chic. Guests are greeted in person when they arrive (because you should literally feel like a star when traveling with Onefinestay), and a concierge can help you book just about any amenity you could think of: a private chef, driver, child care, dining, activities—you name it. Onefinestay may not be the least expensive booking site on this list, but it is definitely the most glamorous.
Load Error
Book at Onefinestay.
Newsweek may earn a commission from links on this page, but we only recommend products we back. We participate in various affiliate marketing programs, which means we may get paid commissions on editorially chosen products purchased through our links to retailer sites.
Start your unlimited Newsweek trial
Source: Read Full Article