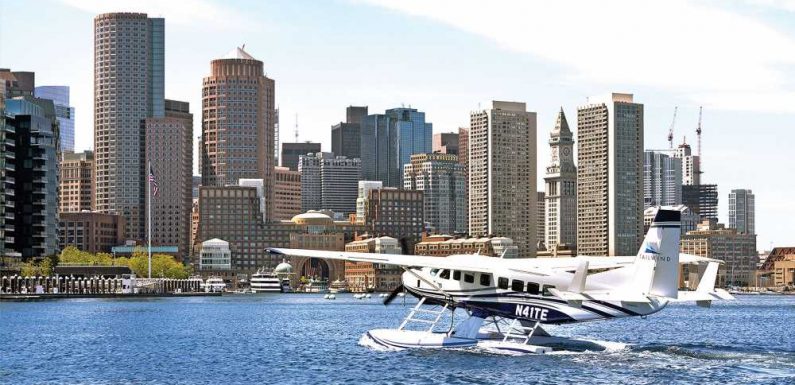 Seaplane operator Tailwind Aviation will begin scheduled service between Manhattan and the Washington area on Sept. 13.
The flights, which will travel between the Skyport Marina on Lower Manhattan's East River and the private College Park Airport in Maryland, will be the only regularly scheduled service within the flight restricted zone that covers the D.C. Beltway, with the exception of flights to Reagan National Airport.
"It's a great overall premium service and really the best way to get between two pretty congested cities," said Tailwind co-founder Peter Manice. Tailwind operates its flights with eight-seat Cessna Caravan Amphibian planes and currently flies nonstop from Manhattan to seven destinations in New York, Connecticut and Massachusetts. 
Related: Semiprivate airlines rebound from pandemic turbulence
The New York-College Park flights are scheduled for 10-times weekly service through Dec. 21. After a winter pause, the flights are slated to resume in mid-March.
Fares are set at $395 each way, which includes a luggage allotment of 20 pounds. The aircraft offer 36 inches of space between rows, which is similar to space afforded customers flying in extra-space sections of major airline economy cabins.
Tailwind says the New York-College Park flights will last between 80 and 90 minutes and arrival at the departure terminal is allowed up to 10 minutes prior to takeoff. The carrier says that the overall travel time between New York and Washington on Tailwind, including the typical commute to and from the terminal, will be approximately 1.5 hours less than a train commute and more than an hour less than commercial flights between LaGuardia and Reagan National. 
Manice acknowledged that bad weather can cause problems for amphibian departures and landings. Approximately 12% of Tailwind amphibian departures or landings this year have been diverted to nearby private airfields, such as Teterboro, N.J., in the New York area.
He said 2% to 3% of operations have been canceled.
Source: Read Full Article