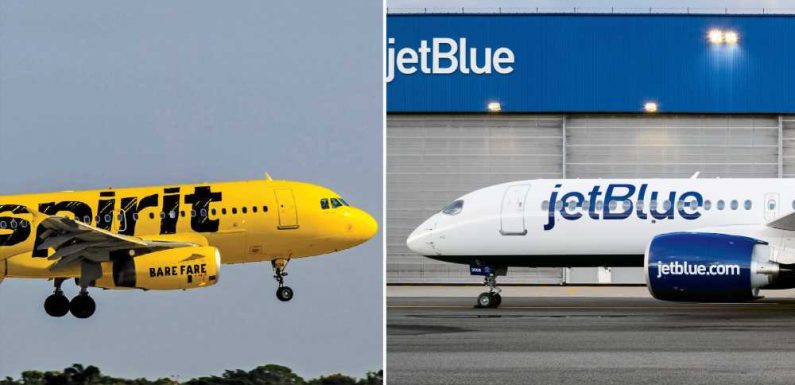 For the past three-and-a-half months, as he championed Spirit's merger deal with Frontier, Spirit CEO Ted Christie argued that a merger with JetBlue would have little chance of receiving a green light from antitrust regulators at the Justice Department. 
But on Thursday morning, shortly after the announcement that JetBlue had entered into an agreement to purchase Spirit for $3.8 billion, Christie dismissed his prior comments when pressed about them during an interview on CNBC's "Squawk Box."
"We were defending our deal and interested in
the benefit –or excuse me — in the interests of our stakeholders then, and now we're doing the exact same thing," he said. 
JetBlue CEO Robin Hayes was then left with the more specific task of explaining why the merger would be good for the competitive landscape of the U.S. airline industry.
Noting that American, United, Delta and Southwest account for approximately 80% of U.S. commercial flying, Hayes argued that a combination of JetBlue and Spirit could grow faster and compete better than they could do apart. 
"So, the best thing that we can do to create a more vibrant, a more competitive industry is to really empower this like-new, larger JetBlue that can bring low fares and great service together," he said.
But as the DOJ begins reviewing the merger proposal, there's a chance that Christie's previous words against a JetBlue acquisition will come back to haunt him, said Kerry Tan, an associate economics professor at Loyola University Maryland's Sellinger School of Business, who has published research papers about airline mergers.
"That's definitely low-hanging fruit as grounds for the DOJ to be able to challenge the merger," Tan said. 
JetBlue anticipates concerns of competition regulators
The combination of Spirit and JetBlue would be the fifth-largest U.S. airline, offering more than 1,700 daily flights to some 125 destinations in 30 countries, based on December 2022 schedules.
The combined airline would represent 9% of the U.S. airline market, according to the carriers' calculation. It would also have more than 450 aircraft with another 300 on order.
In anticipation of regulators' concerns, JetBlue has already committed to divesting some of Spirit's holdings, such as arrival and departure slots and gate leases at Newark, New York LaGuardia and Boston airports to allow for allocations to low-cost airlines.
Those three airports are part of JetBlue and American Airlines' Northeast Alliance in the Boston and New York areas. The Justice Department is suing to break up that alliance, and a trial date is set for September. 
Tan said that he ultimately believes the DOJ will approve the JetBlue-Spirit merger, but not without extracting concessions, potentially including network constraints in Florida, where both JetBlue and Spirit have a large presence. 
The Northeast region, including the JetBlue-American partnership, will be another area of concern.
"Surely the Northeast Alliance is going to be coming up as one of the discussions. How JetBlue negotiates their way out of it will be interesting to see," Tan said. 
Getting bigger to compete better?
Opposition to the merger is likely to come from some usual suspects, including consumer groups and the American Antitrust Institute.
The institute's president, Diana Moss, said that divesting Spirit's Northeast holdings wouldn't be an antidote to the loss of competition that would come from a JetBlue-Spirit combination. The two most likely recipients of those assets, she said, would be Frontier and Southwest, both of which have histories of entering and then exiting markets. If a carrier takes over Spirit's New York-area footprint and subsequently pulls out, the benefits would be lost. 
Moss also threw cold water on the JetBlue CEO's argument that subsuming Spirit is the best way to foster competition in the U.S. airline industry. Under that strain of logic, she argued, industries would routinely whittle down to just a couple of competitors.
"The argument that we've got to get bigger to compete better has never been an argument for a merger," Moss said. 
Good for biz travelers, bad for bargain hunters
Seth Miller, editor of PaxEx.Aero — a website focused on the airline passenger experience — expressed doubts about whether the merger would win approval without a court fight. But if it does, Miller thinks the tie-up would have a mixed impact on consumers. 
For Spirit customers, he said, the combination would offer the obvious benefit of more comfort as JetBlue converts Spirit's densely configured Airbus planes into more spacious JetBlue interiors. Flyers on those routes would also enjoy free WiFi and free live television. 
Conversely, said Miller, prices on those flights are likely to go up, especially in markets in which JetBlue and Spirit both currently operate. 
More broadly, Miller said a JetBlue-Spirit merger would hurt the most price-sensitive U.S. flyers by removing the nation's largest ultralow-cost airline from the market. While Frontier, Allegiant and newer discount entrants such as Breeze would likely fill that vacuum, that wouldn't happen immediately. 
"They are going to see their opportunities diminished for a significant period of time," Miller said. 
But such a merger could be a win for business travelers in some Spirit markets taken over by JetBlue. Along with flying more comfortable planes than Spirit, JetBlue is more apt to offer the multiple frequencies per day that business travelers require on key routes, Miller said.
Source: Read Full Article