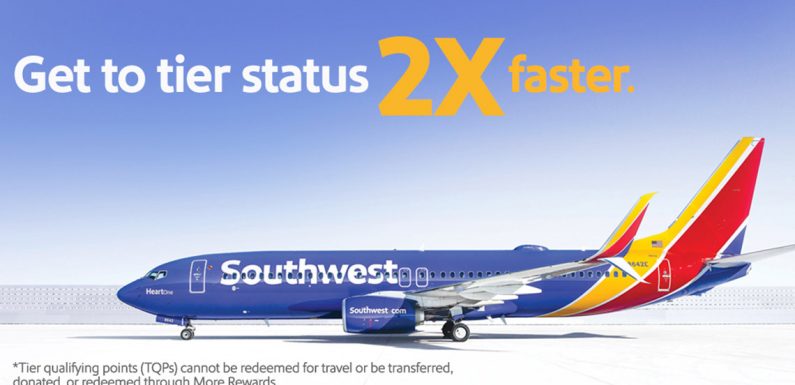 Southwest Rapid Rewards members can earn double points toward elite status on flights through the end of November. 
"We understand the pandemic continues to make it difficult for existing members to earn tier status and enjoy benefits that come with achieving it," said Corbitt Burns, Southwest's director of Rapid Rewards.  
To take advantage of the offer, customers must first register for the promotion.
Related airline stories
Delta extends Medallion status into early 2023
Southwest devalues Rapid Rewards loyalty points
United eases loyalty program restrictions
To achieve Southwest A-list status, Rapid Rewards members must earn 35,000 tier qualifying points or fly 25 one-way flights. For the higher A-list Preferred, those thresholds jump to 70,000 points or 50 flights. Rapid Rewards members can earn a Companion Pass at 125,000 points or 125 flights.  
Earlier this year, Southwest eased the path toward elite status by giving all Rapid Rewards members 15,000 tier qualifying points and 25,000 companion pass qualifying points. The carrier also doled out 10 flight segments toward elite status and 25 flight segments toward a companion pass for all Rapid Rewards members. 
Tier status points are typically awarded in similar fashion as Rapid Rewards redemption points, with Rapid Rewards members earning a specific number of points per dollar spent, depending upon whether they purchase a Wanna Get Away, Anytime or Business Select ticket.
Source: Read Full Article