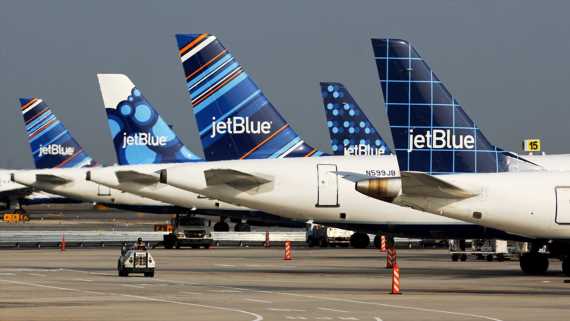 JetBlue has launched a program designed to help corporate customers reduce business travel emissions and meet sustainability targets
Biogen, Deloitte, ICF and Salesforce the first customers to join the initiative.
JetBlue's Sustainable Travel Partners program offers participants sustainable aviation fuel certificates. The carrier currently uses sustainable fuel on routes from San Francisco and Los Angeles airports, and JetBlue plans to expand to the Northeast. 
JetBlue also plans to provide emissions data based on travelers' actual flights and the carrier's average fuel burn on those routes. The airline is working to include travel emissions data into Salesforce's Net Zero Cloud tool for those in the Sustainable Travel Partners program.
Related: Cruising's net zero commitment
The carrier also said it would help customers develop strategies to reduce emissions associated with their business travel, and participants would receive carbon offsetting on domestic flights operated by JetBlue.
Several other airlines have launched sustainability programs for corporate customers, including Air Canada, Southwest Airlines and United Airlines. Further, Deloitte — which also is part of the Air Canada and United programs — announced agreements with both American Airlines and Delta to purchase sustainable fuel. Microsoft has agreements with Alaska Airlines and KLM in which it buys sustainable fuel credits to offset travel on its busiest routes.
Source: Business Travel News
Source: Read Full Article