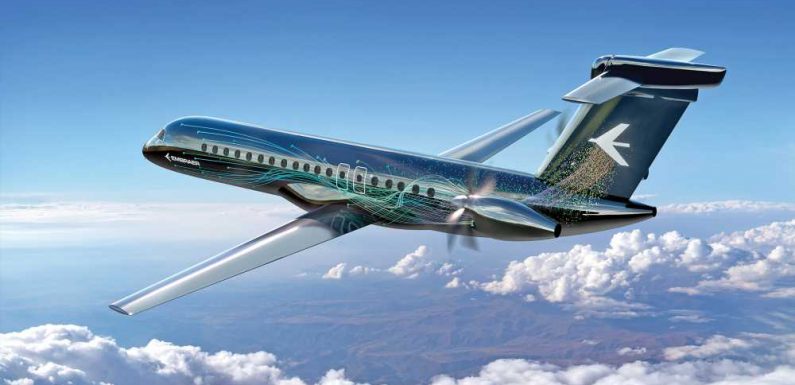 U.S. airlines mostly abandoned propeller planes in the 1990s. But considerations by Embraer to build a next-generation, large regional turboprop aircraft for first delivery late this decade could jump-start a resurgence.
The planes aren't as fast as jet planes, especially on longer routes. But, importantly, turboprops offer substantial efficiency improvements compared with jet aircraft on short-haul routes, an asset that operators may find attractive as they seek to meet ambitious sustainability targets.
"Ultimately, it will come down to market acceptance," said airline industry analyst Bob Mann of R.W. Mann & Co. "If the U.S. market wakes up and smells the coffee and realizes this is a much more environmentally friendly aircraft concept, I think they'll be able to get over the turboprop avoidance factor."
Currently, Alaska is the only mainline U.S. carrier that still uses propeller planes in its regional network, with Alaska subsidiary Horizon maintaining a fleet of 32 De Havilland Dash 8s, which are also known as Bombardier Q400s. In addition, Silver Airways uses 46- and 72- seat propeller planes made by France-based ATR on its Florida and Caribbean network, and New England-based Cape Air uses nine-seat propeller planes for its operations in the Northeast, the Caribbean and elsewhere.
American, Delta and United don't use propeller planes in their regional networks, meaning that their numerous regional operating partners, such as Sky West, Republic and Mesa, as well as wholly owned subsidiaries like Piedmont (American) and Endeavor (Delta) also operate all-jet fleets.
Related: Airlines retiring their smallest planes, raising concerns for small markets
Embraer's future plans
However, at the Regional Airline Association (RAA) Leadership Conference in Washington last week, executives of regional carriers heard a pitch from Mark Neely, Embraer's vice president of sales and marketing for the Americas, about its turboprop concept. 
The Brazilian manufacturer envisions 70-seat and 90-seat variants of the turboprop plane, with the smaller of the two being used as replacement for aging, single-cabin, 50-seat regional jets. 
Neely said the aircraft would offer dual cabins and overall customer experience that is on par with Embraer regional jets. 
"It's the complete experience of the 175," he said, referencing the ERJ-175, a 76-seat plane that is flown by several large U.S. regional carriers.
Embraer envisions these next-generation aircraft having their twin turboprops positioned on the rear of plane, a feature that the company believes could help reduce hesitancy in the propeller plane-averse U.S. market.
Development of the aircraft, which Embraer has not yet made a final decision on, would also position it to compete with ATR, which currently dominates the more robust European regional propeller plane market.
Canada's Longview Aviation Capital, which now owns the De Havilland Dash 8, has meanwhile suspended production of that aircraft, though it has left the door open to a resumption of manufacturing.
Open to the concept
At the RAA conference, airline executives indicate an openness to Embraer's propeller plane concept.
Bryan Bedford, CEO of Republic Airways, which operates regional flights for American Eagle, Delta Connection and United Express, said that such a plane would offer operational savings as well as environmental benefits.
"The trade-off is speed, and big propellers, which Americans seem to hate," he said.
Chip Childs, CEO of SkyWest, which is the largest U.S. regional carrier, said that the airline industry will need to look at new fleets and technology as it works to meet sustainability targets. He also said that U.S. networks will be different post-pandemic than they were pre-Covid, with demographic shifts away from large cities leading to more flying to smaller destinations.
"I think when you look at all that data, there are some real opportunities for manufacturers," Childs said. 
Analysts say a turboprop revival would make sense. A wave of upcoming retirements of first-generation regional jets, combined with rising fuel prices, are two reasons, said Richard Aboulafia of the the Virginia-based Teal Group.
Then again, he said, turboprops have always made sense on short routes. 
"Regional airlines pay for range and speed they don't need," Aboulafia said. "Everybody wants to take on the world. And they want the speed and range that jets bring them. But if you look at their networks, most flights are an hour or two."
Mann said that on routes of up to approximately 450 miles, turboprops can be operated in approximately the same amount of time as jets. Going farther, flight times become noticeably longer, though some operations could still be viable depending upon how much a carrier could derive in savings from better fuel efficiency.
Related: Airbus develops zero-emission concept planes, but experts doubt idea will fly
One airline executive who is especially bullish about propeller planes is John Thomas, head of the nascent Connect Airlines, which is aiming for a launch this fall serving Midwest and Northeast markets from Toronto's Billy Bishop Airport. Connect will use De Havilland Dash 8s.
Speaking last month on a CAPALive web panel hosted by the Australia-based CAPA Centre for Aviation, Thomas said that in 2019, 165 million U.S. passengers flew sectors of less than 400 miles. He said Connect will produce 60% less emissions with its Dash 8s than it would with jet operations. 
"We believe that there is going to a real resurgence in the use of turboprops in the U.S. domestic market," he said. 
Source: Read Full Article