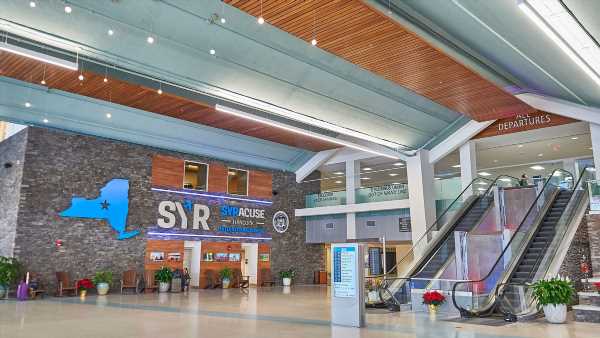 As airports go, Syracuse Hancock in upstate New York is pretty small. Still, said Jason Mehl, the airport's chief commercial officer, in a typical year it will log approximately 700 items into its lost and found.
Once, Mehl said, a passenger used the lost and found to drop off a small dog that had somehow snuck into the passenger's bag without him knowing. The owner's girlfriend showed up later to claim the unfortunate canine.
A pet hamster one day and a suitcase filled with sex toys another are among the more colorful items that have been left at Syracuse Hancock in recent times, Mehl said. But mostly, flyers leave behind routine items such as glasses, clothes, baby strollers, credit cards, IDs, cellphones, water bottles and earbuds.
Syracuse, of course, is just the tip of the iceberg when it comes to lost, forgotten, mislaid and abandoned items in airports around the world. A recent National Geographic Channel program about airport lost and founds estimated that millions of items are left at U.S. airports annually. That figure doesn't include items left on planes. 
With so much volume, a primary challenge for airports is how to reunite those items with flyers. Travelers, meanwhile, often face frustration when they try to recover an item.
At Syracuse, for example, the process was an inefficient, manual one that often included phone calls and voicemails and required airport security staff to search the room's inventory and physically match an item with a caller's description.
Mehl, who has been with Syracuse Hancock for 14 months, said this dilemma became real to him when an inquiry from a customer led him to the airport's lost and found. "They opened this closet full of stuff" that had only been organized into an Excel document. 
Matching items with owners
Fortunately, AI tools have been developed to address this issue. 
The Excel incident led Mehl to partner in January with Miami-based startup Boomerang, which has developed solutions for universities and sports stadiums. Syracuse joins Savannah/Hilton Head as Boomerang's airport industry launch partners.
Boomerang CEO Skyler Logsdon said he decided to start the company along with friends Philip Inghelbrecht and Augustine Diep-Tran during a brainstorming session in Mexico a couple of years ago. 
At the time, Inghelbrecht, who founded the song identification app Shazam, lamented that his two daughters have lost lots of things when they travel, but though he has made lost and found claims, they haven't been fruitful. 
Boomerang's solution is designed to make the matching process easier. After airport staff members take a photo of a lost item and add a few notes, the info is saved within the app. Meanwhile, airport customers are directed to submit claims digitally, providing descriptions and, when possible, photos.
After the claim is submitted, Boomerang's AI-driven algorithm attempts to pair the claim with items in the lost and found. If a match is made, airport staff are dispatched to verify it. Then the Boomerang application alerts the customers of the find, even printing mailing labels if the customer makes a request. There is no user cost for the service except shipping, depending upon the airport's policy.
Some large airports, including Dallas-Fort Worth, Denver and Amsterdam have turned to a solution developed by San Francisco-based Fountastic, which operates on a similar, app-based premise.
Logsdon said that with Apple's AirTags and similar products expanding in popularity, the pressure is growing on airports to improve processes for digging items out of their lost and founds. 
A passenger can't show up at the lost and found, he said, "and say, 'Where's my bag, or car keys, or wallet.' They're not going to just trust you. There still needs to be a platform that connects you."
Mehl said that it's too soon to know if Boomerang has improved the lost and found retrieval rate at Syracuse Hancock, but he's optimistic.
"People tend to just write these items off if they can't reach [lost and found staff] in a couple tries," he said. "Nobody wants to talk to people anymore. With automation, we are meeting customers where they actually are."
Source: Read Full Article