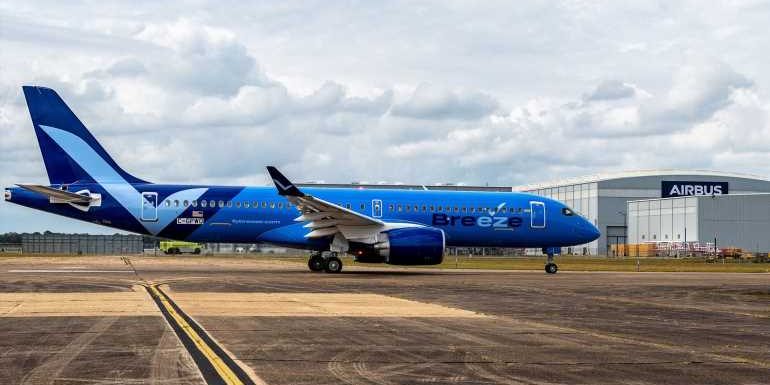 With travel demand high, discount airline Breeze Airways will aggressively charge into its second summer of flying, pursuing a strategy of growing into unserved city pairs, where it hopes to use cheap airfares to stimulate market demand. 
"It's no different than has been done since the beginning of aviation: the lower the fare, the more people travel," Breeze founder David Neeleman said. 
This month, the carrier announced that it will add 10 destinations over the summer, taking its total city count to 28, while nearly doubling its network from 42 to 77 routes. 
Breeze will also begin flying the Airbus A220-300, which has a range of approximately 3,800 miles, or approximately 1,000 miles longer than the range of its existing Embraer E190-series fleet. 
With the introduction by the summer's end of up to 10 out of the eventual 80 A220s that Breeze has on order, the airline will expand to include West Coast destinations and offer cross-country service to midsize cities from San Francisco, Los Angeles and Las Vegas.
The A220s will also debut the carrier's first-class product, called Nicest, which Breeze is generally selling for much less than first-class tickets on established carriers. 
Those premium cabin seats will undercut major airlines' premium fares by hundreds of dollars, according to Willis Orlando, senior product operations specialist for Scott's Cheap Flights, a service that alerts members to bargains at their local airports. 
"They have the potential to be a major disrupter as JetBlue was, as Southwest was," Orlando said. 
Neeleman, who founded JetBlue as well as Canada's WestJet and Brazil's Azul, has said since well before last May's launch that Breeze will focus on city pairs that currently lack nonstop service while taking advantage of a low-cost structure to keep airfares inexpensive.
Newly announced routes such as San Francisco-Louisville, Ky., and Los Angeles-Norfolk, Va., are two examples of the types of markets that Breeze will enter as the lone carrier on east-to-west routes. 
A first year filled with challenges
Neeleman acknowledges that Breeze's first 10 months of operations faced unexpected challenges, with the Covid-19 delta variant impacting revenue in September and omicron hitting hardest in January. 
In December, the most recent month for Bureau of Transportation Statistics data, Breeze had a load factor of just 61.2%, well below the 79.7% of seats that U.S. air carriers filled overall.  
Demand, however, is soaring now, said Neeleman, echoing reports being made throughout the U.S. airline industry. Also, like other U.S. airlines, Breeze will fly slightly less capacity this summer than it had planned due to high oil prices. Overall, the young airline remains quite small, with about one-third the capacity planned for the summer as the Minneapolis-based discount carrier Sun Country.
The summer schedule offers strong indications about which of Breeze's eastern U.S. destinations have thus far shown the most potential. When it launched last year, Breeze made Tampa; New Orleans; Charleston, S.C.; and Norfolk, its largest stations. Cirium flight schedule data shows that Breeze is ramping up capacity and route offerings in Charleston and Norfolk.
From New Orleans, however, Breeze has cut back, while from Tampa the carrier has increased its overall frequency count but has contracted from 10 routes last July to nine this one. 
The real measure of Breeze's progress, said Brett Snyder, an airline industry analyst who authors the Cranky Flier blog, will come as it builds up service using the A220. With 80 of those planes on order and eventual plans to use some of those aircraft for international service, the carrier's route network eventually will be planned mostly around that plane.  
"It seems like it doesn't matter if it's going well or not. They're just pushing ahead," Snyder said. "With David Neeleman, it's all about fast growth. All of his airlines, he goes crazy: He just keeps going until it works or fails." 
And thus far, Snyder added, Neeleman hasn't failed. 
For now, Neeleman said, much of Breeze's strategy revolves around stimulating demand for its nonstop routes that are new to local markets. He expects, for example, that once Breeze begins offering direct service to Las Vegas this summer from cities including Charleston and Syracuse, N.Y., the carrier will tap into unearthed demand in those markets. 
"We have a lot of pilot training going on, a lot of flight attendant training going on," he said. "A lot of markets that need to mature, but yeah, we're on track."
Source: Read Full Article