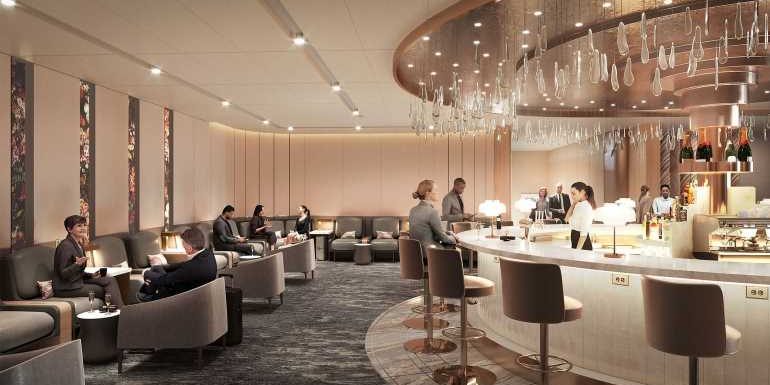 American Airlines and British Airways on Tuesday announced additional details about their colocation at Terminal 8 at New York's JFK Airport, planned for Dec. 1, 2022. 
The roughly $400 million redevelopment will include five new widebody gates, four new widebody hardstand parking positions, an enhanced baggage-handling system, new customer amenities and expanded premium guest offerings, and approximately 130,000 square feet of new and renovated terminal space.
The redesigned terminal will house a new check-in area for eligible business customers and a co-branded premium check-in area with "personalized, concierge-style service to top-tier guests," according to the carriers.
The co-branded premium check-in area will replace American's former Flagship First Check-In space, which is expected to close on Feb. 1 for construction. Premium customers traveling on eligible itineraries will be directed to temporary check-in counters located nearby.
Post-security, there will be three custom lounges with about 1,000 seats in total. The most exclusive lounge will feature a champagne bar, fireside lounge and an a la carte dining room. Adjacent will be another premium lounge with a wine bar, cocktail lounge, library and buffet. American's Flagship Lounge and Concourse B Admirals Club will be repurposed into a contiguous lounge for eligible business-class customers.
During the redevelopment, all lounge spaces will remain open and operational, according to American. Following completion, the Concourse B Admirals Club will close and the Concourse C Admirals Club will continue to serve members, qualifying elite customers and those traveling on eligible itineraries. 
As joint venture partners, American and British Airways offer up to 14 peak daily departures scheduled to operate between JFK and London Heathrow Airport this summer. Until the planned December relocation, British Airways will continue to operate out of JFK's Terminal 7.
Source: Business Travel News
Source: Read Full Article