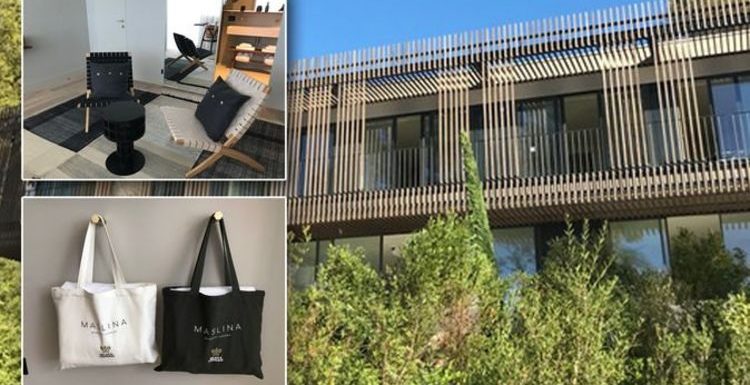 When you subscribe we will use the information you provide to send you these newsletters.Sometimes they'll include recommendations for other related newsletters or services we offer.Our Privacy Notice explains more about how we use your data, and your rights.You can unsubscribe at any time.
In their footsteps followed American 'political royalty' in the form of Jacqueline Kennedy, who found peace and refuge here eight months after her husband John's assassination. She found it so uplifting, she even went waterskiing.
It comes as no surprise that the owners of the brand new Maslina Resort, chose the restful and stylish location of Maslinica Bay, just outside Stari Grad to open their wellness retreat.
The resort isn't all about carrot juice and nettle tea (though that would be entirely acceptable). Maslina's ethos is about mindful luxury – connecting, grounding and recharging in a stunning environment.
This resort organically embraces its own raison d'etre without even trying. The heady scent of the surrounding pine forest. The tufts of lavender bushes bursting through the craggy hillsides and the cheery chirping of crickets are natures relaxants.
The calming influence continues through hotel's design featuring serene contemporary Asian-style buildings which melt into the landscape. The elegant ventilated facade and flat roofs planted with creeping vines are examples of the tremendous thought that has gone into making the hotel as unobtrusive as possible.
Communal areas encourage relaxing with low white sofas and latte coloured kid-soft leather chaise lounges. The sunken lounge, in particular, is beautiful with cream woven chairs and pale apricot terracotta floors. A small yet perfectly-formed library stocks well-curated topical books about Croatia's history and interior design tomes.
The 53 large rooms and suites arranged over six buildings have sea views. The three sensational rock-star, stand-alone villas at the water's edge are the resort's piece de resistance with large decks, open air living spaces and up to five bedrooms.
All rooms have blonde wood floors, enormous beds with mattresses made from coconuts. Lighting is discreet with hanging lampshades edged in pretty tassels. Room dividers take the form of floaty white curtain walls or wooden geometric-patterned screens.
In the bathrooms, sinks are structured from the distinctive white stone from neighbouring Brac, the perfect accompaniment to the elegant wooden baths. There are waffle towels galore; lovely canvas bags for guests to use poolside. The kilner jars on the mini bar filled with delicious treats such as truffles and nuts are thoughtful touches.
The hotel's Green credentials are impressive. In-room amenities are 99 percent organic and are sourced locally. There is no single-use plastic and 60 percent of the staff come from the island itself.
The white Brac stone features again in giant pots of succulents surrounding the pool and re-forested pine and olive trees provide a continuity of the surrounding landscape. Two pools create an illusion of being an extension of the bay.
FOOD AND DRINK
The Restaurant is overseen by two-Michelin-star chef, Patricia Yeo who works with an abundance of outstanding local produce creating different sensational menus each day.
'Sunday Dinners' are a favourite such as roast chicken along with specialities of Gregada (Dalmation Fish Stew), Squid Ink Risotto and smoked seafood pate.
Dining location options include outdoor wooden tables perfectly placed for sunset, or inside in the rather sensous deep-green dining room with black marble tables.
ACTIVITIES
Work it all off on one Maslina's wooden bikes. Wind your way through the pine forest along the coast to the charming town of Stari Grad. Make sure you pack your cozzie and join the octogenarian ladies, resplendent in their colourful bathing caps taking a morning dip in one in one of the tiny islets along the way.
The 19th century Stari Grad's recently-expanded port is dominated by three classical stone buildings, including the City Hall, built during the Austria-Hungarian period in the the 19thc when sea trade was flourishing. Now it's just the flotillas of yachts and tiny wooden fishing boats jostling for position against its concrete walls.
Branching off the main promenade like tentacles, are narrow cobbled streets leading to pretty squares surrounded by tiny two-storey stone houses, proudly exhibiting the gardening credentials of their residents.
Maslina's superstar, Experiences Manager, Zorana, will choreograph all manner of excursions. From cruises out to the nearby Pakleni islands with their pristine white sand beaches to hiking through ancient olive groves; pottering around abandoned stone villages and wine tasting in 250 year old old cellars lit by candelabras, listening to Pavarotti.
Don't miss lunch or dinner out, in a traditional Konoba, sampling authentic dishes cooked on coals, under the stars.
Nearby Hvar Town is a glamorous,old-school resort with an equally glamorous European clientele. It's a mini Dubrovnik of sorts with gleaming white stones and steep, stepped streets. Night time is when it comes alive with twinkling lights and romantic hole-in-the-wall bars.
WELLNESS
The Resort's Pharomatiqu Spa is a stupendous two-storey haven of indulgence and pampering. You name it, it is on offer. From fitness and wet areas to a plethora of treatments such as sound therapy, mindful movement – complimentary yoga and meditation. All are executed by phenomenal therapists who will not only energise and heal your body, but your mind too. In the 8,000 metre organic garden you can not only enjoy meditation but a private dinner amongst the aromatic paradise. That it is.
THE DEAL
Doubles at Maslina Resort start from £259 per night (two sharing) B&B.maslinaresort.com
Source: Read Full Article