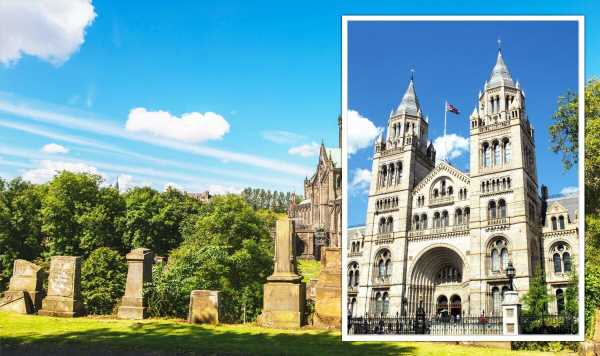 Carole Malone erupts at Spain's new travel policy
We use your sign-up to provide content in ways you've consented to and to improve our understanding of you. This may include adverts from us and 3rd parties based on our understanding. You can unsubscribe at any time. More info
Premier Inn has used booking data to find this year's most popular UK staycations. But where are British families heading this summer?
Most popular summer staycation cities
London
Glasgow
Edinburgh
Manchester
Dover, Kent
Bournemouth
Liverpool
Newcastle
Southampton
Exeter
London is the most popular city break destination for staycation holidaymakers in 2022.
The capital city is one of the UK's most expensive destinations but has an incredible range of activities for tourists.
Families can enjoy endless days out at one of the city's free museums such as the Natural History Museum and the Science Museum.
Many of London's galleries also offer free entry while the city has plenty of stunning parks to relax in on a hot afternoon.
This August, Somerset House will host This Bright Land, a free pop up event with sensory activities, music, food and a ferris wheel.
Glasgow was the UK's second most popular city break destination and Scotland's top hotspot.
Tourists can visit the stunning Kelvingrove Art Gallery and Museum for free or the beautiful Botanic Gardens.
Glasgow is also a premier shopping destination and staycationers can enjoy stunning views from the Necropolis cemetery.
Edinburgh also made the top three best city break destinations and tourists could visit in August to enjoy some of the city's Fringe events.
Edinburgh Fringe is one of the UK's best arts events and the city plays host to an incredible array of theatre, arts and music during the festival.
Tourists can also visit Edinburgh Castle, which was recently named as one of the UK's most beautiful attractions.
Beach lovers could opt for a summer holiday in Bournemouth and split their time between the city's golden sands and its shopping streets.
Bournemouth Beach is perfect for families and tourists should keep a look out for the goats grazing on the hills behind the beach.
Manchester was the North's top city break with Liverpool and Newcastle also making the list.
Each of the cities has an incredible nightlife scene and all are top foodie and shopping destinations.
Culture fans could visit the Tate Liverpool while sports fans could explore the Football Museum in Manchester.
Meanwhile, visitors in Southampton will have easy access to stunning beaches from the city centre.
Source: Read Full Article