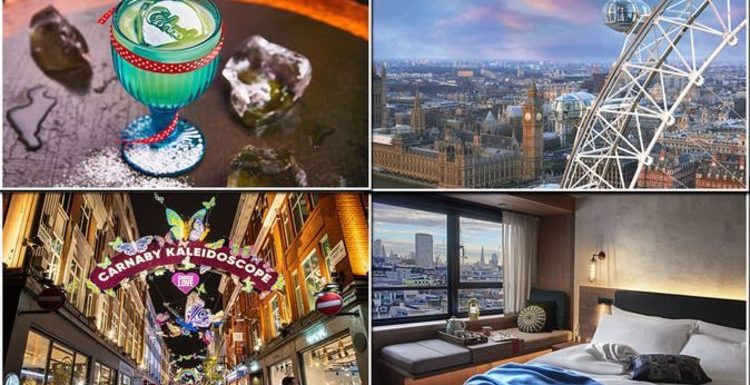 We use your sign-up to provide content in ways you've consented to and to improve our understanding of you. This may include adverts from us and 3rd parties based on our understanding. You can unsubscribe at any time. More info
A romantic weekend with your special someone is the perfect way to spend some quality one-on-one time together. Whether you're looking to snuggle up in a hotel overlooking the bright lights of the city, hoping to be wowed with a West End show, or are a couple of foodies looking to explore the urban landscape with your tastebuds, London has something for everyone to enjoy. In partnership with Visit London, Express.co.uk spent a weekend getting loved up in the Big Smoke.
A whimsical stay in your own 'treehouse' hideaway
London is home to hundreds of hotels offering everything from high-end luxury to quirky boutique stays, but if you're after something truly unique, look up to the Treehouse Hotel.
Nestled high above Marylebone, this playful escape combines the nostalgia of a childhood treehouse with all of the comforts one might expect of a boutique hotel.
Opened in 2019, The Treehouse Hotel resides on the top five floors of a 1960s office block. From the outside, you might not notice it at all, but that's exactly why one should never judge a book by its cover.
Once inside, guests can immerse themselves in a world of hanging greenery, contemporary wooden features and incredible views spanning the London Eye, The Shard, Canary Wharf, and Regent's Park.
The hotel offers its very own "Tree Love" package, perfect for a romance-infused stay. Open the door of your room to find rose petals adorning the bedroom and bathroom, and dressing gowns specially appliquéd with a "Tree Love" arrow heart.
Breathtaking views of the cityscape are highlighted by a glass-walled bathroom, which means one simply needs to pull back the curtains to enjoy awe-inspiring vistas while enjoying a relaxing shower.
If you do opt for the speciality package, you're also able to choose from two additional extras such as a bottle of Prosecco, a flower bouquet or two of The Nest's bespoke bottle cocktails.
Though there are plenty of bars and restaurants in the surrounding area, all of your dining needs can be met without stepping foot outside of the Treehouse.
The hotel is home to four different eateries: Madera, a Mexican-infused breakfast, lunch and dinner experience; Pizzeria Mozza, the first UK restaurant from Los Angeles-based Chef Nancy Silverton; The Nest, a rooftop bar with the best views in the house; and the Backyard, a coffeeshop that although housed on the ground floor, gives the same elevated feeling as being tucked away in your very own treetop escape.
Head to Madera for breakfast, where stand out stars include the vegan breakfast, chorizo bowl and coconut parfait, complete with edible flowers.
Rooms at the Treehouse Hotel start from £299 per night.
Borrow Cupid's wings and fly high above the city sunset
In the words of Romeo and Juliet's Mercutio: "You are a lover. Borrow Cupid's wings and soar with them above a common bound."
This Valentine's Day, take Shakespeare's words literally and board Cupid's Pod, a one-of-a-kind experience which offers lovers their very own private pod on the London Eye. Elevated 135 metres above the glistening lights of London town, as the sun dips below the horizon, there's arguably no surrounding more romantic than this one.
Each Cupid's pod experience lasts 30 minutes and comes complete with a bottle of Pommery Rosé Champagne and a luxury box of Hotel Chocolat Pink Champagne Truffles.
All of this is served by your own personal London Eye host who is also on hand to dish out an array of interesting facts about the urban landscape below.
If you're looking to pop the big question this February 14, Cupid's Pod tops the list of truly memorable experiences.
£470 for a private Cupid Pod, or standard adult tickets from £27.
READ MORE: Gran of seven celebrated with plaque as the most loyal hotel guest
Feel the love in Carnaby Street and Soho
Whether you want to treat your loved one to a special gift or sip on some handcrafted cocktails unlike any other, head to Carnaby and Soho. The famous, pedestrianised shopping and dining area, home to 14 streets in London's West End, is "feeling the love" this Valentine's Day, with plenty of rose-tined offers and experiences to enjoy.
Spend an afternoon shopping and strolling Soho's quirkiest streets, with a number of shops spreading some love with discounts especially for the occasion.
Beginning February 10, purchase an iconic M·A·C lipstick and receive it for a "mini price", or pop into Sweaty Betty where, on February 14, 25 lucky customers will receive 20 percent off in-store.
Carnaby has also welcomed an array of new must-visit retailers to its famed streets. War Paint for Men, situated at 29 Carnaby Street, is the "World's first makeup and wellbeing store committed to and created specifically for all types of men in the heart of London." Aubin has also recently opened its flagship store at 15 Newburgh Street. Originally launched as the elder sibling to Jack Wills, the store is home to an array of fun, ethical menswear clothing and accessories.
And even if you don't want to splash the cash, you can simply take in the glittery views of Carnaby on foot. Look up to the instillations above: The sparkling Rainbow Arches, classic black and white "Welcome to Carnaby" arches, or the impossible-to-miss shimmering Union flag that stand proudly over the junction between Carnaby Street and Ganton Street.
Of course, after all of that exploring you might need a break, and what better way to relax than with some unique cocktails?
Cahoots, nestled in Carnaby's Kingly Court, is a 1940s-themed bar located inside an abandoned London tube station. This standout speakeasy offers cocktails that span the whimsy – think an apple, pear and elderflower gin cocktail in a glass shaped like Vera Lynn's head – to the iconic, perfectly served espresso martini.
There are also non-alcoholic concoctions to choose from too, including the mouthwatering Botanist's Tonic – a mix of Devant New Dawn Aromatic and Citrus non-alcoholic spirit and elderflower, topped with grapefruit and basil soda.
But it isn't just the drinks that make this cosy hangout such an eccentric experience. Rich in period-perfect relics, the bar will transport you back to a post-war hideaway with authentic tourism posters of the time, Union Jack bunting and even a quintessentially British stationmaster coming through the intercom to remind patrons of the "next departing train".
DONT MISS
York weekend: The best places to eat, where to stay and what to do [INSIGHT]
Boulogne-Sur-Mer: A quick hop across the Channel [REVIEW]
Expat life in 'beautiful' Philippines – 'not for faint of heart' [COMMENT]
A sultry, sexy dinner at Middle Eight
Middle Eight hotel opened in London's Covent Garden after a major overhaul slap bang in the middle of the pandemic. But that hasn't stopped this star-studded, modern venue from shining.
And the rooms aren't the only thing dazzling visitors, with an array of impressive dining and drinking opportunities available. If you're looking for a dimly-lit dinner oozing with sophistication, the Italian-inspired Sycamore Restaurant is the place to go.
Whether you are a sucker for an authentic, thin-crust pizza, or prefer a selection of smaller plates to nibble on over a glass of Pecorino wine, Sycamore has a menu packed full of dishes. There are also plenty of vegetarian and vegan dishes that don't scrimp on taste.
The zucca tortelloni, a fusion of pumpkin, crispy sage, butter, crushed amaretti, is an indulgent must-try.
And as it's a special occasion, why not head over to the adjoining bar after dinner for a house-blend Sycamore cocktail – a gin and Prosecco cocktail combining an idyllic mix of sweet and sour goodness.
Beautiful blooms at Columbia Road Flower Market
Does anything say Valentines Day quite like a bunch of fresh blooms?
Though London is home to numerous florists, if you want a truly special floral arrangement, Columbia Road Flower Market is the spot to visit.
Trading since the 1800s, this bright and bustling flower market has become one of London's most iconic shopping spots, offering everything from seasonal bouquets to exotic houseplants.
And it isn't just flora on offer, with a run of Victorian shops lining the streets. Here you can find everything from artisan perfumeries and vintage homewares to delicious, freshly baked bagels bulging with mouth-watering fillings to keep you fuelled while you shop.
But if you do want to visit, you have a narrow window to get in. The flower market is only open on Sunday from 8am until "about" 3pm.
Set off early to beat the crowds, or hang on until between 2pm and 3pm, when traders often discount stock, to bag yourself some bargain blooms.
Indulge in a decadent high tea
There is no afternoon tea in London quite like the High Palms High Tea at the famous Landmark hotel.
While the food itself is exceptional, it is the unique surroundings and blissful ambience that elevate the Winter Garden Restaurant experience to a whole new level.
Here, lovebirds can find themselves enjoying a classically decadent selection of finger sandwiches and Laurent-Perrier bubbles beneath the restaurant's soaring palm trees.
On sunny days, expect golden light streaming down through the magnificent eight-storey Victorian atrium.
Adding to the serene atmosphere, a live pianist softly plays while visitors indulge in freshly baked scones and crafted cakes that look almost too good to eat.
When choosing the preserves to accompany your clotted cream, try the rhubarb redcurrant and vanilla for a particularly unique treat.
All of this, of course, is complete with a vast assortment of traditional, herbal and fruit teas to choose from.
£68 per person including a Glass of Laurent-Perrier La Cuvée.
"Oh, what a night" at Jersey Boys
Whether you are a musical lover or are simply looking for a live performance to get your toes tapping, Jersey Boys a must-see stop on a hedonistic weekend in the capital.
The Tony and Olivier award-winning musical is jam-packed with hits and you might surprise yourself with just how many songs you know.
The musical, currently at the Trafalgar Theatre, goes behind the music and inside the true story of Frankie Valli and The Four Seasons.
The vocal capabilities of performers, in particular Ben Joyce in his debut West End role, are worthy of a standing ovation all on their own.
But combined with impeccable, fast-paced set transitions, dazzling costumes and enthralling storytelling, this musical sensation is one not to be missed.
Jersey Boys tickets availble from £25.
For more ideas and information, go to Visitlondon.com
Source: Read Full Article