Why go?
Ethiopia has astonishing landscapes, ranging from the flat-topped mountains of the north to the otherworldly multicoloured salt flats and lava lake of the Erta Ale volcano in the Danakil Depression; rich flora and fauna(this is the country where residents and hyenas live in peace); and ancient cultures, including the the city of Axum (one of the oldest continuously inhabited places in Africa), the rock-hewn churches of Lalibela and Africa's oldest mosque, Nejashi. It also has one of the continent's fastest-growing economies (second only to Ghana), with booming cities and a young population. For all this, it is yet to attract large numbers of tourists, and visitors can often find themselves alone in this amazing country.
One-month itinerary: the historical northern route
Start the historical northern route in Addis Ababa, the capital of Ethiopia and also the headquarters of the African Union. Due to its elevation (2,335 metres) the city has a near-perfect climate of 21 to 24C year-round.
See the remains of Lucy – our 3.2 million-year-old ancestor – in the National Museum, then walk through the old Italian neighbourhood of Piassa, to have a coffee in the Taitu Hotel, the city's oldest, founded by the Empress Taitu Betul in the early 1900s. Stay at the Wutma Hotel, a backpackers' favourite (details below)
From Addis travel to Gondar (two days by inter-city coach, local loncina bus or Aba Dula minivan) via the town of Bahir Dar on Lake Tana and its inland lakes and the Blue Nile Falls.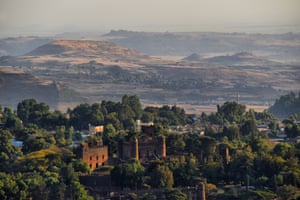 Gondar is dotted with castles built during the 17th century and is a relaxed place to stop for a few days (stay in the Ethiopia Hotel with its high ceilinged retro cafe – details below). From Gondar you enter the Simien Mountains. Treks can be arranged in Debark, the small town at the entrance of the Simien Mountains national park. There is an affordable camping inside the park, or try Africa's "highest lodge", the Simien Lodge at 3,260 metres (doubles from £80 B&B June-August, rising to £176 in October-November and January).
From Debark, travel into the Tigray region, which more or less (together with neighbouring Eritrea) lies over what used to be the antique kingdom of Axum. The town of Axum, with its Stelae park and palaces, is a fantastic place to stay for a couple of days. It's also surprisingly laid-back (where else can you get close to the Ark of the Covenant, allegedly housed by the Church of Our Lady Mary of Zion?).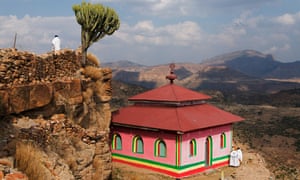 From here, the northbound route takes a turn, first due east, travelling through Adua and Yeha (with its great temple of the moon and famed battleground, where Emperor Menelik stopped the Italians in their tracks in 1896), before reaching Debre Damo, a flat-topped, or table, mountain (women are not allowed entry; or anyone suffering from vertigo: as the ascent involves scrambling up than 15 metres with a leather rope). From here, continue to Adigrat, a border town perhaps set for great times now that a new peace treaty between Ethiopia and Eritrea has finally been agreed. Mark Chapman runs the lauded community trekking trail Tesfa Tours here, which also leads treks near Lalibela, Ankober and in the Simien Mountains.
From Adigrat, travel south to Mekelle, the capital of Tigray, stopping en route to visit the stone churches of the Gheralta Massif. The stylish Gheralta Lodge has doubles from £40 B&B. Mekelle is the place to organise your trip to the salt flats and Erta Ale volcano in the Danakil desert (inaccessible to independent travellers, prices vary from £155 to £385 for a two- to three-day trip).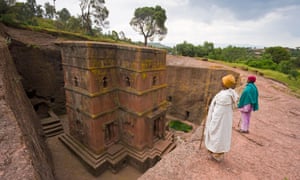 Continue south to the heart of Ethiopian Christendom, Lalibela, and spend several days exploring the church complexes. There is also the possibility of hiking in the nearby mountains, such as Abuna Yoseph. From Lalibela, take off directly for Addis Ababa by plane (saving yourself a long bumpy bus ride). The flight takes around an hour on Ethiopian Airlines (from £85 one-way).
Getting around
Planes can save a lot of time: Ethiopia is a large country. If you book your flight to the country with Ethiopian Airlines, then internal flights with the same carrier will be cheaper if booked at the same time. Not for the faint-hearted are the Aba Dula, minivans that whiz between cities. The safest way to travel overland is to use coach services such as Selam or Skybus with long-distance tickets from £8. When city hopping use the loncina: customised buses built around the base of an Isuzu truck. You will find them in the autobus terra (bus station). Slow, friendly, and cheap, their tickets are sold locally, or on the bus, and, as a bonus, you'll know all the latest Ethio-pop hits by heart by the time you reach your destination. In towns, use tuk-tuks (bajaj) or the ubiquitous blue-and-white minibuses.
Accommodation
In the main tourist spots you will always find reasonably priced hotels that provide wifi and international food. This is not true as soon as you venture off the beaten track. While you will find a bed without difficulty, it may be rustic and the food will consist of local dishes, and perhaps pasta. When staying in these hotels, have an ample supply of bedbug/flea spray, and carry earplugs: Ethiopia can be loud. It can be difficult to find a room during festivals (Gondar during Timkat and Lalibela during the Orthodox Christmas, for example).
Five places to stay
Wutma Hotel, Addis Ababa
The Wutma, long a backpackers' favourite, is in the middle of Addis Ababa's most central, and oldest, neighbourhood, Piassa. It can help set up car hire and trekking trips, and is a reliable base from which to explore the capital, the patisseries of Piassa, the vegetarian buffet of the Taitu Hotel andthe area's nightlife.
• Mundy Street, +251 91 283 8485, doubles from £10, on Facebook
Ethiopia Hotel, Gondar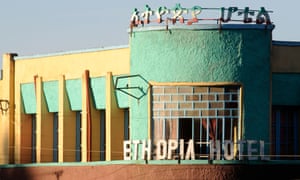 Not your typical backpackers' hostel, the Ethiopia Hotel should still be a stop for anyone visiting Gondar. The high-ceilinged cafe, with its mirror-lined walls, retro bar fittings and 1970s Visit Ethiopia posters, harks back to the felicitous mix of Ethiopian post-second-world-war sophistication, when international amenities first reached Abyssinia. Venture out to the back, behind the cafe, and find an indoor courtyard, where you can drink draft beer, eat dinner and watch football matches from around the world in local company.
Watch this: a film shot in/from room 11 in the Ethiopia Hotel by Japanese anthropologist Itsushi Kawase
• +251 58 111 2004, rooms from £7, no website
The Buffet de la Gare, Awash station, Awash, Afar
Le Buffet de la Gare (as everyone still calls it, invariably, in French) is in the old railway station. Even if Madame Kiki, the formidable Greek restaurateur who ran the establishment for close to five decades, is no longer taking orders, it's still possible to sample a ragout de warthog (best to phone in advance) and sleep in the "Chambre de l'Empereur". The whitewashed walls and tiled rooms still seem to echo with the trains of yesteryear, when they would pull into the station, on their way to the Red Sea coast – and back again – as they climbed up to the mountain capital of Emperor Haile Selassie. Today, there are no trains but the Buffet is still ideally situated on the road from Addis to Harar, either for an overnight stay or a lunch break.
• +251 22 224 0008, rooms from £8, no website
Dinsho Lodge, Bale national park
The lodge is similar to a self-catering refuge you would find in Europe's mountain national parks, offering basic amenities: hard beds and foam pillows. So why stay here? It is set in the headquarters of Bale Mountains national park, in the town of Dinsho. As such, it is surrounded by a forest of African juniper and rosewood and is teeming with wildlife. In a short walk, you will stumble across warthog, mountain nyala, reedbuck and rich birdlife. This is also the place to set off for longer excursions into the park. If the price tag on the rooms is too steep, camp in the grounds (around £1.50 a night, sleeping bags and tents can be rented) or book a room in any number of small hotels in Dinsho, a 20-minute walk away, such as Mountain Nyala Pension (rooms from £8, +251 91 202 7627, no website).
• Dinsho Lodge, rooms from £60, +251 22 119 0758
Getachew Tekle Selassie Hotel, Ankober
The modern settlement of Ankober – ideally situated midway down the eastern escarpment, and close enough to Addis Ababa for weekend trips – has grown considerably in recent years. While the Ankober Mountain Lodge (£60-£100 a night) – built on the spot of the ancient palace of the Showan kings – provides a wonderful experience, there is now plenty of accommodation in Ankober itself. One of the best is the Getachew Tekle Selassie (no phone/website). The hotel offers simple amenities (cold showers), injera and pasta dishes; rooms from £4 a night
Overrated
The Omo Valley: Mago national park and Omo national park. The parks are devoid of wildlife. The tourists now come to snap the tribes that specialise in contrived photo shoots. While some locals make a living from the practice, it is a voyeuristic and strained experience.
Underrated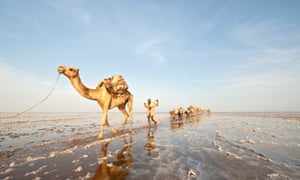 The Menz Plateau (four hours by car from Addis Ababa, or take a morning bus from Merkato Terra bus station) is a community-managed wilderness on the escarpment off Debre Sina. This is one of the best places in Ethiopia to see the Ethiopian wolf and there's a wealth of other animals and birdlife to spot: from the Abyssinian hare and Gelada "bleeding heart" baboon to the lammergeyer (or bearded vulture), which has a wingspan of more than two metres. Trek on mules over the alpine moorland with their giant lobelia for the day, and gaze over the Danakil Depression, before enjoying a house visit with the local community, who are famed for their customs (and the object of Donald Levine's Wax and Gold cultural study, see below).
• guassaarea.org
Need to know
Always eat with your right hand. In Ethiopia, people go by their first name, so don't be surprised if people call you Mrs Susan/Kate/Jill etc, forgoing your surname. Abiy Ahmed, Ethiopia's new reformist prime minister, should properly be called Mr Abiy, not Mr Ahmed.
You'll witness people greeting each other by doing a handshake combined with a shoulder bump. This is how freedom fighters greeted one another in the bush before they stormed Addis Ababa in 1991. The handshake-shoulder bump then peacefully stormed the country, where it prevails to this day.
For inspiration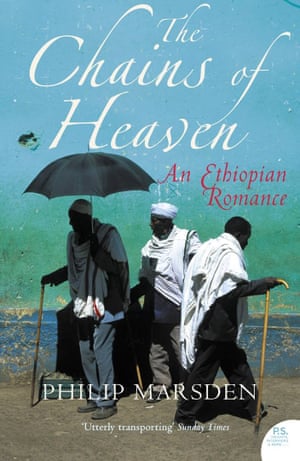 Books
The Chains of Heaven, an Ethiopian Romance, Philip Marsden's account of his walk from Lalibela to Axum, is a good romp through those northern hills and through the author's exposition of Ethiopian history and culture. Ethiopia: the Bradt Guide by Philip Briggs is the only proper backpacking guidebook to the country, with good chapters on history and birdlife.
Ethiopia on Instagram
@eyerusalem documents life from city streets to rural villages, political rallies to religious ceremonies
If you eat one thing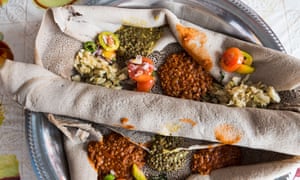 Injera, the flatbread made from teff, is Ethiopia's revered staple. More than a food, injera is a way of life for Ethiopians. Many of the accompanying sauces are vegetarian or vegan, in line with the fasting observance of the Ethiopian Orthodox Church. The Finfine Adarash restaurant in central Addis Ababa (between Churchill Avenue and the Presidential Palace), built by the hot springs around which the city was founded 140 years ago – and originally called the Hôtel de l'Europe – is an example of early-20th-century Ethiopian architecture and it has a blend of the vernacular, Armenian and Indian influences.
Daily budget
It is possible to get by on £20-£30, though £30-£40 is more achievable. While park fees remain low, costs are inflated by compulsory staff (guides, guards, animal minders and cooks) and car hire. This makes organised tours expensive. While public transport, accommodation and food remain cheap, by international standards, Ethiopia is pricey when compared with destinations such as India, or even Thailand.
Moving on
Until recently the easiest route out of Ethiopia was flying from Addis to Nairobi, Kenya. But with relations thawing between Eritrea and Ethiopia, after decades of hostility, Ethiopian Airlines now flies three times a week from Addis to Asmara, Eritrea's long-hidden art-deco capital. From Asmara, the old Ottoman port city of Mitsiwa is only a brief, hair-raising hairpin drive away. Sip a macchiato in one of Asmara's Italianate cafes in the morning, and snorkel in the Dhalak archipelago in the afternoon.
Yves-Marie Stranger is editor of Ethiopia through Writers' Eyes and blogs at Uthiopia.com. He is currently working on Oranges of Prester John, a documentary about the Luso-Ethiopians in 17th-century Ethiopia.
Source: Read Full Article