Agustín's face is a picture of pride and glee as he points to the trophy his vineyard won in 2012 for the best malbec in the world. "We are only a little vineyard, from little San Juan, so we went down there [to a wine contest in Mendoza] just to make up the numbers," he grins, and then thumbs his nose melodramatically at the opposition. "But we stuck it to all those big shots from France and Italy and Mendoza!"
The last word is spat out like a mouthful of corked wine. To the chagrin of the country's other wine regions, Mendoza has marketed itself so successfully in recent decades and become so synonymous with Argentinian wine that "they pretend they invented malbec down there".
For a small vineyard such as Merced del Estero, 175km north of Mendoza near San Juan City, the victory was like David putting one in the eye of Goliath – not only for the vineyard, but for San Juan province as a whole. This small desert area in western Argentina, near the Chilean border, has none of the big, fancy bodegas and sophisticated wine tourism of Mendoza.
So at Merced del Estero – as at all the vineyards I visit in San Juan – there's no formal tour and tasting (and no fee either). Here there's only winery manager Agustín, who doesn't speak English – the genial owner, who does, joins us later – to show us around and uncork a few bottles.
An attractive little bodega set in the middle of the vines, it's refreshingly low-key for a non-aficionado like me. The four reds are gorgeous but the best is a knock-out dessert wine, a torrontés, the only native Argentinian white.
I spend the evening at another small vineyard, the isolated and beautiful Graffigna Yanzon in the Pedernal valley, which looks out over vineyards to the snow-capped pre-Andes. I enjoy a fantastic session (sorry, tasting) with the owner's son, the boundlessly enthusiastic Santiago, of more delicious wines, including an impressive chardonnay/sauvignon blanc blend.
"That works," I tell him. "It's got the citric nose of a sauvignon but more body, like a good chardonnay."
Santiago – who is more used to entertaining the likes of former Observer wine writer Tim Atkin, a big fan of the region, than duffers like me – shoots me a where-did-that-come-from look: "Yes, that's exactly why we created it."
It comes from sitting down with a winemaker and enjoying the wine in a relaxed way – rather than the hurried sniffing and swirling you'd get on a tour in a more established wine region. The aged malbec is even better: beautifully rounded, it's the best wine I taste in Argentina.
I'll have a bottle of that with dinner, please, with a fat, juicy Argentinian steak of course. Because luckily I'm staying the night in the bodega's equally impressive two-bedroom posada.
"I'm a winemaker," says Santiago. "I'm not really into tourism, but thought I'd give this a go."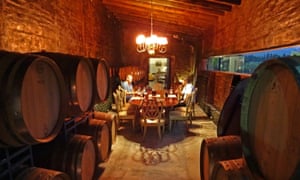 If that's true, he's hit the bullseye with his eyes closed. It feels at once classy and relaxed, traditional (furnished beautifully with antique heirlooms) and modern, with huge picture windows overlooking the mountains on one side and the vines on the other. I could stay here for a week, gazing at the mountains and working my way through the wine cellar.
This is the first bodega accommodation in the area, and it took some finding from the UK. My trip was run by TravelLocal, which, like all UK operators, relies on local agents to organise itineraries. What differentiates this firm is, as the name suggests, that it puts clients directly in touch with the local agent. So while planning my trip, I honed my itinerary over dozens of emails with the operator in Buenos Aires. But even they had trouble finding a bodega stay in San Juan (suggesting instead that I go to Mendoza, where there are dozens). It was my guide on this trip, Carlos, who told them about the little gem that is Graffigna Yanzon – a good example of how TravelLocal works.
Like Augustín and Santiago, Carlos is a passionate San Juanista, who knows every road and village of his province – and is keen to show me all of it. He takes me to out-of-the-way places such as the little white adobe chapel in Calingasta, built in the 17th century, where independence hero Juan Martín stopped to pray before walking to fight in Chile. Another curiosity is the Viejo Molino in Huaco, an elaborate, brilliantly bonkers 200-year-old watermill whose every component is made of wood and which looks like a museum piece designed by a mad professor; it still shudders into life once a week to grind the local wheat.
But these are just stops en route to the region's star attractions: Ischigualasto provincial park and the contiguous Talampaya national park, just over the border in La Rioja province.
Ischigualasto takes its name from an indigenous word meaning "land without life" and is also known, fittingly, as Valle de la Luna. The surreal moonscape of rock formations reminds me of the famous national parks of Colorado and Arizona, but with two differences: there are no crowds, and this region is as famous for what's in the rocks as for the formations themselves. There are fossils here representing the entire Triassic period, the era of the first dinosaurs, between 251 and 199 million years ago. The way all seven epochs of the Triassic period are exposed to the surface makes the place a palaeontologist's dream.
The park's museum has a complete fossil of a vicious-looking herrerasaurus, one of the earliest dinosaurs in the family that includes Tyrannosaurus rex and the velociraptor. On a three-hour jeep tour, we explore a desert landscape so raw it feels like the Earth at the beginning of time. It's easy to imagine dinosaurs roaming this desolate land millions of years ago – it looks like a deserted Flintstones set. While we're there, a brooding sandstorm turns the sky chalky white and the layered rocks into a monochrome version of the Grand Canyon.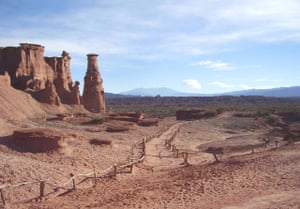 The next day, by contrast, the adjoining Tampalaya national park is bright sandstone red under a searing blue sky, a South American Monument Valley. And here we are free to walk, still with a ranger, through the incredible landscape. As with other places in San Juan, our guide, Hector (a ringer for Fidel Castro), doesn't speak English; but Carlos translates, and I don't need many words to appreciate the spectacular canyon under sheer, 150-metre sandstone cliffs and the stunning mountainscapes. "Everyone finds their own beauty in the rock formations – animals, faces, patterns," says Hector.
On a half-day walk the three of us have the place to ourselves, save for the odd guanaco (small llama) resting in the shade and long-legged mara rabbits scuttling into the bushes. It's a rare privilege to be so alone in such a place.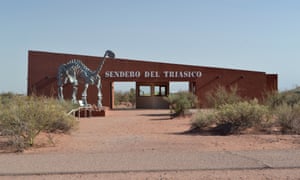 San Juan's obscurity will end, at least temporarily, on 2 July next year, when it will be one of the best places to witness the total solar eclipse (see below). Expectation is already mounting – Carlos emailed me last week to say "Yes! All the planet will visit us in 2019!"
What I love most here is driving through vast empty landscapes. We do a bit of off-roading, but Argentinian highways are excellent (better than in the US, for example) and with a tiny bit of Spanish and a good map it would be possible to do the self-drive version of this trip.
On my last day we take the highway south down the dramatic western side of the province, in the shadow of the glacier-topped Andean peaks towards the Chilean border. The smooth, empty roads give us plenty of time to observe the condors soaring overhead, grey foxes in the bush and South America's highest peak, Aconcagua, glistening in a cloudless sky.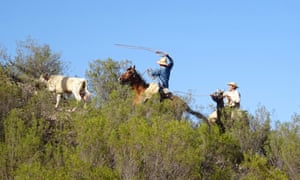 On an all-day drive, the closest thing we see to any real traffic is a group of gauchos herding cattle down the road. We pull over ahead of them to take photos and, as they approach, one plucky calf makes a bid for freedom, scarpering through the bushes. Like a bullet from a gun, a gaucho flies up the bank after it, galloping at full pelt, and lassoes the animal first time. This sends him, the horse and the calf careering down towards the road. The other animals start to kick off, the gauchos are shouting and there's a stupid, awestruck tourist in the middle of it all, trying to take photos. Carlos screams at me to get out of the road to avoid being charged by a mad runaway cow but I freeze, more with the sheer exhilaration of it all than with fear.
I had come to San Juan for a taste of backcountry Argentina … and here I am, caught up in the middle of a real-life gaucho cowboy movie.
• The trip was provided by TravelLocal, whose eight-night trip to Buenos Aires and the San Juan region costs from £1,530pp, including accommodation, some meals, excursions, transfers, driver and guide, but not flights
2019 Solar eclipse, Chile and Argentina
When and where
There will be a total solar eclipse for a full two minutes over the southern hemisphere on 2 July, 2019. For most of the day it will be over the south Pacific and only visible from land near sunset, over a narrow band of central Chile and Argentina. The good news is that much of this land is desert or semi-desert, so there is little chance of cloud cover and good potential for excellent viewing conditions.
Best places to see it
Totality will be experienced on the coast of northern Chile, near the port city of Coquimbo, and in central Argentina. The best places to see it in Argentina will be the desert areas of Pismanta, between the Andes and pre-Andes mountains, and near the town of Bellavista – both are in San Juan province and less than 200km from San Juan City. The eclipse will also pass just south of Buenos Aires and the country's other major cities, Córdoba and Rosario.
How to do it
Hotels close to the total-eclipse path are booking up fast in both countries, particularly in Chile, where the route from the Pacific to the Elqui Valley (famous for its astronomical observatories) is expected to be crowded.
Due to the high demand for accommodation, packages to see the eclipse don't come cheap. Journey Latin America is running a 10-day Journey to the Solar Eclipse 2019 holiday from £2,452pp, including domestic flights, B&B accommodation, transfers and excursions. International flights are extra and start from around £600pp. TravelLocal is running a 12-day trip, Starscapes and Landscapes of Argentina, including Buenos Aires, Mendoza and San Juan, from £3,180 excluding flights. GM
Source: Read Full Article