Heading west from Åre by rail, we watch the forest and softly rounded fells roll by, all the way up to the border town of Storlien. I'm with my daughter, Maddy (15) and we're intrigued at this crossing point: a forlorn old railway station in the high wilderness along the Swedish-Norwegian border. With twilight stealing in, we switch trains and set off, charging downhill into Norway.
We pass through a town called Hell and then reach our destination: Trondheim. As we leave the station, we find the city immediately captivating, its gorgeous waterfront lined with wooden ships, old warehouses and several interesting museums. Even at 10pm, there are teenagers leaping into the sea off the jetty, people skiing down the streets (on rollers) and tourists from far and wide. We hear their accents at breakfast: American, Italian and Japanese – all very excited. By now, Maddy and I are deeply attached to sumptuous Scandinavian breakfasts. I even manage some brunost, sweet brown cheese, a Norwegian speciality normally put out to repel visitors.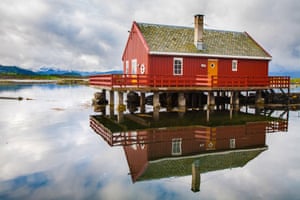 With only a few hours in town, we join a tourist office walk around narrow streets of painted weatherboard houses and an impressive cathedral that features an angel sculpture modelled on Bob Dylan. We collect our hire car at noon and drive off, vowing to return. We have two days to cover the 300km to the city of Ålesund.
20 of the best Nordic summer holidays
We follow the coast, swinging around long fjordsand stopping to swim in one, where we meet a Danish couple who have bought a log cabin. "Some like luxury," they say, "but we are off-grid. Water from a well, one log-burner for all the heat and cooking. In summer we swim in the fjords; in winter we do cross-country skiing."
It sounds idyllic to me.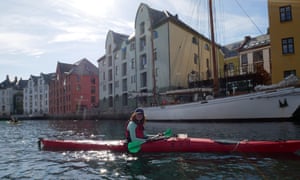 Our destination on day one is the small island of Håholmen, reached by a necklace of other rocky outcrops all connected by elegant bridges, part of Norway's impressive Atlantic Road. On the last leg we take a wooden boat across to the island, a small outpost of fishing cabins which explorer Ragnar Thorseth has converted into a hotel, Havstuer Håholmen. A small museum houses his boat, the Saga Siglar, a traditional longship that in the 1980s he sailed to Greenland and on to America, emulating the voyages of Leif Erikson in the 10th century.
Maddy and I clamber out to the end of the island and swim for almost an hour, marvelling at the fact that we are a mere 400km south of the Arctic Circle. Night never really falls, just a glowing twilight inhabited by midges. We retreat to the restaurant, where the carpaccio of whale might thrill some visitors, but not us.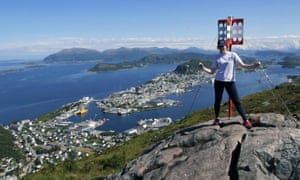 Next morning we drive to fjord-side Åndelsnes, where we take a footpath out of town up a steeply wooded hill. After a couple of hours we emerge at Rampestrecken, a dizzying viewpoint over a confluence of fjords. After the soft confined landscape of Sweden, with its endless forest, this is shockingly three-dimensional – even more so when we continue up the bare mountainside to Nesaksla, a tiny stone bivvy hut at 715 metres. I don't think I've done a finer hike.
Fjord escort: a road trip to northern Norway
It's evening by the time we reach Ålesund, another island settlement with a great waterfront. The town was destroyed by fire in 1904 and rebuilt in Nordic art deco: floral designs and geometric motifs sprinkled with trolls and snakes. The restaurant on the hill offers a fine panorama, but there are cheaper alternatives for dinner: such as the good fish and chip kiosk by the waterfront. Molo brewery, by the cruise ship terminal, is also worth a stroll. We kayak around the waterfront and take a cruise out to the sea eagles and puffins. The best things in Scandinavia, however, are often free. My highlight for Ålesund was our one-hour hike up Sukkertoppen, the highest peak on the seven islands that form the town. There we lie on sun-warmed granite boulders, surrounded by vistas of islands.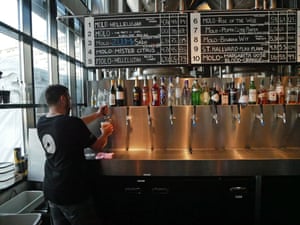 My Scandinavian odyssey is reaching its end. The stand-out moments have been when wild camping, and I'd say anyone worried about the cost of Scandinavia should pack an affordable tent and a stove. Wild camping is free, and simply the best. Sweden's Bohuslän archipelago had clean beaches on uninhabited islands filled with berries, and endless evenings undisturbed by anything but the sound of the birds. Our mountain bike trip around Vålådalen, also in Sweden, provided a similar thrill, this time with the added excitement of catching Arctic char in a crystal clear lake at dawn.
High and mighty: a cycling break on Senja island, Norway
In Ålesund, Maddy and I can't bear to leave the wilds. On the way to the airport, we divert to yet another island and take one last swim in the kelp beds offshore. As we do, an eagle swings by to take a look and then, deciding we are inedible, heads on towards the horizon, where other islands await.
• The trip was provided by Discover the World, whose 12-day self-drive Norwegian Fjord Odyssey costs from £1,999pp including flights, car hire, B&B accommodation and seven dinners (a four-night break to Trondheim, Håholmen and Ålesund would be £913pp). Rail travel in the UK and Scandinavia was provided by trainline.eu. Airport transfers and parking by Holiday Extras
Looking for a holiday with a difference? Browse Guardian Holidays to find a range of fantastic trips
Source: Read Full Article