There are plenty of attractive college towns in the US. But Chapel Hill, in the centre of North Carolina, equidistant from its mountains and its coast, blends liberal philosophy and Southern culture in a way that borders on the utopian. From its community-minded businesses and political activism to a music scene that has quietly influenced the global stage, it's the kind of town that doesn't need to brag about itself or inspire a Portlandia to know its worth. And that's exactly why we've chosen it to launch our series on the coolest towns and small cities in America to visit right now, which we'll be unveiling monthly over the next six months.
"As close to magic as I've ever been," was how author Thomas Wolfe described his days at the University of North Carolina (UNC). The red-brick campus – opened in 1795 as an affordable alternative to the Ivy League universities – remains a bewitching presence in the town of Chapel Hill and still provides much of the local colour: store fronts, road signs and much of the locals' wardrobe are dominated by the college colours. Even the fire trucks are Carolina Blue.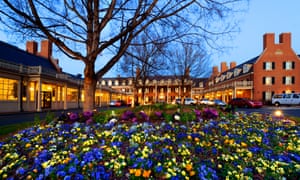 Town and gown have a special relationship here. It's not just that you can see students keeping up a daily protest at the town's confederate statue, Silent Sam, or sit next to them as they type up late-night essays over triple espressos at the Open Eye Cafe. It's that you can buy a delicious $3 burrito from a place called Cosmic Cantina, watch high-quality performing arts and even take in a free lecture from one of UNC's many famous alumni.
Chef Bill Smith, who runs Crooks Corner, the town's best-known restaurant, was a UNC student in 1967, when most southerners considered it a communist haven. "Anybody weird in your family you sent here so they wouldn't embarrass you," says Smith. "We had all the misfits, and that individual streak still lives strong."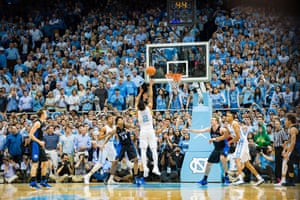 Since then, an influx of research and tech companies – not to mention a successful college basketball team – has brought prosperity and respectability. The town's growth has also caused it to merge, seamlessly, with neighbouring Carrboro, whose 6.4 square miles takes the towns' combined population to 80,000. "There's a natural synergy between the two," says Lydia Lavelle, who admits that most visitors wouldn't even notice they've crossed a town limit as they walk down the main drag of Franklin Street. Carrboro's second openly gay mayor, Lavelle is proud to work in "the most progressive city in the south" but equally proud of its music scene. "It doesn't matter what you're into, there's something for everyone here."
CULTURE
Carolina Basketball museum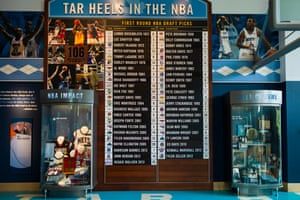 You can't hope to understand this town until you experience its fanaticism for college sports and in particular its championship-winning basketball team. The Tar Heels took their sixth national college title this year; they're also the team that incubated Michael Jordan's world-changing talent. Try to get tickets to a game at the Dean E Smith Center if you're visiting in-season (November to March) but you can visit the basketball museum, next door to the arena, any time. It reopened in September after a major renovation and gives a good sense of why the college is dominant in all manner of sports, as well as why it hates its rivals Duke so much.
• 450 Skipper Bowles Drive, goheels.com
Flyleaf Books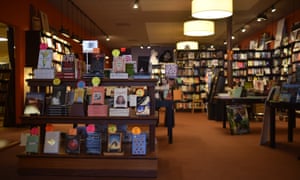 You know those staff recommendations you get in bookshops? The ones at Flyleaf are like mini-works of literature in themselves: "a phantasmagorical odyssey taking a Swiftian look at racial discrimination …" (that's Colson Whitehead's The Underground Railroad). This is a bookstore run by smart people with great passions and big ideas. There's afternoon storytelling in the children's section and for adults there are book clubs, author talks, poetry readings and "humanities in action" events promoting civil discourse on some of the most divisive issues in the US today. There are also some pretty hilarious lapel badges, like the ones depicting a bare-chested, superhero Justin Trudeau or the rather bleaker, "Winter Is Here".
• 752 Martin Luther King Jr Boulevard, flyleafbooks.com
Memorial Hall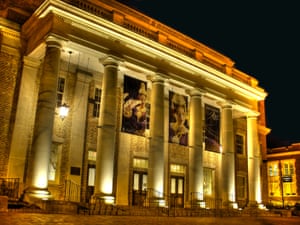 The Memorial Hall sits at the centre of the UNC campus and houses world-class symphonies, theatre, dance and opera events. Tony Bennett, Itzhak Perlman and Rhiannon Giddens have all graced the stage; Yo-Yo Ma plays there frequently. But it's just the largest of a host of performing arts venues on and off the UNC campus. The PlayMakers theatre, a professional company in residence at the university, has built an excellent reputation for its productions and its support for new writing, while the improv scene is about to get a new lease of life with the opening of The Pit, a comedy club by Ali Reza Farahnakian, founding member of the Upright Citizens Brigade and the People's Improv Theater. The Current Artspace + Studio, will host avant-garde work when it opens its doors in February 2018.
• Memorial Hall, 114 East Cameron Avenue, carolinaperformingarts.org
BARS
The Crunkleton
Wood-panelled and darkly lit, the Crunkleton exudes a quiet reassurance the moment you walk in. One look at the bow-tied bartender moving effortlessly about his work, and the shelves of bourbons, ryes and gins behind him, and you know you're getting a good cocktail. It's also a democratic space where regulars still come in to order Bud Light. Its owner, Gary Crunkleton, is a much-loved local known as much for his forthright opinions as his excellent chemistry at the bar; it's worth braving the weekend crush to get a sniff of the lemon curd, ginger-lemongrass and bourbon concoction, the bitter southerner ($12).
• 320 West Franklin Street, thecrunkleton.com
Top of the Hill Restaurant, Brewery and Distillery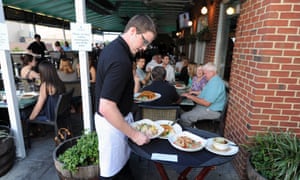 Scott Maitland had served in the army and was studying at law school when he read the report that a TGI Friday was planning to take a lease in the middle of main street. He hated that idea, so he raised money to buy the lease himself, dropped out of school, and established one of North Carolina's earliest microbreweries, Top of the Hill. Locals credit him as a pioneer of the town's now-flourishing local and organic movement; the rooftop bar, from which you can look out over the whole of Franklin Street, is Chapel Hill's most visibly lively joint. Its distillery, a little further up Franklin, makes rum, gin and whiskey, and is open for tours and tastings.
• 10z glass of beer from $4.50. 100 East Franklin Street, thetopofthehill.com
Orange County Social Club
If you want to feel like you live here, hang out at the Orange County Social Club. "It's like our second living room," says Jamie Fioccio, the proprietor of Flyleaf Books. "It's low-key and relaxed, and everyone always looks deep in conversation. And you can tell who's running the bar that night by the style of music that's playing." The decor has a homespun feel – patchwork bunting and paper lightshades and an eclectic collection of tchotchkes reside in the niches above the bar. Combine that with comfy sofas, a pool table and a bar full of people who can tell you what bands are playing where tonight, and you'll feel at home in no time.
• 108 East Main Street, Carrboro, on Facebook
The Baxter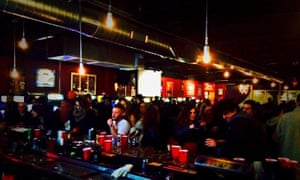 When a day strolling round UNC's beautiful quads and lawns has you all nostalgic and yearning to be a student again, this is the place to be. The bar isn't the focus here as much as the 50 arcade and pinball machines that line the walls, allowing you to revisit Mortal Kombat and Street Fighter Donkey Kong and Pac-Man. It's a place for close encounters of the geekiest kind, as evidenced by the Millennium Falcon hanging from the ceiling and the action hero models lined up behind the bar. It's an over-21 establishment at night but kids are welcome on weekends until 5pm.
• 108 North Graham Street, baxterarcade.com
FOOD
Curryblossom Café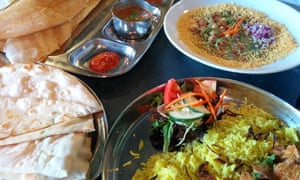 Zen Yinger, a Chapel Hill resident who grew up in Mumbai, has eaten a lot of dosas. "The ones at Vimala's Curryblossom Café (dosas from $10) are just the way you're used to in India," says Yinger. "Other people's are either too spicy or not spicy enough." The crispy sourdough pancakes (from $8), filled with either potato masala or tandoori chicken, require a tray rather than a plate to accommodate their size but then generosity is a feature of the place. Vimala Rajendran describes her food as "what you'd get if you came to my house without calling first" and her "everybody eats" food justice policy means even those who can't afford to pay for a meal here are welcome.
• 431 West Franklin Street, curryblossom.com
Mediterranean Deli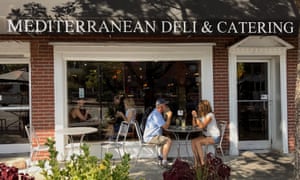 When Jamil Kadoura opened a deli on Franklin Street 27 years ago it could seat just 12 people. These days his spacious premises bustles every lunchtime with dozens of diners and he's just opened a large store next door. Many of the kitchen and waiting staff are family members: "Everyone in our family works here while they work out what they really want to do," he says, smiling. His array of salads, meat and fish create a celebration of all things Middle Eastern, from Turkish lentil salad and hearts of palm to lahm-bi-ajeen, a Lebanese meat pizza.
• Dishes from £6.50. 410 West Franklin Street, mediterraneandeli.com
Pizzeria Mercato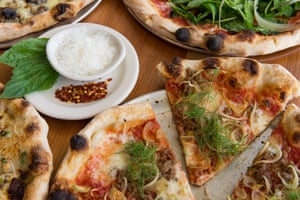 A new addition to the Carrboro food scene, this restaurant is unapologetically industrial: the "art" on the walls is just sheet metal stapled together. And while the pizza's good (from $13), it's the rest of the menu – octopus lentil salad ($13), grilled white corn ($8.50), crispy springer mountain chicken wings ($7.50) – that's the real benchmark of its kitchen. The family behind it are Gabe Barker and his parents, Ben and Karen, who are award-winning chefs. Karen's desserts (ice-cream and sorbets from $3.50) are worth the visit alone.
• 408 West Weaver Street, Carrboro, pizzeriamercatonc.com
The Root Cellar
"This is my favourite place to have breakfast," says Jay Patel, general manager of the Franklin Hotel. That includes a mouthwatering, locally sourced breakfast menu – from honey and homemade peanut butter bagels ($5.95) to shrimp'n'grits – but also an atmosphere that welcomes people to stay, meet and work in the common space. "Every time you come here you'll see people just hanging out, working on laptops, and every time you come you can guarantee you'll run into someone you know," says Patel.
• 750 Martin Luther King Jr Boulevard, Chapel Hill, rootcellarchapelhill.com
MUSIC
Local 506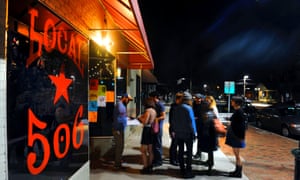 There's so much live music in Chapel Hill it literally spills out onto the streets. And that's not just during the festivals, of which there are plenty. During the summer months the Carolina Inn, the town's fancy hotel, presents live bands on its lawn every Friday night, and in Carrboro there are free outdoor gigs at the Weaver Street Market. Thanks to the large student populations in the Durham-Raleigh-Chapel Hill triangle, the music scene offers much more than just its famed indie roots. Every local band making a name for itself has played the Local 506, a 250-capacity venue where a single week's programming might encompass metal, indie, folk and singer-songwriters.
• 506 West Franklin Street, Local506.com
Cat's Cradle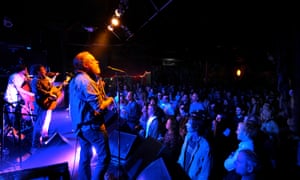 Chapel Hill has a 40-year history nurturing its own unique school of rock – and that's thanks to the Cat's Cradle. It has moved locations several times but never lost momentum, and over the years has hosting acts such as Nirvana, Public Enemy, REM and Ben Folds Five (who were themselves UNC alumni). Now residing in Carrboro, it's largely a haven for rock and punk, while the smaller back room remains a great place for catching up-and-coming bands.
• 300 East Main Street, Carrboro, catscradle.com
The Cave
As music editor of IndyWeek, the local newspaper, Allison Hussey has her pick of venues. "But I really love the Cave," she says, "It's tiny: only about a 75-person capacity, but hosts great shows that are wild and fun, and everyone who works there is a musician, so there's a huge pool of talent." A number of great bands have played the venue when just starting out, including Arcade Fire, so you might just hear the next big thing.
• 451½ West Franklin Street, caverntavern.com
Who to follow on Instagram
@jessstringer
A flavour of local life from the editor of Chapel Hill magazine
@trianglefoodadventures
The best and newest dishes and restaurants in the Raleigh-Durham-Chapel Hill region
• The trip was provided by Visit North Carolina with accommodation at The Franklin Hotel, 311 West Franklin Street, (doubles from $209). More information at visitchapelhill.org and VisitTheUSA.com
Source: Read Full Article