Yat Lok in Hong Kong
Michelin-starred Yat Lok is a world-famous restaurant on Stanley Street and renowned for its roast goose. Served alone on a plain white plate, the bird is marinated in a blend of 38 ingredients, including superior dark soy sauce, sesame oil, ginger, garlic, star anise and cloves.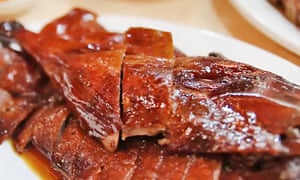 The skin is so crispy it nearly shatters on bite, while the sweet and salty succulent meat glistens underneath. The communal-dining restaurant also serves roast pork, chicken, vegetables, rice and noodles.
• Average price £15. 34-38 Stanley Street, Central, +852 2524 3882, no website, cash only
Fine Dining Explorer
Sek Yuen, Kuala Lumpur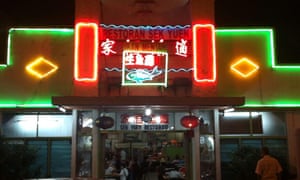 Opened in 1948 near bustling Pudu market and occupying the same beautiful, time-worn, art-deco building since then, Sek Yuen is a foodie institution. Some of the older chefs toiling in the wood-fired kitchen have served the same Cantonese dishes to three generations of fans. Food here is punchy, with requisite use of garlic, oyster sauce and siu heng wine. The traditional Chinese banquet four-season platter has appetizers representing winter, spring, summer and autumn in China.
• Average price £25. 315, Jalan Pudu, 55100, +603 9222 9457, no website
Nic Crilly-Hargrave
San Tung in San Francisco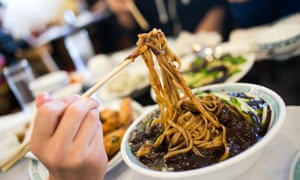 Famous for its dry-fried chicken wings, the combination of sweet, salty, spicy and tangy flavours infuse the crispy skin and savoury meat. The skin is magically transformed into a delicate translucent crispy outer shell coated inlip-smackingly good sticky lacquer. The longer the wings sit, the spicier they become as the pods of dried red chili peppers break down and exude more heat.
• Average price $25. 1031 Irving Street, +1 415 242 0828, no website
Sandy Wada
Ming Ting, Chengdu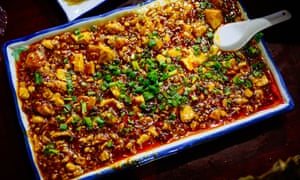 Ming Ting is one of the most famous hole-in-the-wall restaurants in Chengdu – the capital of Sichuan cuisine. It's in the historic Cao Jia Alley market and known as one of the city's "fly restaurants": bare-bones eateries said to attract diners like flies. It is always packed at lunch and dinner as locals flock to fill up on such specialities as pig's brain mapo tofu, deep-fried ribs and lotus leaf steamed pork belly.
• Average price £5. Cao Jia Alley market, +86 28 8331 5978, no website
Jenny Gao
Xi'an Famous Foods, New York City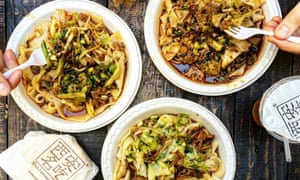 In 2005, Xi'an Famous Foods had one location, the 36th Chamber of the Golden Shopping Mall in Flushing, Queens. It was presided over by David Shi, an affable gent who went by the nom de cuisine Liang Pi, after his signature dish, liang pi (cold skin noodles). Today, Xi'an is a mini-empire with six locations, upscale sister restaurant Biang and a Brooklyn commissary. One unusual dish is ma la yang lian: spicy and tingly lamb face salad. Creamy bits of tongue and crunchy pieces of ear are slicked with a chili oil and tossed with beansprouts, coriander, red onions, jalapeños and garlic.
• Average price $15. 41-28 Main Street, Basement Stall #36, Flushing, xianfoods.com
Joe DiStefano
JB Ah Meng, Singapore
In one of the busier parts of Geylang, where plenty of pedestrians guarantees excellent people-watching, folks at this gritty back-alley spot dig into paper-crisp deep-fried fish skin; bean curd loaded with black mushrooms, minced pork and cuttlefish; White Pepper Crabs; and JB San Lou Meehoon, a flattened pancake of rice vermicelli, imbued with a smoky char and rich seafood-based stock. This delicious dish is laced with egg scramble, diced prawns and cuttlefish piled over stir-fried greens. The egg yolk prawn tempura had world-renowned chef Ferran Adrià asking for the recipe. He didn't get it.
• Average price £30. 2 Lor 23 Geylang, +65 67412418, no website
Catherine Ling
ShanDong MaMa, Melbourne
For extraordinary Chinese food at a great price, go to ShanDong MaMa for speciality dumplings and noodle dishes. The famous fish mackerel dumplings, mixed by hand with coriander, ginger and chives into a mousse-textured filling and wrapped in very thin homemade dumpling skin, are considered the best in the city. It is a traditional recipe from the coastal city of Yantai in Shandong province.
• Average price AU$40 (£20). Shop 7, Midcity Arcade, 200 Bourke Street. +03 9650 3818, Facebook
David Hagger
Kingsford Chinese Restaurant, Sydney
Kingsford Chinese Restaurant is one of the most popular and cheerful Chinese restaurants on the Anzac Parade strip, with a huge turnover of predominantly Asian customers who eagerly queue for a table. Do not miss its house speciality: the Sang Tung Chicken is served on the bone with crispy skin and bursting with flavour from the garlic, vinegar and chilli. Deep-fried calamari with pepper and salt is also a great bet.
• Average price AU$57 (£28). 426 Anzac Parade, Kingsford, +61 2 9663 1728, no website
Simon Leong
Chi Fu, São Paulo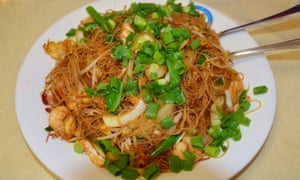 São Paulo is blessed with many Japanese restaurants, search for Chinese food, however, and there is only one place to go, the Guangzhou specialist Chi Fu. This restaurant offers a cultural experience: the waitresses don't speak Portuguese or English, only Chinese. An elevator carries an almost exclusively Chinese clientele between two golden floors, wallpapered with images of the Forbidden City. There are a mind-blowing 201 dishes on the menu, and if you can't speak the language, you'll need to point at the images to order. Fans recommend the carp swimming in ginger, steamed mustard leaf, battered shrimp, and rice noodles with a sweet sauce and mixed seafood. Unless you are part of a large party, expect to share one of the vast circular tables, complete with Lazy Susan.
• Average price £15. Praça Carlos Gomes, 200, Liberdade , +55 11 3112 1698, Facebook
Raphael Corrêa
Leong's Legend, London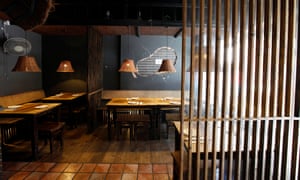 Leong's Legend often has a queue. Why? It has the best XLB (xiaolongbao) in Chinatown. These gorgeous porky soup dumplings are served in their steamer basket in a selection of eight. I get just these, and a cup of jasmine tea. The trick to eating them is to dip them in the vinegar and ginger with great care so that you don't tear them and lose the precious soup. Then put it on your soup spoon and bite the top off, so that they cool down just a touch. Then eat in one go. And repeat. Divine.
• Average price £20-£40. 4 Macclesfield Street, 020 7287 0288, no website
Niamh Shields
•This article was updated on 12 February 2016 to correct the name of the New York contributor.
Source: Read Full Article