Molecular spectacular
Mixologist Antonio Lai was one of the first to bring molecular mixology to Hong Kong, when he opened Quinary in 2012. And the fact that it's still standing five years later, in a city dedicated to novelty over longevity, is a sign of just how good his bar is. It's been ranked in the world's 50 best bars list ever since it opened. The drinks tend towards classics with a twist. Check out the signature Earl Grey caviar martini (£13), which is topped with little Earl Grey "caviar" balls in a sea of foam. Or try the far punchier Prey (£13), a smoky rum cocktail served in a brown paper bag. If you're on board with the gin revolution, then make sure to check out one of Lai's other venues: Origin, which has 15 or so house-infused and distilled gins. Ask for a taste of whatever strikes your fancy but make sure you don't miss the Japanese shiso gin.
Cell block tango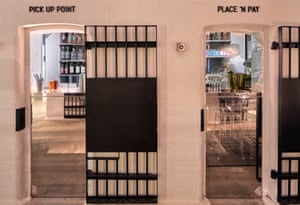 Hong Kong's latest and grandest opening, the Tai Kwun complex, is a huge heritage site in what was once the old Central police station, magistracy and jails. Some of it has been turned into exhibition space, some into cultural hotspots and cutting-edge restaurants – and what were once the E Hall jail cells are now a bijou bar. At Behind Bars the old jail cells have been lovingly restored, iron bars intact – but with the addition of a neon glow and far plusher seating than the average con is used to. Cocktails are pre-made and pre-bottled (it's a prison, after all): go for the citrus-heavy Mandarin is the New Black (£9), and canoodle in a cell, safe in the knowledge that you can make a break for freedom once the bill's paid. On weekends the venue sometimes gets cleared out for intimate, raucous DJ sets.
Drinking to remember
Tai Lung Fung is that extraordinary thing: a kitschy bar that's just the right side of tacky. It's because what's hanging from the wall isn't over-the-top chinoiserie but instead good old-fashioned nostalgia. From the huge dragon head to the classic Hong Kong childhood games to the toilets wallpapered with vintage newspaper classifieds, the bar manages to conjure up memories, not stereotypes. That's rightly made it a neighbourhood hangout, and the cheap drinks and solid cocktails don't hurt, either. Sure, service can be on the lethargic side – but it's a local hangout, not a cutting-edge mixology experience. In other words, it's a great place to spend an hour or five.
Sound of music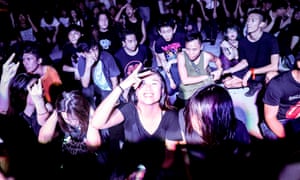 Hong Kong has consistently had a problem with finding venues for live music. Between the city's astronomical rent and the authorities' dislike of anything loud, it's always been nigh on impossible to support much in the way of live music – and the city's hippest live venues keep getting shut down. Hence This Town Needs, which is – unusually for Hong Kong – both 100% open and 100% legal. It's a little out of the way, but the best way to get there is by hopping on the ferry at Sai Wan Ho, which runs every half-hour to Sam Ka Tsuen pier right next to the venue. Got to the gig early? Kill time on the free arcade machines just as you walk in.
Speakeasy with a twist
In Hong Kong – and globally – the speakeasy bar has been done to death. But the new Hugger Mugger keeps things entertaining, nonetheless. Yes, it's marked by nothing more than a red door and a discreet plaque. And yes, you need to buzz in to be granted entry. But the really entertaining thing about this subterranean bar is that it actually hides the entrance to superb Indian restaurant Chaiwala – a speakeasy within a speakeasy, in other words. Even if you're not staying for dinner, the drinks are worth the trip. The cocktail list consists of all things colonial, taking the lead from Britain's great and good: from Churchill to David Attenborough, Pink Floyd and Her Majesty herself. Try the Chaplin-inspired The Great Dictator (£12), made with Elephant sloe gin, and basil, lime and black-tea kombucha.
Race night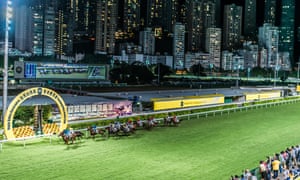 On a Wednesday night in the cooler months in Hong Kong, there's only one place to be: the Happy Valley racecourse. This extraordinary floodlit course in the middle of the city holds weekly night races. You can pay to get into the site's many boxes and bars but what you should really be doing is following the lead of the locals and stumping up $10 (£1) to get into the public concourse. Here you can get beers by the pitcher and stand right at the railings, cheering on the winner as the horses thunder past just metres from you, their hooves shaking the earth beneath your feet. Best of all, you needn't lose your shirt to have a good time: like the entry fees, minimum bets start at £1.
Source: Read Full Article