Imagine a region that has miles of white sand beaches on one coast, picturesque rocky bays on the other, two mountainous national parks, and one of the world's oldest cities. Add lots of warm sunshine plus fine food and wine and you might expect the area to be a tourist mecca, busy with hotels and tour buses. However, Basilicata, the arch and instep of Italy's boot, has all the above but – thanks admittedly to a history of poverty and difficult access – little mass tourism.
Though bigger than any English county, Basilicata is home to fewer than 600,000 people. And it shows: apart from a few very hot weeks in high summer, the region is blissfully quiet, its beaches and (now quite good) roads devoid of crowds. Access from the UK is now easy too, with cheap flights to Bari, in neighbouring Puglia. Naples airport is a couples of hours' drive way too, but as Basilicata's beaches and main sights are in the south, Bari will suit most.
MATERA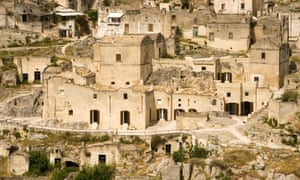 What to see and do
The cave houses, Sassi, of Matera are thought to be the first human dwellings in Italy, delved maybe 9,000 years ago. But by the 20th century they were places of inhuman squalor and penury. Author Carlo Levi, exiled to Basilicata by the fascists in the 1930s, wrote: "In these dark holes with walls cut out of the earth I saw a few miserable beds, and some rags hanging up … I have never in my life seen such a picture of poverty."
The Sassi lay empty for decades after the war, their inhabitants rehoused, but from the 1980s people started moving back, modernising caves and converting them into hotels, bars and shops. Matera gained Unesco world heritage listing in 1993 and is now more prosperous, but there has been no jarring change in appearance or atmosphere. The steep steps, rocky outcrops and stone alleyways could be Babylon or biblical-era Jerusalem, and have been used in films including, recently, the 2016 remake of Ben Hur, Wonder Woman and this year's Mary Magdalene.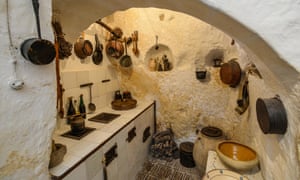 Now scrubbing up for its year as European Capital of Culture in 2019, Matera is more striking than pretty – Levi wrote of its "painful beauty" – but few other living cities in Europe have such a magical air of real antiquity.
The Sassi are in two sections, the Barisano and the older Caveoso, where more of the sights are. There are over 150 rock-cut churches here and in the countryside nearby, many of which can be visited (tickets from €2.50 for one church to €6 for three). Less-visited than most – it's a 15-minute walk south along the Gravina ravine – is 13th-century Santa Barbara, with astounding rock paintings.
The hard life of cave-dwelling peasants is recreated in the Casa Grotta (adult €2) on Vico Solitario, with two furnished cave rooms complete with animals and papà enthroned on a stone latrine in a corner.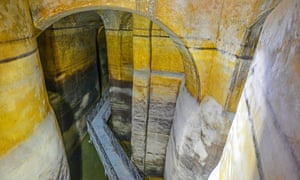 Beneath Piazza Vittorio Veneto, the Palombaro Lungo is a 16-metre deep series of water tanks dug in the early 1800s to keep Matera, high on its limestone hill, supplied with water in hot dry summers. A €3 ticket (under-18s free) includes a guided tour (four a day in English) of cisterns waterproofed with terracotta and porcelain. They are as impressive as any cathedral, though excavated from the earth rather than soaring skywards.
Matera is not all about old stones; there are new ones at the Musma contemporary sculpture museum (closed Mondays), in 16th-century Palazzo Pomarici, whose collection includes works by Picasso and De Chirico as well as striking modern works in plastic, glass and metal.
Where to shop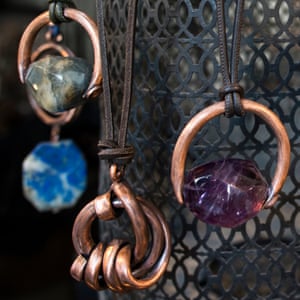 Foodie souvenirs include pasta, olive oil, dried cruschi peppers and crapiata, a mix of grains and pulses for soup. Artisanal makers are setting up shop as Matera's star rises: Elisa & Janna make unusual jewellery from recycled metals and cloth. At Pandora Cuoio, Gianni Maragno hand-crafts handsome leather bags, belts and sandals.
Where to eat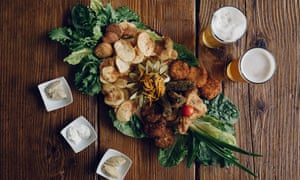 Avoid tourist traps in the Sasso Caveoso and head north of Via Fiorentini to the Sasso Barisano, where Ristorante Stano (+39 0835 344101) does pizza, great pasta such as vermicelli with squid ink and tomato (€10), and meat mains from €8. Vegetarians will love Fior di Cucuzza between the old and new towns. A dish of red wine ravioli with almonds and rocket pesto is as pretty as it is tasty, and there's also local craft beer amid a decor of offbeat collages and painted glass.
Where to stay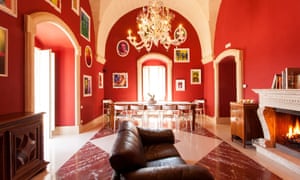 In an 18th-century house on the edge of the Sassi, with great views from its little roof terrace, Casa Diva (doubles from €85 B&B) opened in 2015 and has eight individually designed rooms with names like Monk and Artist. Breakfast is at a huge communal table beneath pop-art portraits of local characters, from a philosophy professor to a knife grinder.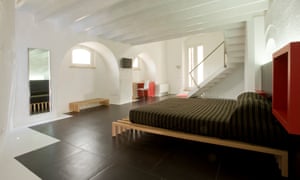 For a cave stay, the Basiliani (doubles from €80 B&B) is an albergo diffuso spread around dwellings excavated from a rocky outcrop in the Sasso Caveoso. Reception is in a cavern that was once a tannery: tomb-like vats can be seen under the glass floor. Owner Giuseppe Stagno is an avowed hater of il finto antico ("pretend old"), so bedrooms are ultra-modern: illuminated white chaise longues and sleek handmade beech beds. Breakfast is particularly good, with abundant fresh fruit, cheeses and cured meats.
IONIAN COAST & POLLINO NATIONAL PARK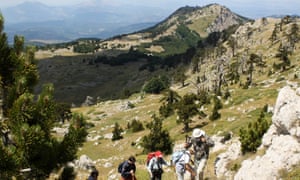 What to see and do
Take almost any exit south-east off the E90 motorway along Basilicata's Ionian coast and you'll soon reach unspoilt pale sand lapped by clear shallow sea. A good choice is Terzo Cavone, a few kilometres south of Metaponto, with umbrellas and sunbeds round a snack bar, but acres of undeveloped beach either side, backed by forest. Pythagoras lived and died near here in the fourth century BC, when this was part of Magna Grecia. The Tavole Palatine, ruins of a 2,500-year-old Temple of Hera, can be visited near Metaponto.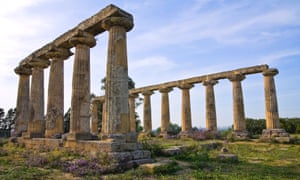 Italy's biggest national park, the Pollino, straddles the Calabrian border, and in this sparsely populated region, offers the chance to hike in huge areas barely touched by man. Wooded slopes of beech and Bosnian pine lie below bare grassy peaks, rising to Monte Pollino at 2,248 metres. In cooler months, when the skies are less hazy, views stretch all the way to Sicily.
There's also rafting and canyoning – Rivertribe has English-speaking instructors – and birds of prey to spot. Walking guide Giuseppe Cosenza (viaggiarenelpollino.it) is a fount of local knowledge and also runs an agriturismo in nearby Laino Borgo.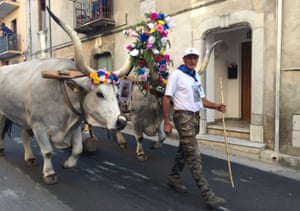 Small towns in the park cling proudly to hyper-local foods and folklore. At pretty Rotonda, in its circle of green hills, the summer San Antonio festival (8-13 June) is a big deal, involving the "marriage" of two trees, one a 20-metre beech hauled through the streets by 26 decorated oxen before being erected by hundreds of strong men. All this is done to music played on bagpipes and other instruments by young and old alike. The tradition dates from pre-Christian times: the church annexed it for Saint Anthony.
Where to stay
A few minutes' drive from Terzo Cavone beach, B&B L'Oasi has a palm- and bamboo-shaded garden, and doubles at just €45 in June. Breakfast is basic, and the 4½-metre pool is above ground, but the owners are friendly, and there are barbecues, a shared kitchen, and two two-bedroom self-catering bungalows.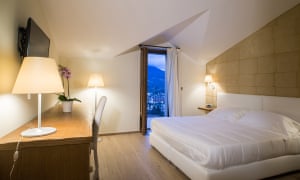 In Rotonda, Il Borgo Ospitale (doubles from €80 B&B) is an albergo diffuso with reception off the main square, and elegant rooms in steep streets above – many with balconies. A 20-minute drive away, Rifugio Fasanelli (half-board €60pp) offers rustic comforts 1,350 metres up in the national park, with 12 en suite rooms, a restaurant specialising in homemade pasta with local truffles and fungi, and views to die for.
Where to eat
On the outskirts of Policoro, near the Ionian coast, Gusti Lucani (two courses €15, unofficial page on Facebook) is famous for meatballs of pork and pecorino cheese, and Lucanian orecchiette pasta, with tomato sauce rather than the greens offered in Puglia.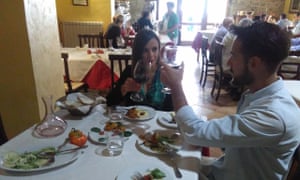 In Rotonda, A Rimissa restaurant (two courses €20) is owned by the albergo diffuso and makes the most of ingredients such as local red aubergines, served lightly pickled as an antipasto, and round white poverelli beans. The place is celebrated for its grilled meats, but I was most taken by the fileddri (fat spaghetti) with sauces of either wild greens, dried peppers and tiny chillies; or ricotta and cured pig's cheek.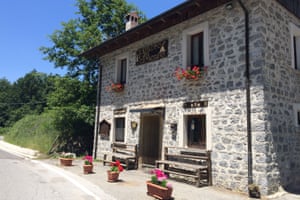 This is an area where the salami speciality changes every few kilometres – with fennel in one village, say, but paprika up the road. At Il Ristoro del Carbonaio (four courses with wine €25), a converted roadkeeper's house near the mountain village of Viggianello, a lunchtime bean and potato stew (€7) is good hiking fuel, and owner Franco tells proudly how the hand-cut prosciutto comes from a pig keeper up the road, and the tangy cheese is a goat/sheep mixture made by a woman in the next valley.
Maratea and the north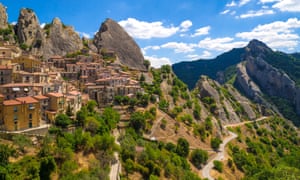 What to see and do
Where the Pollino has wide open spaces and huge vistas, Basilicata's other main mountain range, the Dolomiti Lucane, is all deep valleys, spine-like ridges and weird rock formations. At its heart is Pietrapertosa, Basilicata's highest village, beneath a 10th-century Saracen fortress. There are waymarked walking routes such as Sentiero della Croccia and Sentiero di Tempa Castello, but those wanting more excitement will enjoy Il Volo del Angelo, a zipwire – ridden prone, in Superman position – between Pietrapertosa and neighbouring Castelmezzano (from €63 for two, daily July-September, weekends and holidays at other times).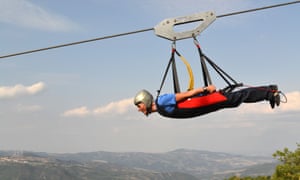 One of the many joys of the ancient town of Maratea, beneath steep green hillsides on Basilicata's west coast, is that it's accessible on public transport: there are hourly trains from Naples for under €11 one way. The three-hour trip – on Italy's oldest railway line – goes past Vesuvius and occasionally runs beside the sea. From Maratea, it's possible to take trains or buses between seaside villages.
There is, weirdly, no sea view from the town centre, with its winding stone streets, pretty main square and 44 churches. This part of town dates from around 1070, when people left the then overcrowded castello district to build a new community in a fold of the mountain carefully chosen to be invisible to pirates out at sea.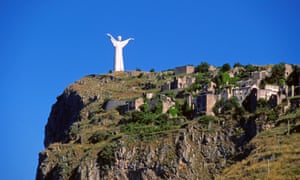 Above it, though, there are great views from Monte San Biagio, home to Maratea's Rio-like white marble Redeemer statue. The Tyrrhenian coast is laid out below, from the beaches of Acquafredda near the Campania border, past Saracen watchtowers and islands that seem to float on transparent waters, to the beach resort of Fiumicello next to Maratea's port, then dozens of little bays, with either golden or black volcanic sand, stretching to the Calabrian border.
Enjoy this coast from sea level by taking a canoe trip with Flymaratea , in the town's pretty port. Enthusiast Enrico Iannini takes guests to explore this rocky coast's islands, tiny beaches and caves (two hours €20pp).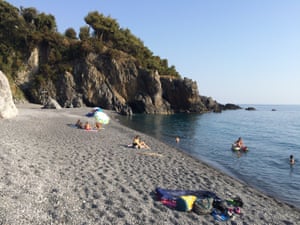 The water on this Tyrrhenian coast stay pleasantly warm until November, and locals' favourite beaches include d'Illicini and Macarro in the east, and Anginarra to the west. For easy access, Fiumicello is hard to beat, with clear shallow water, silvery volcanic sand, live music on the beach in summer and a shuttle bus up to town.
Where to eat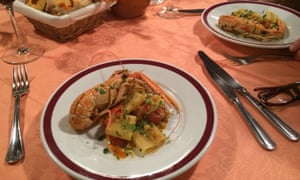 The best dinner in Maratea is at slow-food Taverna Rovita (mains from €10), in a former monastery. Don't miss a summery dish of courgettes baked with egg and cacio (sheep's cheese) and sea bass baked with breadcrumbs, almonds and garlic. South along the coast, Hotel Martino (see below) is home to Locanda di Nettuno, where, again, courgettes were the star, this time grilled with a touch of honey to go with fagottini – pastry shells with ricotta.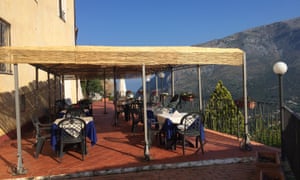 Where to stay
Hotel Martino (doubles with sunset views from €49 B&B in June) is superb value and boasts a view over the whole Policastro gulf. By Maratea's Fiumicello beach, Hotel Settebello (doubles from €60 B&B) is a tad spartan but virtually on the sand.A short walk above Maratea centre, Hotel Capo Casale (doubles from €82 B&B) has spacious bedrooms and fantastic views from the breakfast terrace.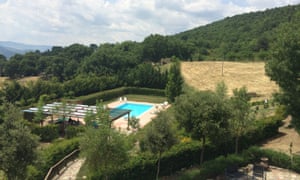 In the Dolomiti Lucane, La Foresteria di San Leo (doubles from €80 B&B in June) is an agriturismo on a farm with hardy grey Podolica cattle and 600 fruit trees (we gorged on fresh-picked cherries in June). There's a swimming pool, bedrooms in the main house and in a converted barn, and a restaurant serving regional specialities paired with local black grape aglianico wine.
• The trip was organised with help from Best Holidays in Italy and the Basilicata Tourist Board, with accommodation provided by the hotels mentioned.
Getting there
Ryanair flies to Bari from Stansted and Liverpool, Easyjet from Gatwick, and Wizzair from Luton. Ryanair, easyJet and British Airways all fly to Naples.
Getting around
Car hire was provided by easyCar, from £110 a week.
Source: Read Full Article