The San Buenaventura state beach is all but empty of sunbathers. The only bodies on display are the ones at Surfers Point, where a constant churn of frothy white peaks keeps them bobbing aloft on their distant boards. From there, the sands sweep south to infinity, or at least to the neighbouring town of Oxnard. It's a 10-mile stretch of southern Californian coastline, less than an hour's drive from Malibu, and there's not a celebrity tan in sight.
If you can bear to turn your gaze from the ocean and look back towards the parking lot, you'll see a blue trailer, with the words "The Jolly Oyster" painted in a suitably uplifting typeface. This is the humble home of some of the rarest and healthiest molluscs in the US – it took Mark Reynolds, founder of the company's sustainable aquaculture farm, 15 years to bring them to table. "Anyone else would have given up," he admits. "But this part of the country had never had local oysters before. So if we were going to do it, we had to do it right."
The trailer itself is a gourmet experience hiding in plain sight. The kitchen will prepare you three different kinds of oysters, as well as clams and stone crab, or you can buy them market-style and shuck your own. Either way, it's the best snack stop you'll find off Highway 101.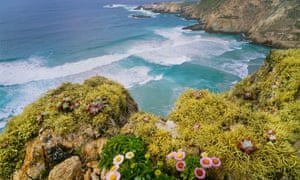 The Jolly Oyster is the perfect metaphor for Ventura, a town ignored by Cali's cool crowd, yet quietly and dearly beloved by those who live there. The place lacks pretension, or a hippy past; predominantly blue-collar, its roots in fishing and agriculture are being developed by a generation of young entrepreneurs – not unlike Portland, Maine, a few years ago. In the process, they're creating an attractive stop for those seeking a West Coast experience that isn't all white linen trousers or tie-dye. And you can eat great meals for a fraction of the price of snooty Santa Barbara or trendy San Luis Obispo.
In the harbour, Andria's crisply battered fish and chips has attracted committed lunchtime queues for three decades now. The 1920s bungalow that houses Café Nouveau has been feeding the locals even longer. First as a Spanish then an Italian kitchen, it now specialises in an all-day breakfast that includes perfect beignets, and coffee and walnut pancakes – and it still feels like eating in someone's front room.
Newer influences are transforming the downtown area. Chef Kelly Briglio and Tina Thayer, co-owners of Paradise Pantry, plunder the bounty of the neighbouring farms and vineyards for their shop and restaurant, which offers a selection of 100 different cheeses and 350 wines. "We know that northern California has plenty to offer in terms of vineyards," says Thayer, who curates the shop's wine selection. "But there's interesting stuff happening closer to home, too." She points to the Plan B Wine Cellars, a relatively young winery whose vintages are already winning awards and whose tasting room is an entertaining night out in its own right.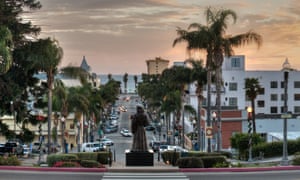 Just as impactful is the craft-beer revolution, which has spored dozens of breweries all over the area. Some of the best have to be tracked down in the unlikeliest locations, such as Poseidon, whose intriguing brews – such as its Bubblehead Blood Orange Ale and its Bullet Holes and Duct Tape Barleywine – are hidden away in the middle of an industrial park. Others, like the popular Topa Topa, host community and arts nights every week.
Ventura has always been a place of close community, with many families planted here for generations. But there's a palpable sense of effort to make the town more inclusive, from the free classes and monthly art walk that take place at the Bell Arts Factory – a co-operative of studios and gallery space – to the pop-up yoga run by Jen Spencer and Jessy Raspiller. The sessions, which take place in the outdoor spaces around town, have become a popular meeting place. "When I first came here it felt like everyone already knew each other," says Raspiller, "and it was sometimes hard to find your place." Locations usually include the spectacular Botanical Gardens which overlook the town, but they're currently recovering from a wildfire last year.
Environmental responsibility is woven into the fabric of this town, almost literally: it's the headquarters for eco-outdoor brand Patagonia. Biking and hiking of all kinds are a major activity here, from coastal trails to the Arroyo Verde Park and the Santa Monica Mountains. One of the town's great secrets is its ferry ride over to the Channel Islands, a national park of such ecological importance that locals like to call it their Galapagos.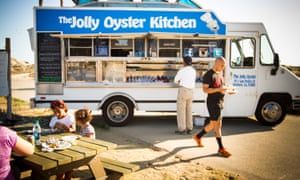 Isolated from the mainland, they have preserved hundreds of unique species including the extremely cute island fox, as well as a 10,000-year-old set of human remains know as Arlington Springs Man (there's evidence that humans were living here 27,000 years prior to that). Five islands are open to visitors, and make for great overnight camping destinations for those who appreciate the leave-no-trace approach. If you'd rather take a day trip, park rangers lead guided walks that reveal the history of the Chumash people who lived here, navigating between the islands in canoes. There are also kayaking and stand-up paddleboard tours for those who don't mind getting wet.
Still, it's the surf that brings most visitors to Ventura – and remains the reason that many move here. Mondos Beach, to the north-west, is the place for beginners. For the more adventurous, Rincon (home to one of the world's must famous surfing contests) is a mere 15-minute drive up the coast. Surfers Point – known to locals as "C-Street" – remains one of the most popular breaks, however, not least because it's right in the centre of town. Ventura's beaches are a great place to eat, drink and hang out – they're just not a place for poseurs.
Way to go
The trip was provided by Visit Ventura, with accommodation at the Wyndham Garden Ventura Pierpont Inn (doubles from £125, room only). For more information, go to visitventuraca.com and visittheusa.co.uk. BA flies from Heathrow to Los Angeles from £404 return
Source: Read Full Article