Strada Napoleonica
Discovering Trieste also means discovering The Carso, a steep limestone plateau that follows the Gulf of Trieste and the Slovenia border, is perfect for picnicking, hiking, biking (including e-biking) and rock climbing or just picnicking. There are half-a-dozen trails, but the Strada Napoleonica is the perfect introduction. Take a number 4 bus from Piazza Oberdan to the Opicina obelisk and begin a bracing 5km clifftop hike to the village of Prosecco (it gave its name to what is now one of the world's most popular wines, though production is now concentrated 100km west in Veneto). Like all Carso hamlets it has an osmiza, a pop-up cantina serving vino for under €1 a glass. Prosecco's Osmiza Verginella is one of the rare ones open throughout the year, with incredible views down the wild coastline.
• discover-trieste.it
Trattoria alla Sorgente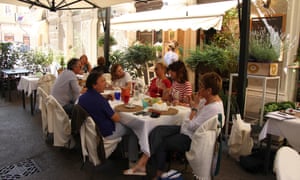 Trieste is excellent for seafood lovers, with the freshest produce arriving straight from the Adriatic, cooked simply and at very reasonable prices in the many traditional osterie and trattorie. With its rustic wooden tables and sunny terrace, the friendly Trattoria alla Sorgente is an excellent for lunch choice, but popular with locals, so call first to book. The abundant antipasti misti (€14), with tender octopus, plump scallops, grilled sardines and creamy baccalà is enough for two, while the creative pastas include chunky paccheri (tubes) with baby squid and cherry tomatoes. Closer to the docks are two other top addresses: the lively Osteria Istriano, for alici impanati (€10), tiny breaded anchovies, or the more elegant Trattoria Nero di Seppia, which has a chocolate panna cotta (€6.50) to die for.
• 2 via della Sorgente, +39 347 939 6519
Il Posto delle Fragole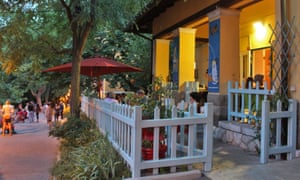 Another of Trieste's important symbols of freedom, the Posto delle Fragole (strawberry patch) is a bar, restaurant and cultural centre in the grounds of Trieste's former psychiatric hospital, in the extensive Parco San Giovanni above the city. Some 45 years ago, this was the first Italian city to end the forced enclosure of mentally ill people, opening the hospital gates to all in the 1970s. Today students attend university courses here, and many of the distinctive pastel-yellow Liberty buildings are venues for the performing arts, cinema, a radio station (Radio Fragola), concerts, and late-night summer parties. The park and its famous rose gardens are easily reached on the number 12 bus from the city centre.
• 4 via de Pastrovich, ilpostodellefragole.eu
Stazione Rogers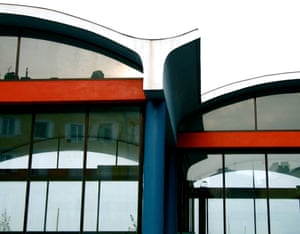 Trieste comes alive in the early evening when aperitivo time kicks off, with Aperol and Campari spritz from €3 with free snacks. There are plenty of bars in the old town, but a fun offbeat address is this once-abandoned modernist petrol station – designed in 1953 by Ernesto Rogers, editor of Domus magazine and cousin of Richard Rogers. Today, instead of serving petrol, it serves alternative culture for the city, and is especially popular with Trieste's large student population. Inside, there is a venue for performances, exhibitions and concerts, while the forecourt is a sprawling outdoor bar overlooking the marina, that stays open till 2am, with DJs and live music.
• 14 Riva Grumula, stazionerogers.org
Mastro Birraio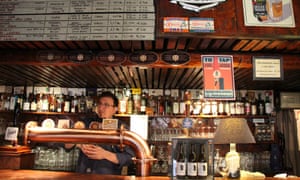 The owner of this 35-year-old pub, knowlegeable Daniele Stepancich, showcases a great selection of beer from Italy's artisan breweries, including Zanna, made in nearby Gorizia. It has eight pumps and a huge range of bottled brews, plus tasty pub grub, from burgers and goulash to locally cured hams, salami and cheeses. Just don't ask for wine, as this is a beer and spirits-only locale. Wine lovers should head to Enoteca Nanut, a hole-in-the-wall cantina near the canal, with over 50 wines served by the glass.
• 24 via Felice Venezian, on Facebook
Boat trip to Muggia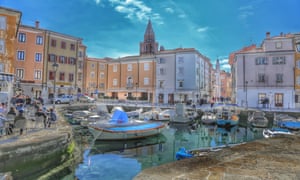 A visit to Trieste has to include a boat trip, and a good option is the Delfino Verde ferry that links Trieste and the Venetian port of Muggia. The journey only takes 20 minutes as it hugs the bay towards the frontier with Slovenia, and Muggia is a gem, with its tiny harbour filled with fishing boats. Have a drink at the local watering hole, Ai Fumi, then, further down the street, eat a classic fritto misto at Osteria al Corridoio, owned by Sabrina, whose son Mauro is the fisherman.
• delfinoverde.it, return trip €7.90
Bagno Alla Lanterna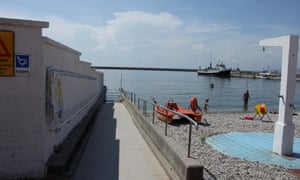 At this historic public beach, there is proof that a wall does not have to divide but can actually give liberty to people. In a unique Trieste story, male and female bathers are divided by a wall at the tiny Lanterna beach, known popularly as El Pedochin. This may sound sexist and politically incorrect but I can assure you that the opposite is true. A local documentary presented at Cannes in 2016, The Last Resort, explains how the division lets bathers be themselves. Ask anyone here – teenagers, mums with kids, retired people – no one would ever get rid of the wall. The best way to understand is to come and see for yourself. Entrance is a symbolic €1, and of course there is a bar just outside where everyone has lunch or an evening aperitivo together.
• Molo Fratelli Bandiera 2, sport.comune.trieste.it
Piolo & Max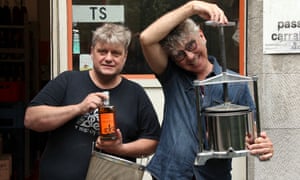 There is a tradition of after-dinner digestivo all over Friuli, a strong grappa or bitter herbal amaro, but two local wine buffs, Piolo and Max, have dug further into Trieste's Hapsburg heritage to create their own unique liqueurs by infusing local grappas and fruit brandies with magical recipes of plants, herbs and spices. Like medieval alchemists, they have a workshop/laboratory cluttered with hundreds of jars and steel containers of weird and wonderful botanicals. What started off as a dare has turned into an artisanal success story, and their minuscule store and tasting bar in the town centre stocks tipples from lemon, ginger, absinthe, coriander, chilli and camomile infusions to Newtella, a light chocolate milk-based liqueur, from €10 a bottle.
• 11 via Felice Venezian, pioloemax.it
Da Giovanni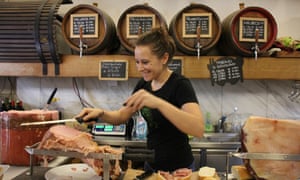 No one should visit Trieste without experiencing an authentic buffet, a tradition dating back to when the city was under Austrian rule. A buffet is a temple to pork, with roast hams, boiled pork loin, smoked sausage and giant mortadellas heaving on ancient marble bars. There are a dozen locales around town but Da Giovanni is a special place, where I always bring my class for a celebratory end-of-year party. Here architects and judges sit next to students and building workers at long communal tables, talking in Triestine dialect rather than Italian, and tucking into a €3.50 crusty roll of cooked ham covered with grated horseradish accompanied by a foaming beer or local wine straight from the barrel at €1 a glass.
• 14 via San Lazzaro, trattoriadagiovanni.com
Faro della Vittoria

Our historic lighthouse is an emotional icon for me, as when your boat turns the corner of the coastline, the sight of the it is the first sign that you are coming home. The Barcolana regatta and the Faro are inseparable, as the race begins in the waters around the lighthouse. But few visitors realise that, though it is run by the Italian navy, the lighthouse is open to the public at weekends, free of charge, including a guided tour. The panorama is exceptional, stretching across the sea to Slovenia and Croatia. This is a genuine frontier city, with a history of families divided by international borders, but today, the lighthouse has become a symbol of liberty.
• 141 strada del Friuli farodellavittoria.it
Mitja Gialuz is a world champion yachtsman, law professor at Trieste University and president of Trieste's Barcolana regatta
At a glance
Getting there
Ryanair flies to Trieste from Stansted. Venice's two airports are within 150km.
When to go
Spring, summer and autumn are best: winters can be windy and cold. The town holds regular festivals including a Sardine festival with live bands every night (until 19 August), and the spectacular Barcolana regatta, which attracts about 25,000 sailors each year and is celebrating its 50th year on 14 October 2018.
Stay
Aria Marina is a converted palazzo in the old town with two apartments and one double from €50 room-only. Round the corner the chic Urban hotel has doubles from €96 B&B.
Looking for a holiday with a difference? Browse Guardian Holidays now to find a range of fantastic trips
Source: Read Full Article