The woman on the early morning train from Osaka station made swift work of a large noodle-stuffed omelette, and just as I was thinking that was a substantial breakfast for a far from substantial person, it was out with the chopsticks again as she set about a generous bento box, its nine compartments filled with rice, fish, veg and pickled bits and bobs.
But that's Osakans for you: prodigious appetites for food and, in marked contrast to Tokyoites, also for drinking and general fun. You have to love a city that has a word for "scoff till you drop". Kuidaore literally means "eat to ruin" (whether that's financial or physical is not specified).
To feed those appetites, the eating opportunities in central Osaka are many, hugely varied and, for those with only very basic Japanese, mystifying. So we asked Ayako "Aya" Kiyono, an Osaka-born tour guide whose hobby is restaurants, to take us on a night out.
Dotonbori is the city's eat street, home to, among others, lots of seafood restaurants (Osakans go crazy for crab and three seafood joints now have mechanical crabs outside). But it was late spring and crab is at its best in winter, said Aya. Anyway we fancied down and dirty street food, not gourmet fare. What about ramen? Isn't that a thing?
Oh yes, said Aya, and the best are tonkotsu (pork bone broth) ramen from Kinryu – see the shops with the dragons outside, four branches in Dotonbori. But ramen are for the end of the evening, when you've one last corner to fill before going home. I made a mental note to fit some in.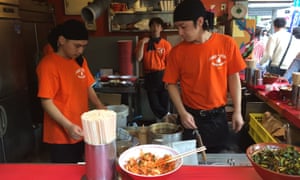 Instead, we went for takoyaki, the octopus balls Osakans eat at any time of day, but particularly as afternoon snacks. Stalls on Dotonbori have slick takoyaki production lines: batter poured into a cast-iron pan with circular holes, then bits of chopped octopus, tempura scraps for crunch, ginger and spring onion. A bored-looking youth expertly used a cocktail stick to spin the batter into balls. These were then drizzled with mayonnaise and takoyaki sauce, and sprinkled with bonito flakes that danced in the heat.
You have to put them in your mouth whole, otherwise the squidgy inside squirts everywhere. They were delicious, I think – too hot to taste properly. Osakans also seem to have asbestos mouths. We ate our takoyaki outside Kadoza comedy club. Osakans are known for their irreverent humour – and many of Japan's top comedians are from here. Tokyoites would call them uncouth; Osaka says the capital is just uptight. (The language barrier needn't stop you making the most of Japan's comedy capital: there's English standup a short walk from Dotonbori every weekend at ROR comedy club, which also hosts Magic Lab, a Sunday-night bilingual comedy magic show.)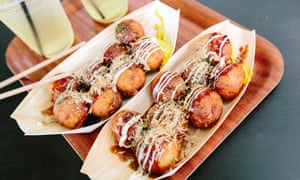 Next up, okonomiyaki, sometimes called Japanese pizza, though it's more like a pancake-cum-frittata: fish-broth batter fried with shredded cabbage till brown, and served with cooked pork and thick, brown, salty, slightly sweet sauce on top. Yum.
Warai (1-5-6 Dotonbori) is Aya's okonomiyaki secret – less queueing, better food. We tried an original version plus kyotenyaki, with beansprouts, and waraiyaki, with noodles. They were brought part-cooked to finish on the hot plate (teppan) in the middle of the table. They'd be horrified in Tokyo, but Osakans just dig in, eating them with a spatula straight from the teppan. A side of "addictive cucumber" – smashed in garlicky sesame dressing – lived up to its name, and the whole lot went really well with local Asahi beer, and chuhai (sweet potato shochu spirit with soda and fruit juice).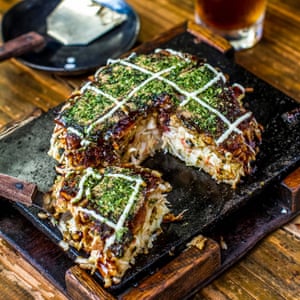 In the mood now, we staggered on to a nearby izakaya. Japan's answer to a pub, these are an informal places where you go to talk nonsense (and smoke, as it happens), but they all also do "drinking food" that it would be a shame to be too pie-eyed to appreciate. At Rikimaruchaya, (1-5-6 Namba), we soaked up warm and chilled jugs of sake with super-tasty nibbles: sashimi of scallops and spring mackerel; grilled avocado; and enoki mushrooms with ponzu sauce and grated daikon. Small plates cost from ¥300 (just over £2); beats a bag of nuts!
Dotonbori was fun food, but we wanted a taste of more everyday eating, and the next day we got it in Shinsekai. This low-rise, working class district gives a glimpse of old Osaka, away from the gleaming towers, and has a slightly dodgy reputation – which is almost felt refreshing in clean, ultra-safe Japan.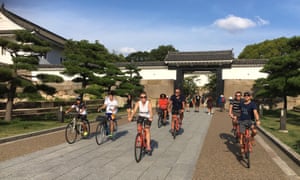 Here, Brit Ben Daggers has set up Cycle Osaka, offering small group bike tours, including a food one. "We have small houses but very big radishes," he said at our first stop, a traditional breakfast cafe serving oden – stew, basically. Daikon slow-cooked in broth was falling-apart soft and tasty with bonito flakes. More challenging was doteyaki – simmered beef tendon. Though not everyone was convinced, I liked its winegum texture, lifted by the seven-spice mix on top: chilli, seaweed, black and white sesame, sansho pepper, roasted orange peel and ginger.
Osaka is home to Japan's biggest Korean community, and offers more welcome spice in this land of subtle flavours. In the market alleys of Korea Town (around Tsuruhashi Station) we feasted on jeon, chewy Korean pancakes, bright with kimchi, spring onions or prawns, and kimbap – Korean rice rolls.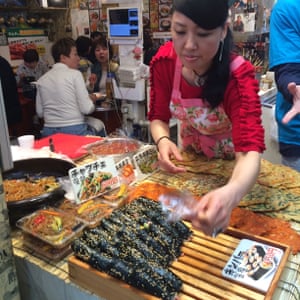 Japanese food is as much about texture as flavour: jellies, beancurds, wibbly seaweeds. And one texture everyone loves is mochi, ultra sticky rice cooked and pounded to a paste: westerners have compared it to Blu-Tak or wallpaper paste. It comes wrapped around sweet red bean paste, or grilled, or flavoured with green tea, and few celebrations are complete without it, though it is a choking hazard. One of its most delicious forms is "strawberry big happiness" from confectioner Shinonome do, in the Karahori shopping street. A fresh strawberry coated in sweet red bean paste and a layer of mochi, it also looks very rude: like a small white breast with a pink nipple.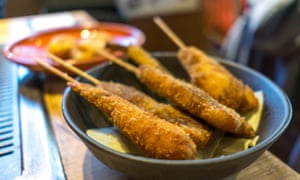 Back near our starting point, in a cafe called Yamatoya, we tucked into classic sushi, with toro (fatty tuna), aburi (seared salmon) and unagi (eel). Ben showed us how to turn it on its side with chopsticks, then over, so only the fish layer goes in the soy sauce. It was super-fresh and delicious, but you can get sushi all over the world. Yamatoya, however, is linked by a hatch to a purveyor of a treat invented here in Shinsekai in the late 1920s. Kushikatsu is basically breaded fried things on sticks, the perfect comfort food for hardworking residents. Chicken, beef, seafood or vegetables cost from just over £1 per stick, with citrussy ponzu sauce to dip it in. Get in!
Just when we felt the feasting had reached a peak, Ben unveiled dessert: a kushikatsu Oreo. Yes, one of those chocolate biscuits coated in breadcrumbs and deep-fried. Both myself and a fortysomething American woman on the tour said we'd be intrigued to try a bit but couldn't possibly manage a whole one. Ben smiled. And, of course, once we'd bitten through the crisp crumb into the melty chocolate goo… Well, there was no stopping.
In Tokyo, people say, they spend all their money on shoes; in Kyoto it's fine kimonos; but in Osaka it's food. I know which I prefer. Now, about those ramen…
And when you've had enough of city life …
A stay in Osaka can easily be combined with overnight trips showcasing very different aspects of Japanese life, be they spiritual or sensual.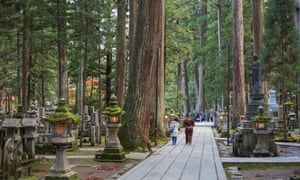 Mount Koya, or Koyasan, 85km south of the city, is the centre of the Shingon Buddhist sect, with over 100 temples in a small mountaintop town, 52 of which offer shukubo, or guest quarters (doubles from £120 a night full-board). It's reached by train and funicular through spectacular wooded mountains and is very well set-up for tourists, with helpers directing visitors to the right bus for their lodgings. The peaceful town is a bit like Oxford or Cambridge, except instead of ancient colleges, the streets are dotted with temple complexes, and monks clip-clop around in wooden geta sandals. There's no privation, though: en suite rooms have wifi and in-room dining, with vegan breakfast and dinner beautifully presented. The old buildings are lovely and guests can join in evening meditation, 6.30am prayers and a dramatic 7am fire service. Each evening, a monk leads a visit to Okunin cemetery, the holiest in Shingon, which is atmospheric, peaceful and not spooky at all.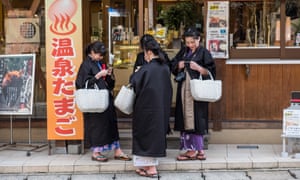 On the north coast, 165km from Osaka and reached by direct train, Kinosaki Onsen is a town dedicated to physical, rather than spiritual, pleasures, with seven hot springs, all with specially built bath houses. It's all very Japanese: we knew our ryokan (traditional inn) was called Nishimuraya, but had to find it by memorising the kanji characters, as the name wasn't written anywhere in roman script. Wandering around in bathrobe (yukata) and slippers would make you feel like a patient anywhere else, but here almost everyone on the streets is thus attired, as they bath crawl from one spring to another. Most westerners probably feel clean enough after a couple of bath visits – ryokans give you a bar code for free entry – what with scrubbing thoroughly before entering the hot water and wallowing about naked with your (gender-segregated) co-bathers, but it's a fascinating insight into what the Japanese love.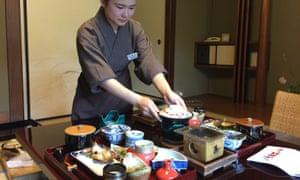 Kaiseki dinners are another ryokan experience – multiple, exquisite, individual dishes and a bill from about £35 a head. Onsens simplify a short break wonderfully: they provide all the garb, so there's no deciding what to pack, little no laundry afterwards.
• The trip was provided by Inside Japan Tours, whose 10-night Osaka, Koyasan and Kinosaki culture and food trip costs from £1,757, including B&B, train tickets and activities but not flights. The company's 13-night, self-guided Gastronomic Adventure costs from £2,430pp, excluding flights. Accommodation in Kinosaki was provided by Nishimuraya Onsen.
British Airways is launching a direct flight from Heathrow and Osaka on 31 March 2019, from £599 return
Source: Read Full Article