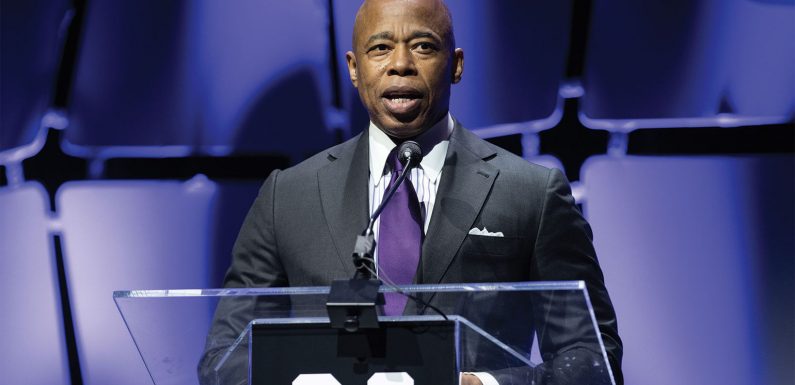 In terms of travel, the U.S. fared better than most countries during the pandemic due to strength in its domestic market. 
But with its borders fully open for the first spring and summer since 2019, the U.S. is now looking to reclaim its share of international travelers, generally considered the ultimate prize in tourism for their tendency to stay longer and spend more. 
As destinations around the U.S. reopen tourist hot spots and roll out new marketing campaigns to attract those international arrivals, the nation as a whole got a big push in mid-March when President Biden signed the omnibus spending bill that included the Restoring Brand USA Act, which allocated $250 million in funding for Brand USA, the country's tourism marketing arm. 
In thanking Congress, Brand USA said that the international visitor segment is the most lucrative part of travel and has also been the slowest to return to pre-pandemic levels. 
"The funding will allow Brand USA and our partners to rebuild traveler confidence, stimulate demand and accelerate the return of international visitation and spend," it said. "Welcoming the world back will translate directly into economic growth, quality jobs and tax revenues in communities throughout our great nation."
Working with tour operators and influencers
To do that, Brand USA has pivoted its approach.
Chris Thompson, CEO of Brand USA, said that travel and travelers have changed since 2019 and so, too, have the organization's marketing techniques. As a marketing group, Brand USA has always worked at what it calls the top of the funnel, stoking demand. Now, Thompson said, the desire to travel is there but the ability to travel is the issue, so Brand USA is helping push that intent down the funnel into the consideration and conversion stages. 
"We've always taken our top-of-the-funnel responsibility very seriously, which is to inspire intent, fuel intent and then hand it off," he said. 
Now Brand USA is doing more work beyond that, such as engaging in more cooperative marketing with tour operators.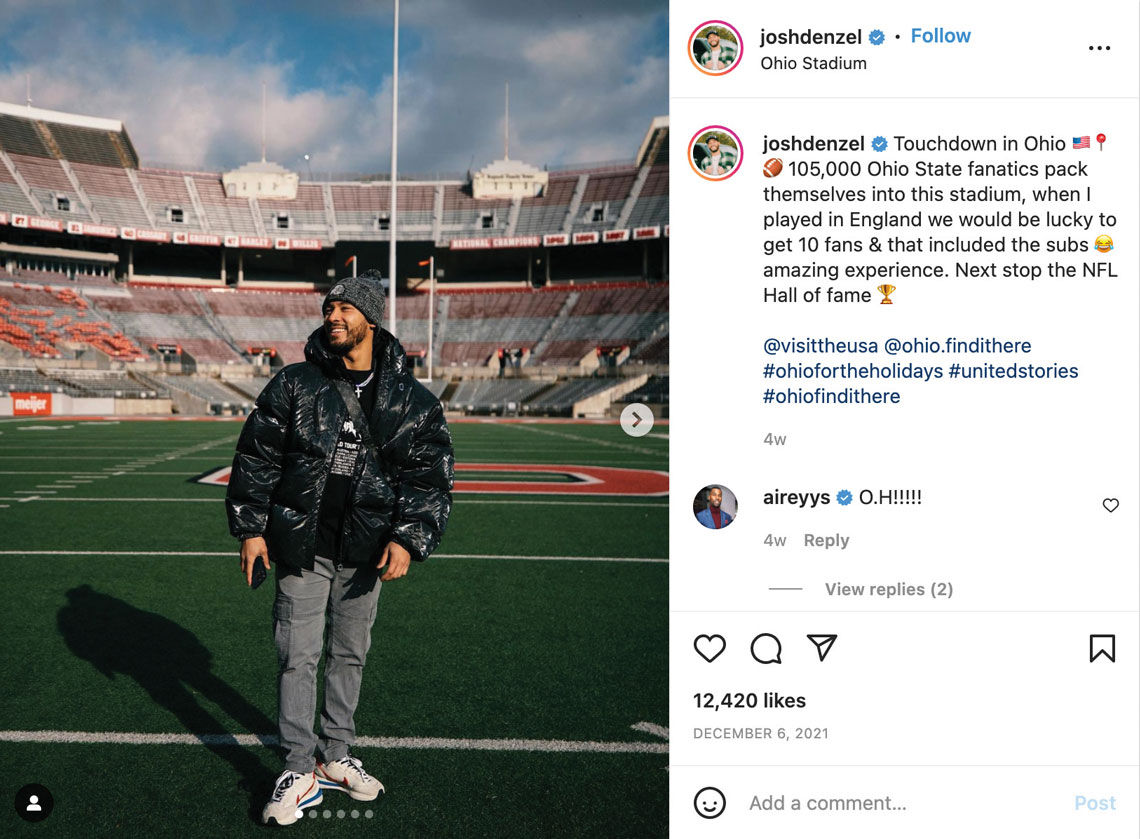 "We're lending brand equity from the overall USA brand to the tour operator for the experiences that their clients are looking for or wanting to know about and learn about," he said. 
Thompson said that throughout the pandemic, Brand USA's virtual platforms "allowed us to stay as engaged as we've ever been with our travel trade partners," facilitating its new approach.  
The organization is also working more with international social media influencers in order to show the readiness of destinations, Thompson said, which is not something that marketers had to think about previously. The experiences the influencers have in the U.S. that they present to their followers is "a more compelling way for us to prove we're ready, as opposed to just saying we are," he said.
And while Thompson is aware that the U.S. is not the only destination ramping up its marketing machine as borders open and restrictions fall, he said he believes it is the pandemic, not competition, that could stand in the way of inbound travel. 
"The real uncertainty is still tied to a world pandemic and the world coming out of it and the U.S. coming out of it," he said. "The power of the USA brand, the power of the experiences that you can only have here, helps us as it relates to our ability to compete."  
U.S. cities spring forward
Among the destinations most hopeful for Brand USA's success are U.S. cities, which suffered disproportionately from the lack of international visitors, just as they had always gained more from their spending. 
With borders reopening and expectations high that pent-up demand will translate into a surge in travel, urban markets like New York and Washington are heading into spring with additional funding and new marketing campaigns. 
Destination DC is launching the next iteration of its Experience DC marketing campaign, featuring custom digital content, streaming video and audio. 
Washington in 2019 had achieved record visitation, reaching 24.6 million visitors.  While overseas visitors were only 7% of visitation, they represented 27% of the spend.
The city expects about 20 million domestic visitors this year, or 87% of its pre-pandemic numbers, although overseas visitation is not likely to reach 2019 levels until 2025.  Several of the city's most popular attractions will reopen this spring for the first time since early 2020, including the White House and a limited number of U.S. Capitol tours. 
Further up the coast, New York's newly elected mayor, Eric Adams, was on hand at an NYC & Company event at the Javits Center in late March to launch the "Get Local NYC" campaign, encouraging tourists to visit all five of the city's boroughs.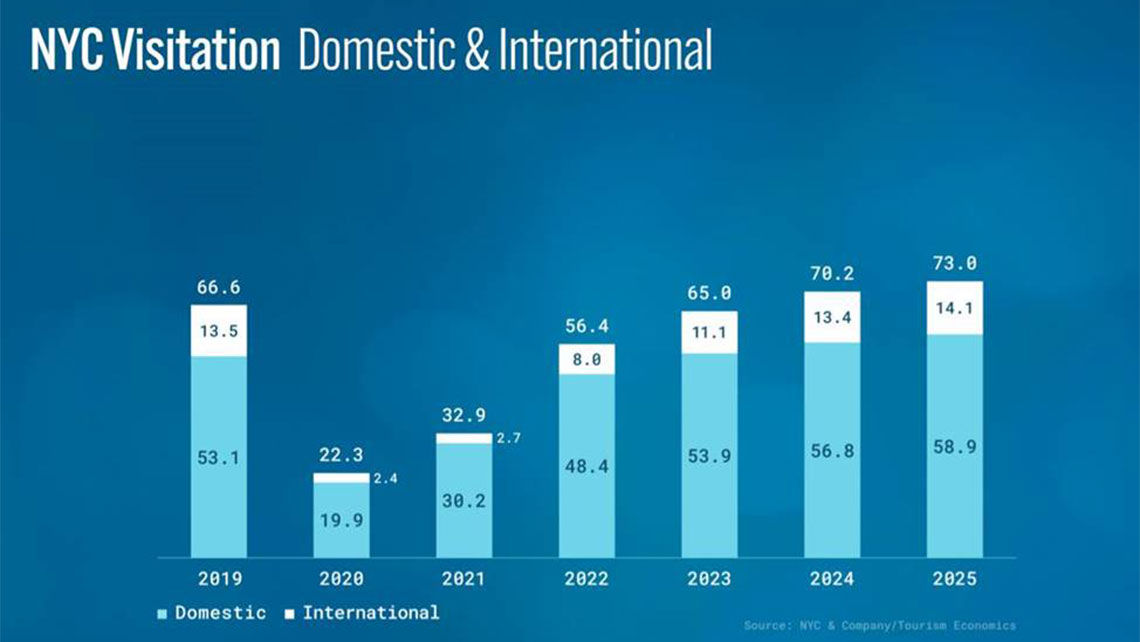 NYC & Company, the city's marketing arm, said it expects tourism levels to increase 70% this year and return to 85% of 2019 levels by year's end, including 8 million international visitors. New York had welcomed more than 13.5 million international tourists in 2019, a number that plummeted to a mere 2.4 million in 2020. 
Adams has made tourism a key part of his economic recovery blueprint and gave NYC & Company an additional $10 million in funding for its campaign. 
"My administration is laser-focused on driving tourism in this city and letting the world know that New York City is back," Adams said. "Our hospitality and tourism industry has long been an engine of economic prosperity that impacts all New Yorkers."
Source: Read Full Article