China is undergoing one of the great religious revivals of our time. Hundreds of millions of people disturbed by the pace of advancement in their country are turning to faith for the meaning and hope they don't find in the radically secular world around them. This search for the sacred is shifting social structures and shaping China's future in new and significant ways.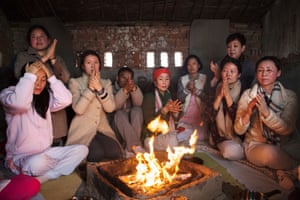 Fire ceremony gathering (2016)
With more than 24 million residents, Shanghai is China's largest city and the 10th wealthiest in the world. It is famous for economic dynamism and architectural daring, and has become synonymous with consumerism. At the same time, it is at the forefront of religious resurgence. Rooted in history, this revival has swept in on the tide of globalisation, fed by the inventiveness of the Chinese people.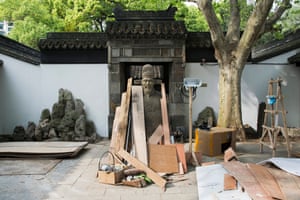 Xu Guangqi Memorial Hall – A memorial for the Chinese scholar, statesman and Catholic convert Xu Guangqi (1562-1633) is located in a small park named after him
After decades of suppression during the Mao era, the number of followers of China's five official religions – Buddhism, Taoism, Islam, Catholicism and Protestantism – are steadily rising alongside a rich range of unofficial groups and alternative spiritual practices. It is a remarkable recovery, especially considering the destruction of religious infrastructure and knowledge, and continued political suppression.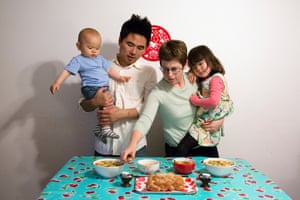 Noodles for Shanghai Shabbat (2016)
Shanghai Sacred explores the spaces, rituals and communities – in official, unofficial, public and private forms – that together weave the spiritual fabric of the city. Intimate photographs document the creativity of the faithful when creating 'sacred space' in a dense and restless urban environment.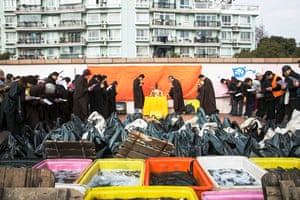 Fang Sheng gathering, Changning district (2015)
The traditional east Asian Buddhist practice of freeing captive animals to accrue good karma has flourished dramatically in recent years in Shanghai, in step with the rise of social media and online money donation, which keeps the practice afloat. Here hundreds of inhabitants gather to liberate $3,000 (£2,400) worth of fish bought from the market that morning. Monks or devout lay people organise weekly devotional gatherings, performing the ritual throughout the public space, thus creating a new economy for fishermen and a sense of belonging in an ever-changing urban environment.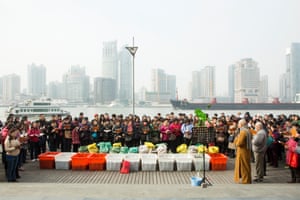 Fang Sheng gathering, Shanghai Ferry Port (2015)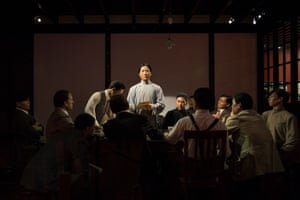 Memorial Hall of the First Congress of the Chinese Communist party, Xintiandi area (2015)
In 1921, the Chinese Communist party (CCP) was founded in Shanghai. This museum venerates the party and preserves the "official" memories of this occasion with a waxwork of Mao Zedong at the founding meeting. This space is part of the sacred geography of the city and a place that Chinese tourists visit in a reverent manner.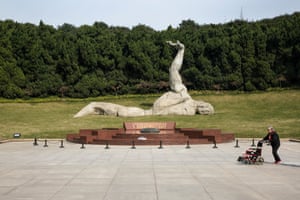 The Longhua Revolutionary Martyrs' Memorial (2015)
The Longhua Revolutionary Martyrs' cemetery commemorates the CCP members and other activists who died during the revolutionary struggles of 1928-37. Located on a former section of the grounds of the Longhua Buddhist temple, it is part of the "sacred geography" of Shanghai.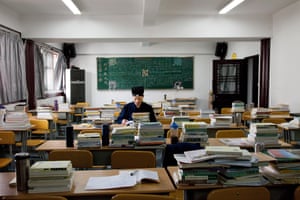 Shanghai Daoist College at Dongyue temple (2015)
Dongyue temple hosts one of China's three official Taoist learning centres and has seen a resurgence of students in recent years. The male students are trained in academic subjects, such as English and history, as well as in Taoist doctrine and ritual practice. Daily meditation time in a state-of-the-art, climate-controlled room has been tacked on to the curriculum.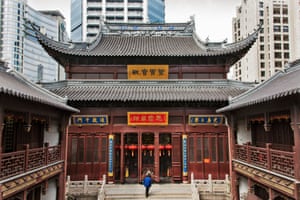 Baiyun (white clouds) Taoist temple was originally built in 1863 just outside the walled city. In 2004, the entire temple was relocated to within the former walled city. Moving temple buildings is not uncommon in China's radical redevelopments.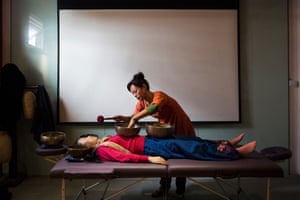 Bowl singing therapy session with Jasmine, Tibetan Buddhist centre (2014)
Jasmine left her job as a doctor to study traditional Tibetan Buddhist therapies. She offers Tibetan bowl singing therapy to her Chinese clients at a members' club in the centre of Shanghai. With a growing interest in different forms of Buddhist practice, her business has proved lucrative.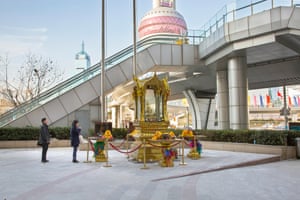 Thai Buddhist shrine, Super Brand mall, Pudong (2016)
Super Brand Mall is one of the largest shopping centres in Asia. The Chia Tai Group, its Thai developer, set up a Buddhist shrine outside the entrance. A flow of passersby perform rituals at the shrine, which are believed to have improved the mall's business.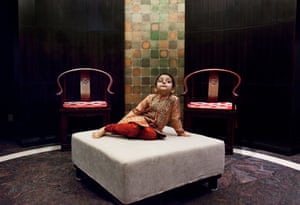 Throughout history migrants and traders from afar have brought new ideas, language and lifestyles to Shanghai and integrated them with local customs to form distinct, syncretic cultures. A young boy of mixed Chinese and Indian parentage celebrates Diwali in the luxurious Shimao Riviera garden compound.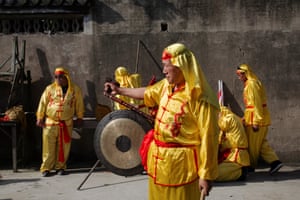 Procession, Jinze town (2016)
Twice a year people come to join the residents of Jinze Town on the outskirts of Shanghai to celebrate the birthdays of local gods. Members of devotional groups of the region show their skills at inserting gongs, incense burners or fishing hooks into their forearms.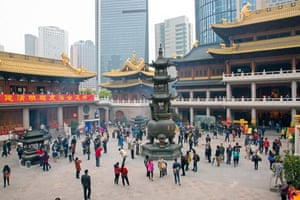 Fushouyuan Cemetery Park, Qingpu district (2015)
Fushouyuan is a luxury cemetery park. Most Shanghainese cannot afford to buy a funerary slot here. However, another option is available: a tower in the centre of the cemetery contains cabinets, which are sold as containers for ashes.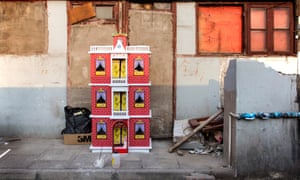 Joss paper house, Shanghai Old City (2015)
Elaborate items are made out of paper as offerings for the dead. They also reflect the values of the living. Among these offerings, the omnipresence of joss paper houses speaks of both the scarcity of housing that Shanghai experienced in the past and the rapid pace of urban transformation from the 1990s onwards.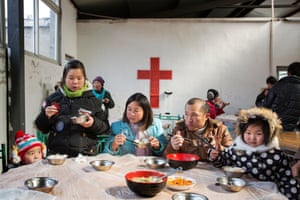 Migrant workers' church, Pudong (2016)
On the coldest day in Shanghai for more than 40 years, migrant workers share a hot lunch offered by the Protestant church after the Sunday service held in a factory. The dedication to their faith and sense of community, as well as the promise of a hearty bowl of noodle soup, fuelled the congregation as they stood for two hours in -8C. The church, located in an old factory, was soon after moved to make way for the construction of Shanghai Disneyland.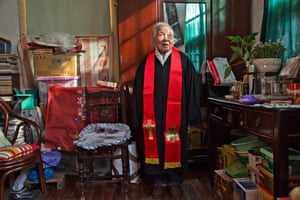 Pastor Dai in her room, Hongde church compound (2014)
Pastor Dai Lizen, born in 1918, is the oldest female pastor in Shanghai. In 1981, she became the first woman to be ordained in the city. She trained as a pastor before the Cultural Revolution and retrained afterwards to serve a flourishing church community. She lives in one room within the church compound.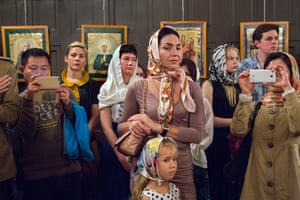 Orthodox Easter service, Russian Consulate (2016)
Orthodox Christianity is not one of the five recognised religions in China. Services are held in the Russian Consulate due to its extraterritoriality status. The Easter 2016 service was the first one that both foreigners and Chinese were allowed to attend.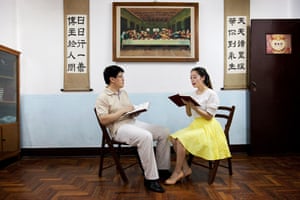 Catholic couple, Saint Michael Church (2013)
A couple practise singing before a Taizé prayer evening at a Catholic church. Such events have become popular among young Catholics, who often meet partners there. A regular singles' day is held to encourage matchmaking within the church.
Candlestickmaker's workshop, St Teresa's Catholic church (2015)
St Teresa's church is located within one of the biggest lilong (lane house compound) of Shanghai, comprising of about 700 houses. In recent years a major relocation project has left many of these structures empty. The remaining church complex contains a number of artists' workshops, including that of a nationally renowned stained-glass artist.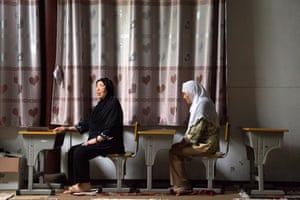 Women at Koran class, Fuyou Road Mosque (2013)
The Fuyou Road Mosque is the smallest of Shanghai's mosques, constructed in 1870 during the Qing Dynasty and re-established as a thriving centre of Islamic education and prayer after the Cultural Revolution (1966-1976).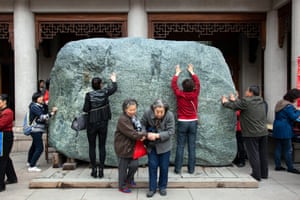 Faithful at Jing'an temple
The faithful put their hand over a nephrite stone invested with "spiritual efficacy" at Jing'an temple. Nephrite jade was highly prized by the imperial court and thought more precious than silver or gold. It is a mineral of both secular and spiritual import.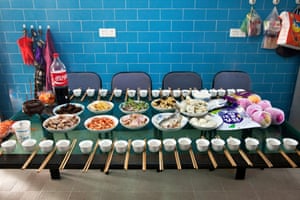 Ancestor worship, Chinese New Year, Chuansha New Town, Pudong (2013)
On New Year's Eve, the Jiang family set a table in their kitchen with food and wine for their ancestors. After burning three incense sticks, leaving time for the ancestors to eat, they perform a worship ceremony (jizu) by burning handmade tin-leaf ingots (xibo).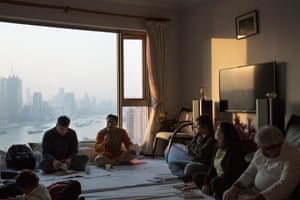 Sanskrit reading class (2015)
Indian Hindu woman lead an active spiritual life in Shanghai that includes Sanskrit reading classes and devotional singing groups in their homes in the Shimao Riviera garden compound. The community chose this compound because of its close proximity to the Huangpu River, channelling the pivotal role of holy waterways to Indians.
The first thorough investigation of religious practices in a Chinese city, Shanghai Sacred was created collaboratively over four years by photographer and anthropologist Liz Hingley, alongside Professor Benoît Vermander, of the Xu-Ricci Dialogue Center at Fudan University and Liang Zhang, a researcher at the Shanghai Academy of Social Sciences. The Shanghai Sacred book will be published by GOST in November.
Follow Guardian Cities on Twitter, Facebook and Instagram to join the discussion, catch up on our best stories or sign up for our weekly newsletter
Source: Read Full Article