If you do not watch reality television, it is possible – you might say, preferable – that the infamously larger-than-life Real Housewives franchise may have passed you by even as it has taken over the world. Since the first show established the formula of following the day-to-day dramas of wealthy white women in California's Orange County in 2006, it has been repeated in cities as disparate as Melbourne and Miami, Cheshire and Budapest, Sydney and Johannesburg.
"There's also The Real Housewives of Potomac," adds pop culture writer and series recapper Brian Moylan gleefully. "Nobody knows anything about Potomac, other than it has a Real Housewives franchise."
The Housewives the world over fit a certain mould: wealthy, often (but not always) white, straight, attractive and aged 30-plus. But the cities in which they live can differ dramatically and even as The Real Housewives has become a global cultural juggernaut, it has not smoothed out their differences entirely, say fans of the series.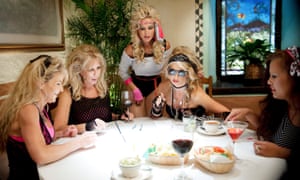 When there are prosthetic limbs wielded as weapons and medical records faked to prove (apparently real) cancer diagnoses, it would not be plausible to say the cities are the real stars. But those often intangible ways in which Auckland, say, is distinct from Athens – by personality, culture, measures of success – are reflected in each show, even as they focus on a wildly unrepresentative sliver of their populations.
Camille Paglia – academic, cultural critic and "major fan" of the franchise – compares it to the romance films of post-war Hollywood: "The Real Housewives is richly keyed to geographic locale and ethos, much like … Three Coins in the Fountain (Rome), Love is a Many-Splendored Thing (Hong Kong) and Funny Face (Paris)." The Real Housewives of New Jersey, for example, centres on family – accurately representing, Paglia has said, "a stratum of New Jersey Italian life that was badly done in The Sopranos".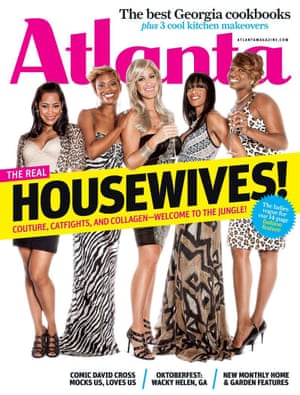 By comparison, the New York City Housewives are mostly single, with more attention paid to their careers than their love lives. In Dallas, the cast's focus is on their community contribution, especially where it can be attached to a dollar figure at one of their regular benefits. And on the other side of the world, The Real Housewives of Auckland reflects the relative paucity of truly exclusive establishments in the city of 1.7 million. It was "very Auckland", says Duncan Greive of the New Zealand pop culture site The Spinoff, to portray "venues which any schlub can book with a few hours' notice, where mains cost approximately twice those at the nearby food courts" as "an exclusive and unobtainable lifestyle".
"Which is, of course, why it was so loveable for those who live in this city," Greive adds. "It showed that our housewives were extremely real, with world-class drama."
"There is a completely a flavour of each city in every series, there really is," says writer and journalist Elizabeth Day. "They almost make the city an extra character." She gives the example of The Real Housewives of DC, cancelled after a featured couple gatecrashed, on camera, a state dinner hosted by Barack Obama at the White House. "It was such a massive security issue," says Day, chuckling. "It's such a particular reflection of The Real Housewives in a certain city."
Atlanta, Georgia, was the first city to be chosen by producers tasked with expanding the show from Orange County 10 years ago, in part because of its wealthy African American population. "It was different than anything else on TV," executive producer Andy Cohen told Atlanta magazine in 2009.
Steve Fennessy, executive editor at Atlanta magazine, says its cast does reflect a narrow segment of the city's nouveau riche: those not so "riche" that they are above being on the show at all. "A lot of white America outside Georgia, or at least the south, is not aware of the degree of affluence there is in Atlanta among a segment of the black populace," he says. "That said, the whole franchise is trashy, of course, so I'm not sure it's exactly cover material for the Atlanta Chamber of Commerce's annual report."
Now on the cusp of its 11th season, The Real Housewives of Atlanta quickly gained a reputation for low-class high drama even within a format built on it, and was seen by many as an affront to a city with a sizeable black upper class. According to that 2009 Atlanta magazine story, the most common complaint of the "Trashionistas" one year in was: "They don't represent Atlanta! They don't even live in Atlanta!" (Most of the stars live in the outermost suburbs, where the old money is – prompting one fan to sputter on Reddit: "What is this? The Real Almost Married Women of Metro-Atlanta!")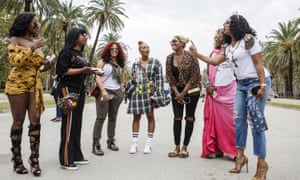 Cohen said then that the series showed Atlanta off an "integrated city", and "kind of where our country should be everywhere". Whether that was ever actually the case is unclear. Residents were sceptical at the time, and recent analysis shows the city to have overtaken Miami as the US city with the greatest income disparity. "My own take is that the entire Real Housewives franchise reflects less the sensibilities of their respective city than what the viewers want – ie manufactured conflict, glitzy settings, contrived schadenfreude," says Fennessy. "That's universal, and not limited to any zip code."
As black women have become better (though still under-) represented in popular culture and feminist cases have been mounted for the franchise (by Paglia, Roxane Gay and others), the Atlantan Housewives have been relieved of the burden of representation. The same applies to their city. "Over time, with Atlanta having had so many shows shot here, from FX's Atlanta to VH1's Love and Hip Hop Atlanta, it's no longer considered representative of the town, in any sense of the word," says Rodney Ho, a reporter with the daily Atlanta Journal-Constitution. "It's now just another reality show with some nice Atlanta restaurants and boutiques featured."
But fans know not to expect realism of their reality TV – not least because there is no one truth to tell about cities. "The Real Housewives franchise is built on an unholy marriage of city stereotypes and money, and that's why we watch it," says Amy Gray, an Australian writer. She says the rivalry between its two biggest cities plays out on their Real Housewives, with Melbourne positioning itself as the establishment-minded, European city of the South Pacific – complete with cutaway shots of trams – against the brash, beachside Botox of the Harbour City. The no-holds-barred venom of The Real Housewives of Sydney, Gray says, made it "a bloody hard one to watch"; it was subsequently not renewed for being "too extreme".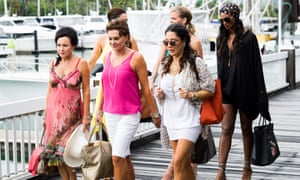 But if its Housewives were toxic, does that mean Sydney is, too? Gray, a Melburnian, says the show at least conforms to a "highly exaggerated stereotype". "We think Sydney lacks subtlety, and The Real Housewives of Sydney deals that in overwhelming spades." The competition between the two cities is regularly invoked by their journalists, sports teams, politicians and residents, and drawn along consistent lines. A 2016 survey found that Melburnians defined their city as "cultural" and "fashionable"; Sydneysiders opted for "beautiful" and "famous".
So far, so New York/LA. Or Wellington/Auckland. You may say these identities and attributes – that Sydney is mean, Melbourne pretentious, Auckland not as good at being rich as the rest of the world, New York obsessed with work in the way that LA is with beauty – are not inherent to a place. But even if they are mostly imagined, in the process of imagining they become more real, if only as symbols. Consider what we mean when we refer to a place as the next Detroit, or Dubai. Even if Real Housewives only reflects stereotypes, when they are so closely linked to self-image, they are one way in which cities exist.
"We look for cities with strong personalities," Andy Cohen said on a talk show in 2014 (host Harry Connick Jr's suggestion of New Orleans was perfect, he added). Whether those "strong personalities" are organic or constructed is besides the point – like the questions of authenticity cast over the whole franchise. "Obviously it's produced, but I do think it can get to some fundamental truths that you can't really get in a scripted show," says Moylan. About cities, too.
Guardian Cities is live in Atlanta for a special series of in-depth reporting. Share your experiences of the city in the comments below, on Twitter, Facebook and Instagram using #GuardianATL, or via email to [email protected]
Source: Read Full Article