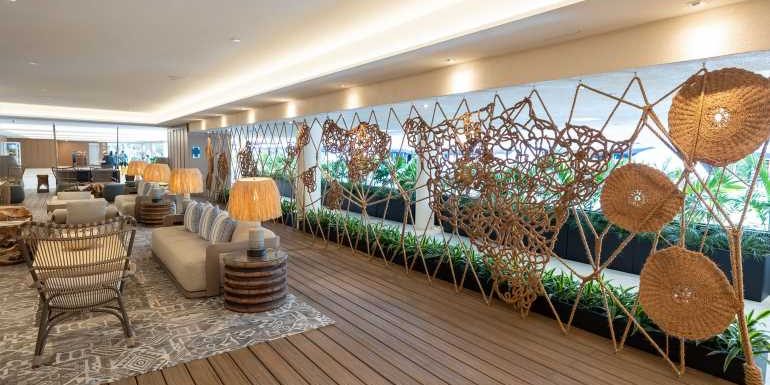 As part of an $80 million revamp of the Outrigger Reef Waikiki Beach Resort, a new cultural center that is double the size of the previous one was unveiled in March.
The additions at the flagship property also include an update to the Herb Kane Lounge with new artwork and a more open design. 
The new Ao Cultural Center is the hub of the resort's cultural programming, which includes Hawaiian artworks and programming around sea voyaging and other traditional Hawaiian practices. The renovated cultural center features a new virtual exhibit designed by digital artist Kari Kehau Noe that depicts the sailing canoe Hokulea. The projection artwork makes it appear as if the vessel is moving across the ocean. As it moves, different elements of Polynesian navigation techniques are highlighted. A new mural by Hawaii artist Kamea Hadar depicting a traditional waa, or sailing canoe, crewed by children is next to the cultural center. 
Activities at the center, including hula lessons, ukulele classes and lei-making demonstrations, are led by cultural director Luana Maitland. 
"We've always sought to let Hawaii's host culture be the steward of the guest experience at Outrigger Reef, and we're happy to strengthen this commitment even further through the new Ao Cultural Center and Herb Kane Lounge," Markus Krebs, general manager of Outrigger Reef Waikiki Beach Resort said in a statement. 
Herb Kawainui Kane was a well-known artist, historian and founding member of the Polynesian Voyaging Society, and the lounge dedicated to him has also been updated with a more modern design. The lounge includes four original paintings by Kane and faces an expansive mural of a traditional sailing canoe that runs the length of the check-in desk. The lounge also features work by fiber artist Marques Hanalei Marzan, an intricate woven sculpture of the Hawaiian Islands that stretches across the space.
The first phase of the Outrigger Reef Waikiki Beach Resort's $80 million renovation wrapped up in April 2021 and included renovated guestrooms and a revamp of the Kani Ka Pila Grille. The second phase of the project, including the Diamond Head Tower, Waiola Wellness Wing and Coral Kids Club is slated to be finished by fall 2022. Anchor restaurant Monkeypod Kitchen by Merriman is scheduled to open by the end of 2022.
Source: Read Full Article