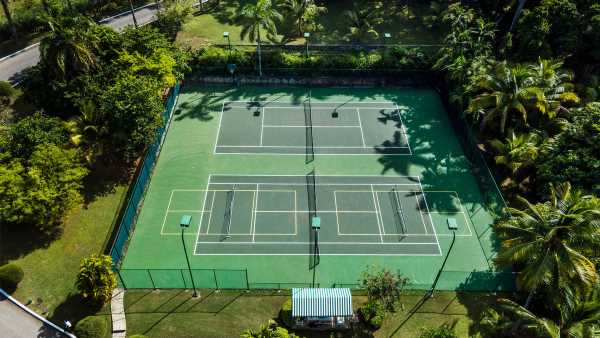 Round Hill Hotel and Villas in Montego Bay has unveiled new tennis and wellness offerings. The property will host ongoing tennis clinics, in partnership with former tennis pro Kevin Hale, and wellness retreats, teaming up with the Erika Bloom Collective. The new activities will be available to locals as well as guests.
The tennis clinics will be conducted monthly by current and former tennis professionals and seasoned coaches. Each month, the clinics will feature new and unique aspects, enabling guests to improve on different areas of their game. The ongoing partnership, which began in December, has seen clinics hosted by Bianca Andreescu, who has a career-high ranking of No. 4 in the world, and Canadian tennis coach Geoff Bower.
Besides the tennis offerings, the resort has partnered with the Erika Bloom Collective to host monthly wellness programming.
The property will welcome one of the collective's teachers to the property each month to host a wellness clinic for guests. The Erika Bloom Collective has a lineup of professionals that specialize in various areas of wellness, which includes yoga, Pilates, meditation and others.
Guests can pair the tennis and wellness clinics with the property's Summer Reconnect package, which offers guests a complimentary night when staying a minimum of four nights, a $100 resort credit, a children's welcome amenity and complimentary dining for one guest under 12 years old.
Round Hill Hotel and Villas, which sits on 110 acres, offers 27 private two-to-six-bedroom villas, most with private pools, one-bedroom suites and 36 Ralph Lauren-designed oceanview and oceanfront guestrooms in the Pineapple House.
Source: Read Full Article