If Minnesota Experimental City had been a roaring success, you'd probably have heard of it. Perhaps you'd even be living there. You'd also have heard of its chief designer: Athelstan Spilhaus. The sci-fi name sounds too on-the-nose to be true, but Spilhaus was real and so, for a time, was his utopian brainchild – at least on paper. Originally from South Africa, by way of MIT, Spilhaus was a postwar polymath in the vein of Buckminster Fuller.
He seems to have been an expert in everything from engineering to urban planning to atmospheric science to oceanography. And, like Fuller, he believed that science and technology could solve most of humankind's problems. If we could send a human into space, we could do anything. Spilhaus proposed such solutions weekly in his future-science comic-strip series Our New Age, which was widely syndicated in US newspapers from 1957 to 1973. Getting such visions off the paper turned out to be a different story, but an instructive one, as told in new documentary The Experimental City, directed by Chad Freidrichs.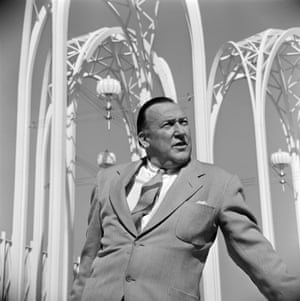 South African-American geophysicist and oceanographer Athelstan Spilhaus in 1962. Photograph: CBS via Getty Images
Looking at projections in the early 60s, Spilhaus saw that the US population was set to grow to 400 million by the 21st century, which translated into the equivalent of building 12 new cities of 250,000 people annually. This was in an era when existing cities were dying – blighted by crime, urban decay and "white flight" to the suburbs. So in true postwar visionary style, Spilhaus rethought the entire concept of the city from first principles. He called it a "total systems experiment".
In proposing his prototype 21st-century city, Spilhaus correctly diagnosed many of the shortcomings of the 20th-century one. He cottoned on early to concepts such as air pollution, even speculating that it was changing the Earth's atmosphere. He focused on the problem of waste, noting that prosperity in 1950s and 60s America was being measured in terms of consumption, and suggesting that "waste is a resource that we don't yet know how to use".
In his city, everything would be recycled. He questioned the amount of urban space given over to roads, and proposed that the city of the future be free of the internal combustion engine, or at least that cars be integrated into a "dual-mode" guideway – whereby automobiles come off the road and on to a guided rail-like system that moves them around the city independent of the drivers. All of this infrastructure – transport, utilities, parking, air-pollution removal technology – could be built underground, leaving clear civic space at ground level. Spilhaus even anticipated that people would have personal computers in their homes one day, which they would use for shopping and education.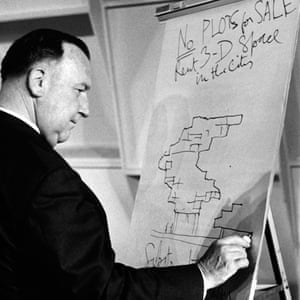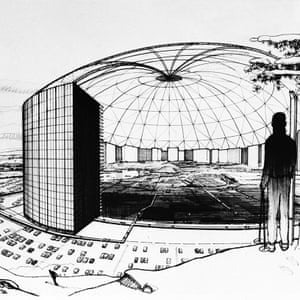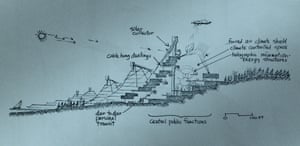 Spilhaus loved the mechanics of systems – but he was no architect. Photographs: Ron Galella/WireImage/Unicorn Stencil Doc Films
Minnesota Experimental City, or MXC, began in earnest in 1966, when Spilhaus found a powerful ally in the form of Otto Silha, publisher of the Minnesota Star and Tribune. Their joint PR campaign brought on other well-connected advocates: a four-star general; president Johnson's physician; civil rights leader Muriel Snowden; even Fuller himself (at one point MXC was to be covered in a giant glass geodesic dome, like the one Fuller had proposed putting over Manhattan in 1960). With the support of vice-president Hubert Humphrey, a former Minnesota senator, MXC received some $250,000 of federal funds in 1967. Corporations including Boeing, Ford and Honeywell pledged to invest. The total cost of the project was estimated at $10bn, completion date: 1984.
The devil was in the details. Judging by Freidrichs's documentary, which makes use of personal interviews and audio of the MXC board's meetings (you can almost smell the whiskey-breath and cigarette smoke), there was little meat on the bones. We see broad-brush schematics of the city's organisation, even including "personal flying zones" to accommodate jet-belt commuters. But there is precious little consideration given to, say, the provision of an actual civic space where people would want to live.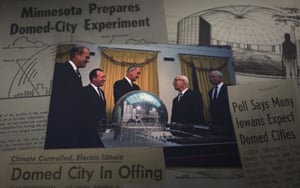 At one point, the MXC was to be covered in a giant glass geodesic dome. Image: Unicorn Stencil Doc Films
Dedicated town-planning, let alone architecture, is very thin on the ground – the idea presumably being that planners and architects would come in later and be free to do their thing. Spilhaus loved the mechanics of systems but he was no architect. One drawing of the projected city even features a nuclear power station right in the middle of town. Spilhaus had no problem with that – this was the future, dammit! As MXC became bogged down in committee-level decision-making and real-world challenges, and Spilhaus's control diminished, he seemed to lose patience. He resigned as MXC co-chairman in 1968, although he continued to champion the project.
Hubert Humphrey's defeat by Richard Nixon in the 1968 presidential election was another blow, but still the MXC project ploughed on. They found a site: an area of swampland in Swatara, central Minnesota, whose chief virtue seemed to be that hardly anybody lived there. Those who did weren't exactly taken with the idea of a 250,000-person city on their doorstep, with or without the nuclear power station. "Some of the people in Swatara were incredulous that the state would think about taking their property, taking their land and creating this futuristic monstrosity," recalls Grant Merritt, former head of the Minnesota Pollution Control Agency.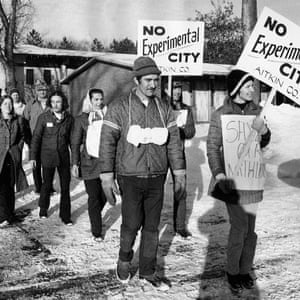 Clockwise from top : the futuristic city logo; a protest by Swatara residents and the isolated woodland location chosen for the city. Photographs: Unicorn Stencil Doc Films
"This was something based on a comic strip … and I was not too keen on that kind of a city." Merritt became a leader of the David-v-Goliath campaign against MXC, fuelled by a burgeoning environmental movement that had begun to see technology as the problem rather than the solution. In the winter of 1972, activists braved sub-zero conditions to march from Swatara to the state capitol in Saint Paul, some 160 miles away. Spilhaus dismissed the environmentalists as "a body of uninformed, vocal opinion which one might characterise as supporting non-engineering or even anti-engineering", and urged the state legislature to stand firm against their "nonsense emotionalism". But it was to no avail. In 1973, MXC was officially defunded and wound down.
MXC exhibits many of the same flaws as other failed utopian schemes of the era. For one thing, it was the vision of one very determined and somewhat arrogant man. Spilhaus, who died in 1998, never seemed to like the idea of collaboration or relinquishing control – this was his baby. In later life, he suggested building the city underwater, where those pesky protesters couldn't jeopardise it. For another, MXC never even approached the stage of dealing with the practical challenges of realising such a vision, which is probably just as well. Who knows how many cost overruns, technical barriers, engineering disasters and other reality checks it would have faced? It might have all gone swimmingly, but it seems doubtful.
Does the failure of MXC suggest that blank-slate utopias are not the answer, and never will be, or that society has become too timid about big, bold solutions? With the current global fashion for building entire cities from scratch as a way to fix the problems of our unsustainable urban lives, there's plenty to learn from Spilhaus's grand, ultimately fruitless vision. Even failed experiments have their value.
• The Experimental City will be screening at Curzon Bloomsbury, London, on 8 November.
Follow Guardian Cities on Twitter, Facebook and Instagram to join the discussion, and explore our archive here
Source: Read Full Article