Afternoon rush hour in Muscat and there's not a single camel in sight. The ship of the desert would have been the cause of traffic chaos in the Omani capital 50 years ago. Now roads in the main port area of Mutrah are only clogged with hefty four-wheel drives. Their owners sit inside their off-roaders behind heavily tinted glass, soaking up the air conditioning and clutching their mobile phones. The huge Toyotas and Nissans only come in one colour – sandblasted white.
Driving in Muscat isn't for the faint-hearted but the rest of the country's modern road network has made the Sultanate a dream for one particular type of tourist – the motorcyclist. Dramatic scenery, near-constant sunshine and new roads are helping to put the south-east of the Arabian Peninsula on the map for a two-wheeled adventure.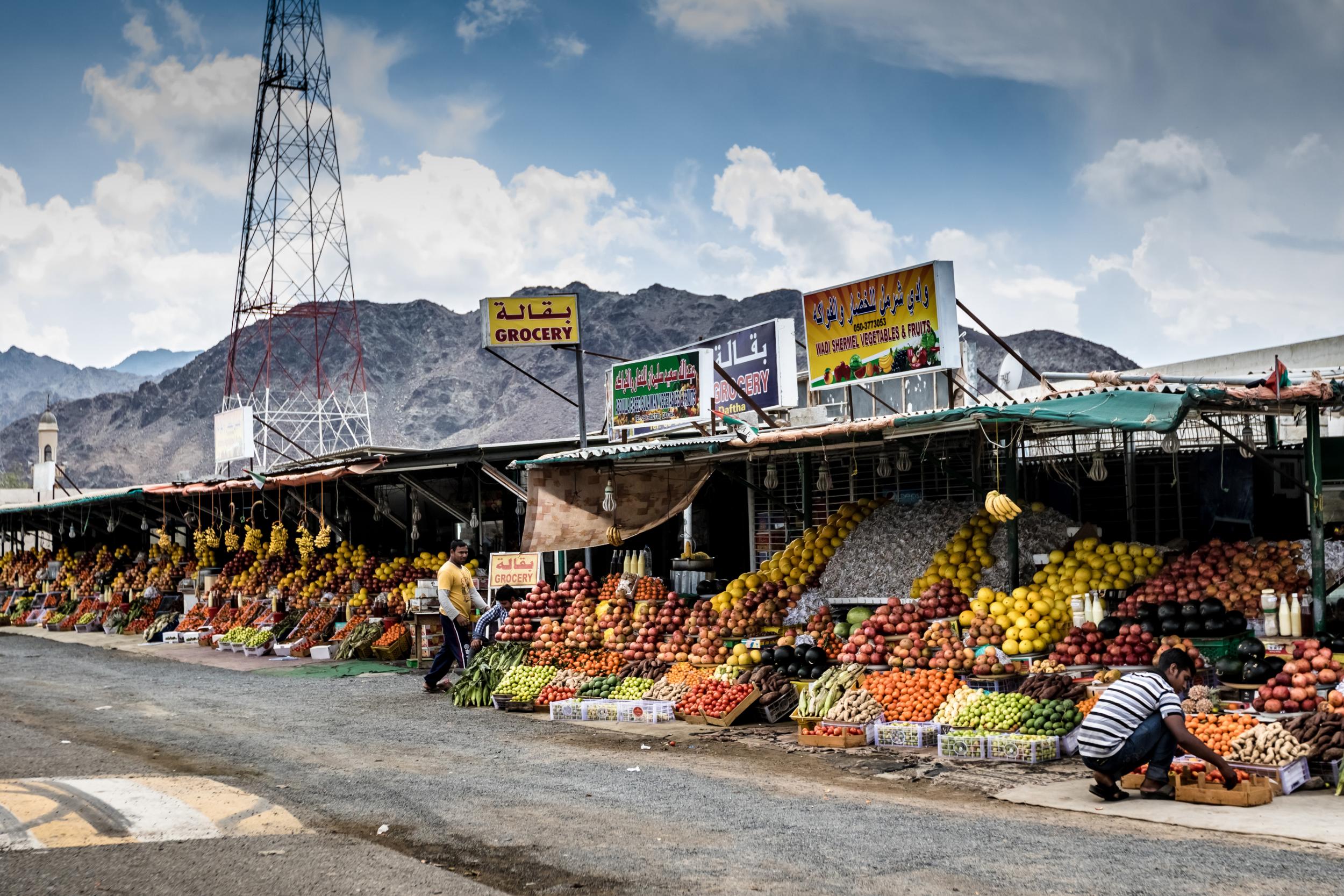 Roadside fruit stalls
I've arrived at Mutrah souk on my rented Harley-Davidson, fully prepared for market chaos. It's hot, but I chilled all my armoured clothing in the hotel mini bar before leaving. Dripping with sweat, I still feel heavily overdressed compared to the locals. I've also discovered the heat has melted the cover on my iPhone in my trouser pocket. Motorbiking in Oman definitely requires lightweight gear to cope with scorching temperatures that can reach up to 45C. The only other riders I've seen are T-shirted commuters on scooters and they don't even bother with a helmet.
The souk is one of Oman's most bustling spots, but compared to other Middle Eastern markets I've visited it's refreshingly relaxed. Bartering is expected but the vendors approach with an apologetic air. It's so laid-back that any form of jostling might constitute a riot.
Oman has been in less of a rush to embrace the 21st century than the neighbouring UAE. Walking is still commonplace, supercars are few and far between and there's a ban on high-rise buildings taller than eight storeys.
I set my helmet down on a coffee house table by the souk entrance to watch the world go by. There's a healthy mix of locals and tourists, but navigating the souk for the first time can be tricky. Fortunately, it's built on a slight slope, so heading back downhill works better than any map.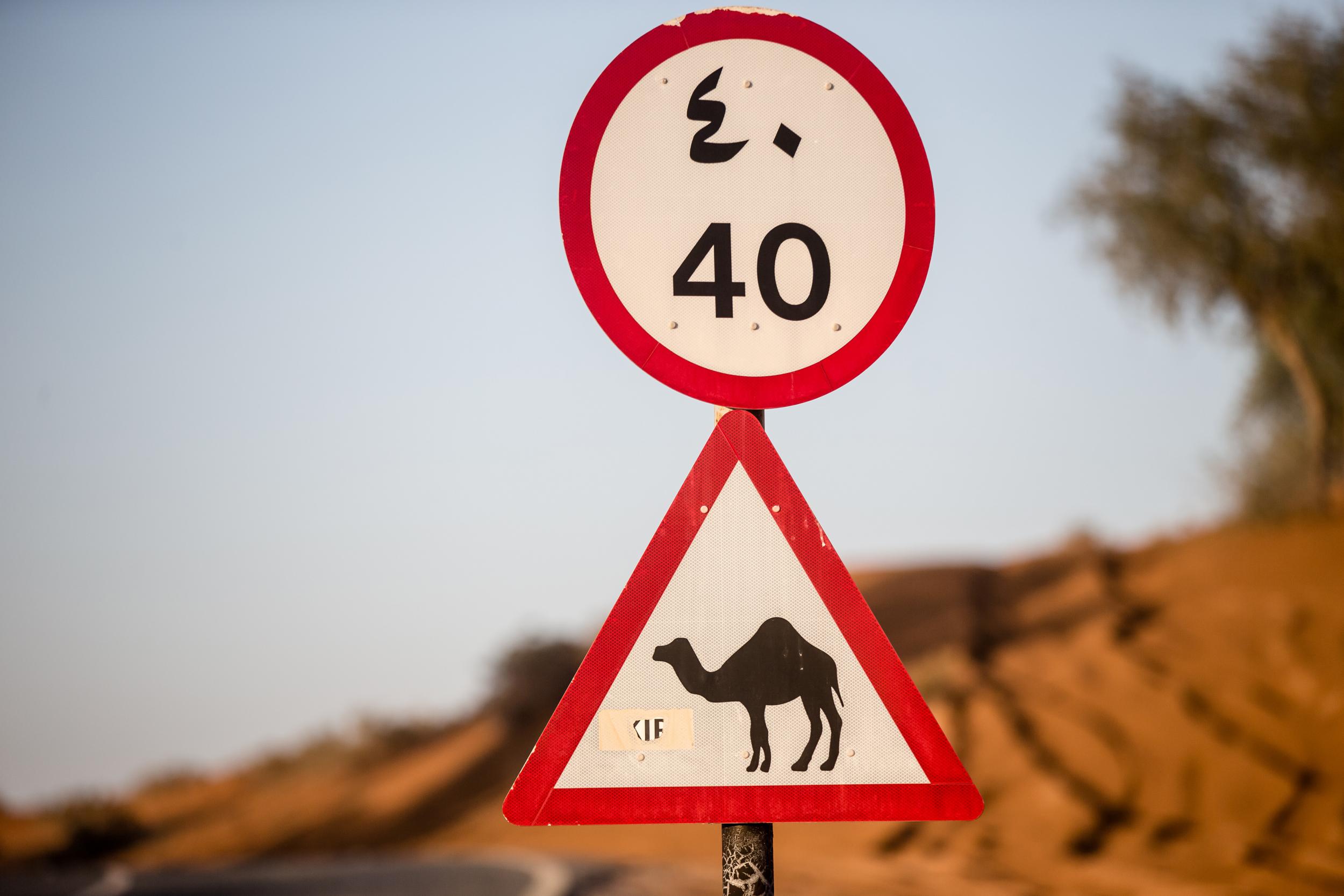 Camel warning
Oman is ruled by Sultan Qaboos, who came to power in 1970 after deposing his own father in a coup. He set about a new era of modernisation that transformed almost every aspect of life, from healthcare to the slick road network. Qaboos remains the longest serving ruler in the Middle East. One of his most palpable achievements is the remarkable sandstone Sultan Qaboos Grand Mosque, a 20-minute ride from the souk. Built to mark the 30th year of his reign, it can accommodate 20,000 worshippers in its main prayer hall. There's a steady stream of tourists here too, but nothing to constitute a rush. Visitors have to be dressed modestly, which fortunately for me includes motorcycle clothing. Inside, the enormous Persian carpet used by worshippers is the second largest in the world. It took 600 women four years to weave their colourful magic. Mosaic walls glitter in the afternoon sun, while a whopping 14m chandelier dominates the vaulted ceiling.
It's difficult to imagine a more cared for mosque, but the same can be said for most of Muscat's historic attractions. The nearby fort of Al Jalali was built by the Portuguese in the 1580s and twice captured by Ottoman forces. It was used as a jail until the 1970s but now looks as clean as a film set. Muscat's Al Marani Fort was constructed around the same time and rises high above the city harbour. It too has been intricately restored. It's as close you can get to an Arabian Disneyland in Muscat where every building looks uncannily perfect.
There is a more natural Oman out there, but to find it means moving away from the capital into the mountainous interior and surrounding deserts. The latter form part of what is known as the Empty Quarter – one of the largest sand deserts in the world, it dominates the southern half of the Arabian Peninsula.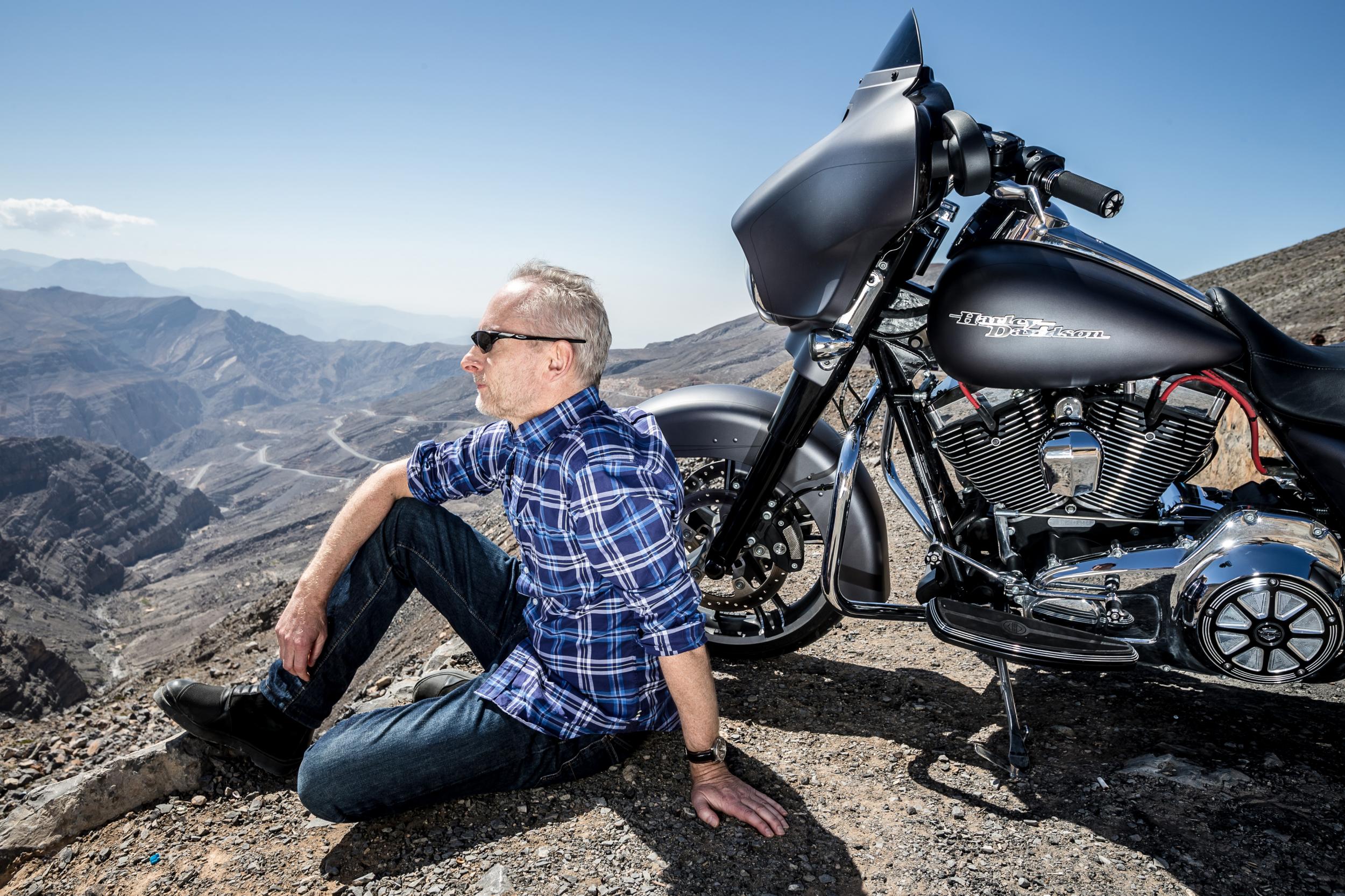 Leaving Muscat early morning the next day, I hope to avoid the worst of the afternoon heat. My bike's sat nav is set for Jebel Shams – the highest peak in the Al Hajar range.
The first 30 minutes escaping Muscat are hot and uncomfortable. Around town, a 1690cc Harley engine sounds like a sewing machine with asthma. It's only when the road opens up ahead that the bike takes on the acoustic purr of a Spitfire. It's a heavy bike but also remarkably easy to handle. It chugs around bends at 50mph and doesn't require me to change gear too often. A screen deflects flies off my face but I can still inhale the intoxicating smell of medwakh tobacco, smoked in copious amounts by vendors selling rugs and Omani silver in village centres en route.
Beyond Muscat, everything about the landscape is dominated by sand. It encroaches on the road, piles up against stock fences and turns my motorcycle boots a lighter shade of black. There are no rivers, trees or houses for mile after mile – just a blanket of undulating dunes that build gradually to scree-covered slopes and fold up into towering, arid mountains.
It may be a working day in Oman but traffic is scarce and soon I'm counting more goats than cars. Jebel Shams is impressive but the spectacularly deep Wadi Ghul next to it is known as the Grand Canyon of Arabia. Fortunately, road improvements mean there is now a barrier between my bike and the 1,000ft drop. The route twists and turns to the top, where I sip mint tea under a gazebo and stare deep into the canyon. I can't sit around too long though because I want to make the oasis of Nizwa – a 16th-century fort on a plain surrounded by date palms and centuries-old, babbling irrigation channels – before sunset.
Nizwa is two hours' drive from Muscat on the south side of the Al Hajar range and one of the country's most popular tourist attractions. Stepping off my motorbike, the air smells of heat and dust. The road in cuts through a vast expanse of rock and now I'm surrounded by colourful rugs and pungent coffee. The contrast couldn't be more startling.
Nizwa was the capital of Oman in the seventh century, until the importance of Muscat as a port grew. It was also a major trading post on the Arabian Peninsula and became a centre for Islamic learning – reflected by the large number of mosques I discover wandering through the laid-back streets. Nizwa is also regarded as the cultural centre of Oman and murals of the much-adored Sultan Qaboos appear on every corner. A shopkeeper tells me why he's so popular – bringing electricity, roads and a safe water supply to Omanis who would otherwise still be languishing in 19th-century conditions.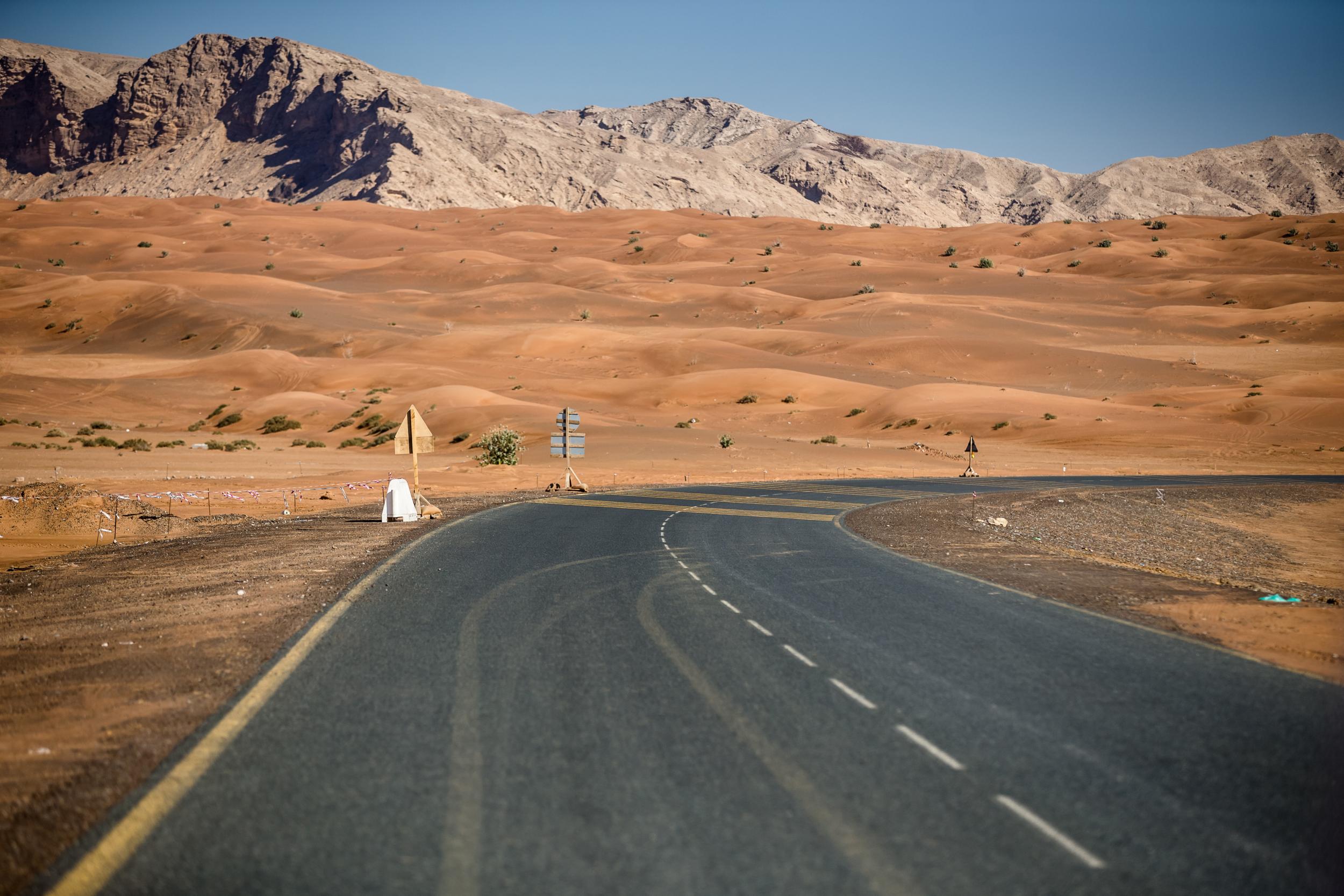 Nizwa is a good base to visit another picture-perfect fort at Jabrin, which dates from 1670 and houses the tomb of Bil'arab bin Sultan, ruler from 1680-92. A 30-minute ride, Jabrin welcomes travellers from the heat with a shady central courtyard that provides refuge from the sun. Inside, the scales of justice still hang from the courtroom wall. A small opening at one end allowed the accused to crawl into the room on all fours and plead for mercy.
As Oman's road-building programme steamrollers on and tourism gathers momentum, these quiet backwaters are most likely living on borrowed time. It won't be long until a new route is cut through the Jebel mountains, bringing southern UAE ever closer and reducing driving time to Oman by over an hour.
For now, visitors will discover that Oman is a welcome antidote to the excesses of the UAE with some of the best riding roads anywhere. It remains a corner of the Middle East ideally suited to a two-wheeled adventure – just watch out for the goats and meandering camels.
Travel Essentials
Jeremy Taylor was a guest of Harley-Davidson Authorized Tours (harley-davidson.com; hdmuscat.com), which offers more than 430 travel tours in Africa, Australasia, Europe and the Americas. Daily rental of a Harley-Davidson in Oman costs from £85 and includes insurance but not fuel, although Oman is one of the cheapest countries in the world for petrol at around 29p per litre.
More information
omantourism.gov.om
Source: Read Full Article