"This must be what it's like to walk around inside the Death Star," I said to my friend as we strolled around the Louvre Abu Dhabi, a landmark for both art and architecture which opened to the public on 11 November.
Imagined as a "museum city" by architect Jean Nouvel – a collection of more than 50 buildings, including 23 galleries holding 600 works of art – its stark, white walls are bordered by lagoons, with most structures housed beneath a vast domed roof.
A deal between Abu Dhabi and France will see the Louvre name leased for a period of 30 years (this isn't an official Louvre franchise), with loans of high profile artworks from France's major museums filling many of the walls as the new sibling fills its own collection. The works on display for its opening come from Paris greats as well as the Louvre itself: the Musée d'Orsay, Centre Pompidou, Château de Versailles, Musée Rodin, Musée Guimet and Musée du quai Branly. Works have also been sourced from galleries outside France – the National Museum of Oman, for example.
So what are the highlights? Well, the most photographed artwork (photography without flash is allowed) appears to be Jacques-Louis David's large painting of Napoleon crossing the Alps, on loan from Versailles. It's a bizarre top pick, though The New York Times's theory is that "works that qualify as 'classics' to a Western viewer feel surreally exotic at the multiculturalist Louvre Abu Dhabi".
If Napoleon isn't your thing, there's Leonardo da Vinci's La Belle Ferronière, on loan from the Louvre Paris – a female portrait almost as enigmatic as its more famous cousin the Mona Lisa, only with a fraction of the crowds perusing it.
Other works include Monet's La Gare Saint-Lazare, Picasso's Portrait of a Lady, a Van Gogh self-portrait, and works by Magritte, Pollock, Warhol and Cy Twombly. Ai Weiwei's illuminated crystal tower structure forms the grand finale for the enclosed galleries, leading visitors out to an outdoor piazza beneath the dome of the museum. Even the roof – called Rain of Light by Nouvel – is a work of art in itself, with sunlight piercing its eight layers and 400,000 aluminum and stainless steel components, projecting geometric shapes on the floor below.
Unlike the Paris Louvre, which is a daunting undertaking even for a day-long visit, the new branch is doable in only a few hours, and travellers on an Abu Dhabi stopover can easily fit it in between flights. Be aware, though, that it still appears to be in a "soft opening" period, with viewing terraces unfinished, some signs marked off with masking tape as they wait for paint, and the gift shop so far lacking any Louvre-branded merchandise.
Wayfinding in general is an issue, with signage either lacking or confusing, and paths leading to locked glass doors. The situation is especially dire for artworks in the outdoor spaces, such as a granite and slate fountain from 18th century Damascus and, a few turns away, Jenny Holzer's specially commissioned work, which sees an ancient Sumerian script chiselled across an entire stone wall. These see few visitors, as no clear routes to visit them are marked on the paper maps or on the walls.
Also, prepare for a strict routing system – I tried to double back into the galleries having been to the café, but was forced out to rescan my ticket at the main entrance. (Talking of the café, it has a terrace with to-die-for views but the lack of rubbish bins combined with breeze means that the remains of meals are constantly blown into the museum's lagoons, with workers rushing to retrieve them with fishing nets in small inflatable boats.)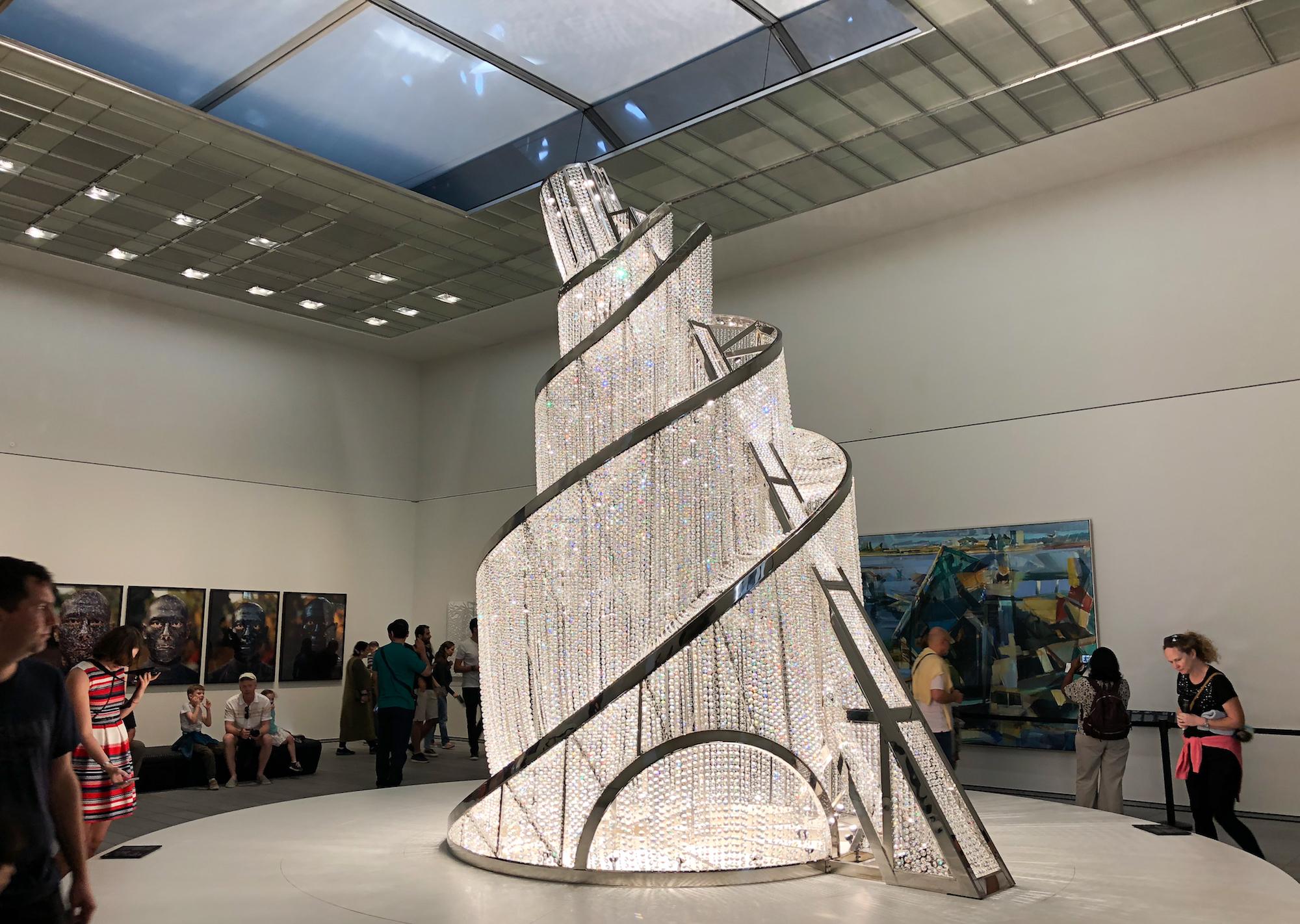 The Louvre is on Saadiyat Island, a 20-minute taxi ride from Abu Dhabi's Corniche beach front (of which there are spectacular views from the museum) or a 30-minute taxi ride from the airport. Authorities have marked the area as a cultural district, with plans for a Guggenheim Museum designed by Frank Gehry, a performing arts centre by Zaha Hadid Architects, and a national museum of the United Arab Emirates in partnership with the British Museum, to be designed by Foster + Partners. None of the these have begun construction yet, however, and, seeing how the Louvre was originally scheduled for a 2012 opening, don't bet on museum-hopping on Saadiyat for perhaps another decade.
So is it worth a visit? Absolutely, and the sooner the better. As word spreads of the treasures on show inside, and the snaps taken of its photogenic angles rack up Instagram likes, crowds will grow, and fast. It is a masterpiece of contemporary architecture stocked with some of the most important and renowned artworks on Earth, and it isn't yet troubled by the round-the-block, day-ruining queues of the Paris Louvre.
Travel essentials
Getting there
Etihad flies to Abu Dhabi from Heathrow from £369 return.
Staying there
Saadiyat Island is home to two beach-front, five-star resorts. The Park Hyatt Abu Dhabi has doubles from from £220, room only, and the St. Regis Saadiyat Island has doubles from £240, room only.
More information
The Louvre Abu Dhabi is closed Mondays, and open 10am-8pm every day except Thursday and Friday when it closes at 10pm. Entrance is 60 AED (£12); buying advance tickets online is highly recommended.
louvreabudhabi.ae
Source: Read Full Article