An enormous cheer went up: "Stacey! Stacey! Stacey!" Standing on a white jeep, waving a rainbow flag, Stacey Abrams was making history as the first major-party nominee for governor to march in the Atlantic Pride parade, the biggest LGBTQ parade in Southeast America.
If Abrams, a Democratic candidate, wins in November she'll make history again, by becoming America's first black female Governor – and the crowd thronging Atlanta's midtown streets to watch the parade on 14 October were enthusiastically behind her.
Atlanta has one of the largest gay populations in the country – and arguably one of the most politically involved.
"It's the south," says Rigel Cable, a web design consultant who lives in Atlanta with his husband, "so you really have to defend the progressive nature of the city. I think people are vigilant to make sure the city stays the way it is. A lot of the congress members in Georgia are conservative, so we're always fighting at a city level to maintain the progress we have here."
When it comes to LGBTQ rights, that progress is impressive. Atlanta got a perfect score of 100 on HRC's 2018 Municipal Equality Index, which rates towns and cities on how LGBTQ-inclusive their laws, policies and services are. This was in stark contrast to other parts of the state. Athens, a city in north-east Georgia got 28; the city of Roswell scored just 5. Earlier this year, newly elected Atlanta mayor Keisha Lance Bottoms reaffirmed the city's commitment to its queer residents by announcing an LGBTQ advisory board to ensure a clear channel of communication between the community and City Hall.
Margaret Munford, 33, moved to Atlanta in 2016. After living in places like DC and Portland, she says she was a "little skeptical about how progressive it would be, but was pleasantly surprised" by the city's liberal values and vibrant gay scene. As she points out, Atlanta is one of the few remaining cities that "still has a lesbian bar; even San Francisco doesn't have one any more." Lesbian bars are something of an endangered species due in part to the rise of dating apps, gentrification, and the propensity for lesbians to 'U-Haul' and stop going out on the town once they've coupled up; according to Damron, an LGBT travel guide, there were 1,357 LGBTQ bars in the world in 2017, but only 36 lesbian bars, a significant drop from 56 in 2014. But Atlanta has managed to keep one open for 22 years: My Sister's Room, a bustling two-story space in the midtown district.
Nevertheless, and despite the well-earned progressive reputation of LGBTQ Atlanta, things are far from perfect. The gay scene is noticeably racially segregated, says Iv Fischer, a 20-year-old YouTuber, student and activist. "There is a big separation between the black clubs and the white clubs in Atlanta [which] has an effect on communities with less visibility. A lot of big acts that come to Atlanta only do business with the white clubs. Really all the gay events happen in white clubs." As a black transwoman, Fischer says she can feel unwelcome at some of these events. "There's definitely a different aura and it can be alienating."
Ryan Lee, a columnist at Georgia Voice, an LGBTQ media outlet, also describes the gay scene in Atlanta as "100% segregated". A number of gay bars, he says, have made it very clear that they don't welcome black LBGT people. He cites popular gay venue Blake's on the Park, as one example, which was criticized after putting up posters saying "No hoodies," "No bandanas/dew rags", "No oversized chains or medallions"; a move interpreted by many as really meaning "No people of color." Burkhart's pub, a prominent gay venue, also drew controversy earlier this year after racist Facebook posts by its owner surfaced. Thirty drag queens who performed at the bar quit after the incident, saying they'd been fighting a losing battle against racism at the bar for years, and this was the last straw.
Lee also notes that Atlanta has a separate Black Pride celebration. "A lot of people who go to [the main pride event] also go to Black Pride. It's not an either/or thing. But there's still that divide."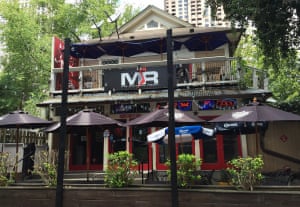 Racism is a major issue in the gay community all around the world and a lot of cities, including London and Philadelphia, have a separate Black Pride celebration. Is the segregation in Atlanta's LGBTQ community any worse? Fischer thinks so. After all, she says: "It's the south, we are still experiencing the effects of slavery." Others disagree. Munford notes that the one lesbian bar in Atlanta, My Sister's Room, is "very racially mixed" and the city's gay scene certainly feels more progressive than Portland, where there are very few people of color. Cable observes that segregation in Atlanta's gay scene feels on a par with other cities in which he has lived, including LA and San Francisco.
But it feels like a very live issue here, given racial tensions in Georgia more broadly, which have become international news. Brian Kemp, the Republican candidate for governor who, as Georgia secretary of state, is also responsible for overseeing the election in which he's running, stands accused of purging minority voters from the rolls – the majority of them African-American.
Kemp has also said that if he wins he'll support a religious freedom law which many people see as a license to discriminate against gay and transgender people. If he beats Abrams, it could have serious ramifications for Atlanta's continued status as an LGBT haven. Meanwhile, the federal government is reportedly planning to introduce narrow definitions of gender that effectively legislate transgender people out of existence.
"It's a scary time," admits Fischer. "A really scary time. I just hope that people care enough to go out and vote." Back at the parade, another loud cheer started as the crowd – who had gathered in celebration – channeled their anxiety over the fragile future of Atlanta's LGBT community with a new chant: "Early voting starts tomorrow. Go vote!"
Guardian Cities is live in Atlanta for a special series of in-depth reporting. Share your experiences of the city in the comments below, on Twitter, Facebook and Instagram using #GuardianATL, or via email to [email protected]
Source: Read Full Article