Farooq Patel has lived his entire life in Bhendi Bazaar in a tiny two-room apartment with no toilet that he inherited from his family. Soon, the 52-year-old embroidery worker will get a bigger, brand-new home with modern-day comforts such as air conditioning and induction burners. For free.
Patel's rented apartment is in one of southern Mumbai's busiest market areas. A plan to rehouse all 3,200 families and 1,250 shops present in the district is part of what is touted as India's largest ever urban redevelopment project.
The plan involves razing 250 mostly dilapidated medium-rise housing structures and building 17 high-rise towers in their place. Thirteen will house existing commercial and residential tenants, who will be given ownership of their new apartments. The remaining four towers will be sold on the market to recoup costs. The project boasts that it will add greenery, wide roads, pavements, public spaces and glitzy shopping options to the local area.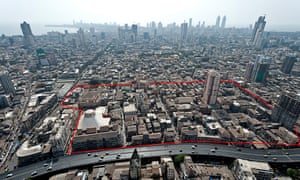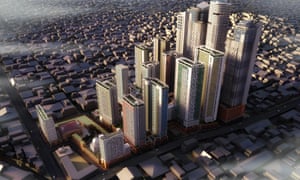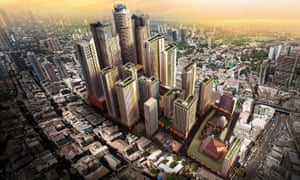 Bhendi Bazaar before the development (top) and how it is projected to look afterwards. The project will raze 250 mostly dilapidated medium-rise housing structures and build 17 high-rise towers in their place. Images: Courtesy of SBUT
Patel's future home will be in one of these gleaming skyscrapers. "Our next generation deserves better living conditions," says Patel, who shares his minuscule flat with his wife and his teenage son.
This 125-year-old market district is a holdover from colonial days. Originally built to accommodate male migrant labourers working in the city's harbour, more recently it has attracted low-income families, drawn by state-controlled rents that have been frozen for years.
Unable to afford anything else, they have stayed put, passing their tiny apartments down from generation to generation. As a result, landlords have been reluctant to spend money on maintenance, and the area has turned into one of the many slum-like settlements that can be found across this growing metropolis of 20 million. During flooding last August, the collapse of a century-old four-storey apartment block killed at least 34 people, including a 20-day-old girl.
"We can't live like this much longer," says Quresh Mithaiwala, owner of a sweetmeat shop in the bustling neighbourhood. He thinks the revamp will be beneficial for retailers like him. "We are in the 21st century. Modernising will give us a great boost."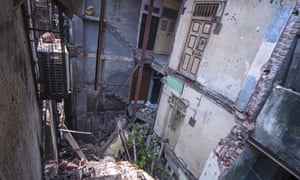 The Ayesh building in Bhendi Bazaar, which partially collapsed in monsoon season. Photograph: Courtesy of SBUT
Like Patel and Mithaiwala, the majority of Bhendi Bazaar's population belong to the Dawoodi Bohra Muslim community, a close-knit Shia sect that makes up about 75% of its 20,000 inhabitants.
This ambitious project is the brainchild of the community's former spiritual leader the late Syedna Mohammed Burhanuddin, who in 2009 made the drastic proposal to demolish the 6.6 hectare (16.5 acre) district, with the exception of its holy sites, and build anew.
In a city where property prices are sky-high and challenges arising from land constraints are an everyday occurrence, it seemed an ambitious undertaking, but the proposal won approval from the prime minister, Narendra Modi, who made it a flagship smart city project in July 2015.
Spearheading the $600m scheme is the Saifee Burhani Upliftment Trust, a charity whose coffers are filled with donations from the faithful rather than cash from corporations or investors. "The entire project is funded by the community. We're not taking money from anyone," says spokesman Murtaza Sadriwala.
For the trust, the plan means more than moving people from their old setup to a new one. "Regardless of the caste, religion and sect, the project's underlying objective is to uplift the lives of all the people living in the area and foster growth in all aspects – spiritual, intellectual, social and financial," he says.
Many Mumbai residents are wary of redevelopment projects, but Sadriwala says these plans are progressing smoothly. More than 90% of existing tenants have consented to the project and agreed to move into temporary accommodation until the new towers are ready.
"The community has a tremendous faith in its spiritual leaders," he says. "Their influence has made it a lot easier for us to us to win their confidence and get their cooperation. We are actively engaging with and counselling the remaining tenants to move out of their dilapidated buildings which puts their lives and that of others in danger. Some are still refusing to move, but in the end they'll be convinced."
One big selling point is that residents in the new towers will get more private space. Rooms in the old buildings are 250 sq ft on average, with only one communal lavatory per floor. According to the project's guidelines, new units must be a minimum of 350 sq ft. In addition, residents who have been renters since 1996 or before will become owners.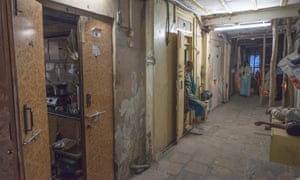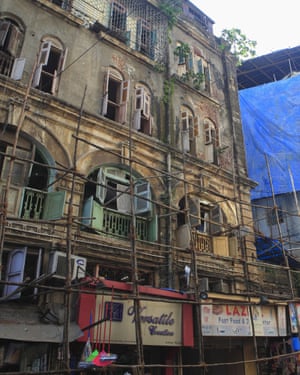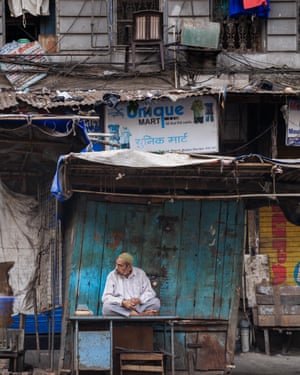 Dilapidated buildings in Bhendi Bazaar. The 125-year-old market district was originally built to accommodate migrant labourers working in the city's harbour, but has more recently attracted low-income families, drawn by state-controlled rents. Photographs: SBUT/Alamy
The trust has so far managed to acquire 215 out of 250 buildings. Ninety have already been demolished, and more than 2,600 families and 600 businesses have been temporarily relocated nearby. The first residents and shopkeepers will be moved back next year when the first two clusters are ready. The project is scheduled for completion in 10 years.
Could Bhendi Bazaar provide a blueprint solution for areas in other Indian cities and across the world struggling with overcrowding? Not everyone is convinced.
Hugh Byrd, a professor of architecture at Lincoln University, doesn't believe the project should be held up as an example. "The basic issue is whether this kind of development gives rise to more problems than it solves," he says.
According to his own recent study, the answer is yes. "The plan is touted to be sustainable and green, but it will in effect place more demands on resources by increasing population density in the area by around 25%."
This, explains Byrd, will make for more water and electricity consumption, and increase the production of waste. "In a city where repeated blackouts, water shortages and inadequate water and sewage treatment are already commonplace, this is likely to have a detrimental effect on the environment, further exacerbating health problems and climate change issues like vulnerability to flooding."
The single most critical issue, claims Byrd, will be the loss of the traditional socioeconomic activities that make up the character of Mumbai's streets. "While the development will benefit individual residents, it won't do the same with businesses as the development plans indicate large retail spaces that risk losing its cultural character," he says.
For now, such concerns have little impact among residents such as 49-year-old Hussain Patnawala. After many years living in a 200 sq ft, low-ceilinged house, he cannot wait to get a new apartment and a new life. "Just the thought of not having to wake up early to use the communal lavatory and not having to pay rent is, well, unbelievable."
Follow Guardian Cities on Twitter, Facebook and Instagram to join the discussion, and explore our archive here
Source: Read Full Article