Tokyo is often described as crowded, mushrooming, figuratively bursting at the seams. Except, in many ways, it's not.
Unlike many megacities, the world's largest metropolitan area has largely stopped growing, either in land or population. Where Mumbai, Lagos or São Paulo continually sprout new informal neighbourhoods that are constantly outstripping the ability of the city to catch up, Tokyo's urban planning and services more or less seamlessly encompass the central wards and the neighbouring cities of Kawasaki, Yokohama, Chiba and Saitama that form its unbroken metropolitan area.
Despite Japan's ageing population, Tokyo's demographics are actually quite middle of the road. Far from being crammed with people, Tokyo is in fact averagely dense – more crowded than some cities, less so than others.
What is Guardian Tokyo week?
As Japan's capital enters a year in the spotlight, from the Rugby World up to the 2020 Olympics, Guardian Cities is spending a week reporting live from the largest megacity on Earth. Despite being the world's riskiest place – with 37 million people vulnerable to tsunami, flooding and due a potentially catastrophic earthquake – it is also one of the most resilient, both in its hi-tech design and its pragmatic social structure. Using manga, photography, film and a group of salarimen rappers, we'll hear from the locals how they feel about their famously impenetrable city finally embracing its global crown
Unemployment and crime are low. Traffic is comparatively well-managed, while the modal share of transit and cycling are high: Tokyo in particular has solved what many cities call the "last-mile" transit problem, by relying on an informal network of cheap bicycles. Gentrification, though a factor, feels less disruptive than in similarly prosperous cities such as London and New York, where entire neighbourhoods are being rewritten at great speed, or most Chinese cities, which are unrecognisable to themselves 15 years ago.
Of course, Tokyo has many problems. Its real estate remains expensive, its sprawl makes for long commute times, it has less green space per capita than one might hope for, and worrying social problems remain. Nor has Tokyo stopped changing: because real estate value is tied so closely to land rather than property, new buildings rarely last longer than 30 years, leading to a constant shedding of the city's skin.
But is there an argument to be made that Tokyo, having now finished its postwar growth spurt, has reached a kind of maturity? Is this the most stable form of megacity that can exist at present – occupying an equilibrium where the population is stable, change is manageable, and the city's residents and industries are in some sort of balance?
The city that stopped growing?
While the cities of Kinshasa and Delhi continue to grow apace, and the Chinese government has actively restricted the growth of Shanghai and Beijing, Tokyo's population has evened out – in part because it has more or less run out of new land to cover, and in part because of the ageing population of Japan.
"Tokyo is the first megacity to see the end of growth," says Andre Sorensen, chair of the department of human geography at the University of Toronto, whose 2002 book The Making of Urban Japan was widely praised as key to understanding Japanese urban planning. "It offers important lessons for cities around the world, as 'peak urban' will increasingly be seen elsewhere over the rest of this century as the world becomes fully urban and population growth slows and then starts to decline."
He points out that Japan is essentially "fully urban" – 94.7% of its population lived in cities in 2015 – but thinks Tokyo may now start to contract. "Although the Tokyo core area is currently gaining population because of migration from the rest of Japan and recentralisation from its own suburbs, the region as a whole has already started to lose population. It is projected that the total population of Japan will decrease from 128 million in 2010 to about 87 million in 2060, or by about 800,000 per year."
"The bell curve of the population age will be 50-60, and the city will contract and become more concentrated," agrees Mark Dytham of Klein Dytham Architects. "The bulk will slowly evaporate leaving a stronger essence of the city and I think in the next 20 years in 2040 you are going to see the city stop contracting as birth rate levels out."
Although immigration is increasing, it remains a relative drop in the bucket.
"Tokyo is clearly at or near its peak population, at the high point of the rollercoaster ride, the point when the distant horizon comes into view, just before the nose points down, gravity takes charge, and downward acceleration begins," Sorensen says. "Although few demographers are willing to say so, it is hard to imagine the factors sufficient to end this decline."
One clear benefit of this "peak" is that housing prices have levelled out, more than two decades after the burst of the asset bubble in 1991. This allowed, says Sorensen, "an extraordinary burst of high-rise residential development in the core of the city over the last 15 years, in part because lower land prices made it economically viable to build new condominiums in central areas."
Unfortunately, Tokyo is also sucking up people and resources from the regions. "The construction of housing in the Tokyo core just means that many more vacant dwellings in the suburbs and the rest of Japan. And housing vacancy and abandonment is already an epidemic of vast proportions, particularly in declining regions, but already also in the Tokyo suburbs."
That's a huge problem, agrees Tom Gill, professor of social anthropology at Meiji Gakuin University in Tokyo, who specialises in Japanese social issues, especially casual labour, poverty, homelessness and minority issues. For one thing, Gill says, it robs the regions of youth and hurts industries such as agriculture and fisheries. The government's latest effort to increase immigration is in large part aimed at reviving those creaking industries, as Guardian Cities reported earlier this week.
"Every year for three decades, nearly 1% of the population moved from country to city," notes Gill. "So the downside of Tokyo's growth has been a rapidly dwindling rural population – the landscape is pockmarked with abandoned hamlets and villages, with many more "marginal communities" (genkai shuraku) on the verge of extinction.
"This is a gigantic socioeconomic problem, and one that successive governments have signally failed to address."
Unlike some countries where governments attempt to offset the centrality of a single dominant city by spreading services to smaller cities, in Japan most officialdom is centred in Tokyo. "There has been plenty of talk about devolution and decentralisation, but no action," Gill says.
The dominance of Tokyo hurts the regions in other ways. This week, the Guardian reported on how the 2020 Olympics projects have sucked up construction labour and driven up the price of raw materials, hugely slowing the reconstruction of the lands that were destroyed by the 2011 tsunami.
"The Tokyo Olympics have adversely impacted the ongoing struggles of local communities in the quake-tsunami-meltdown stricken north-east," agrees Franz Prichard, assistant professor at the Department of East Asian Studies of Princeton University and author of Residual Futures, a book about Japanese cultural responses to urbanisation in the 1960s and 70s. He argues that this can "complicate the myth of recovery" from which Tokyo currently benefits. The prime minister, Shinzo Abe, is currently pushing the narrative that the nuclear disaster is "under control", as Japan attempts to resume selling nuclear plants abroad.
"The 2011 Fukushima nuclear disaster was symbolic," agrees Gill. "The crippled reactors were located in rural Fukushima, but the electricity they generated went straight to Tokyo. This was a particularly striking example of the regions being sacrificed for the benefit of the metropolis."
The city that cured gentrification?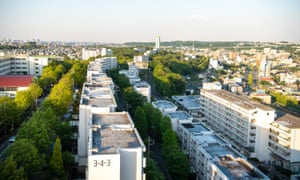 But the availability of relatively affordable housing in the centre of the city does mean that there is less concern with a huge issue transforming other developed-world capitals, such as London and New York: gentrification.
And it's not just because of newbuild construction, says the architect and urban theorist Hiroshi Ota. Because Japanese real estate values land over property, it is often the case that the smallest houses are in fact the most valuable.
From a rooftop in Aoyama, he points out the low clusters of single-family homes.
"Those are probably richer people than the people living in the tower blocks," he says. "And they won't leave. They don't sell.
"It's also hard for commercial property developers to buy them out and knock them down, because the lots are so small, and neighbours often refuse to sell in groups. And for many unused plots of land, nobody knows who the owner is at all – it's some distant family relation who might not even know they're the owner, or they're all dead." Major developments like Roppongi Hills required large parcels of land that were already in one set of hands, and that's a rarity.
Nevertheless, there has been gentrification in the sense that young families have been pushed out from the core by lack of services. Tom Gill notes that a short walk from Shibuya or Shinjuku, you will see little parks with no children playing on the swings and slides. "In fact, right in the centre of Tokyo, many of the primary schools closed down many years ago, as rising housing prices forced people out of the city centre, where residential districts were taken over by high-rise office buildings."
The suburbs have taken on a lot of the social problems the city centre no longer has to deal with. "As your own paper pointed out just yesterday, suburban housing projects have become ghettoes for the old," he says. "Not much violence in the streets — but how about the solitary old people dying alone (kodokushi) in their apartments, their bodies often not discovered until they start decomposing and smelling? Is that what happens in a peak city?"
The city that works?
The city's transit system is the envy of the world: dozens of private metro and public rail lines run impeccable service across nearly the entirety of the metropolitan region. "Despite its size it has developed an articulated metropolitan governance system that responds to its specific economic, environmental and social challenges with one of the most sophisticated and efficient integrated public transport system in the world," declared a report by the LSE Urban Age programme.
True, the trains can be famously crowded at rush hour – "pushers" are rare, but still exist at particularly crowded points – but the modal share of transit is 67% of all trips – a figure that rises to 84% if you include cycling and walking.
Can guerrilla picnics end Tokyo's 50-year war on public space?
Cycle-share systems haven't made huge inroads into Tokyo, but only because so many people already have bikes of their own, which can be parked in large automated lots at most key stations, solving the vaunted "last-mile" problem between home and public transport that bedevils many cities. Commuting full distances on bikes, however, is not encouraged in Tokyo; the network of blue arrows painted on the streets for bike routes ahead of the Olympics is frequently interrupted by delivery vehicles, and seems basically token in nature.
Bicycles could be better integrated into the city, argues Astrid Klein of Klein Dytham. "But we just love the seamless integration of cars, bikes and people in the smaller streets – a fuzzy soft logic. It's no good having beautiful streets – say, the Victorian terraces of Chelsea in London – if you then allow cars to be double parked in front of them. In Japan there is no on-road parking, which keeps the roads free of ugly cars and allows pavements to be free."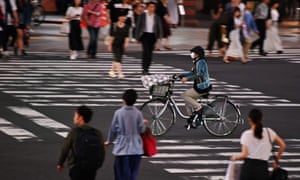 In many social indicators, too, Tokyo seems to have reached a kind of stability. Unemployment is just 4.7%, while income inequality (measured by the Gini coefficient) is 0.33, better than London and New York, and only slightly worse than progressive Berlin. The murder rate, meanwhile, is an absurdly low 0.4 per 100,000 people (New York is 5.6, Bogota 16.1).
Sorensen points out that there is a danger of ascribing Japan's much-vaunted social stability to something inherent in Japanese culture, as opposed to wealth. It could also mean ignoring the marginalised groups that aren't easily heard in a consensus-driven society, says Prichard.
"On the one hand, relative to other cities, Tokyo is in fact quite remarkable, the essential support networks of a liberal welfare state remain operative and have so far survived the neoliberal plunder seen in other cities in 'advanced' states. But without the tireless struggles of many people this would not have been the case," he said.
"Discovering the forces at play in sustaining the benefits of this stability would include telling the stories of those who worked to make the state accountable to the people, including the diverse histories of the movements for gender equality, resident Korean rights movements, environmental movements, anti-hate speech movements, labour movements, and many more."
Despite the wonders of the transit system, Tokyo also remains a massive city with difficult commutes, and a demanding work culture. "There are plenty of people enduring four or five hours on a severely overcrowded train each day as they struggle to get between their workplace and their in one of the far-flung suburbs," says Gill. "Flextime? Working from home? These practices have been around for half a century, but very few major Japanese employers make use of them. So the misery of the daily commute continues."
The city that will change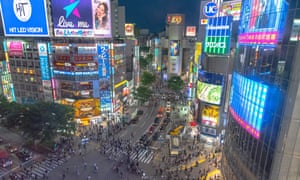 Regardless of whether it's useful to speak of Tokyo as a "peak city", everyone agrees on one thing: change is inevitable.
"The dominant features of the version of Tokyo we have now are only a few decades old. So the stasis and stability we perceive is only legible from a narrowed time-frame," says Prichard.
Sign up for the Cityscape: the best of Guardian Cities every week
Tokyo is, like all cities, subject to external forces: "While Tokyo is exceptional in many ways, it is also deeply connected to other cities (and non-cities) in Japan and worldwide. Despite the best efforts of planners and politicians, the forces at play in the conditions favourable to this narrowly framed stability are by no means under control. The flux of regional and global flows of ideas, goods, and people, as well as the uncalculated human and environmental costs of this fraught equilibrium, remain to be determined."
Sorensen, too, emphasises the importance of understanding 2019 Tokyo as a snapshot of a particular moment in time. "The basic problem of the suggestion that Tokyo's current housing affordability (compared to comparable cities like New York, Mumbai, London, Shanghai and Paris) represents a sweet spot of 'stability and equilibrium' is that this is a snapshot view that is devoid of historical perspective," he said.
"Cities always exist in time, and temporal processes and future expectations rule in property markets. This equilibrium seems to me a temporary and passing moment. Use value triumphs over exchange value, but asset values evaporate. How this will play out is unknown, and it will be worth watching this space. But celebrating this moment as an enviable period of balance seems a bit myopic."
"I do not feel comfortable calling Tokyo a peak city," agrees Gill. "It is a very complex situation, and there are some positive aspects, notably the fact that it is now relatively inexpensive to live in Tokyo, certainly less expensive than London, and there's no denying the low crime rate and feeling of safety when walking through Tokyo at night. However, you could just as easily argue that it has passed its peak, and is dragging the rest of Japan down with it."
Guardian Cities is live in Tokyo for a special week of in-depth reporting. Share your experiences of the city in the comments below, on Twitter, Facebook and Instagram using #GuardianTokyo, or via email to [email protected]
Source: Read Full Article