San Jose is the Bay Area's most populous city, home to more than a million people and the headquarters of eBay, TiVo and Adobe. It's a major urban hub for workers at Facebook in nearby Palo Alto and Apple in Mountain View. It is also one of the wealthiest cities in the world, where a salary of six figures only just qualifies as middle class. And yet, tourists rarely visit the city in any numbers. Compared to its northern neighbors, Oakland and San Francisco, the press barely pays it any attention, except when the Sharks make the NHL playoffs.
City officials are working hard to cast off its reputation as rich but bland, hoping that a huge new transit center in the downtown core will rethink its landscape – making it more environmentally friendly, and less dependent on cars.
This being 21st-century California, the centerpiece of their plans involves a huge new tech campus. Google is planning to bring some 20,000 employees into San Jose, on a vast new 50-acre site that will include shops, restaurants, and housing, as well as office space of up to 8m square feet, all of it accessible to public transit.
The tech giant has already spent over $380m buying sites for its development in the area since 2016, from industrial buildings to bars and restaurants. Google's "village" is centered around the Diridon Station regeneration project, the planned site of what would be the largest transit hub west of the Mississippi.
If all goes to plan, San Jose officials hope the city's downtown, which is currently underused, will soon look much more like a modern big-city core.
"We have the opportunity to create a vibrant urban center that Silicon Valley has long lacked," said San Jose's mayor, Sam Liccardo. "Silicon Valley has developed patterns of urban sprawl for many decades. We finally have the chance to retrofit a place that was built for cars to a place that will be built for people."
Previously, San Jose grew outward, annexing outlying communities and paving over open space. The mayor's effort is part of a shift by the city to grow taller and more dense in its core. But the changes and their impact on affordability and displacement, in one of the most diverse cities in America, have many worried.
"Clearly there's a need for density, transit-oriented development, and to get people out of their cars," said Jeffery Buchanan, the policy director of Silicon Valley Rising, a labor organization. "It's a question of who is there to take advantage of this great new downtown?"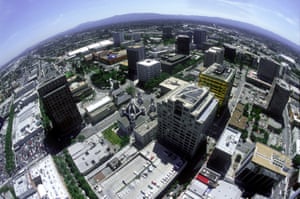 'Where do we move to?'
In Roosevelt Park, two and a half miles away from the Google site, a small encampment of tents clusters near the banks of Coyote Creek. Around a dozen people live here, in a camp that has existed in one form or another for around 30 years. "It's a family," said Edwin Vazquez, as he did the rounds checking on his neighbors. During recent rains the creek's water rose a hundred feet, forcing them to move their tents to the nearby lawn.
Many of the city's homeless advocates argue that the Google project will be like the rains: raising the cost of housing and forcing San Jose's least well-off to flee to outlying parts of the Bay Area, such as Modesto or Santa Cruz. They'd like the city to make Google pay more to defray those impacts. "To whom much is given, much is expected," said Scott Wagers, a minister who works with the homeless here.
"These techies move into new houses. Where do we move to?" added homeless advocate Shaun Cartwright. Tensions have inevitably run high. Another activist, Sandy Perry, was one of eight people who chained himself to seats in the city council chambers to protest the Google deal, forcing police to remove them.
Ramon Johnson sits in a walker, his Pomeranian service dog named Navarro at his feet. Johnson, who has lived in San Jose since 1963, rented a unit in a subsidized below-market rate duplex for fifteen years near Spartan Stadium. He became homeless after the landlord evicted him to put the unit on the unrestricted market. "It's been horrible," he said.
Although Johnson has subsequently found affordable housing on San Jose's west side, he thinks the city's leadership has not struck a strong enough deal for people like him.
"Mayor Liccardo – whom I consider a friend and helped me get housing – he and the city council lacks a vision," said Johnson. "As soon as Google came a-calling, it was like a cartoon, they got dollar signs in their eyes, and it blinded them. San Jose has always been afflicted with a disease of being in the shadow of San Francisco. It's always aspired to be a big city, but it's never had big city visionaries."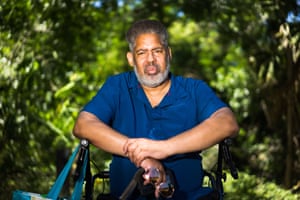 One of those who hopes to be a big city visionary is developer Jon Dishotsky. The Palo Alto native grew up in a co-living situation of sorts: his Stanford professor father had graduate students endlessly cycling in and out of their house. The co-founder and CEO of Starcity would like to bring that same sense of community to his housing development in San Jose, a co-living building which would house 803 units in 18 stories close to Diridon Station and the Google offices.
Starcity buildings in Los Angeles and San Francisco have drawn criticism for being simply single-room occupancy buildings by another name, rebranding for the elite rather than the destitute. But Dishotsky thinks that the building will appeal to a generation of people for whom white-picket fence suburbs are financially out of reach and environmentally unsustainable.
"The obvious scapegoat is the people who are doing well," he said. "I get why it sucks. I'm a working class person. I wake up, and a shining glass condo shows up, with a guy pouring champagne for his blonde wife. I'd say 'fuck you', too. Developers have done a disservice to communities for years. I get it."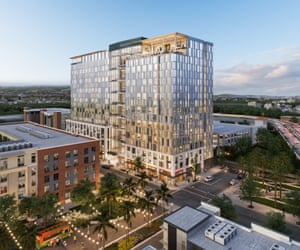 'Get as big as possible'
San Jose was once California's Pueblo Numero Uno, the name given to it by the first Spanish colonizers in 1797. (Los Angeles was Pueblo Numero Dos.) It used to be an agricultural community, housing canning industries and peach trees. That hasn't been true for many people's life-times, however, said UC Merced professor Jessica Trounstine, who grew up in the city and whose book Political Monopolies in American Cities examined its political history. "In the 1950s, San Jose was really just coming out of its agricultural phase. It began a long trajectory of annexation. The goal was to get as big as possible," she said. By the 70s, a neighborhood revolt put an end to that phase of growth, leaving San Jose in the awkward position of being something of a bedroom community to the job centers in nearby cities.
The latest downtown regeneration plans would contain some of the tech industry within San Jose borders, although many of those employers are already present: Adobe, Cisco, and IBM already have offices, and Airbnb is planning an expansion as well. Google, and the surrounding projects, in Trounstine's view would be "the tech of all tech".
Amid its expansion plan, Google has committed to investing up to $1bn in housing throughout the Bay Area, including in San Jose. "As we work to build a more helpful Google, we know our responsibility to help starts at home," Google's CEO, Sundar Pichai, wrote when announcing the donation in June.
In June, Silicon Valley Rising estimated that by 2030, because of the impact of the Google expansion, the average annual rent would increase by $816 per year – $68 per month more. To offset this increase, it called for an additional 5,284 subsidized below-market rate housing units to be built and 12,450 market-rate units.
"We've engaged directly with Google throughout the process. We've yet to see Google offer the specifics," said SVR's Jeffrey Buchanan. He added: "To date, Google has not been forthcoming of what it plans to do in the city of San Jose."
How an exodus of 'Bay Area refugees' is shaking up Sacramento
In November, the group sued over the city's negotiations with Google, claiming that when city officials, including the mayor, signed nondisclosure agreements they violated state law governing official transparency. That suit is ongoing. The group also protested at the shareholder of Alphabet, Google's parent company, in June.
For Buchanan, the mayor's plans to remake the city's downtown area should not clash with his group's issues over wealth inequality. But right now, they do. Certainly transit and development are needed – the question is who wins and loses from it. And how do the winners of the multi-decade transformation of San Jose compensate the losers? As for now, that conflict remains.
"Density in the downtown is the future of San Jose," said Buchanan. "As we pursue that, we have to protect our history as a working class city and protect our communities of color. These two ideas don't need to be in conflict, but it takes leadership."
Follow Guardian Cities on Twitter, Facebook and Instagram to join the discussion, catch up on our best stories or sign up for our weekly newsletter
Source: Read Full Article