What's your favourite way of passing the time on a long-haul flight? A booze fuelled nap? A couple of mediocre action films? How about an immersive theatre performance at 30,000 feet?
The latter may sound like a sedative induced dream, but Icelandair attempted to pull off the mid-air feat in honour of its 80th anniversary. I approached Heathrow Terminal 2 on a grey Friday morning for the one-off production of Ahead of Time, which was to take place on a flight between London, Reykjavik and New York.
My app told me I would be treated to "a story which plays out on a transatlantic crossing, taking in three iconic cities". I imagined it would be a charming change from watching 15 episodes of New Girl on a tiny screen and prepared myself to be whisked away to a magical world over the clouds.
The airline says it wants to "transform" in-flight entertainment, and the theatrical gimmick also launched the start of its "Icelandic Stopover" programme, which allows travellers to win tickets to shows as a birthday treat from the airline.
As I lined up to check in I started to feel apprehensive. I was given a white fabric rose to pin on so the cast would know I was part of the production. Slightly odd "passengers" seemed to be loudly and forcibly striking up conversations with people in the queue. I began to understand that I would need to play along.
I kept my eyes down – audience participation makes me want to throw myself in the corner with my coat over me until the danger has passed. School assembly embarrassment swept over me as I listened to a woman approach strangers and loudly ask if this was the flight to her mother's party.
We were told to move through the airport as normal and let the experience unfold. The cast was made up of around 10 professional actors from theatre company Gideon Reeling, along with air and ground staff who had attended an acting workshop.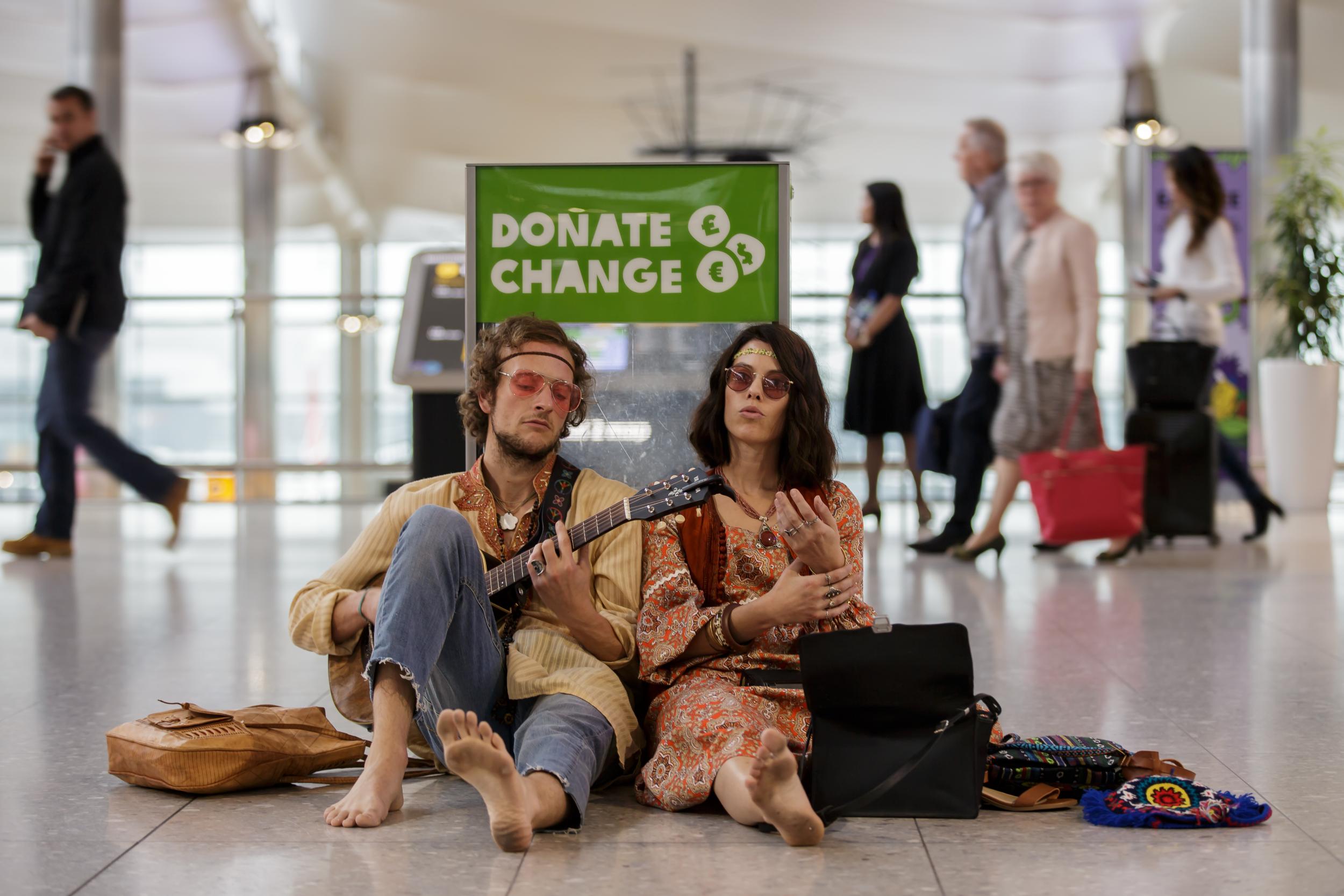 As I entered the lounge the cast prowled the room, scouting for passengers to chat to. All were from different decades of Icelandair's "life", and all were headed to different places.
Although it was only 11am, I tactically decided to drink two glasses of free champagne to get into the swing of things; it helped. I talked to Valerie, a 1970s travel agent, who told me she had planned my trip; Alex, a vest and sarong clad gap-year adventurer from the mid 90s; and Anna, a feminist journalist who thought it was 1987. It was clear there would be no formal performance or storyline as we all experienced our own immersive adventure, mingling with characters from across the ages.
As we flew to Rekyvik, the production got into its groove. The overarching theme, slightly shoehorned in, was one of female empowerment. We heard a muffled message from the pilot that the year was 1999 and Icelandair had just operated the first flight with an all female crew. There was a cutesy safety demo with dancing and an air hostess inexplicably doing the splits up and down the tiny aisle. We learnt that we were off to the 80th birthday party of "Edda" in Iceland.
It was all well meaning but made very little sense – a corporate brainstorm meeting made flesh. But no matter, the loud hum of chatter in the cabin began to feel like a weird party and props popped out as the cast wandered around: a giant 80s mobile phone from the pink shirted businessman, a mystic suitcase with a volcano inside it from Edda's granddaughter. Cynthia and Ritchie, a hippy couple from the 60s, started a group singalong with their guitar to 'All You Need is Love'.
The magical moments were tempered by the constant reminder that we were trapped inside a giant advert for Icelandair. Icelandair loves women! But in a feminist way! Respect our super woke mega-old airline and quirky sense of humour! As an experience it was infinitely more distracting than staring at the in-flight magazine, but much harder to escape from too. I drank a lot of water so I could sporadically hide in the loo.
Seven hours in and I was all immersed out. After a 90-minute stopover in Iceland where we attended Edda's airport birthday party, complete with live jazz band and balloons, I trooped on to the last leg of the flight to New York.
Luckily everyone else also seemed tired. A skeleton cast performed on the five-hour journey, quietly telling stories about the wonders of Iceland to passengers who had not yet succumbed to jetlag.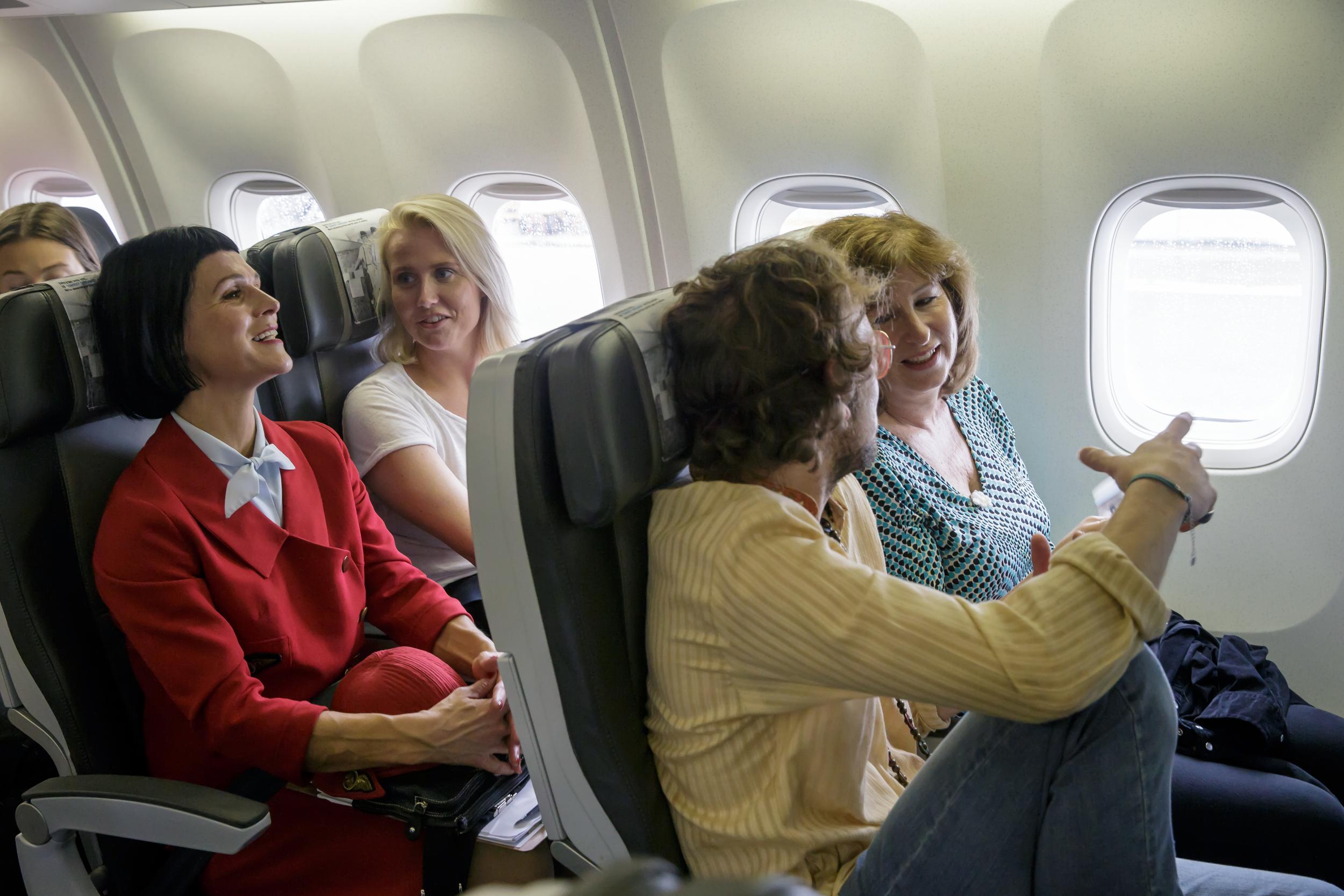 As I waited for my luggage at JFK I assessed the past 11 hours. I felt much more exhausted than usual after a transatlantic flight – at its worst it felt like a logistically complex corporate stunt mashed together with an A-level drama class. There were moments of sweetness, but a world-changing travel experience it was not.
If theatre is meant to represent life, Ahead of Time has shown that airlines will always be trying to sell you something – whether that's duty free perfume, extra leg-room or an adorably quirky image. Whether you want to buy it is up to you.
Travel essentials
Ahead of Time was a one-off production but Icelandicair passengers who stop over in Iceland can take advantage of a programme of promotions and events to celebrate the airline's 80th birthday. More information is available at icelandair.us/stopover-pass
Return flights from Heathrow to Reykjavik from £146; flights to New York from £396.
Source: Read Full Article