Have you ever gazed longingly at your Friday evening pint, the condensation dripping seductively down the glass, and thought, "Ooh, I could just dive into you"?
At Bjórböðin, Iceland's first beer spa, you can do just that. Its curved wooden tubs are filled with a blend of young beer, hops, brewer's yeast and essential oils, all designed to soothe the body, nourish the skin and generally leave you with the kind of dewy-faced glow that you usually get from, well, a few beers.
Bjórböðin opened its doors last year and is part of Bruggsmidjan Kaldi, which was Iceland's first microbrewery when it opened in 2006. It's perched on the edge of the Eyjafjörður fjord in the area of Árskógssandur, about a half-hour drive from the city of Akureyri in northern Iceland.
"Having a glass of beer or two is like having a glass of wine or two," says Sigurður Bragi Ólafsson, one of the founders. "Beer isn't unhealthy, it's the amount you drink that makes it unhealthy. Beer can be really healthy when it's unfiltered and made properly – it can be rejuvenating for your digestive system. But first and foremost it's part of the experience here."
So what exactly goes into the bath? First off, it's the geothermal water that Iceland is renowned for. Mixed with that is what's called a "young beer", which is unfermented and free of yeast. Then brewer's yeast is added in, which is packed with vitamin B, so great for the skin. A few hops are scattered in, along with some essential oils (they're tightlipped on which), bath salts and a bit of their own beer soap. In total, it's 300 litres of beery, mineral-filled water – although they won't disclose the exact ratio.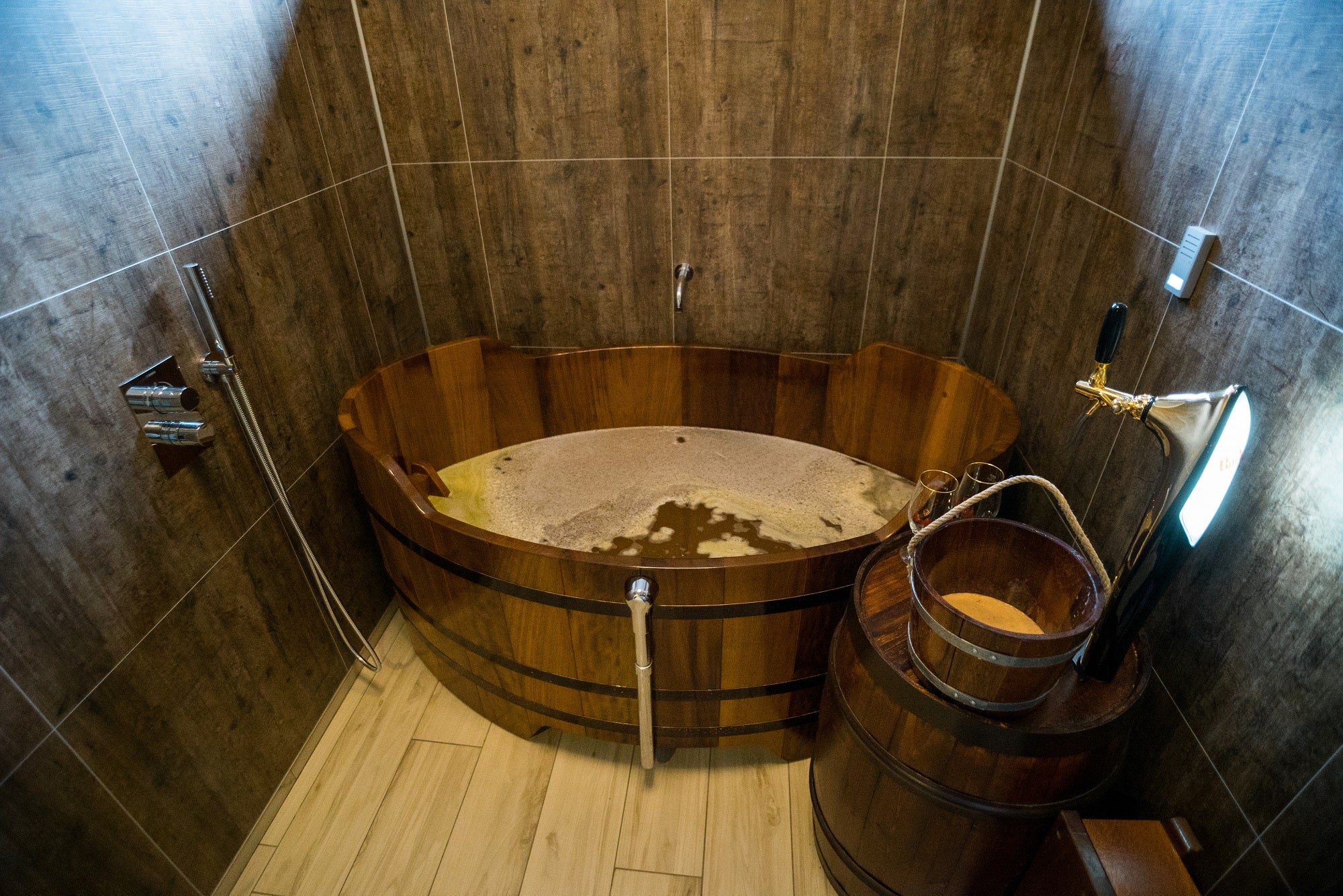 On the day I visited, the drive took a hell of a lot longer than that promised half hour, with heavy snow blocking the view of everything more than a few metres away. I wasn't even aware that we were near the water until we arrived and crunched through thigh-high snow to see the angry grey waves crashing violently. For a brief moment, I was picked up by the wind and deposited a few inches to my left; a man tried to walk towards the water and was nearly swept off the surface of the earth.
In short? It was the perfect day for a hot bath.
Inside, the decor is blissfully chic and cocoon-like, with copper finishings and navy velvet couches overlooking the battering waves outside (there are outdoor hot tubs too, which were understandably out of action on my visit). When you enter the spa, you're given fluffy towels and robes; and, unlike many Icelandic public baths, you're not yelled at in the showers before entering.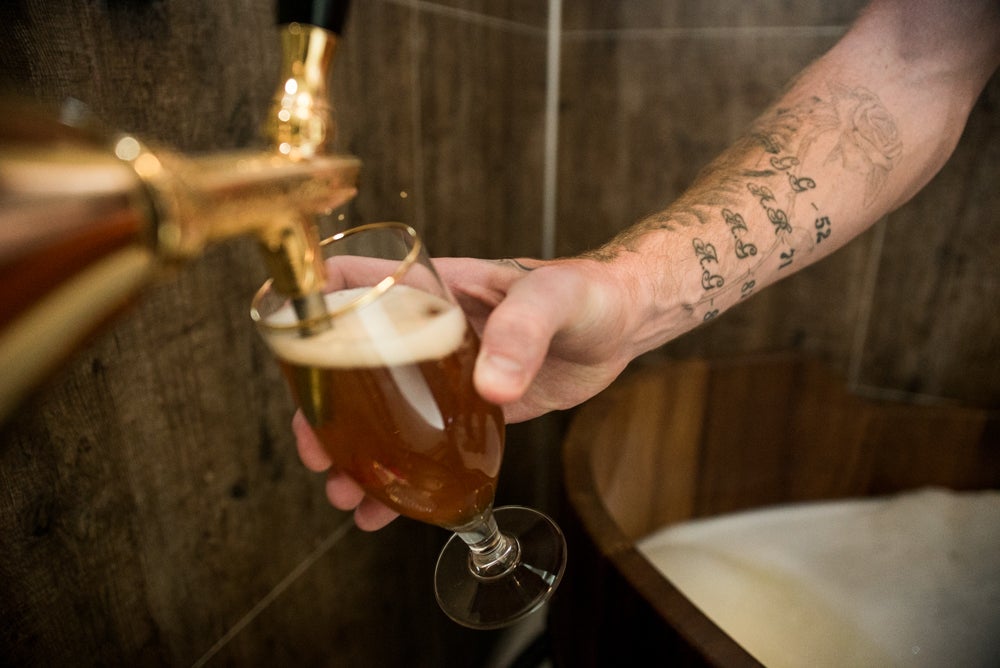 You get your own room, with a beautiful tub made from Kambala wood from Ghana (it can fit two, if you want to bathe with a buddy). And you come to it already filled with litres upon litres of beer.
I have to admit, the bath itself didn't look too appealing. A murky orangey brown colour, complete with little flecks of green (raw hops) floating ominously on the surface, didn't exactly scream leap in.
But I've never met a bath I didn't like and as I eased into the piping hot water, the herbal fumes wafting in the air, my whole body melted and I was converted.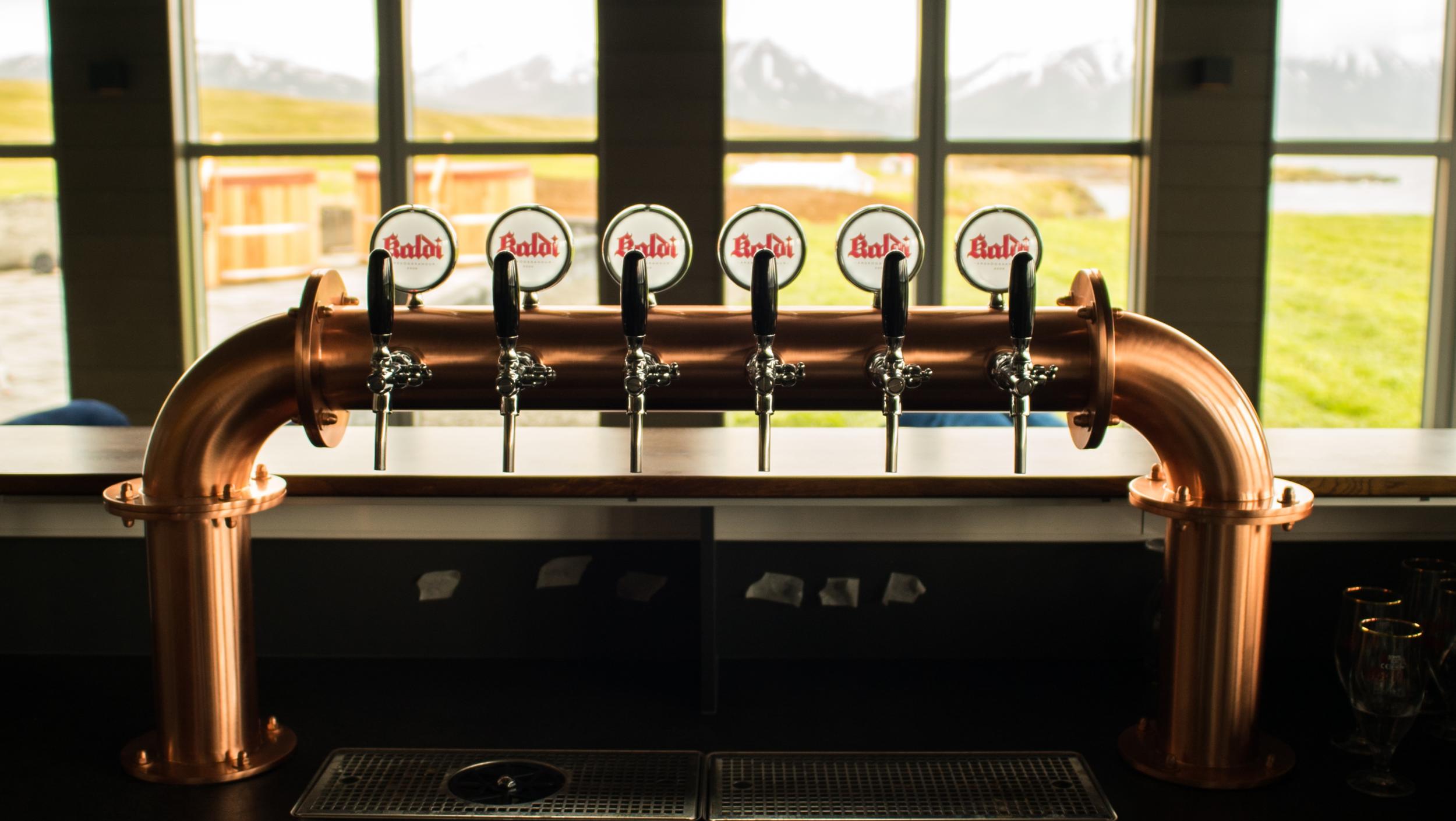 The spa is part of Iceland's first microbrewery (Bjórböðin)
Once you're in, there's not much to do other than lay back, scrub yourself with those little green hops, listen to the music being piped into the room, and help yourself to a beer from the tap next to the bath.
That's right – each room comes with its own beer tap, with an unlimited supply from which to refill your glass. The beer that you'll be sipping is Bjórböðin's flagship Kaldi, a Czech-style pilsner, its most popular brew. Just as well because with the added ingredients, you won't be supping from the bathwater (though, in the name of research, I took the teeniest, tiniest sip – it tastes, unsurprisingly, like bathwater).
You soak for about 25 minutes before a knock on the door invites you to head up to the relaxation room (you're supposed to skip the shower and leave the oils on your skin for maximum benefit).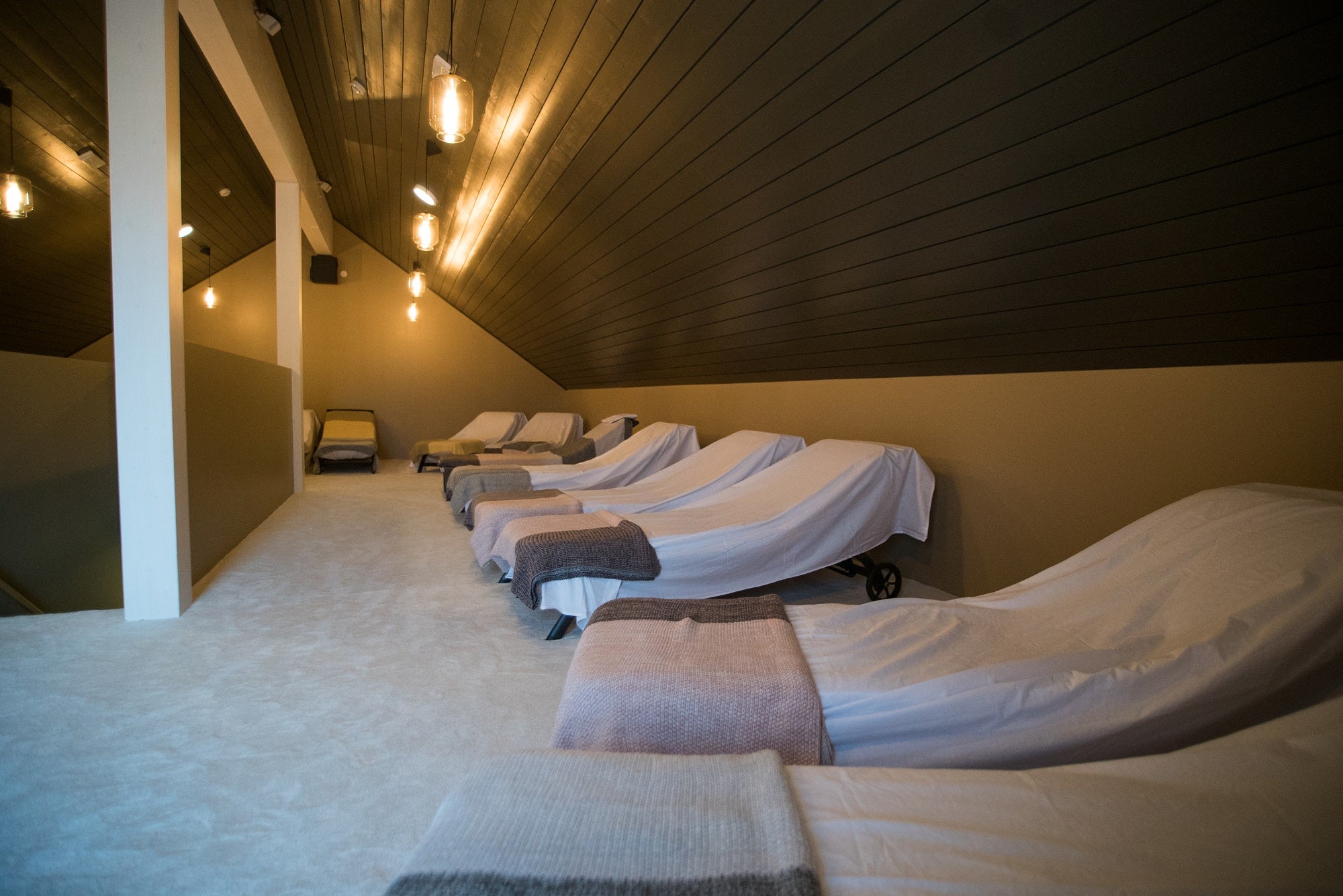 Here lies the real treat. I padded up plushly carpeted stairs to the eaves of the building, where two rows of day beds were occupied with post-soakers nestled under blankets. Soon after lying down, a woman covered me with a sheet and gently stroked my legs, before tucking me under a warm blanket of my own. I won't lie – the sensation of being tucked in as an adult, surrounded by other dozing grown ups, gave me a swift and raucous case of silent, heaving giggles. But when they dissipated, I was left listening to the howling winds battering outside, feeling like a snug and cosy burrito.
Squeaky clean and ever so slightly buzzed from my glass of beer, one thing's for certain: there are worse ways to wait out a snowstorm.
Travel essentials
Getting there
Icelandair and Air Iceland Connect fly from Heathrow, Manchester and Glasgow via Reykjavik from £350.
Staying there
Hrafninn Guesthouse has doubles from £66, B&B.
More information
A couple's bath costs 14,900 ISK (£107) and a single's bath 7,900 ISK (£57). A session in the outdoor hot tub is 2,000 ISK (£14).
Visit: bjorbodin.is / inspiredbyiceland.com / northiceland.is
Source: Read Full Article