Two coots race along Amsterdam's Oudezijds Achterburgwal canal, throwing up spray while swans and their cygnets preen themselves on a nearby bank. A postman delivers parcels and neighbours greet each other on the street.
Stories abound of a red light district choked with noisy stag dos and drunken tourists – but get up early in Amsterdam and it's a different affair. As the day begins, there's a quiet, village feel to the place that is at odds with its nighttime alter ego.
The red light district is the medieval heart of Amsterdam: the oldest – and for me – the most beautiful part of the city. Lined with elegant gabled properties once owned by wealthy merchants and criss-crossed with pretty canal bridges, it's as majestic as it is muddled, with museums, concept stores and foodie spots sitting alongside the familiar red-lit windows and tawdry souvenir shops.
For such an anomalous, multi-layered district, its name is misleading. Locals know better and simply call it the Wallen, for this historic settlement was once circled by earthen city walls and defensive towers. Beside the market stalls on the Nieuwmarkt, the multiple spires of the Sint Antoniespoort gate, now known as "De Waag" (the weighing house) are still standing. Once a theatre of public dissection, it was here that Rembrandt painted his celebrated Anatomy Lesson of Dr. Nicolaes Tulp (1632).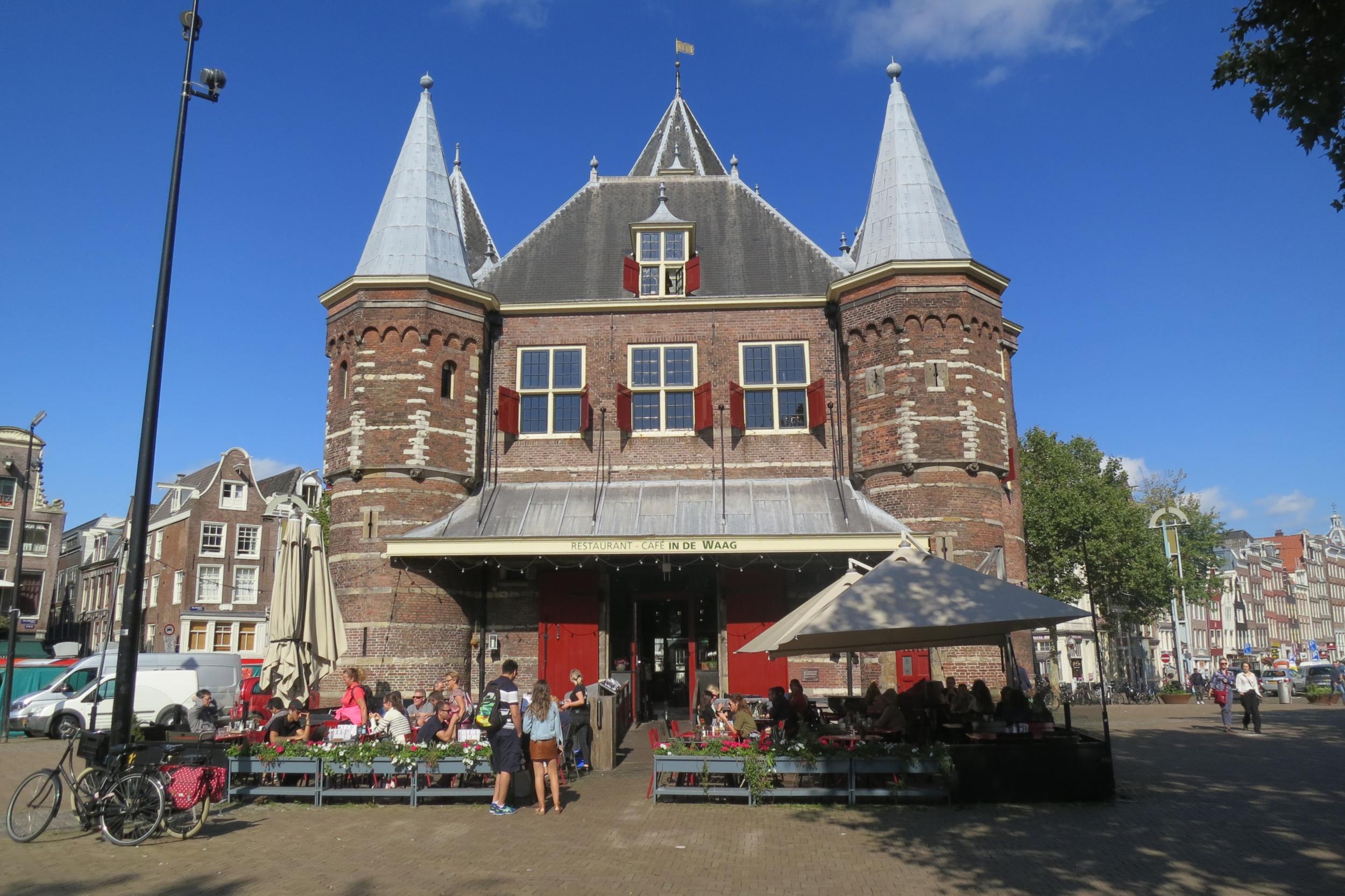 But the jewel in the crown – and the obvious starting point for any visitor – is the Oude Kerk (Old Church) on the Oudezijds Voorburgwal, dating back to around 1305 and the oldest building in the city. More than 10,000 people lie buried beneath its cold stone floor, including Saskia van Uylenburgh, who married Rembrandt there in 1634, and fellow Golden Age painter Jan van der Heyden. Today the building is also an exhibition space for modern art installations, but I want to touch history so I seek out the gruesome 15th century carvings of moralistic Dutch proverbs in the choir stalls and run my hands over the ancient engravings on the paving slabs below.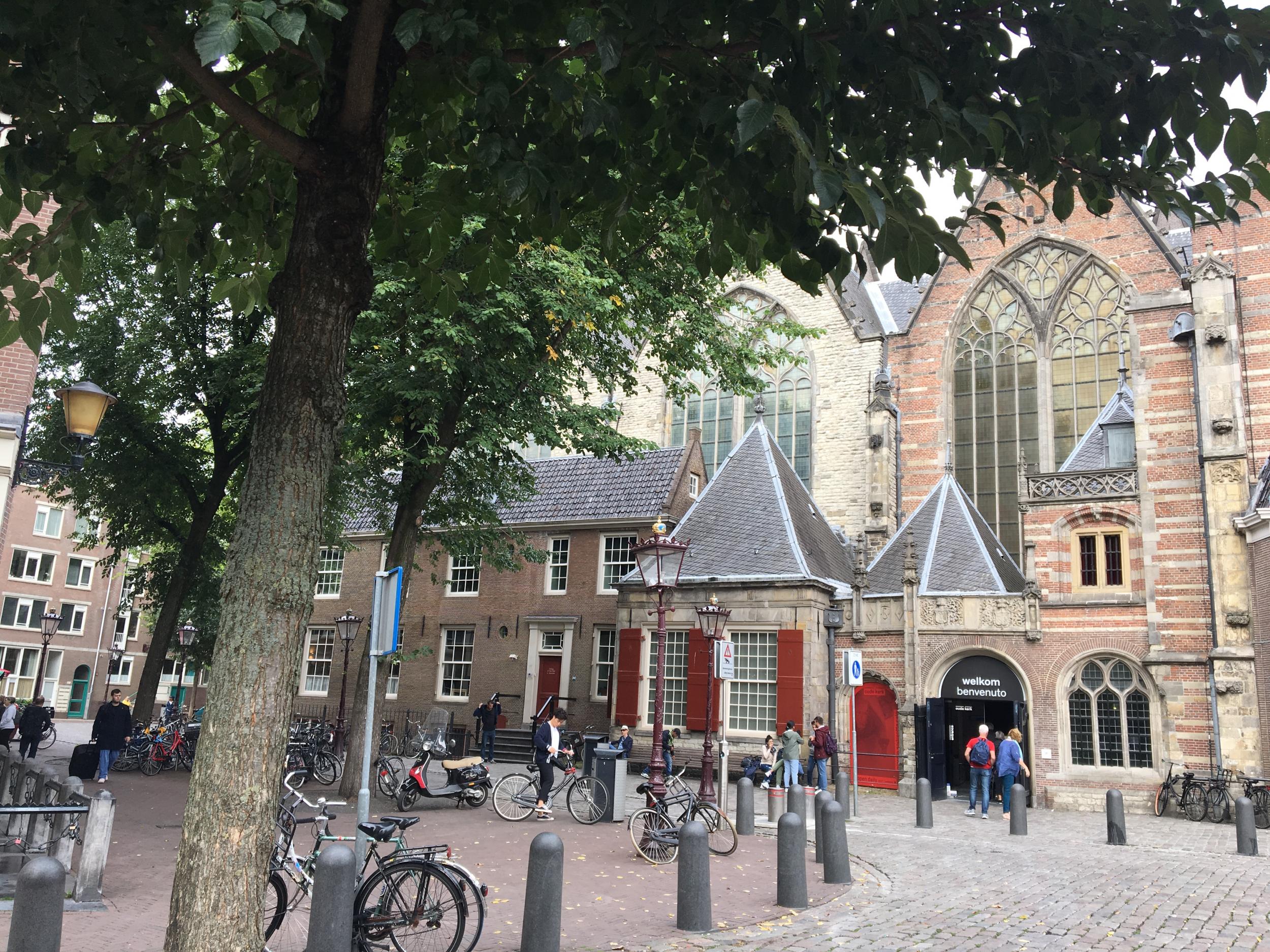 "People are always surprised that the church is right in the middle of it all," tour guide and local resident Kendra Borgen tells me, and "how incredibly safe" they feel in this part of town. "I think it [the red light district] gets very one-sided press," she says. On her tours she enjoys setting the record straight and "pushing people's boundaries about what they assume it's like".
Along the south wall of the church sits another unexpected find: one of Amsterdam's leafiest and most charming terraces, the Koffieschenkerij. This surprisingly peaceful and secluded café – complete with pear tree and grape vines – serves Dutch apple tart and freshly-baked cakes (€3-€4) on pretty china plates. There's posh coffee from Amsterdam roastery Bocca, and soup and sandwiches for around €6.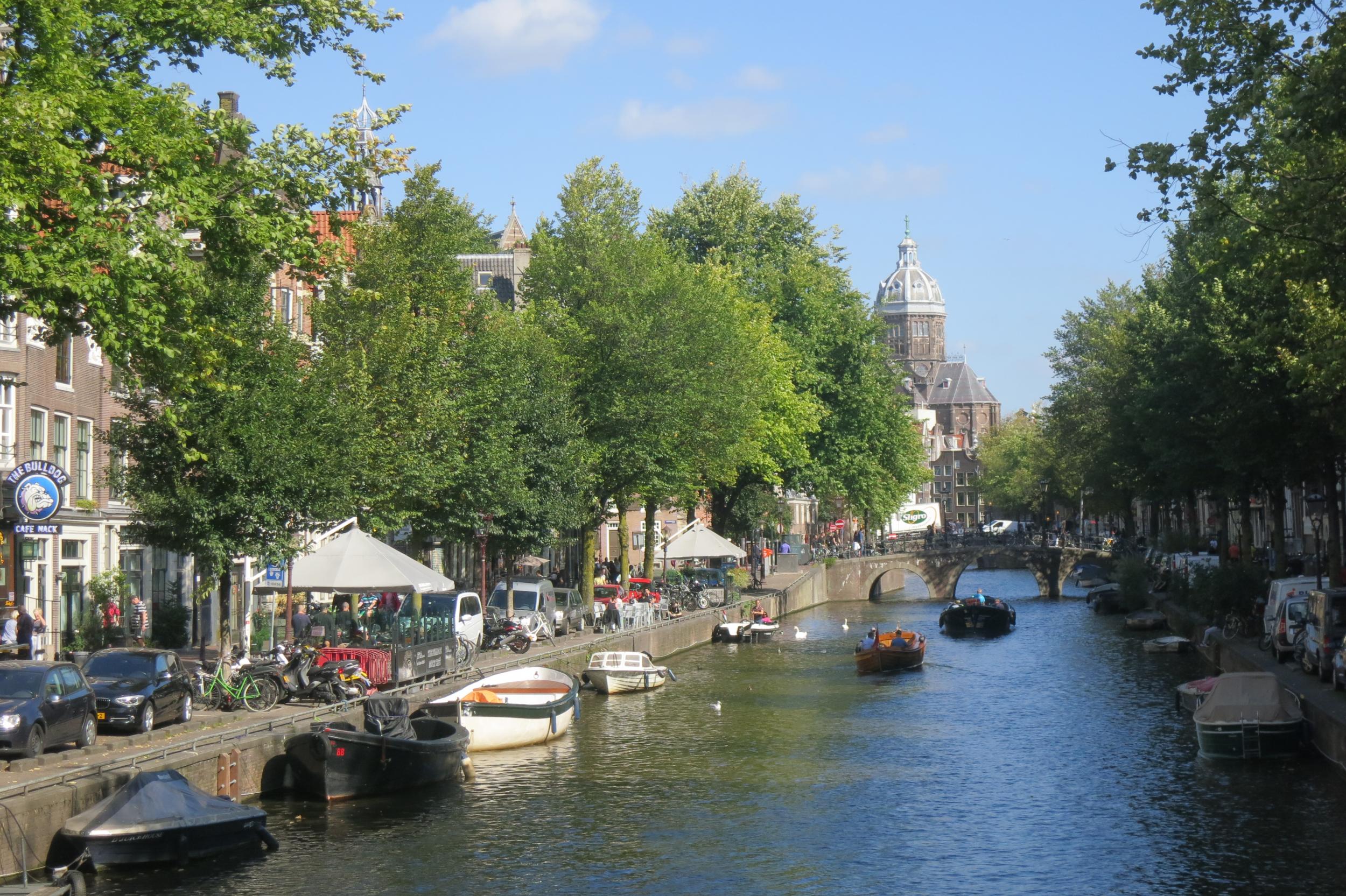 "There is so much more to see than meets the eye," says Bert Nap, who has lived in the area for over 40 years and is co-author of Aan de Amsterdamse Wallen (2016), a book written about the rich history of the area "to show people," he explains, "what they are missing behind the red lights".
We meet for coffee in Latei, in Amsterdam's sweet-scented Chinatown, just east of the Oude Kerk. It's a quirky, retro treasure-trove of a café where a sea of pendulous ceiling lamps and other vintage wares are all for sale. "This used to be the richest part of the city," Bert tells me. "There's so much to see, and it's all still there."
Too many visitors miss most of it. "There are crowds walking along the Oudezijds Achterburgwal, but they never realise that they are passing the house (45-47) of a man that everybody knows, Willem van Ruytenburch, who is centre stage in the Night Watch by Rembrandt."
He takes me on an impromptu tour of his neighbourhood : the trendy urban shopping spots (Patta, The New Originals, Tossijn, Mary Go Wild) on the Zeedijk – once a heroin-infested no-go zone; the hidden, tree-shaded courtyard at Michelin-listed restaurant Blauw aan de Wal; and the 'I live here' posters pasted over doorways and windows, reminding visitors of the community who have their homes here and who greet Bert left and right as we wend our way along the canals and alleys.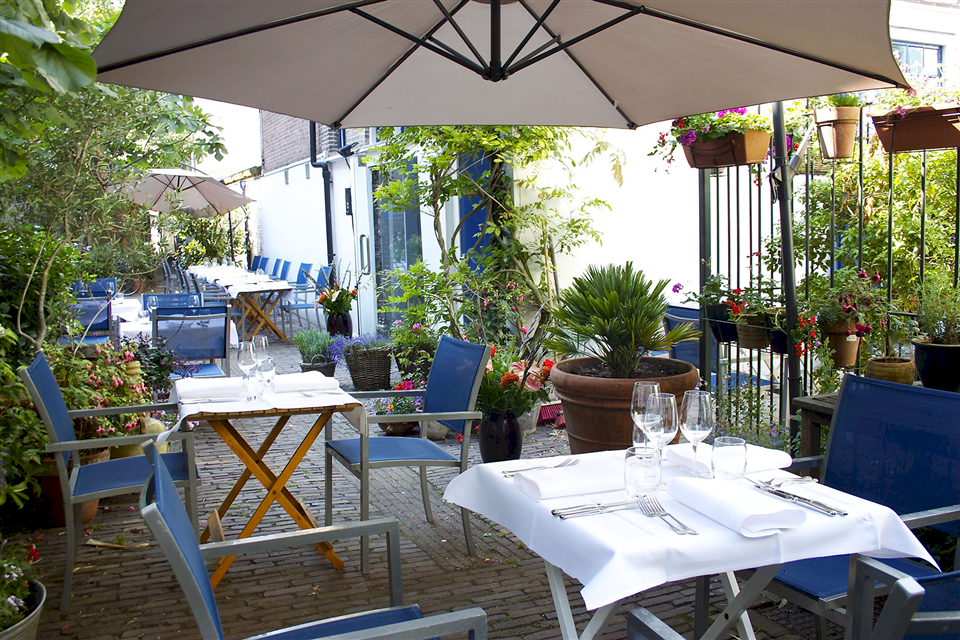 Later, in one such alley, I discover Les Petites Puces, a magpie's nest of jewellery, small gifts and vintage accessories. "The red light district is not only about the girls in the windows, it's also about the cute little stores like this," says owner Susanne Bakker, who – initially sceptical – now loves the location.
A blackboard outside the shop reads "Lucky you! You found us!". Stripping away the stereotype and finding the other red light district is all about knowing where to look.
Essentials
Stay
The award-winning five-star Hotel The Grand is housed in a curious architectural mix of Dutch classicism and Amsterdamse School art deco, but like its eclectic surroundings, it works. Look for the original Karel Appel painting in the Michelin-starred Bridges restaurant. (Doubles from around €300)
For a mid-range option, check out boutique hotel Highland House (doubles from €150) or join the backpackers at the Bulldog Hotel (beds from €20 to €62), which has its own roof terrace up top and coffee shop down below.
Shop
Visit Anna & Nina for fashion, homewares and jewellery, displayed in vintage cabinets and on zig-zagged wooden shelving; and serene café/concept store Hempstory for high-quality, hemp clothing, homewares and toiletries.
Design enthusiasts will love nearby WonderWood, a gallery and store for new and vintage birch furniture; while The Upcycle, further north, sells hip gifts made from repurposed bicycle parts.
The Book Exchange comprises several storeys of floor-to-ceiling English books of all genres, from paperbacks for €2.50 to precious first editions. For more books and a peep into the pretty university quad, visit the nearby Oudermanhuispoort, a covered alleyway between the Oudezijds Achterburgwal and Kloveniersburgwal.
Eat
The snack bar and restaurant of 20-year-old Bird serve tasty Thai food from 12pm onwards. The €18.50 set menu offers the best value for money.
Ivy & Bros is a favourite lunch spot with foodies best known for its thick, freshly-baked frittatas (€10.50).
Visit
The museum Our Lord in the Attic is built around a beautifully-preserved Catholic church concealed in the loft of a 17th century merchant's house during the reformation. Entrance €11.
The charming 15th century Walloon Church has a programme of afternoon and evening classical concerts. It was frequently visited by Van Gogh in the 1870s and is the burial place of 17th century portrait painter Bartholomeus van der Helst and scientist Jan Swammerdam.
Source: Read Full Article