Bike lanes blocked by bollards, potholes, contradictory signs and "the world's shortest bike lane": when we asked for examples of the best and worst cycle infrastructure in cities the submissions came in thick and fast.
Readers around the world shared photos of bikes lanes that were impossibly narrow, that led nowhere or were blocked by parked cars, even police cars. On the upside there were also cycle networks and paths that were a joy for people on bikes. Here are some of the best (and worst).
Cambridge: signed pothole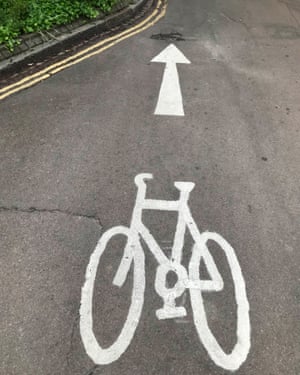 This photo of a bike sign, and an arrow pointing at a pothole, was sent in by Brian Hart. "Taken in Thoday Street Cambridge, part of the new Cambridge infrastructure."
Cape Town: 'Even the police park on the bike lane'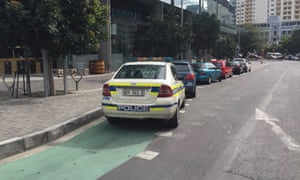 Jared took this picture in the city centre in Cape Town: "This green lane is one of the only bike lanes in Cape Town. It's a glorified parking and taxi overtaking lane. And even the police park on it."
Berlin: 'More of this please'
This photo of a new bike lane at Hasenheide, in Neukölln, Berlin, was sent in by a reader who said: "Beautiful safe bike lane. More of that, please. Dankeschön."
Hong Kong: 'Contradictory signs'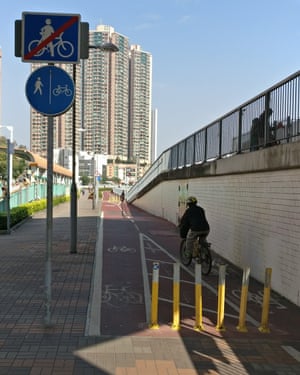 Is cycling allowed? This photo was sent in by James Tagg, who said: "Contradictory cycle path signs abound in Hong Kong …"
Bucharest: A tree blocks a bike path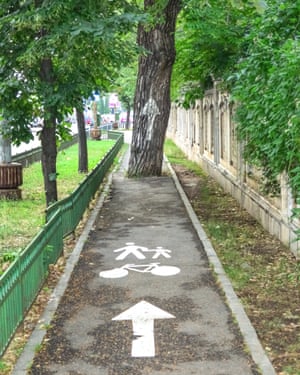 A reader let us know about this bicycle lane in Bucharest where a huge tree blocks the entire path.
Seoul: 'One of the finest networks of long distance cycling routes'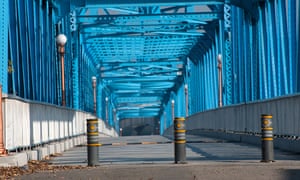 Brian Grover said: "This picture shows a repurposed highway bridge and a purpose-built bypass along a steeper section of the Nakdong River. It was taken on the Seoul to Busan mainline of the 4 Rivers Cycling network in South Korea. South Korea may have one of the finest networks of long distance cycling routes in the world."
Bristol: 'It's incredibly dangerous'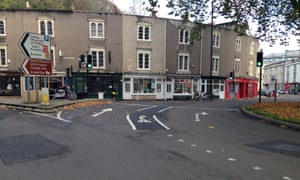 A reader sent in this photo of Jacob's Wells Road roundabout in Bristol, and said: "This short cycle lane goes nowhere! It sits between two lanes – look at the lines separating the lanes either side of it. Incredibly dangerous."
London: 'Shameful'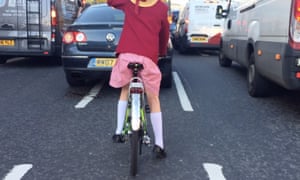 Michael, from London, said: "This is the shameful cycle lane on Parkway going into the Regent's Park at Gloucester Gate. My daughter, in the picture, is on her school journey."
Leeds: 'The shortest bike lane ever?'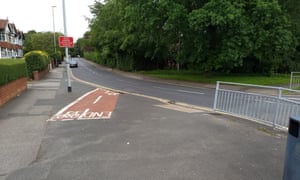 Paul Bunton in Leeds said: "A great local example in Leeds which is nine paces long. This was taken at the junction of King Lane and Nursery Lane in Leeds on 19 June. One of the shortest bike lanes I've ever seen!"
Dublin: 'It's not even possible to open the gate'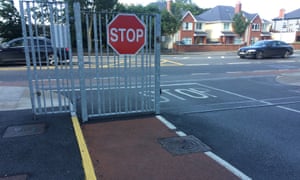 Joan Sugrue in Dublin: "This is the cycle lane coming out from Deaf Village onto the Navan Road in Dublin. It is not even possible to open this gate as there are no movable hinges on it. It is a totally fixed structure."
Bhubaneswar: Rubbish-strewn route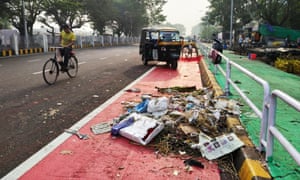 This photo was taken in Bhubaneswar in eastern India where part of a street was recently painted for cycling but garbage has been dumped on it.
Cardiff: 'A great cycling resource'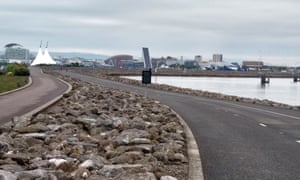 Duncan in Cardiff says: "Cardiff barrage is a great cycling resource with virtually no cars bar a few dock workers. It is just a shame that Cardiff council obstructs or blocks cycling across it during the summer for events in the bay."
Birmingham: 'A new cycle path'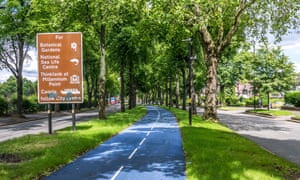 Tom from Birmingham said: "A tasteful shade of blue tarmac marks the new cycle path down the central reservation in Bristol Road, three miles south of Birmingham city centre. It is part of a new cycle path from the city centre to Birmingham University and Selly Oak. The photo is looking north on the Bristol Road (A38) a short distance north of the intersection with Edgbaston Park Road. There were no cyclists in sight at this time, but already some cyclists are using it to commute and it will probably become much busier when the new academic year starts next September and hordes of students flood into this part of Birmingham."
Edinburgh: 'Do I risk it?… Mmm, not today'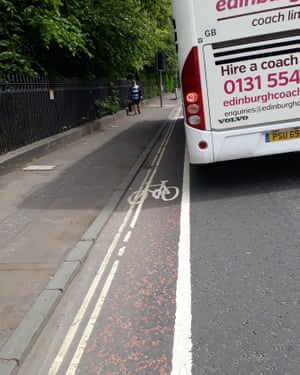 Istvan sent in this photo taken in Queen Street, Edinburgh and says: "Do I risk it? … Mmm, not today … Each traffic light on Queen Street has this very narrow bike lane to lead you to a bike zone in front of the traffic (usually used by cars, taxis and buses). There are many of these useless lanes everywhere in Edinburgh, and many many used for parking (when they don't have a double yellow line above the bicycle sign)."
Vienna: 'Many people use bikes'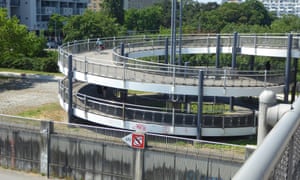 Laurence says: "This is just one of the ramps in Vienna, leading from the bridges over the Danube, to the bike track along each side of the river. There is a network of bike routes criss-crossing the city, with their own traffic lights at many junctions. Not surprisingly many people use bikes to get around the city."
And here are a few that were shared on Twitter…
Follow Guardian Cities on Twitter, Facebook and Instagram to join the discussion, catch up on our best stories or sign up for our weekly newsletter
Source: Read Full Article