Despite the increasing international availability of Korean food and drink, there is one traditional product best sampled when visiting South Korea – makgeolli. With significant amounts of lactobacilli, or lactic acid bacteria, the milky opaque liquor is probiotic, which means it's good for digestion and bolstering the immune system. But the same fermentation process that makes makgeolli rich in amino acids and vitamins also means the traditional drink doesn't travel well without pasteurisation. It's at its best when consumed fresh, a week or two after being brewed.
"Fresh makgeolli is full of probiotics, so in a lot of ways it can be compared to yoghurt in health effects," said Shin Kim, chef and founder of New York City-based Banchan Story, which leads traditional Korean cooking classes and demos. "But it's definitely more fun to drink. It is a living food that continues its fermentation throughout its short shelf life."
Freshly brewed makgeolli has a distinctive flavour that has alternatively been described as sweet and tart, creamy, bitter and astringent. Although bottled makgeolli is sold worldwide, exported versions have to be sterilised to stop the fermentation process, then treated with preservatives and sweeteners such as aspartame to mask the taste. That's why anyone enthusiastic about Korean cuisine, interesting liquors, probiotics or educating their palate should travel to South Korea if they want to try authentic, freshly brewed makgeolli.
"Fresh makgeolli invariably tastes better because it contains live yeast cultures and has a more complex and vibrant flavour profile," said Julia Mellor, co-owner of The Sool Company in Seoul, which offers tasting tours of makgeolli breweries and museums. "There is a high lactobacillus content in fresh makgeolli, but always be aware that it is still an alcohol so health benefits should be considered within that frame. Pasteurised makgeolli has a much longer shelf life, but for the most part it has a much more flat texture and simple flavour profile."
Koreans have been brewing makgeolli since the Shilla Dynasty (57 BC to 935 AD), and it always begins with nuruk, a fermentation starter that is similar to malt and yeast. Each brewery uses its own nuruk, mixing in steamed rice, yeast and water, then sometimes herbs and flowers.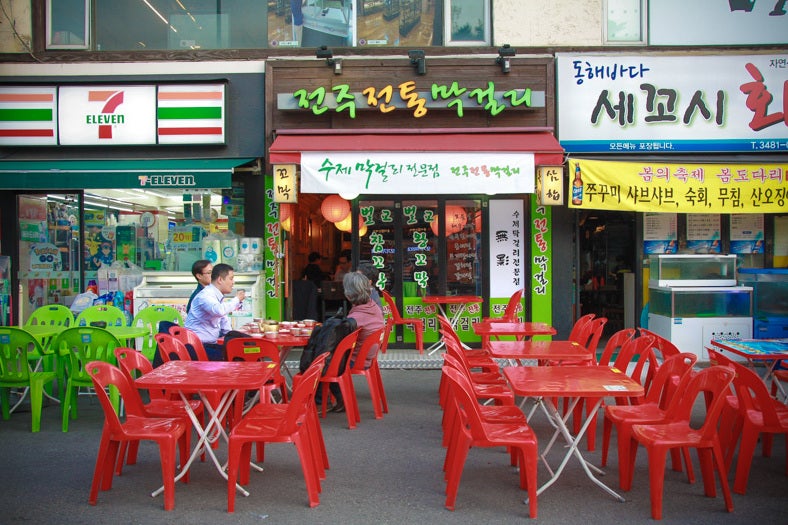 "There are different kinds of nuruk," said Kim Kwang Moo, makgeolli brewer and owner of Seoul's Jeonju Jeontong Makgeolli Bar. "Rice nuruk, flour nuruk and mung bean nuruk. Nuruk determines makgeolli's taste and smell."
For centuries makgeolli was brewed at home but it fell out of favour in the 1970s when South Koreans began to prefer imported wine and other liquors. Recently, the vitamin-rich brew has enjoyed a revival, partly because of the health benefits, partly because of the low alcohol content and partly due to a renewed appreciation of South Korea's culinary cultural traditions.
"Korean alcohol has faced a lot of challenges over the past century and is still often considered a low-quality beverage," said Mellor. "However, we are seeing year by year more small batch artisan producers who are using better quality ingredients, longer fermentation times, and refusing to use artificial sweeteners."
At least 700 small scale breweries currently exist in South Korea. "In the past, makgeolli used to be considered as cheap and old-fashioned, so sellers focused only on selling big quantities to consumers," said Jang Yoon Suk, head of marketing at Neurin Maeul, a trendy makgeolli bar in Seoul. "Today, the makgeolli industry overall is trying to appeal to consumers by offering novelty and high-end makgeollis."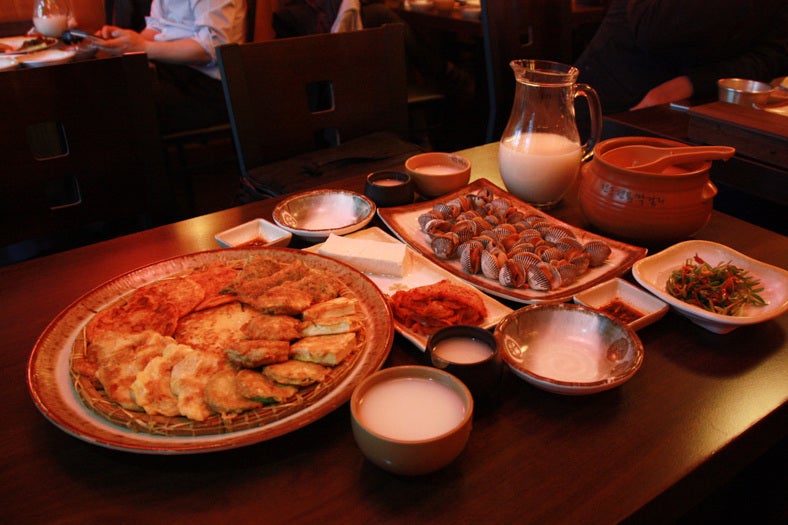 For many brewers, making high end makgeolli involves using more traditional methods and avoiding the addition of artificial ingredients.
"Many makgeolli companies have turned to mass production to expedite the process," said Kim. "To maximise the profit, they dilute the makgeolli with water, which reduces the ABV. They use artificial nuruk with the bacteria they've extracted. They add this artificial nuruk to rice to speed up the process. This is far from the traditional way of making makgeolli."
To sample fresh brews, you can take a tour of brewing facilities or plan a visit around a makgeolli festival.
Seoul's best fresh brew bars
Neurin Maeul
Seoul, Jung-gu, Myeongdong, Eulji-ro 5-gil, 26
Baesangmyeon Brewery's makgeolli bar, Neurin Maeul, serves the traditional drink in a modern interior with high ceilings, exposed cement walls and tall stainless steel brewing pots that are installed in the middle of the bar. The bar's award-winning makgeolli is made from rice, water and yeast in small batches to preserve the taste and smell. Based on its maturity, the makgeolli is categorised by seasons.
"From spring to winter, the liquor becomes stronger and less fizzy," said Kim Ki-Moon, manager of Neurin Maeul in Myeondong.
After you've sampled makgeolli in its purest and simplest form, try it mixed into a cocktail combined with fruits, such as mango and pineapple, and ice.
Jeonju Traditional Makgeolli
Seoul, Seocho-gu, Banpo-dong Sapyung-daero 362
With its wooden walls and the warm orange light from colourful paper mache lanterns, this bar looks and feels more like a traditional makgeolli bar. Jeonju Traditional Makgeolli not only celebrates the liquor but the cuisine of Jeonju, a city famous for its savoury food. Order makgeolli and you can sample palate-pleasing snacks such as cockles and skate sashimi, as well as pancakes and oysters.
"We're popular for the cockles," said Kim Kwang Moo, the bar's owner and makgeolli brewer. "Another appetiser that can't be separated from makgeolli is hongeo (fermented skates)."
Since it's made with sweet rice nuruk and cultivated twice, Kim says the Moo Young makgeolli is the closest you can get to the traditional method of making makgeolli.
"I hope to make quality makgeolli that leaves a long lasting impression in people's minds," said Kim. "A drink that people enjoy. A drink that means to rest and look back."
Seoul's best makgeolli tours
The Sool Company (facebook.com/mmpkorea) offers tours that take visitors to breweries, with guides who speak English.
Seoul's best makgeolli festivals
Jarasum Makgeolli Festival
1 to 3 September 2017
Location: Gyeonggi-do, Jarasum Island, which is located in Gyeonggi Province, about an hour northeast of Seoul.
Entrance Fee: Free
Korean Makgeolli Festival
7 to 8 October 2017
Location: Gyeonggi-do, Ilsan, about an hour outside Seoul.
Entrance Fee: Free
More information
For more information about festivals, visit the Korean Tourism Organisation (english.visitkorea.or.kr).
Click here to find hotels in South Korea
Source: Read Full Article