Positioning my camera to capture the sunset over Burma's ancient city of Bagan from the top of Shwe Leik Too temple, I catch my guide, Joseph, inspecting some ancient bricks on the edge of the terrace that look newly broken.
"This has only happened during the last fortnight," sighs Joseph, who schooled our group on pagoda etiquette before we carefully ascended the interior staircase of the ancient structure. "Many visitors aren't aware, or just forget, how fragile these monuments are."
It's an all-too-common occurrence in the Bagan Archaeological Area, which, according to Burma's Department of Archaeology, houses the remains of more than 3,500 Buddhist monuments within a 24-square-kilometre area. Due to the size of the site combined with the country's limited resources, only a handful of Bagan's monuments have some sort of security. Visitors are free to roam the site virtually unchecked. Hundreds – sometimes thousands – clamber atop monuments to take in the sunrise and sunset each day, at great risk to the integrity of the structures, and also to themselves.
But as the Ministry of Culture prepares to submit a proposal to Unesco in September that is expected to see the site listed as a World Heritage Site by 2019, Thein Lwin, Deputy Director General of the Ministry's Department of Archaeology, confirms this "must-do" tourist activity will soon be phased out.
"They are very old monuments, and some could collapse at any time," says Thein Lwin. "Banning climbing is a necessary precaution to protect our cultural heritage."
A ban is also supported by Aung San Suu Kyi, the nation's de facto leader, who told local media during a January visit to Bagan that sunset viewing from the pagodas "will have a negative impact on the long-term sustainability."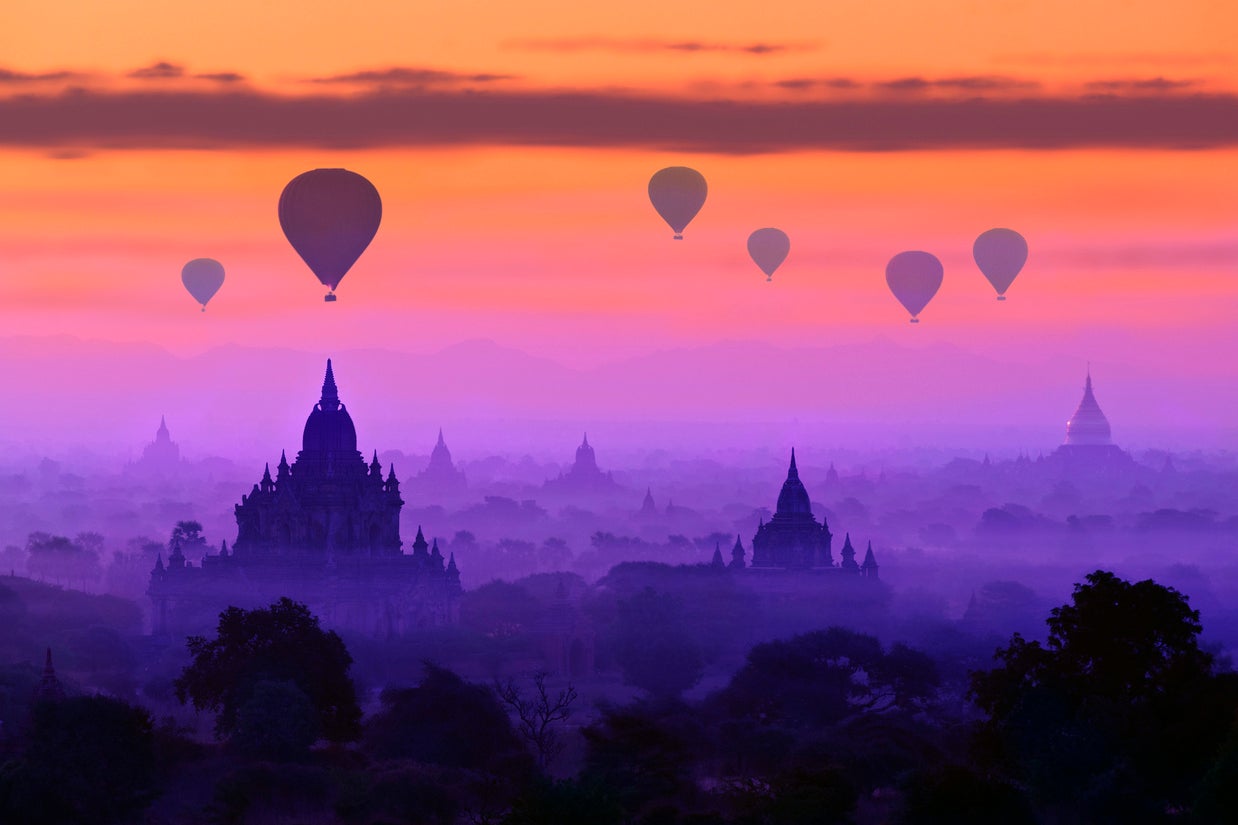 It's not the first time Burma's government has tried to ban climbing; a ban was announced in February 2016 before being swiftly reversed following fierce backlash from local tour operators. Since an earthquake in August last year damaged more than 400 of Bagan's buildings, however, the Ministry has quietly banned climbing at a handful of popular temples. Thagyarhit and Thagyarbone were closed to climbers soon after the quake, followed by Pyathada in January, and Thitsarwady in March. While there is no date set for a complete ban on climbing all other temples, including Shwesandaw, the most famous sunset-viewing temple, it's only a matter of time.
But tourists needn't give up on Instagramming the iconic image of hot air balloons rising over the pagodas at sunrise – which requires photographers to be in an elevated position – just yet. Thein Lwin says that sunrise and sunset viewing will soon be available from a tethered helium balloon in a suitably atmospheric spot within the archaeological area, which is expected to be more affordable than the $300 and upwards charged by Bagan's sunrise hot air balloon operators.
The government is also planning to create more "lookout spots", says Thein Lwin – man-made hills which have recently sprouted in the archaeological area. These are just a few of the conservation initiatives that the Ministry hopes will help to bump Bagan off Unesco's Tentative List (a list of properties which a country intends to put forward for nomination to the World Heritage List), on which it has languished since 1996 when its nomination was rejected largely due to bungled restoration attempts.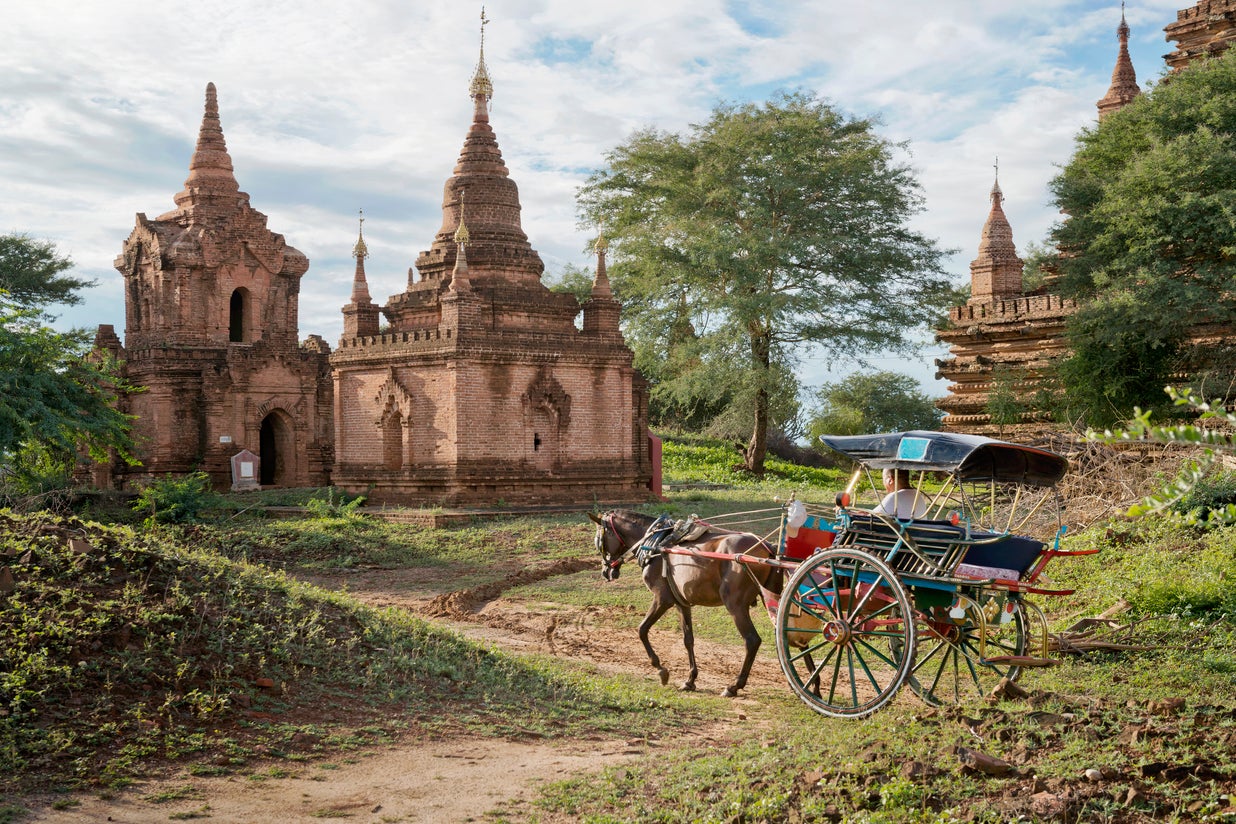 The ancient city of Bagan is an Instagrammer's dream (Getty /iStockphoto)
Built on a seismic fault, Bagan has regularly been damaged, renovated and rebuilt since the bulk of its monuments were constructed during the 11th and 13th centuries. But things started to get messy when Burma's generals got involved in the 1990s. Viewing Bagan as a project that could deliver much craved legitimacy, the nation's military rulers launched an aggressive "beautification" of the site, which had been badly damaged by a 1975 earthquake. Unfortunately, the job was carried out with little consideration for the archaeological integrity of the monuments: elaborately frescoed temple walls were whitewashed, and Disneyfied new concrete pagodas were built on the ruins of the ancient originals. So poor was the workmanship that it prompted some archaeologists to claim that the smaller earthquake near Bagan last August, which saw newer reinforcements suffer the most damage, as something of a blessing. Having led a tour in Bagan several days after the 6.8-magnitude quake, Joseph saw why first hand.
"We could see where they had used PVC pipes to hold up the 'umbrella' [ornaments that top most Burmese pagodas] of Sulamani temple," he says. Unsurprisingly, Sulamani was the first temple earmarked for renovation by Burma's current government, which has been working closely with UN restoration experts. One year on, many temples are still covered in tarpaulins where concrete spires have smashed through the roofs of temples like Sulamani, damaging priceless frescos.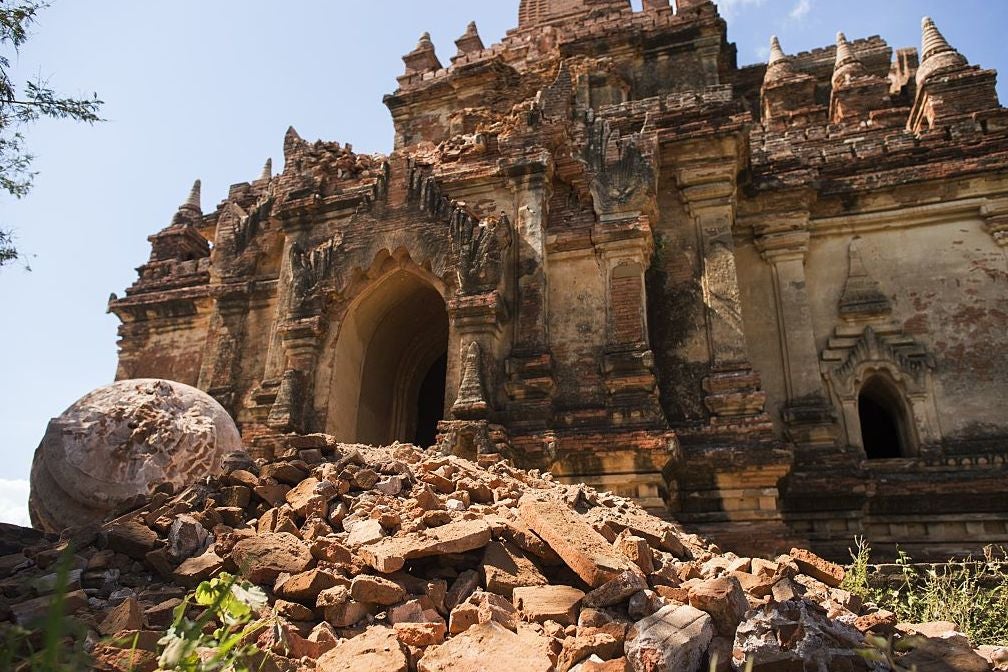 "Restoration is not easy, but recent renovations have been much more successful than repair works carried out in the past," says Thein Lwin, who's confident they'll clinch the coveted Unesco status.
Planned upgrades also include beefing up security, improving access roads, and removing all billboards that block views of pagodas. Following a ban on new developments in the archaeological zone in 2014, a new hotel strip is currently taking shape near Bagan's airport.
Having watched a second Bagan sunset from one of the new lookout spots south of the Pyathada temple, I admit it wasn't as atmospheric as taking in the view from a temple rooftop the previous evening. And the idea of sleeping by the airport is hardly appealing.
But if that's what it takes to help preserve this extraordinary site for generations to come, it's time for Bagan – and its tourists – to get on board.
Travel essentials
Getting there
British Airways (ba.com) flies to Rangoon via Bangkok from £788. The writer travelled with Intrepid (intrepidtravel.com), whose 15-day Best of Myanmar tour, including three nights in Bagan, starts at £1,549.
Staying there
In nearby Nyang U, New Wave Guest House (booking.com) is arguably Bagan's most characterful hotel. Doubles from £28, B&B.
More information
A five-day Bagan Archaeological Zone ticket costs 25,000 kyat (£14.40). It's easier to get around the zone on an electric scooter, rather than a bicycle, both of which can be rented cheaply from guesthouses.
Source: Read Full Article