The electronic doors slide open and the first thing that grabs my attention is the velociraptor, all flashing teeth, upturned snout and sickle-shaped claws. It's wearing a bellhop's hat and white bowtie, chatting away in Japanese. And yet despite the deranged oddness of talking to a man-eating Jurassic predator, this isn't the most arresting part. Hunched over and ready to pounce, it asks me – repeatedly – to hand it my Mastercard while making jokes. Only in Japan could this make any sense.
The sun is beginning to set over Omura Bay, south of the city of Sasebo in Nagasaki Prefecture on Kyushu island, and I'm about to check in at the Henn-na Hotel – or "Weird Hotel" – to get a handle on this future-obsessed corner of Japan. Staffed almost entirely by robots, this is, says the official blurb, the world's most efficient hotel. What I am seeing is the future in full swing.
Next to the dinosaur, Yumeko, a glossy-white talking mannequin with pearl skin and piercing eyes, is checking in a family, while a well-polished pedal bin at a baby grand in the corner tinkles pop ballads.
There are vacuum cleaners and automated gardeners, a toy-sized orchestral ensemble, and the kind of robotic, one-armed claw that car manufacturers use on production lines in charge of left luggage.
There are experimental robots that riff on Wall-E, Johnny 5, Marvin the Paranoid Android, and the Energizer Bunny. There is a frisky "Famibot", a "Winbot", a "Deebot", an "Atmobot" and an attention-demanding babble of nuts, bolts, beeps and bleeps. All told, there is an army of 250 of them working a shift.
There isn't a human to be seen – anywhere. The open-plan lobby is given over to a bank of vending machines selling digital water clocks, data SIM cards and virtual-reality glasses. I check in via what appears to be a talking ATM, it gives me a paper slip with my room number (there are no keys here), and I set off (there's no embarrassing squabble with a porter, though for travellers with heavy bags, there's a luggage service – little more than a motorised trolley).
Instead of that room key, there's eye-recognition technology. Unfortunately, in my case, this translates into five minutes of squinting and gurning at the camera before I'm finally allowed in.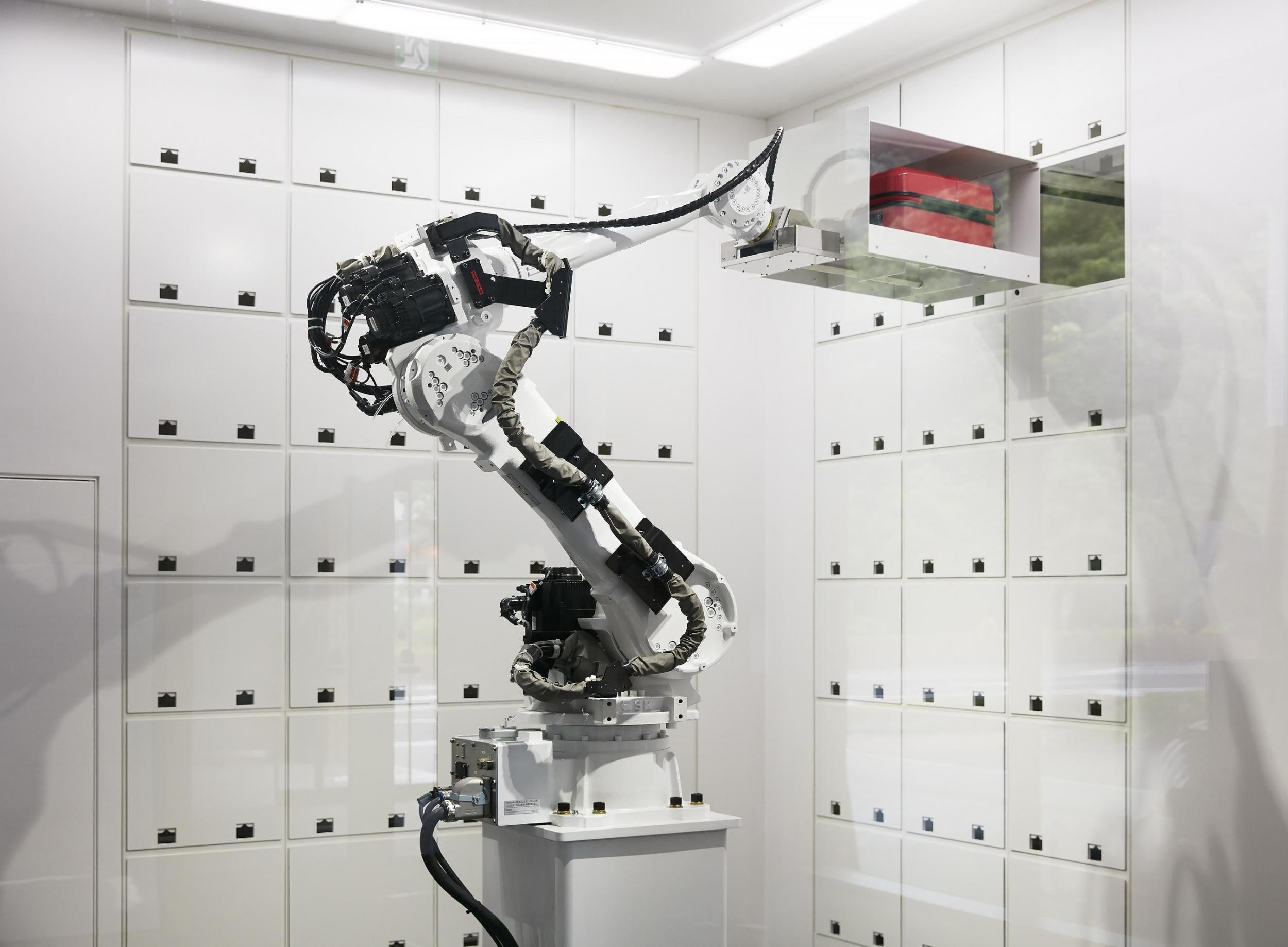 The visual thrills are less impressive in my room. There's a bedside table-sized butler, Chur-ri-Chan, who has a tulip for a head and can tell you tomorrow's weather, arrange a wake-up call or sing you to sleep in Japanese if that's your thing. But the off-white decor and double bed are as rudimentary as you'd find at a motorway services. With the exception of the spray-and-go automated toilet – which comes as standard in Japan, anyway – it's as basic as a Travelodge. The exception is the robot-controlled light switches, which track your movements Big Brother-style before clicking on and off as and when you need them (making a discreet tip-toe to the loo for a midnight pee impossible). The message is clear: the walls are watching you.
But then again, the room's overall simplicity is intentional. Japan isn't short of high-rise luxury hotels offering five-star service or heritage ryokans. What it is short of is entry-level, £70-a-night hotels. Here, all the investment has gone into the robots.
The catch, however, is that Japanese robots don't understand accents – especially Glaswegian ones. "Can you recommend a restaurant for dinner?" I ask Chur-ri-Chan, who replies with a cartoonish song wishing me goodnight. "Is room service possible?" The answer is 28 degrees, humid with showers. Luckily, I'm not asking anything Google won't tell me.
"This is the future," hotel spokesperson Allen Jongkeun Lee – one of a handful of staff members who monitor service levels from behind the wizard's curtain – tells me later. "No staff costs, no breaks, no one working in the shop or at the concierge. It drives costs down for us and for guests."
It looks like it really is the future, too – Henn-na already has two sibling hotels in Japan, with 10 more slated by the end of next year, including six in Tokyo. Owners H.I.S. Hotels plan to build 100 within the next five years.
As we chat, the mini orchestra strikes up its evening performance, a tin-can rendition of Beethoven's "Ode to Joy", while the Transformer-sized doorman welcomes a coach load of new guests. It's hard to argue with the ambition and wow factor of it all, and as I head back to my room I can't help but wonder how the world will change over the next 25 years. Robo-masseurs. Cyborg sommeliers. Android pool attendants. Now that would be really weird.
Travel essentials
Getting there
Finnair flies from Heathrow, Edinburgh and Manchester, connecting in Helsinki, to Fukuoka from 26 April to 25 October 2018, from £665 return. From there, it's about 90 minutes to Sasebo via bus or train.
Staying there
Henn-na Hotel has doubles from £70
Click here to book the Henn-na Hotel
More information
seejapan.co.uk
Source: Read Full Article