Samburu warrior Sammy Lemiruni is almost certain the black rhino won't charge.
As we prepare to tiptoe through the dense Kenyan bush, the warrior-turned-ranger looks at me. "Don't be afraid," he whispers.
It's easier said than done. The black rhino, capable of weighing 1,400kg and standing taller than a six-foot man, is a formidable creature. Its two horns can span five feet. While it can't see very well, it has a strong sense of smell and incredible hearing. And despite its looming bulk, the massive animal can charge at a speed of 55km per hour.
"We walk in single file," Lemiruni orders. Two park rangers flank us, dressed in green fatigues and black boots. One carries a thin GPS transmitter. The ground is dry and brittle, covered in thorns and low-lying trees, but Lemiruni encourages soft steps. "As soon as you make noise the rhinos get suspicious." We're told to stand on rocky ground or behind logs as a safety precaution.
"Sometimes the rhinos do charge," he concedes. "But it's not really a 'charge'. It's when they get suspicious and they want to know what's here. You'll see them do a little dance before they run."
If this happens, there's one response: "Stand still, shout, clap, just make noise. And absolutely do not flee."
We're out at the Sera Community Conservancy, ready to track the endangered black rhinos on the Saruni Rhino walking safari – Africa's first community-owned-and-operated black rhino conservation project, which launched in February 2017. Currently 11 rhinos (including three pregnant females) roam the sanctuary's 54,000 hectares, each with a GPS device attached to its horn. A $1.3m (£963,000) fence is wrapped around it all, with some 200 people patrolling the grounds, guards even sleeping beside the fence at night.
The security is understandable given the animals' desirability to poachers. "The last rhino was poached 30 years ago [from Northern Kenya]," says Riccardo Orizio, CEO and founder of Saruni. "This is the first time that the black rhino returns to its ancestral land." Through strong efforts from the government – including the largest burning of ivory to date – and other Kenyan organisations, the animals are slowly coming back from the brink.
Every guest staying at Saruni Rhino pays a $175 (£135) per night conservation fee, which goes to the park and the community. "This means Saruni can hire more local people and make sure landowners feel that conservation is value," Orizio says.
A manager at Saruni Rhino's sister property, the six-villa Saruni Samburu, puts it more bluntly: "It creates a focus on protecting the endangered species rather than killing them, incorporating the perspective of, 'If I help the rhino then my wealth will grow', rather than, 'If I kill the rhino my wealth will grow'."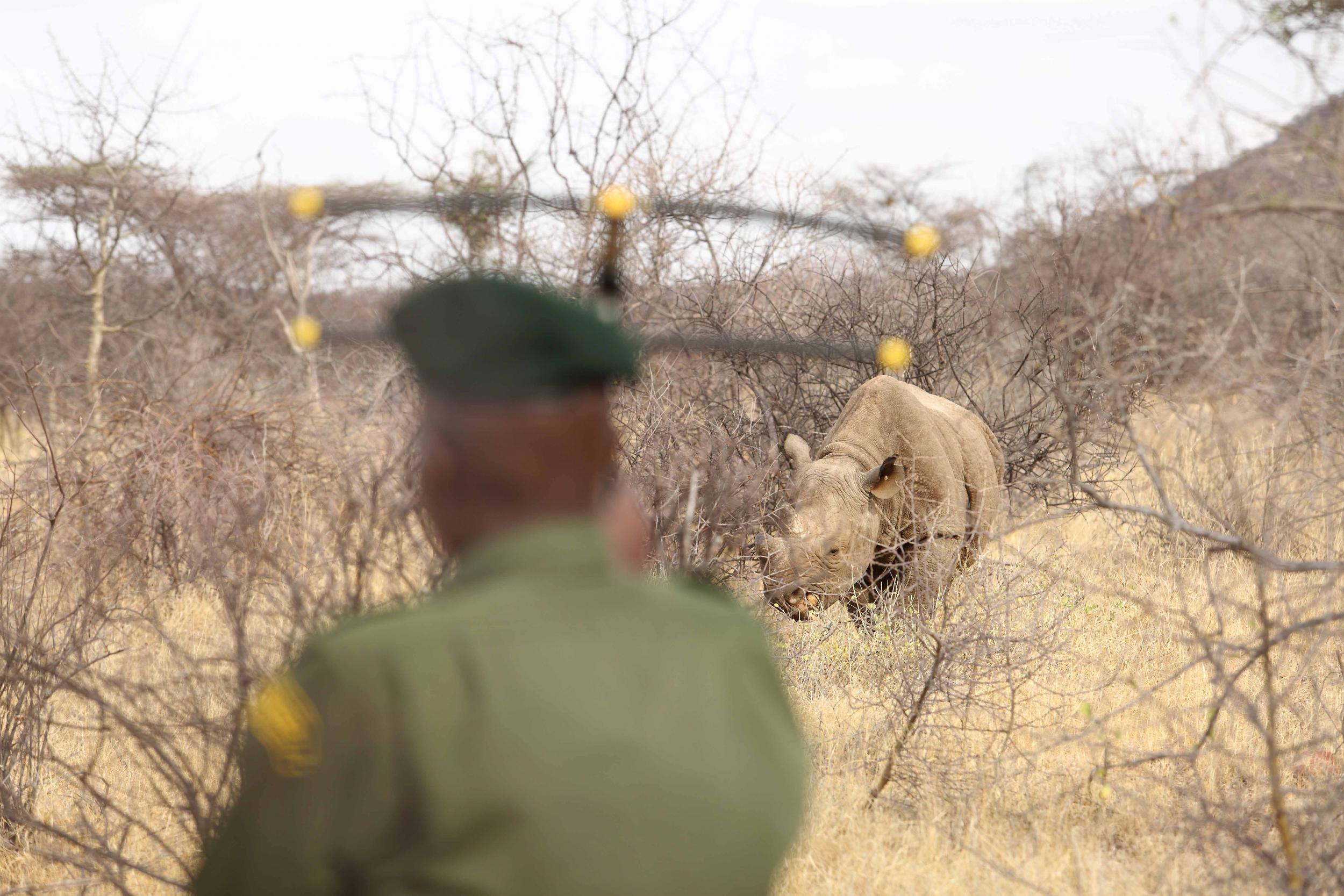 Even as the conservancy protects rhinos against potential threats, Lemiruni needs to protect people like me against the risks of the wild. Back at the intimate Saruni Rhino two-hut property, elephants roam along the dry riverbed. Monkeys lurch between swaying doum palms while adorable dik-diks and giraffe-necked antelopes bound about. Occasionally the wings of vultures flap above; the animals cluster around the nearby watering hole.
The tracking takes place at 5am and 5pm, as rhinos rest during the heat of the day. In between, there's the option to visit the nearby Reteti Elephant Sanctuary (home at the moment to another baby rhino, currently on "loan" from Saruni), head to a popular animal migration spot, or go for a walking safari along the dried riverbed.
Guests are asked to walk with a staff member in the evenings. The first night, as we're sat watching the stars rise, the ever-present cluster of monkeys start screeching in the trees. Lemiruni perks up, his eyes on the horizon. "Leopard," he says. He flicks on a flashlight, catching the glint of the predator's eyes. The animal freezes for just an instant before getting lost in the night.
"You always know it's a leopard when the monkeys go crazy."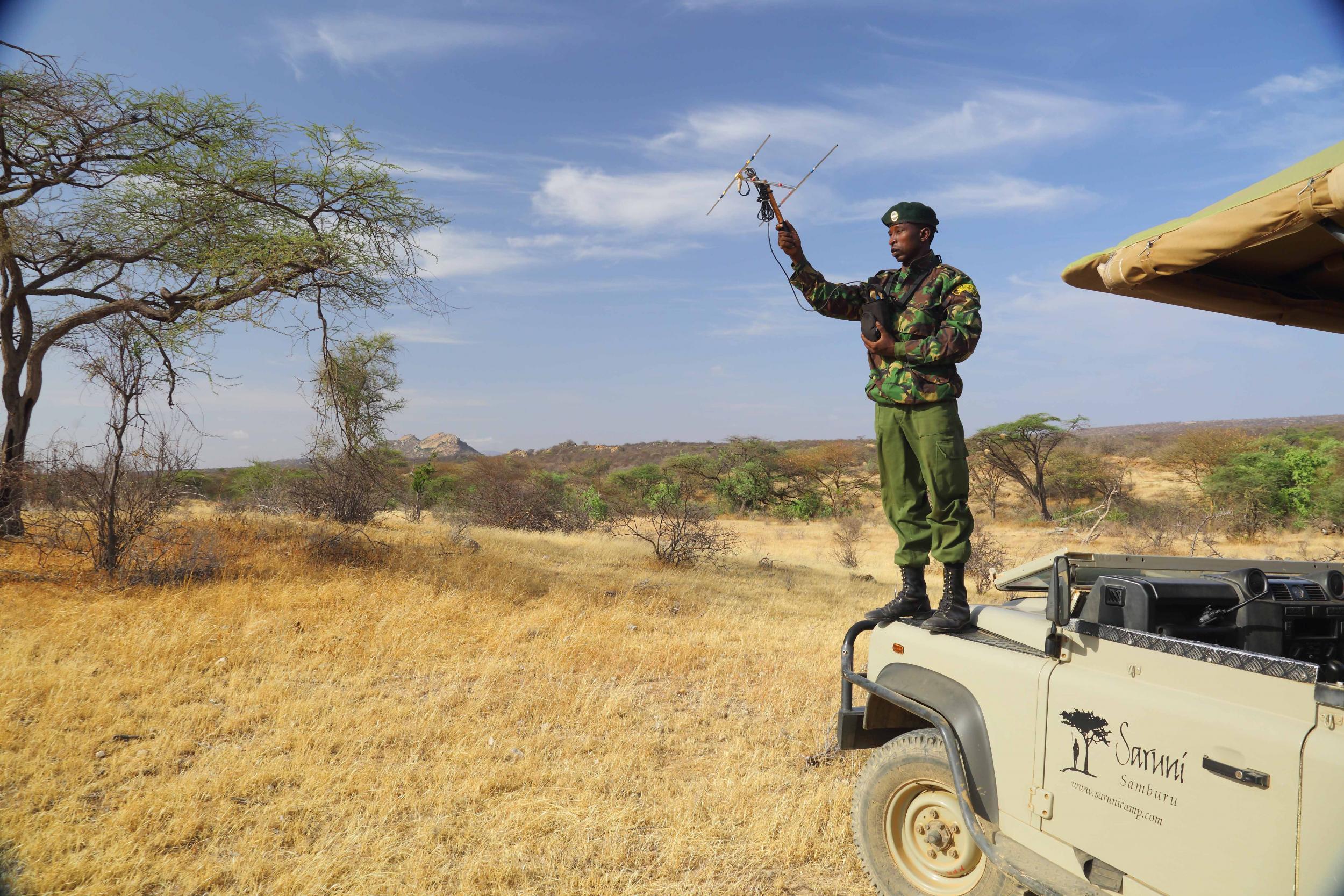 Tracking rhinos is no less adrenaline-inducing. On the second day, as yet again I trail single-file behind Lemiruni, he spots a rhino munching in the distance. His hand flicks, gesturing me forward. We move behind a thorny acacia tree, then behind a bush. Lemiruni occasionally snaps a sock filled with ash as we go, judging the direction of the wind. Eventually we're within 100m of the rhino and can hear its deep-belly snorting.
The rhino pauses, puffs and lifts its head. I'm holding my breath. Lemiruni has frozen, a foot half-lifted. For an instant no one moves. Then the majestic animal turns and does the one thing I've been told not to do – it clambers away.
Travel essentials
Getting there
Kenya Airways flies from Heathrow to Nairobi from £458 return. Safarilink flies from Nairobi Wilson Airport to Kalama and nearby airstrips from around £300 return.
Staying there
Saruni offers a four-night full-board Rhino Tracking safari in Northern Kenya with two nights at Saruni Rhino and two nights at Saruni Samburu from £1,895 per person. The price includes full-board accommodation, transfers, one rhino tracking session per day, game drives and guided bush walks. Conservation fees are not included and add up to an additional £440 per person for a four-night package.
An overnight stay is typically required in Nairobi due to flight times to Kalama airstrip. The Lazizi Premiere hotel at the airport has doubles from £107, B&B.
More information
magicalkenya.com
Source: Read Full Article