In the busy market town of Wossen, an entourage of a hundred curious children followed us past small roadside shacks selling everything from garish blankets to vegetables and jelly sandals. Jostling to be at the front of the throng, some wanted to stroke my arms, puzzled by my freckles. One little boy burst into tears when he saw me. "I think you might be the first blonde woman they've seen," my guide explained.
There were plenty of "firsts" on this new trek in northern Ethiopia's Simien Mountains. Aptly described by Homer as "chess pieces of the gods," the Simiens are majestic: a vast cauldron of deep ravines and gorges, towering pinnacles and rock spires, and fascinating wildlife found nowhere else on Earth.
Driving through the National Park, we passed gelada monkeys sitting calmly by the roadside, with golden manes like lions' billowing in the breeze. Walia Ibex, giant mountain goats with impressive, arching horns, rushed away as we approached. So did the world's rarest canid, a shy Ethiopian wolf — only around 400 survive in the country's highlands.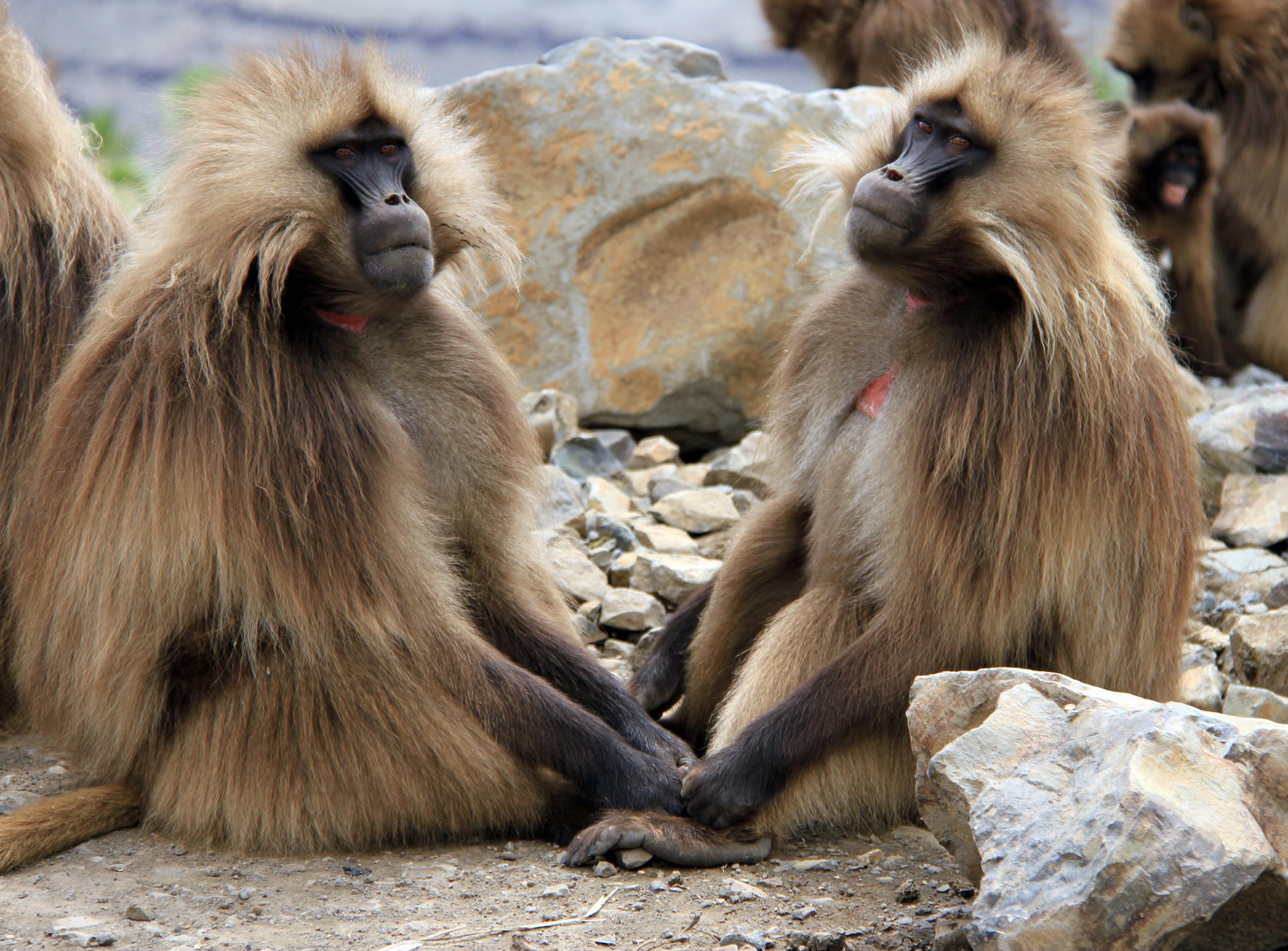 But the Simiens are struggling. Granted World Heritage Site status in 1978, by 1996 the Simien National Park had joined the list of World Heritage Sites in Danger. Poor infrastructure, human encroachment and habitat destruction are increasing the fragility of this magical landscape.
Over 24,000 tourists visit every year, but their options for trekking are limited to a few overused routes. We saw plenty of them walking between campsites that are often crowded and in dire need of TLC.
This is where the African Wildlife Foundation comes in. The AWF, along with the Ethiopian Wildlife Conservation Authority, is creating fresh trails and supporting two new tourist ventures that opened last year: a community-based trek outside the Park and a luxury eco-lodge within it. AWF's Kathleen Fitzgerald, their vice president for conservation strategy, explained that diversifying tourism in the Simiens, dispersing tourists over a wider area, will benefit both communities and the landscape.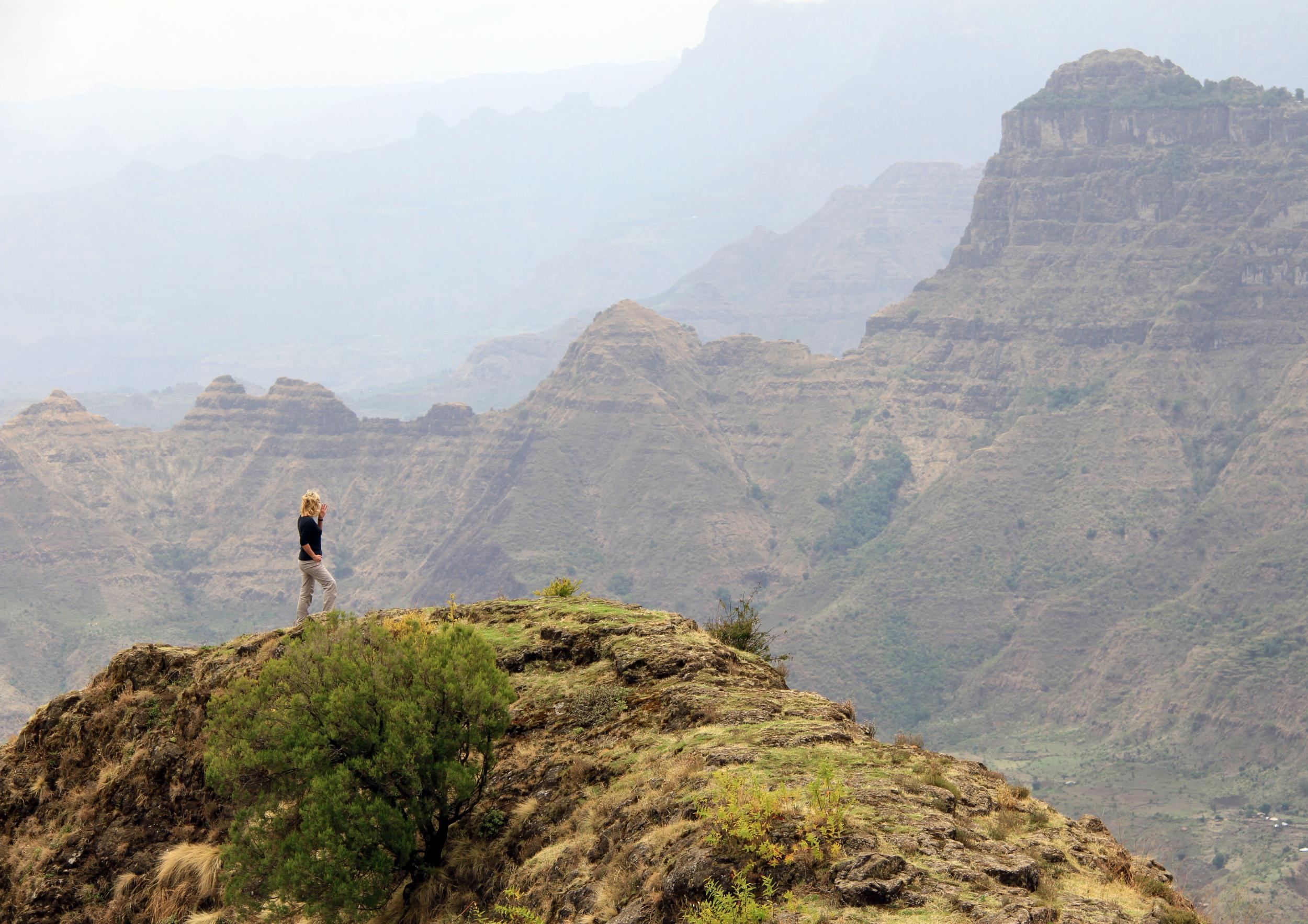 We were among the first guests on a six-day trek with Village Ways, a company that links remote communities and sustainable tourism. With Suliman and Salaama, our assistant guide and cook, and two donkeys carrying our bags, we trekked between three villages – Tage Mariam, Kalid Abo and Timbala – all new to tourism.
We walked along meadows, steep valleys and dizzying cliffs against a beautiful backdrop of mountains and to a soundtrack of bleating goats, braying donkeys and boisterous children – this land, though remote, is rarely silent. We passed farmers ploughing, almost singing instructions to their oxen, and met countless locals welcoming us with a "Salaam" and a smile. But we saw no other tourists at all.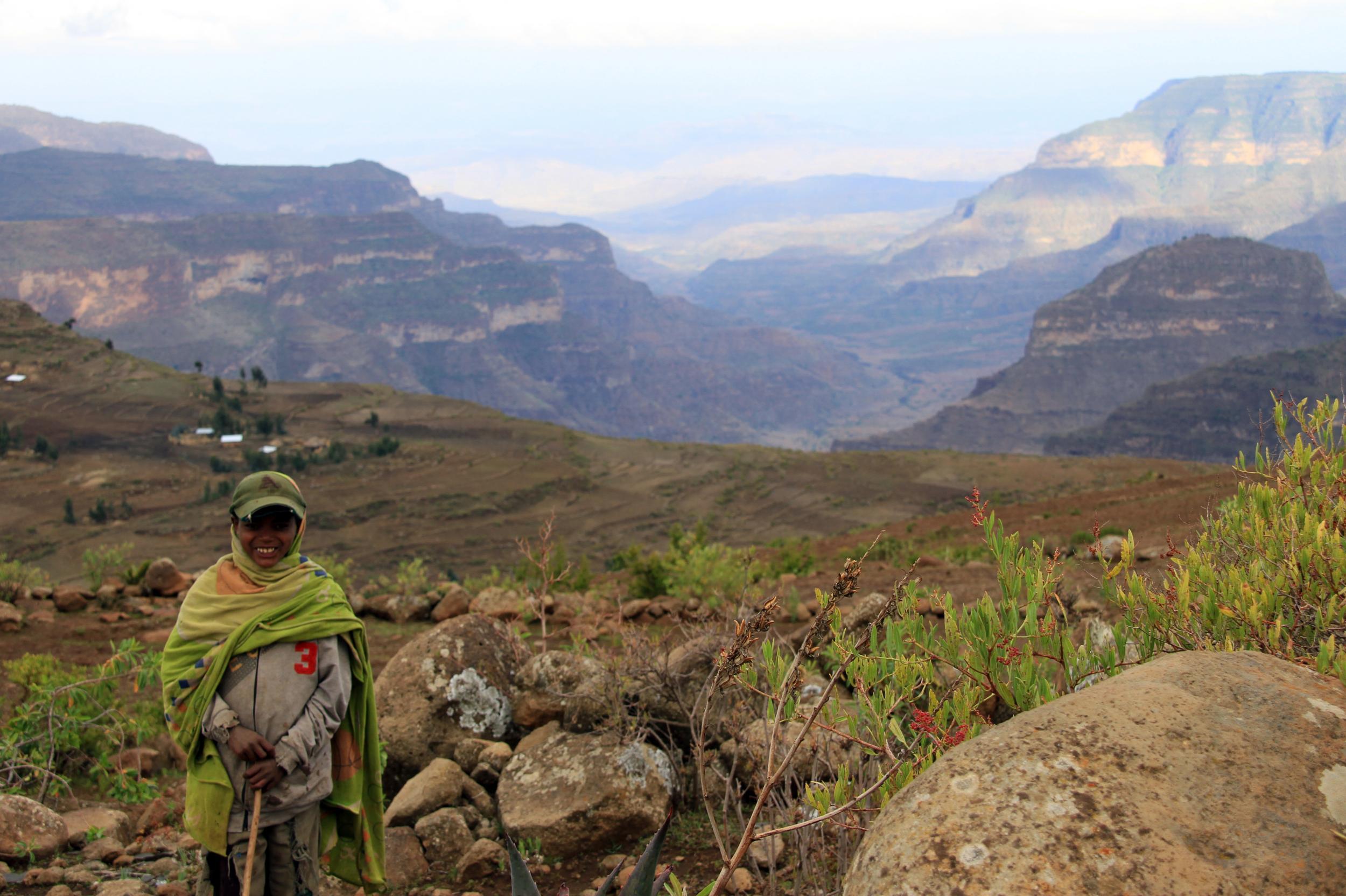 Salaama fed us on hearty meals of injera (a sort of sour, spongy pancake), pasta and shiro (chickpea sauce) along with some very palatable Ethiopian Rift Valley Syrah. We slept in simple, traditional "tukuls," round rooms of stone with thatch roofs purpose-built for the villages' new guests, all above 3,000m and amid panoramas that were as magnificent as any you'd find inside the Park.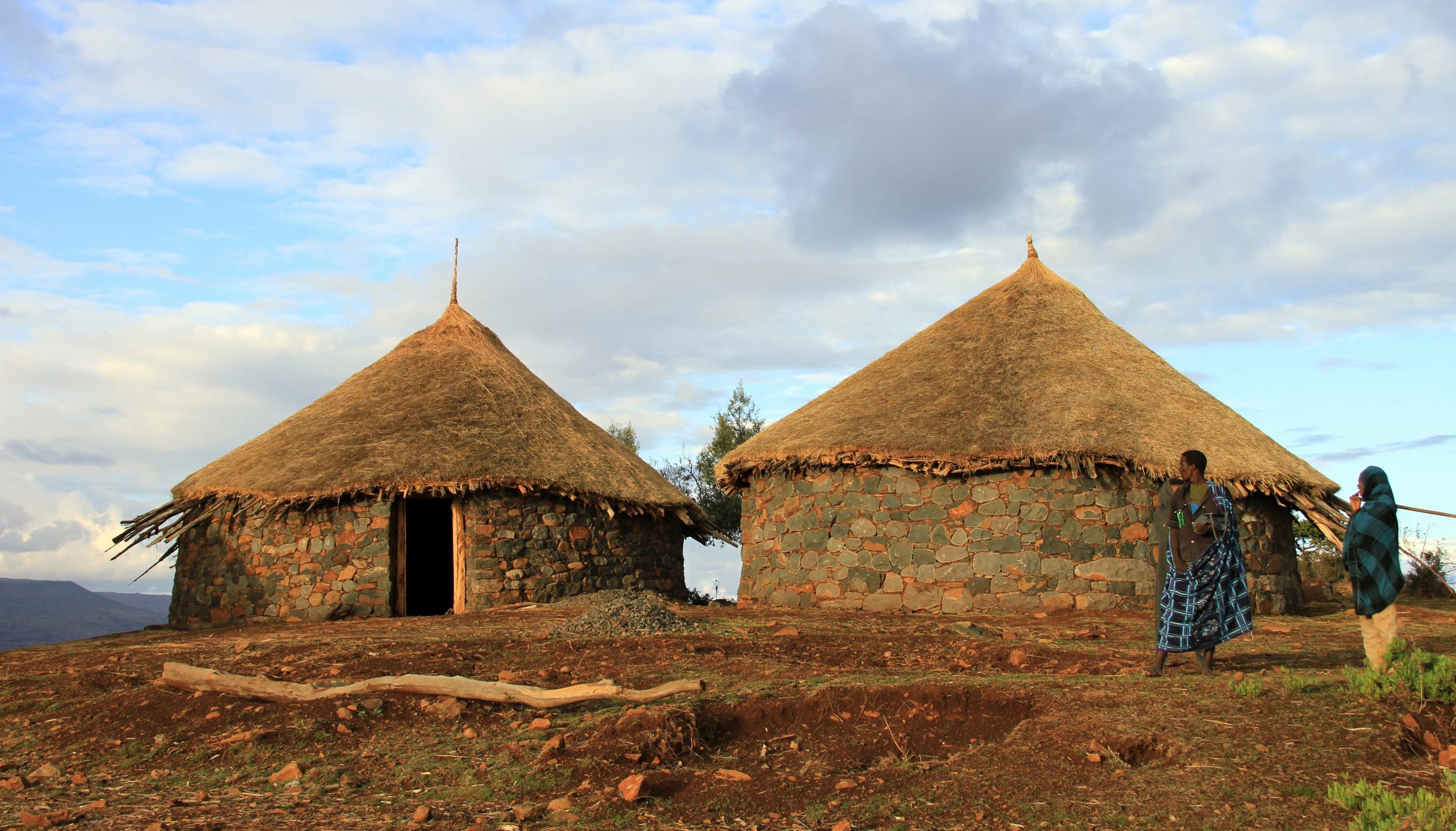 In Timbala, as we stood on the edge of a precipice, Suliman pointed to Ethiopia's highest mountain. From its base on a distant valley floor to its ominous 4,533m summit jutting into dark foreboding skies, we could see the entire profile of Ras Dashen in all its imposing glory. "You're the first tourist to have ever seen this view," he beamed at me proudly.
A sudden deluge led us to seek refuge in a nearby home made of eucalyptus poles and mud. With rain rattling on the tin roof, more people arrived along with cows, donkeys, a horse and several chickens. For two hours, around 40 of us sat on goatskins surrounding the fire pit, communicating via mime, while the lady of the house performed the traditional coffee ceremony – roasting, grinding then boiling the coffee three times over.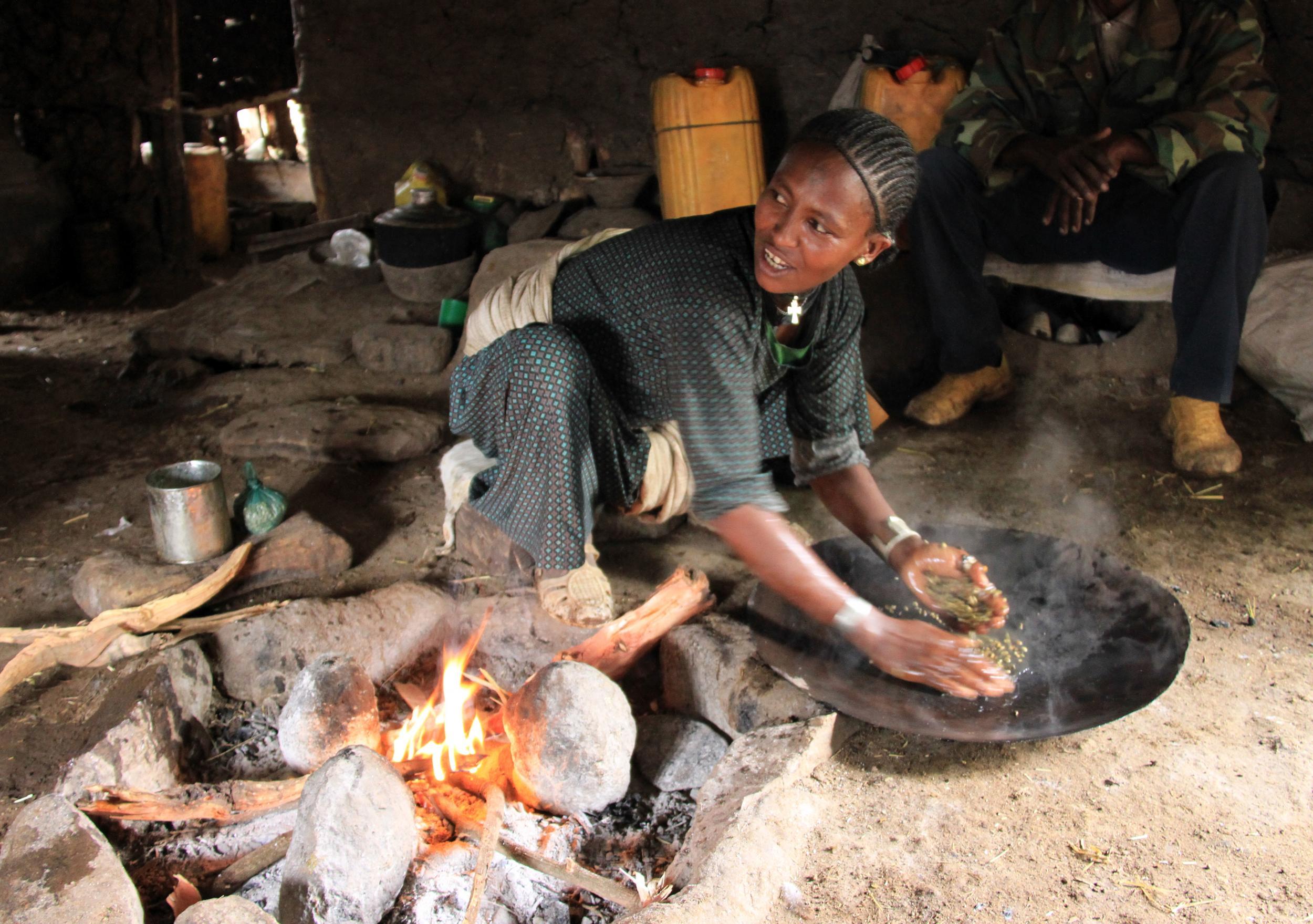 Outside, a massive thunderclap made us all jump then laugh as the rain bucketed down. Inside, it was dark and smoky, warm and crowded, flooded with the aroma of roasting coffee beans. We left when the rain abated, grateful for a genuine "kindness of strangers" moment meeting local people in a natural, special way. That's what Village Ways is all about.
Perfect for post-trek R&R, Limalimo also has local communities at its heart. Located 2,960m high on the edge of the Simiens escarpment, the eco-lodge's ambience is contemporary Ethiopia, with eucalyptus wood ceilings, swathes of cool calico fabrics, walls of rammed earth and living roofs.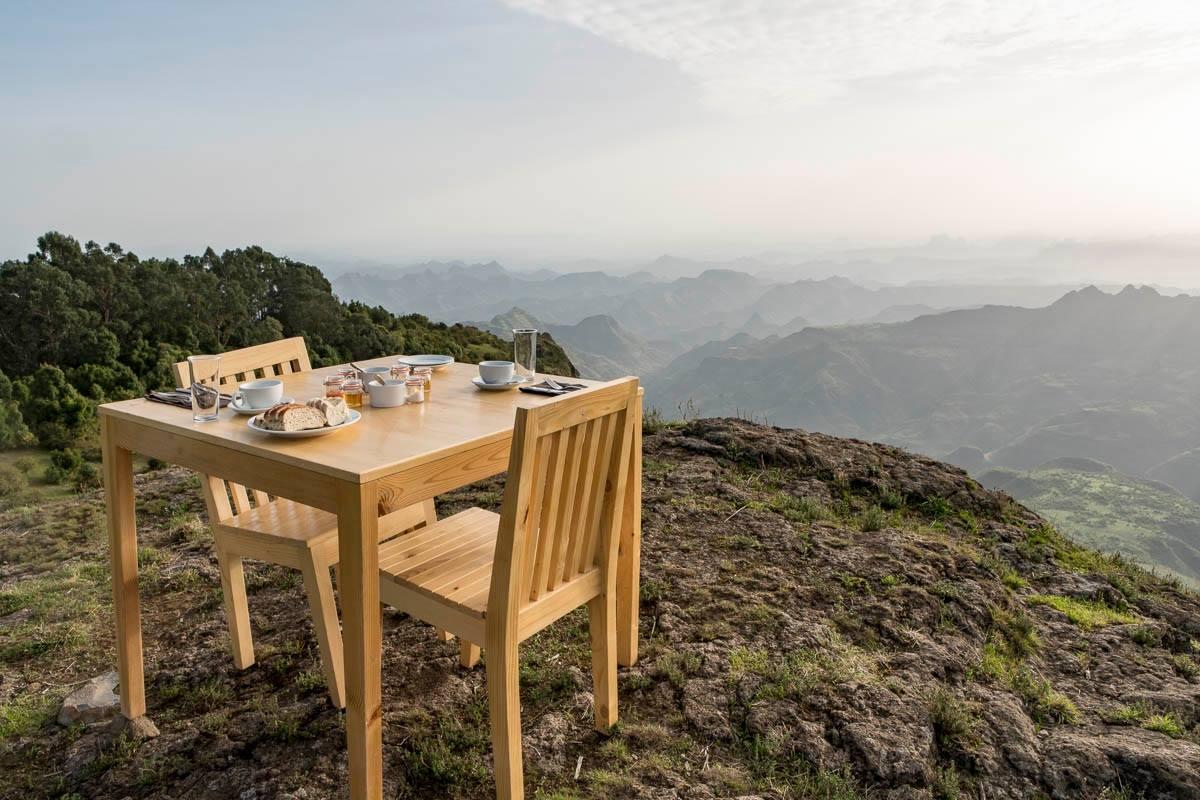 From here, you can trek, visit Limalimo village, do yoga or enjoy traditional Ethiopian massage. Or you can simply chill as we did, sipping the local 'Ras Dashen' beer on the huge terrace outside the bar and restaurant, with views spanning the canyon that seem to go on forever.
The following day, we walked around Adisge School just outside the Park, consisting of six crumbling, partly roofless classrooms for some 700 children. Behind it was a construction site frenetic with activity that would soon be their new premises, with 30 rooms being built courtesy of AWF donations.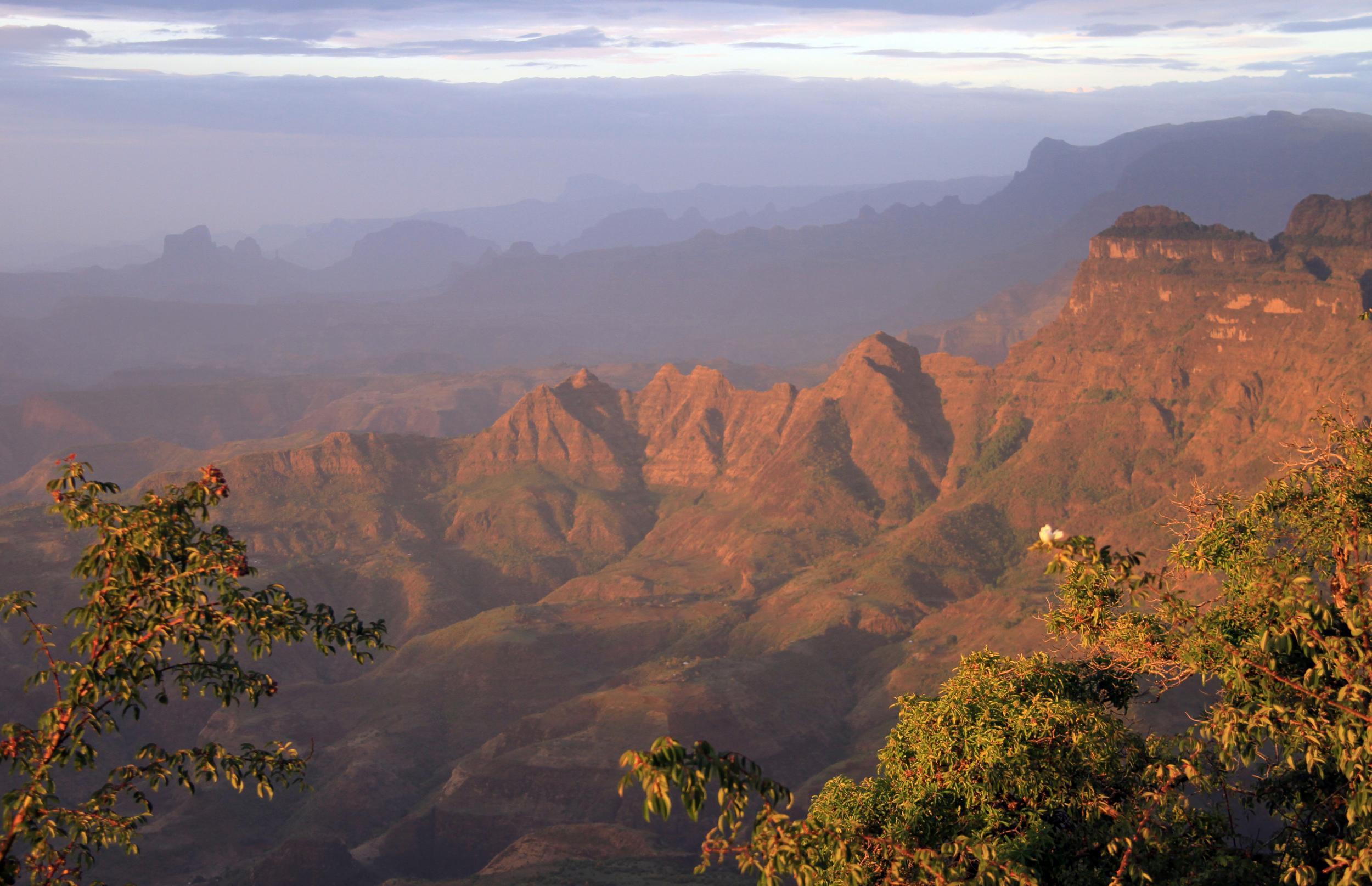 AWF receives a conservation fee of US$10 per guest from Limalimo Lodge.
"Those fees will go towards maintenance, furniture, teacher training and materials," AWF's landscape manager, Zeleke Abuhay, told me.
"The community is working with us on conservation. They're benefiting directly from ecotourism and this school is their reward."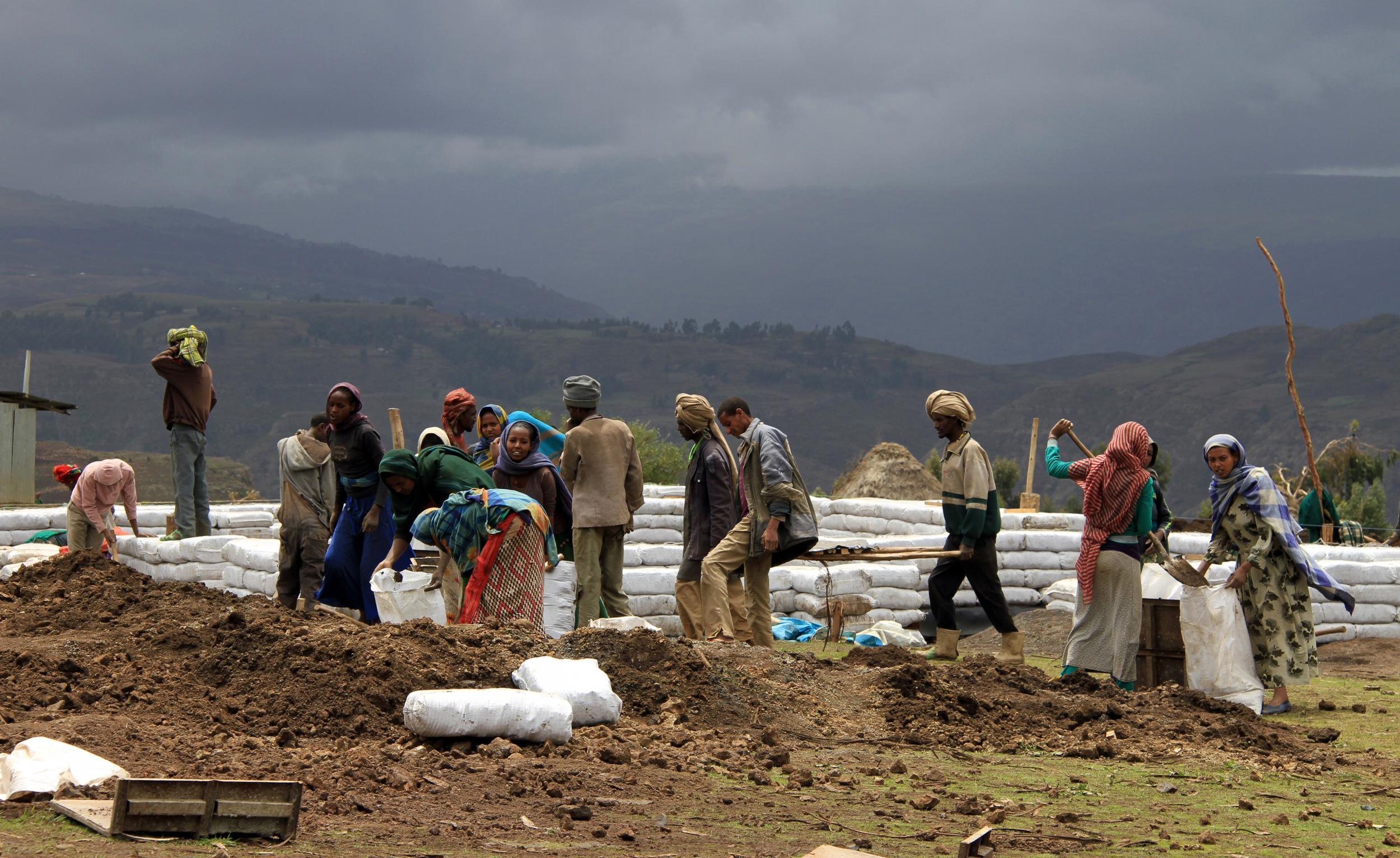 Later, we strolled to a small promontory near the lodge, where lammergeiers – a spectacular bearded vulture – swirled so close, we could hear their wings swooshing. A tawny eagle chick squawked in its nest and baboons and gelada monkeys played and preened nearby. Back on Limalimo's terrace, G&Ts in hand, we watched the sun go down between layer after misty layer of mountains. No doubt this is a land that needs conserving.
Travel essentials
Getting there
Village Ways (01223 750049; villageways.com) offers an eight-night Simply Simien village-to-village walking trip from US$1,501 per person in a party of two or three people (reduced price of from $1,086pp in a party of four to six), including one night's B&B in Addis Ababa, one night's B&B in Gondar, five nights' full board in the villages, and one night's half board in Limalimo Lodge, private walking guide in the Simien Mountains and all travel starting and finishing in Gondar. The holiday is available 5 January to 31 May, and 29 Sep to 30 Nov 2017. Village Ways can add on an exploration of the core area of Simien National Park with extra nights at Limalimo Lodge from US$125 per person, based on two sharing.
International and internal flights cost extra. They are best value when booked together on a multi-city booking.
Ethiopian Airlines (0800 016 3559; ethiopianairlines.com) flies daily from Heathrow to Gondar via Addis Ababa. Return fares start at £690 economy and £2,065 business class.
Staying there
Limalimo Lodge (limalimolodge.com) costs from US$250 for a double room per night, including all meals and most drinks.
More information
simienmountainsnationalpark.org
Click here to view African Tours and Holidays, with Independent Holidays.
Source: Read Full Article